Whether it's your first time in Bali, a seasoned visitor who comes every year, or if you are lucky enough to live here, you'll never run out of places to explore and things to see. Where are the top spots?  Below we'll be your tour guide, and we'll go through the best things to do in Bali.
You could be on a family holiday, backpacking alone, travelling with friends, or treating yourself to an adventurous trip or a romantic break with your partner.  Bali truly is the Island of the Gods and has something for everyone.
Let's start with our first recommendation of the top spots to visit in Bali.  No trip to Bali is complete without a stop at the world-famous FINNS Beach Club, as well as some fitness or Bali family activities at FINNS Recreation Club.
Top places to visit in Bali – FINNS Beach Club is Bali's best beach club!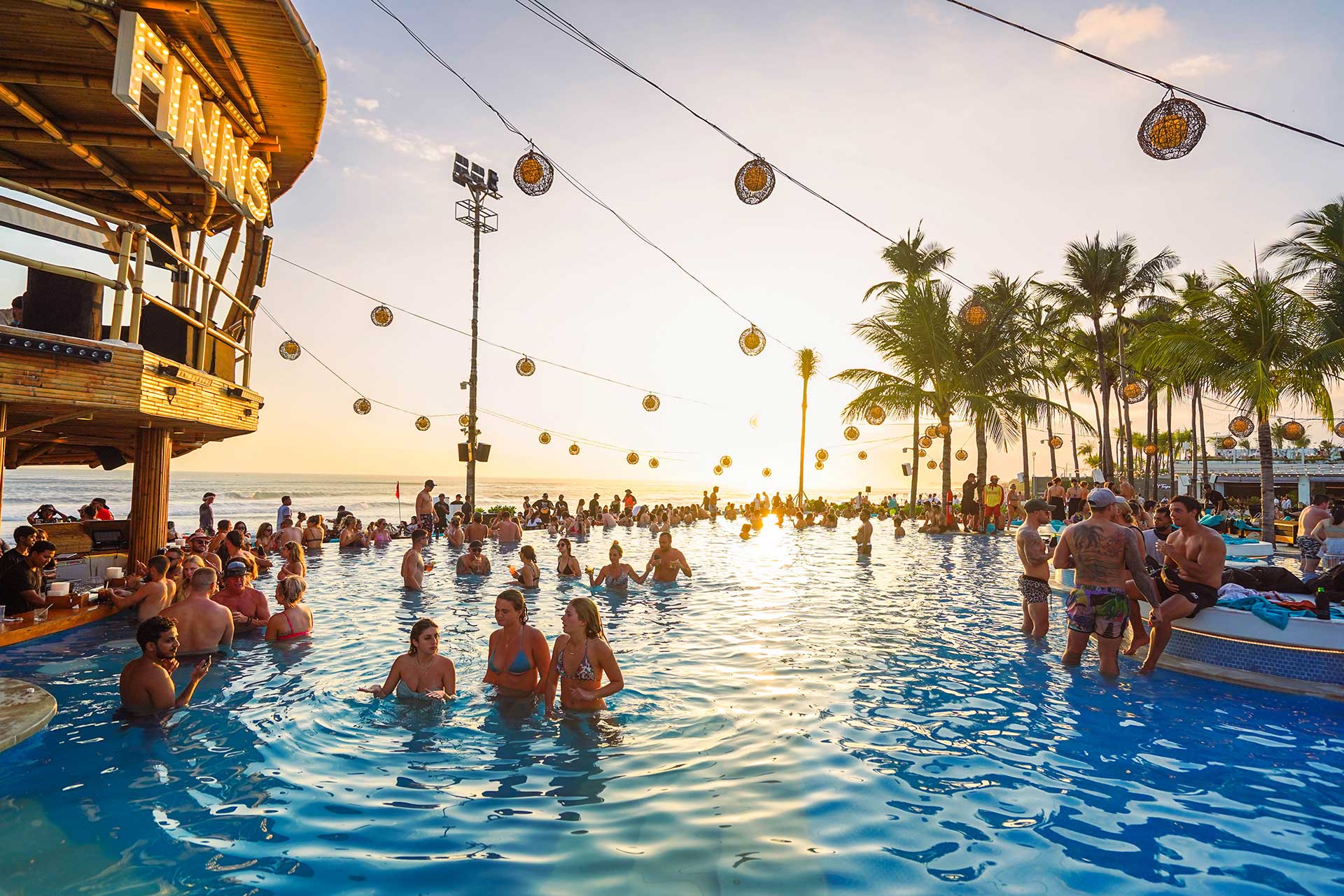 When planning your Bali holiday, put FINNS Beach Club at the very top of your list!  You must stop in and see why the venue is world-famous, and we can proudly say that FINNS is the World's BEST beach club.  
FINNS Beach Club is the perfect place to spend a day poolside and beachside, with 170m of beachfront views along Berawa Beach. Lounge under the sun or the shade of an umbrella with friends, family, or a solo visit.  The vibe is always fun, from day to night, and you can explore the space with 4 pools and 9 bars (including 2 swim-up bars), and a total of 5 restaurants. The Canggu beach and sunset views are epic, and the party atmosphere continues throughout the evening into the night, with happy hour from 7-9 pm, live DJs and vocalists, and Bali's best beach parties. Bali's best beach club doesn't disappoint, so stop in for a lazy, cool day by the pool or a pool party Bali and an unforgettable experience during your Bali holiday.
Bali's best locations: Our quick guide to the Island of the Gods.
Other than visiting us at FINNS Beach Club and FINNS Recreation Club, our top recommendation for your Bali holiday would be to get out and explore the island.  When thinking about where to visit or stay in Bali, we'll give you a guide below on the locations and areas around Bali. You'll find endless wonder from beaches, temples, local foods and restaurants, volcanoes, waterfalls and more! 
Let's start with the best places and areas of Bali to visit so you can plan your trip wisely and know what to expect from each part.
Top activities in Canggu – FINNS Recreation Club is non-stop fun for everyone!
For the best activities with kids in Bali, FINNS Recreation Club certainly delivers. One day is not enough. Nowhere else in Bali, or maybe the world, can you do so much under one roof.  First off, it's a world-class health and fitness centre and one of the best gyms in Bali, where guests can use the weights or sign up for personal training or choose from a schedule of classes.  Don't forget to soothe your muscles and aches in the sauna and ice bath afterwards!  But if you really need to relieve tension, book a blissful treatment at Body Temple Spa. 
Other than the top gym Canggu, there are plenty of kids activities Canggu at Splash Water Park, Bounce Trampoline Centre, Strike Ten Pin Bowling, or the Junior Sports Academy and Cubby House Kids Club. Everyone can enjoy a day (or more) at Bali's best spot for family fun, FINNS Recreation Club.
Getting around Bali
Bali isn't really known for having easily navigable roadways, but that's what you can expect from tropical paradise islands. If you have a licence and experience, you can cheaply hire a motorbike or your own car. If you have never driven a motorbike before, don't risk it!  Download apps for Gojek, Grab, and the Blue Bird taxi company. The drivers are insured, safe, and know the streets better than anyone. Or explore at your own pace and book a driver for the whole day.
Do not catch rides on random bikes or unmarked cars, even though friendly locals are always willing to offer rides. Without metres, you risk getting overcharged if you don't know the routes. 
For tours and day trips you can hire a car and driver for a full day. For more information on how to get around Bali or for your Bali day trip,  contact a reputable Bali travel agency.
Canggu Bali.
We'll start here because that's where you'll find FINNS Beach Club and FINNS Recreation Club.  We love this area, there are many things to do in Canggu. Not only is it home to the best beach club in Bali, but there's also shopping, spas Bali, gyms, gorgeous beaches, incredible sunsets, beautiful rice fields, digital nomad cafes and a huge array of trendy restaurants and quirky clubs. You'll see surfers and beach lovers all over the shores of Echo Beach and Batu Bolong Beach.  It has grown enormously in popularity over the past few years and is buzzing with fresh and inspiring energy. When staying in Canggu, accommodation ranges from luxury villas, cheap homestays, hostels and perfect hotels for families.
Just a short drive north of Canggu, there is one of the most spectacular temples and the most visited location for tourists to visit. Tanah Lot is an astonishing sea temple on a rock formation, where you can take in the spirituality, local markets and breathtaking sunsets.
Kuta.
Kuta is famous for its beachfront, surfing and bustling markets. The stylish Beachwalk shopping mall is very popular as it's only across the road from the beach. There are many luxurious ocean-view hotels if you'd like a room with a view. Make sure you go for a walk down the winding back streets and you'll find all the lively markets and friendly happy-hour bars. If you're looking for a few chic cocktails, there are some incredible rooftop sunset bars or if you're more laid back you can grab a coconut on the beach from a local beach seller. For food, you're spoilt for choice with so many restaurants and cheaper local eateries.
Seminyak.
Seminyak is Bali's chic streets, the top location for food, shopping, spas, beaches, sunset spots, live music, hotels and bars, and even some colourful beach bars too. Seminyak is constantly buzzing with a trendy, energetic vibe. Famous for the range of accommodations; from upmarket private villas to some of the best luxury hotels and beach resorts, it's a special place to stay on the island. For food lovers, you'll be thrilled with the huge range of restaurants and bougie cafes, serving contemporary vegan, plant-based, gluten-free options. Seminyak is a fabulous place to watch the sunset before heading to dinner, and one of the legendary bars or clubs for a night of dancing.
Ubud.
Coming away from the beach into the mountains, Ubud is a spiritual experience full of Balinese culture, the famous rice paddies, creativity and a great deal to explore. You can do a day trip here or spend a few days, with a huge range of hotels, small homestays, exclusive resorts and guesthouses there is something for everyone.
There is much to do in Ubud; the Sacred Monkey Forest, Ubud Palace performance, Local Art workshops, Ubud Market, Tegalalang Rice Terraces, Campuhan Ridge Walk, Tirta Empul Holy Water Temple, white water rafting… Shall we go on?
In recent years there has been a rise in coffee culture and modern restaurants. You will be able to find vegan, plant-based, and vegetarian specialities here. Also close by is Mount Batur volcano, enjoy the sunrise trek that is held every day to get the best views from another perspective.
Lovina.
In the North of Bali, take a trip to Lovina for an experience of Old Bali. Famous for diving, snorkelling, old villages, hidden waterfalls, uncrowded beaches and little Westernisation. Escape from the hustle and bustle and witness wild dolphins in this area of the North.
Sideman.
Sideman is a more traditional experience, surrounded by nature, hidden waterfalls, local villages, rice fields and peace and quiet; it is a nice peaceful way to explore Bali. Enjoy the village life and stay in a homestay or a hidden luxury resort.
Amed
Take a trip to the East coast of Bali for incredible beaches, famous for its diving spots and snorkelling. Amed is relaxed and has a lot to discover. There are lots of quaint places to stay from small beach huts to bigger hotels with ocean views and many contemporary restaurants and local warungs.
Sanur.
Sanur has a slower pace than Kuta/Seminyak and Canggu which is perfect for families and the older crowd, with a village feel and calm ocean. There is an 8 km pathway along the beach to cycle on and take your morning walk. The beach is calm and there are plenty of cafes and restaurants close by.
Nusa Dua.
Visit the gorgeous white sand beaches, suitable for swimming, Nusa Dua is the island's most luxurious location with international hotels, resorts and private villas. The streets are flawless, there is a pleasant beach pathway to cycle or walk on and a few shops. There are many restaurants within resorts and a Sunday Brunch culture.
Uluwatu.
If you're looking for a more laid-back vibe, epic world-famous surfing, dramatic cliff-top views, white sand beaches and surf culture; then head down to the south of Bali. Uluwatu is the place to visit. Soak it all up in a luxury villa with spectacular views or resort close to the beach or if you're looking for the backpacker experience there are many cool hostels. The Uluwatu Temple is famous for its spirituality, remarkable cliff, sunset views and Kecak Fire Dance Show.
Nusa Lembongan
.
One of Bali's neighbouring islands is definitely worth a day trip or longer. Its beautiful white sand beaches and coral reefs are exquisite, which is why the tiny island is popular for diving and snorkelling. Devil's Tears is a cliff that overlooks the ocean and is known for its powerful waves. Crystal Bay and Mushroom Bay are both beautiful beaches known for clear waters and pristine beaches. Mushroom Bay
We've only just scratched the surface to give a glimpse into Bali's most famous locations. When here for holiday, we recommend getting around the island for day trips or even staying a few days in different spots. You'll notice that each location has its own vibe and energy, but together they make Bali truly a magical place to come on holiday. One visit to Bali is never enough, with so much to do and see, this island is inviting all year round and keeps everyone coming back again and again.
We'll see you at FINNS!