Bali Dry Season: Everything You Need To Know About Bali's Peak Season
Bali is a tropical location and that means it doesn't have four seasons of the year. In fact, it has only two distinct seasons. If you're wondering what the Bali dry season is like, you're in the right place. We'll share everything you need to know.
What Is The Dry Season In Bali?
The dry season in Bali is the time of year when the weather in Bali tends to have less rain than the rest of the year. Weather conditions tend to be calm and the heat reflects the tropical climate of the island.
If you visit Bali at this time of year, then you'll find that many people consider it to be the best time to Visit Bali and it can be more expensive for hotel rooms and flights, particularly during the school holidays.
Of course, it's not all blue skies for months on end. You do get the occasional rainfall and sometimes a cool breeze will come in from the sea and cool everything down.
You should remember that you still need to wear appropriate clothing at this time of year, though, as while it can be hot when you're visiting Bali, it's still a very conservative type of place.
The dry season is a great time to take part in outdoor activities or visit attractions like the Bali Zoo and Indonesian Independence Day and its associated celebrations are also held in this season.
The average temperature at this time of year is a very pleasant 20-31 degrees all day long.
And while it does rain, the Bali weather only produces 5-8 centimeters (2-3 inches) of water a month at this time of year.
There is also a bit lower humidity at this time of year. 
When Is Bali's Dry Season?
Bali's Dry Season tends to run from April to October. It's not an exact science, mind you, and if you travel to Bali in the earliest or latest part of the season, there may be more rain than there is in the middle part of the dry season.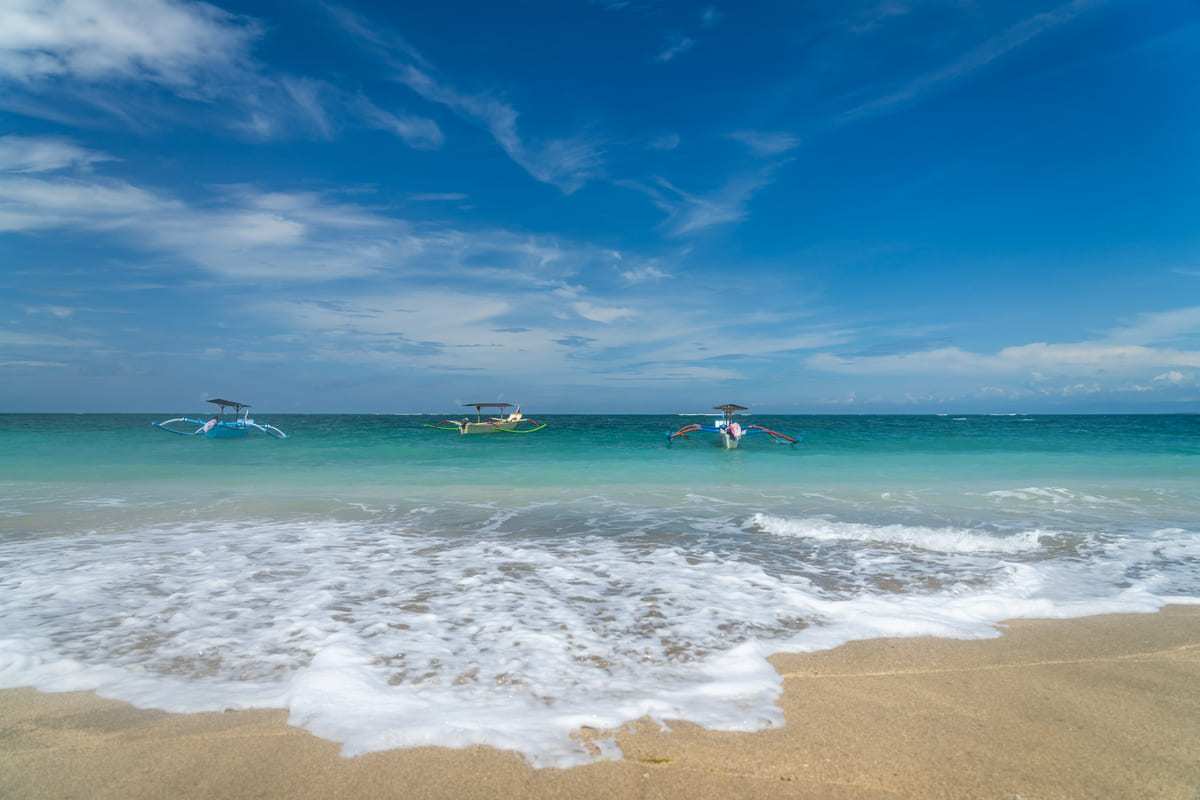 Is Dry Season The Same As High Season In Bali?
Sort of. In the main, yes. But the Christmas and New Year period are much less dependent on the Bali weather for large numbers of visitors and to a lesser extent the Easter holidays can also bring in a lot of visitors even if Easter falls in the wet season.
So the dry season is often the busiest time of year apart from the holiday seasons.
Are There Any Special Events In Bali's Dry Season?
Yes, you will find that because the Bali weather is so welcoming at this time of year that there are plenty of special events held including:
The Bali Arts Festival
This festival which takes place in Denpasar in June or July each year is one of the most popular events of Bali's high season.
It was founded in 1979 with the objective of promoting Balinese arts and cultural performances to the island's many visitors.
It kicks off with an inaugural parade at the Bajra Sandhi Monument and then runs for a full month.
People fly in from all over Indonesia to take part in the festival and there are daily performances to show off the local talent.
In addition, the festival hosts competitions, exhibitions, seminars and some very tasty displays of Balinese cuisine.
The Bali Arts Festival has a unique theme each year and the events tend to be designed to fit that theme.
Incredibly, in 2023, the main venue for this festival and the festival itself have no formal online presence. Your best bet, if you want to go, is to follow the reports in the local press.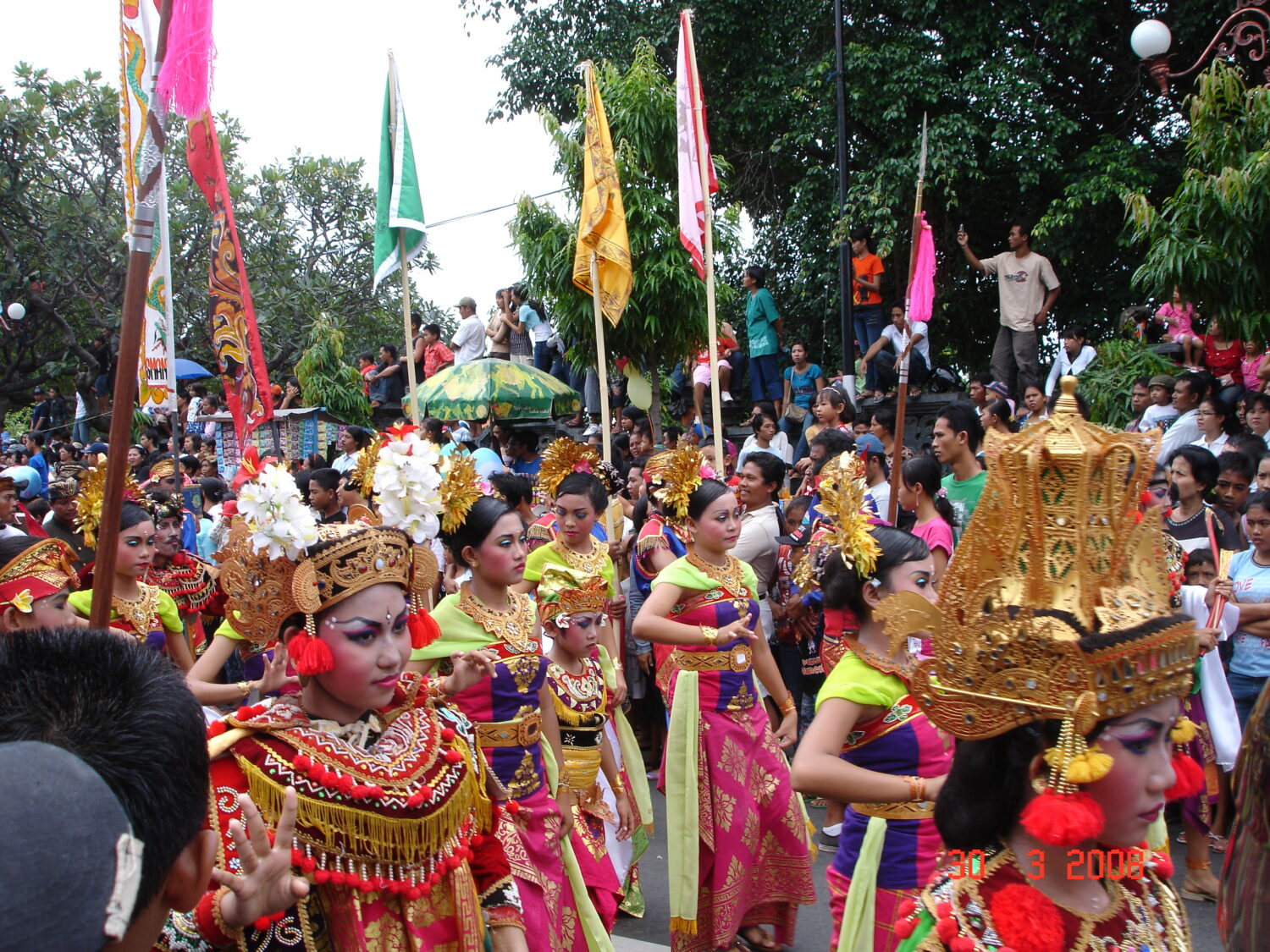 Bali Kite Festival
The Bali Kite Festival kicks off in July and can run as late as October, depending on the Bali weather conditions. Mostly, though, it tends to finish in August.
Bali's rainy season spells doom for kite flying, of course, as lines get tangled even in light cool winds and the kites get battered by the rain.
Kite flying has been part of the local culture for so long that people are still determining where this festival began or why.
Legend has it that it was a celebration of the dry weather and the chance to thank the gods and spirits of the island for a rich harvest and fertile land.
There are lots of fun activities associated with this festival and it's mostly a very good-natured event, though things can get quite competitive at times too.
There are prizes not just for flying your kite well but also for having distinctive and creative kite designs. The kites can be incredibly beautiful to look at.
If you want to attend, it's in the Padang Galak area and you'll need to consult the local newspapers for timings. There needs to be a website for this festival, too.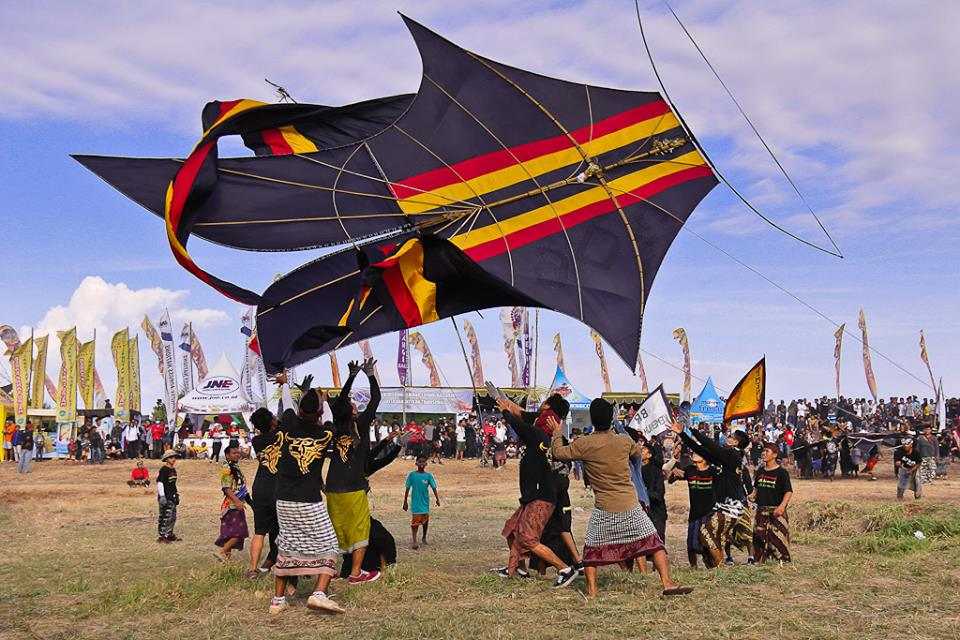 What Activities Are Best To Do In The Dry Season In Bali?
You can do most activities in Bali all year round and apart from the worst part of the wet season, you will probably have a decent time, but if you want Bali's weather to predict a better chance of success? You want this round-up of dry season activities.
Hiking
It's fine to go for a quick walk in the rain in the wet season, of course, but if you're thinking about hiking on Mount Batur or Mount Agung, for example, then you probably want to aim for dry weather.
Climbing an active volcano is challenging enough on sunny days, there's no need to make it more challenging than it needs to be.
The rain can make rocks slippery, and the sand becomes clumpy and turns dust into mud. This can make getting traction on services difficult or even impossible.
We'd also note that if you're hiring a scooter to get you to any hikes, the wet Bali weather has been the cause of a fair number of motorcycle accidents over the years.
In short, it's high season for a reason at this time of year and hiking is much better in the dry.
While, of course, you can do water sports and surfing even in high rainfall – it's not safe to do it when there's an electrical storm.
And there's a big difference between an ordinary storm back home and the thunder and lightning of a major storm in December in Bali.
Pro surfers know this and tend to stick to the dry season for their travel in Bali. It's just the best time for surfing.
Similarly, scuba divers prefer the calm seas of the high season to the choppy, more violent waters of the low season.
We also think it's the best time to visit Splash in Bali (we think it's the world's best waterslide part). Splash Bali is just less fun in the pouring rain. (They do have a website here).
Laying On The Beach
It won't come as any surprise at all that April, May, June, July, August and September are the best times to get a tan in Bali.
You want to be warm and comfortable when you're laying out in the sun, not preparing to run from another storm.
Of course, you could always sign up for some indoor activities like yoga classes to counter the rain in the wet season, but you won't be working on your tan in inclement Bali weather.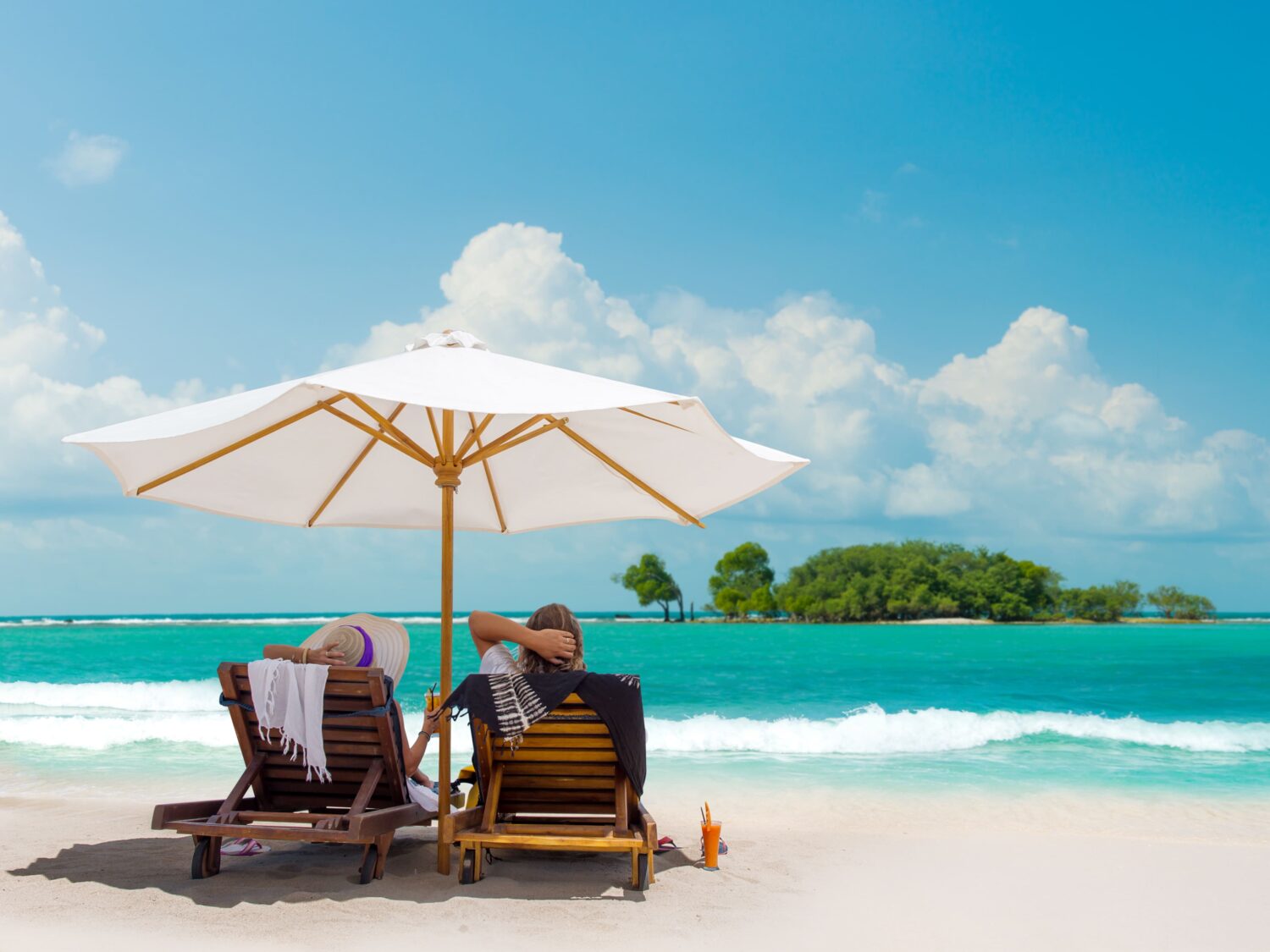 Island Hopping
One thing you definitely want to avoid doing in the middle of a raging electrical storm is traveling from island to island on a small boat.
Now, it will eventually clear up enough to travel in the middle of the rainy season. Still, if you really want to explore multiple islands during your time in Indonesia – it's best to come in May, June, July, August, and September.
Partying
We can tell you that the parties at Finns Beach Club go all year round and while the hot season parties may involve a bit more water and beach fun.
The wet season parties are awesome, too. It's also a great time of year to find a more relaxed partying vibe. 
What Is The Wet Season or Rainy Season in Bali?
The wet season in Bali is in the months when you get more rainfall and high humidity permeates the island. This tends to be from November to March.
The island's rice terraces rejoice in the rainy season, mind you. Rice needs plenty of water to grow.
FAQs
What Is The Driest Month In Bali?
According to our sources, the driest month is August, and you can almost bank on every day being sunny and pleasant.
The average rainfall in this month is 8 mm! That's less than a centimeter or half an inch for a month!
In contrast, during the rainy season, December can see up to 12 centimeters (6 inches) of rain a week!
What Are The Best And Worst Months To Go To Bali?
We don't think that there are any "worst months". It may rain more in December, but a few showers don't dampen the Christmas spirit of thousands of holidaymakers.
However, if you are mainly interested in outdoor activities and watersports, we'd aim for August just because it's the time when rain is least likely to interfere with your fun.
What Is The Cheapest Month To Go To Bali?
There is no official "cheapest month," and we can't promise that you'll get a discount whenever you travel or wherever you stay on the island.
We can say, however, that it's more likely to get a good deal during the rainy season except for the school holidays and Christmas and New Year.
What Are The Off Seasons In Bali?
Off-season in Bali is the year when the island sees the fewest visitors.
This will mainly be between November and March, but there are exceptions to this rule and certainly, the Christmas and New Year period are something of a mini-peak season.
What Is High And Low Season In Bali?
High season typically overlaps with the dry season in Bali and that means it will run from May through to October. It will also include the Christmas vacation period when many people want to escape the Western winter and go abroad with their families.
The low season is the rest of the year, but as Bali is becoming more and more popular at the moment, there may be fewer discounts available on hotels and flights than there once were.
We recommend talking to our friends at Bali Res Center about travel plans, flights and hotel bookings. They can help you get the latest information and best deals.
When Should I Visit Bali? When Is The Best Time To Visit Bali?
It's really up to you. The best time is the one that suits what you want to do, your budget and your available time off work. Bali is always awesome. You won't have a bad time here just because it's the rainy season, we promise.
Final Thoughts On The Dry Season In Bali And Bali Weather In General
Stay focused on wet season vs dry season or high season vs low season in Bali.
The weather is pretty pleasant all year round and even the worst weather in Bali doesn't last forever.
Except for January and December, when things can go full monsoon at times, generally, the average temperature is about 31 degrees and the rainy season won't stop you from experiencing the natural wonders that Bali has to offer or its good times.
But unless you really want fewer crowds, the dry season often has the best months for experiencing the best weather in Bali and the best cultural and sporting events.