Everything You Need To Know About Mount Batur: Trekking, Climbing And Enjoying
Is there anything more thrilling than a hike up an active volcano? The thousands of visitors to the slopes of Mount Batur don't think there is and we tend to agree.
Sometimes, we all need a little adventure in our lives; this is the kind of excitement you remember for a lifetime.
The Mount Batur sunrise hike is one of the most popular hikes in all of Indonesia.
Climbing Mount Batur is easier than you might imagine it to be and it offers the potential of some glorious views of the clouds as the sunlight catches them first thing in the morning!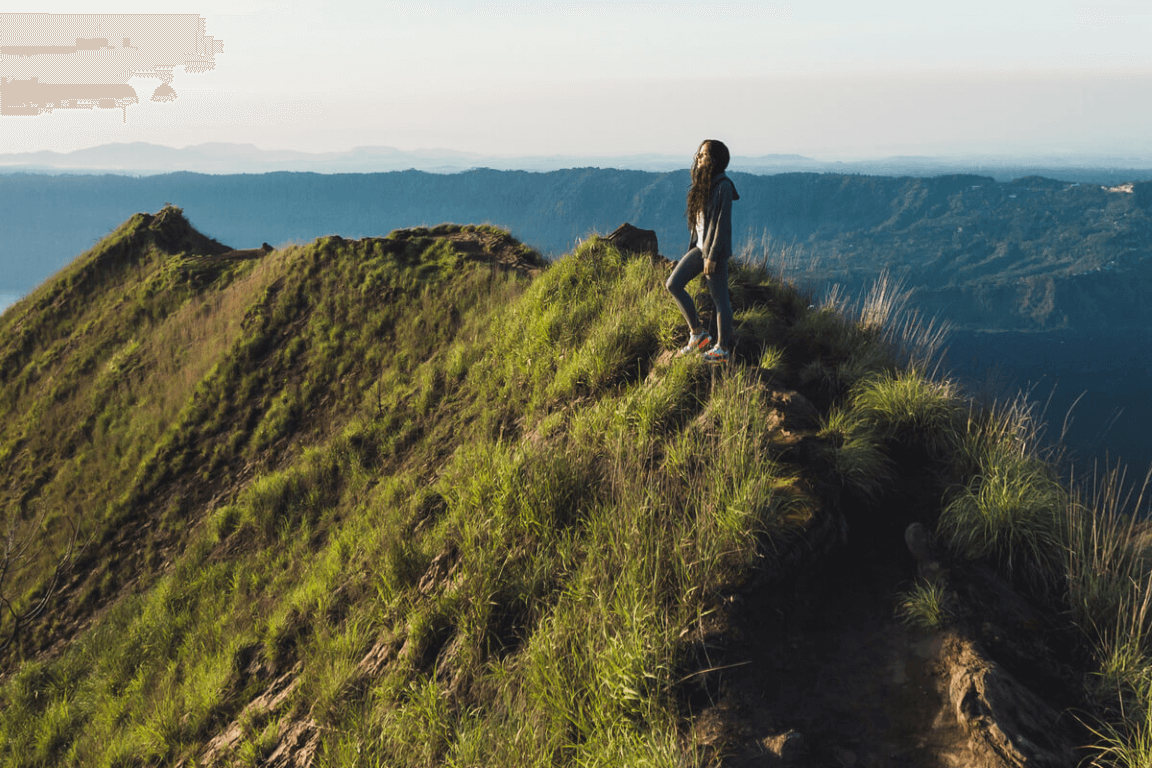 The Basics Of Climbing Mount Batur in Bali
The round trip distance is about 3-5 kilometers, that's only 2-3 miles and that's a small distance for anyone who is reasonably active.
While the maximum elevation (the highest point) is 1,717 meters (5,633 feet) which is pretty high. You can skip the whole distance on a Mount Batur hike. The distance you travel up is only 500 meters (1,650 feet).
The hike is only moderately difficult, though it becomes more challenging in the rainy season.
It should only take 2-4 hours for the whole walk, including spending some time at the top enjoying the view and taking photos for your Instagram.
How To Find The Best Guide For Mount Batur Sunrise Trekking
If you'd like a guide to go with you, we recommend booking one through the Finns travel agency. That way you can be certain they're fully qualified and vetted.
Where Is Mount Batur?
Mount Batur is an active volcano and thus, it's not somewhere people build cities around.
That means it's about a 2-hour drive from Canggu, Seminyak, etc. in the Kintamani Highlands.
They are in the northeastern part of the island.
About Mount Batur Or "The Gunung Batur Volcano"
The mountain is the remnants of a much larger volcano. It's thought that it stood nearly 3,800 meters tall, before an eruption about 25,000 years ago ripped it apart!
That means there was a time when it would have towered over the tallest volcano on the island, Mount Agung. But today, it's much smaller.
However, that doesn't mean that the volcano has gone to sleep. In fact, there have been over 20 eruptions here since 1804!
Now, don't panic about this. While it's true that a volcano can cause massive devastation when it erupts, they don't erupt without warning.
Balinese authorities are always monitoring this volcano for any signs of activity and you won't be allowed anywhere near it if they think there are any warning signs of danger.
Mount Batur made the UNESCO world heritage list as a global geopark in 2015.
How To Do The Mount Batur Sunrise Hike?
The hike is very popular but requires a little sacrifice on your part.
Get Up Early To Climb Mount Batur
Because you aim to get up the mountain before the sun rises, you need to start with an early morning pickup. A very early one, in fact.
That means your guide will expect you to jump in their vehicle at around 2 a.m. Yes, two in the morning! So, you should lay off the beers the night before or, at the very least, have a strong supply of coffee to hand.
It's also important to know that Mount Batur sunrise trekking is super popular. It won't be just your party heading up to the summit when you get there. There will be dozens of people there.
You should also be aware that once you hit the viewpoint at the top, a fair few wild monkeys are wandering around.
They're mainly chilled out (for monkeys) but watch your snacks around them as they will steal them without remorse. Under no circumstances should you try to wrestle a monkey for a packet of chips It's not worth it and if you get bitten, you will need rabies jabs.
However, mostly they will only take some things. They may loot your snack bag, eat/drink something and drop everything else. It's fine to pick those items up after the monkey has dropped them.
What Should You Take To Mount Batur?
It's not a huge exertion but you should bring a few things to maximise your experience:
A (rain) jacket

 – it's not that cold but it's cold enough if you've been enjoying the beach for the last couple of days. Pick a lightweight jacket though as you won't want to wear it after the sun comes up.

Appropriate footwear 

– You can hike Mount Batur in sneakers or even better, proper hiking boots. Just don't wear your thongs. They won't provide the grip you need to be safe on your climb. And ladies don't even think about wearing heels, they'd be super uncomfortable.

A rain poncho

 – if you're making the ascent in the rainy season, you will be very grateful for one of these cheap "Bali macs" if the heavens open on you.

A rucksack

 – you're going to carry only some of this stuff up the hill in your hands.

Something to drink

 – water or electrolytes is a good idea. Your guide will give you a small amount of bottled water but most people want more.

A snack

 – you may not want to wait for breakfast and after a 2-hour drive, it's always handy to have something to nibble on. Light snacks only though, you want to avoid struggling down the mountain stuffed to the gills.

Flashlight/headlight

 – your guide will probably give you a cheap one, but if you have a decent-quality version, bring your own.

Phone/camera

 – if you want some Instagram-worthy memories remember to capture them! You might also consider a tripod as it can be tricky shooting in the early morning light. We recommend using a mirrorless or DSLR camera if you have one, they work much better in low light than phone cameras.
Is It Hard To Climb Mount Batur?
No, not really. The trip is about 2 hours (though it can vary slightly depending on your fitness level). You follow a marked path all the way there and back again.
If you're worried about it, you will probably be fine. It's worth noting that hiking Mount Batur Caldera isn't easygoing.
You should wear proper hiking shoes to experience climbing Mount Batur and expect it to be heavy-ish on your ankles.
If you're one of those folks who demand the toughest of challenges, then Mount Batur sunrise trekking is the kind of thing you do as a warm-up before tackling Mount Agung.
That's a much harder climb. However, the advantage is that there are much fewer people to share the climb with than at Mount Batur.
How Long Is The Mount Batur Hike?
If you follow the hiking app routes, it's about 9 kilometers (6 miles). But that's because those routes make you make complete circular walks of both volcanoes' craters.
If you go with a guide, nobody will expect you to do that. Instead, you'll cover about 3-5 kilometers (2-3 miles). That's not very far.
How Tall Is Mount Batur?
The top of the mountain is 1,717 meters (5,633 feet) above sea level. That's pretty tall but not tall enough that you need any special preparations for the climb.
It's not tall enough to give you altitude sickness and the walk is so fast that even if there were a risk, you'd have finished before it became a problem.
Your actual elevation gain is different from this, though as you're starting from a point at about 1,200 meters above sea level. So, you only climb 500 meters across the 2-hour uphill hike.
What's The Weather Like On Mount Batur?
If you dress for the beach, the weather will be a nasty surprise.
It's much cooler the higher up you get and the pre-dawn temperature is often around 10 degrees Celsius (about 50 degrees Fahrenheit).
Packaging a jacket or jumper for the walk-up is a good idea. However, once the sun comes up? You can ditch the jacket.
In general, the view at the top is very good but occasionally you can get clouds or even mist that covers the caldera and sadly, you won't get the best view at that point.
There's not much anyone can do about this and no weather forecasting operation in the world can predict clouds on a mountain yet.
Is Mount Batur Sunrise Worth The Hype?
Yes, otherwise, Mount Batur sunrise trekking wouldn't be as popular as it is. Climbing an active volcano is thrilling but in the ring of fire that Indonesia is in, there are lots of volcanoes to choose from.
The Mount Batur climb is a winner not just because you can get to the top reasonably quickly but because on a normal day, the view is spectacular.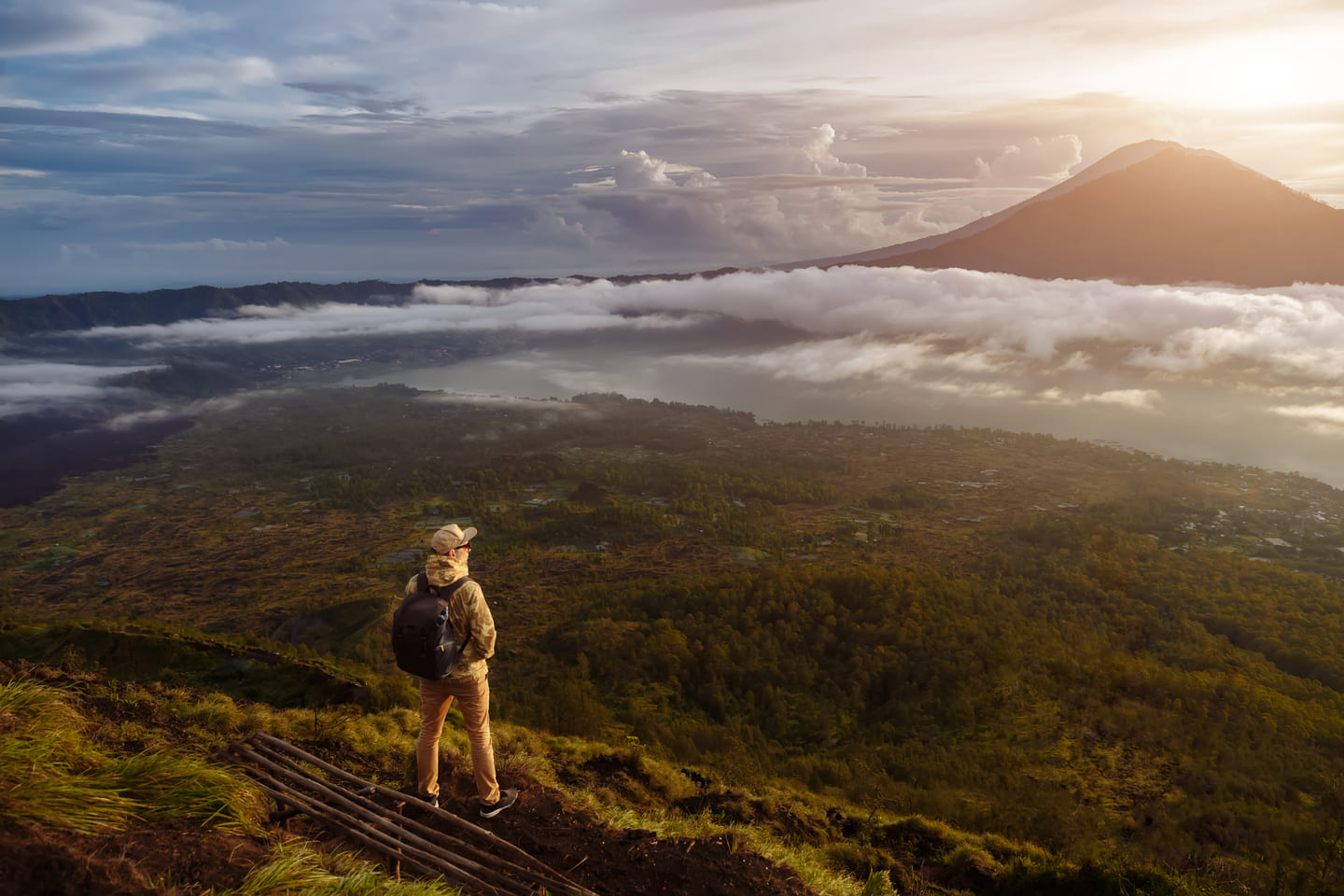 Lake Batur
Firstly, as the dawn's early rays creep across the landscape you can get a glimpse of the light sparkling on the surface of Lake Batur amidst the peaks of Gunung Abang.
And if you look closely, you can see the outline of Mount Agung towering above them.
Towards the sun (don't stare into the sun, ever) you can see the Balinese Sea and on the clearest of days, you can even get a hint of Mount Rinjani on Lombok Island!
Can You Get Food At Mount Batur?
Yes, most Mount Batur sunrise trekking experiences with a local guide include a breakfast stop.
That's, at least in part, because there's a lot of fun cooking your eggs by placing them in the volcanic vents!
It's even better than boiled eggs from a hot spring!
When's The Best Time For A Mount Batur Trek?
There is no time of year when you can't climb up Mount Batur and, in fact, you really should if you're only visiting Bali for a week or two.
But if you want the best light at sunrise? Then, May to November give the best views of Gunung Batur at dawn.
Is The Mount Batur Hike Safe?
Yes. That doesn't mean walking on Mount Batur Volcano is 100% safe, mind you. We can find records of a couple of accidents. A super unlucky 25-year-old Swede appears to have fallen into the active crater.
There was also a case of a 70-year-old American who fell down the slopes of the Mount Batur Volcano and sustained fatal injuries while doing so.
However, given that thousands of people climb Mt Batur every year without incident? It's pretty safe.
You can stay safe by following the path and not straying to the steep edges of the path. You should always have a light on you and use it whenever the trail is unclear to you.
Plenty of young children manage this each year, so you should have no problems.
Do I Need A Guide At All For Mount Batur?
We know, you're thinking "That sounds easy, why do I need a guide?"
The problem is that tourism on this site needs to be better-regulated and if you don't bring your own guide, one will be appointed for you.
You may be verbally or physically abused if you try to climb the mountain without a guide.
We wish it wasn't like this and hope that the government will regulate this kind of behavior eventually but we don't think that's a priority for them now.
Having said that there are real advantages to a guide:
They will drive you there at 1.45/2 a.m. 

This is going to be safer than doing it yourself.

It's cheap. 

The guide and transport are reasonable and it's cheaper to pay for the experience than to risk a miserable time fighting with guides at Mount Batur.

They help you with any difficulties.

 A guide will happily help you carry something awkward, take photos, or give you a hand if you need one.

They come with breakfast.

 You can't argue with being fed in our opinion.

They know the mountain.

 Mount Batur is not the most dangerous mountain, far from it, but having somebody who knows any perils on hand is very handy.

They bring you home. 

This is a big deal. While the hike is not the most challenging, it's still a feat of physical exertion and it's lovely to be chauffered back to your hotel after you get back to the base.

You're supporting the local economy. 

Some people have visited Bali without ever putting a penny in the pockets of a local business. Don't be one of those people.
No! I Am Going To Walk Up Mount Batur Without A Local Guide
OK, if you must do this. We'd recommend heading to the North side and starting from there.
That's because the trail there is less monitored than the main trails and once you're moving upwards, it's not hard to follow. Sometimes, a less popular hike can be a blessing and you still get the same amazing views at the summit.
Can You Hike Mount Batur In The Afternoon?
Yes, you can. The benefits of this approach are that you'll get more time in bed in the morning and there will be much fewer people on the slopes with you.
The downsides are that you won't see the sunrise from above the clouds and there is a much bigger chance of mist spoiling the view altogether.
Can You Climb Mount Batur At Sunset?
Yes! Hiking Mount Batur at sunset is completely feasible. However, you should know that the sunset doesn't offer the dramatic visuals of sunrise most of the time.
You can also opt to camp on Mt Batur and see both the sunrise and sunset! Again talk to the travel agency in Finns to discuss this option.
Is There Anything Else Nearby Worth Seeing?
Yes, in fact, the Mt Batur hot spring is very popular and while, if you've seen one hot spring, you may have seen them all – the view of the lake from here is amazing!
If you're doing a Batur trek then it can't hurt to spend an hour or so at these natural hot springs, can it? In fact, it's a nice place to have a swim and get any aches and pains from the hike out of your system before you go back to your hotel.
You can also visit some "steam caves" on the slopes of Mount Batur itself. This is a good chance to appreciate the heat coming from the volcano.
Finally, you may be able to visit a Luwak farm on the way back (again talk to the travel agency at Finns about this).
Luwak is an Indonesian coffee where the beans have been pre-digested by palm civets. This gives the coffee extra acidity and a smooth taste. If there's anything better than getting some great pictures of the sunrise, it's talking about them over a fantastic cup of coffee.
Is It Worth Seeing Mount Batur?
We think so. It's one of the highlights of many a trip to Bali. As the islands become increasingly popular with tourists, there may come a time when there are just too many people trekking for it to be fun, but for now? That's not the case. Mt Batur is a lovely place to spend some time.
Will Mt Batur Be Open When I Go? 
For now, the answer is "yes." There was a moment when Bali considered closing all of its sacred mountains to tourists because of some incidents of bad behavior. However, nothing appears to have come of that.
When Was The Last Major Eruption At Mount Batur?
The last major event was in 1968. You can see the black lava field from that eruption during the hike. Some of the villagers in the area died during this eruption.
Final Thoughts On Mount Batur And The Sunrise Hike
Mount Batur is an experience that helps to set Bali apart from other holiday destinations. You can experience the thrill of an active volcano without ever putting yourself at risk.
Best of all you will capture some of the most incredible photos of your life at the summit and make memories that last for a lifetime.