Though famous for tropical revelry and huge swells, Bali isn't just for parties and surfing. It's also a delightful escape for kids, with plenty of activities to entertain them for days. So if you're looking for a destination that will satisfy adults, toddlers and teens alike, you've hit the jackpot in Bali.
Here's our list of the best kids-friendly sports activities and things to do in or near Canggu, Bali. If you decide to base yourself in Canggu, you're in luck because it's easy to access the activities and experiences on this list. It's also home to FINNS Beach Club and FINNS Recreation Club, two spots worth putting on your Bali itinerary.
Without further ado, here's our list of activities for kids in Canggu. 
Enrol in the Junior Sports Academy at FINNS Recreation Club
Junior and aspiring athletes will love the Junior Sports Academy at FINNS Recreation Center. 
They'll have a blast learning how to swim, dribble, kick, or dance (or even all of the above!). The program features classes on Indokick Aussie football, basketball, boxing, Capoeira, dance, Muay Thai, soccer, surfing, swimming, tennis and volleyball.
The sports programs at the Junior Sports Academy are geared towards kids aged 3 to 17 years old. The kids can learn through private one-on-one sessions or in small groups, whichever they prefer.
They're in good hands with our dedicated team, who will ensure they learn in a safe environment and meet their needs through our programs. Kids will leave the academy proud of their new skills and athletic prowess under our coaches' guidance.
Surfs up at FINNS, Canggu
Is there a more picturesque backdrop to surfing lessons than the shores of Bali? We think not. 
The FINNS Surf Camp is right in Canggu, great for beginner to intermediate surfers of all ages. Sign up the little ones for a one-of-a-kind surf school for kids 8 to 14. They'll learn the basics of surfing with expert instructors who will teach them how to paddle, pop and easily ride the surfboard.
Both private lessons and group sessions are available, and surfboards and transportation are included in the package, too, so there's no need for extra fuss securing rentals and boards.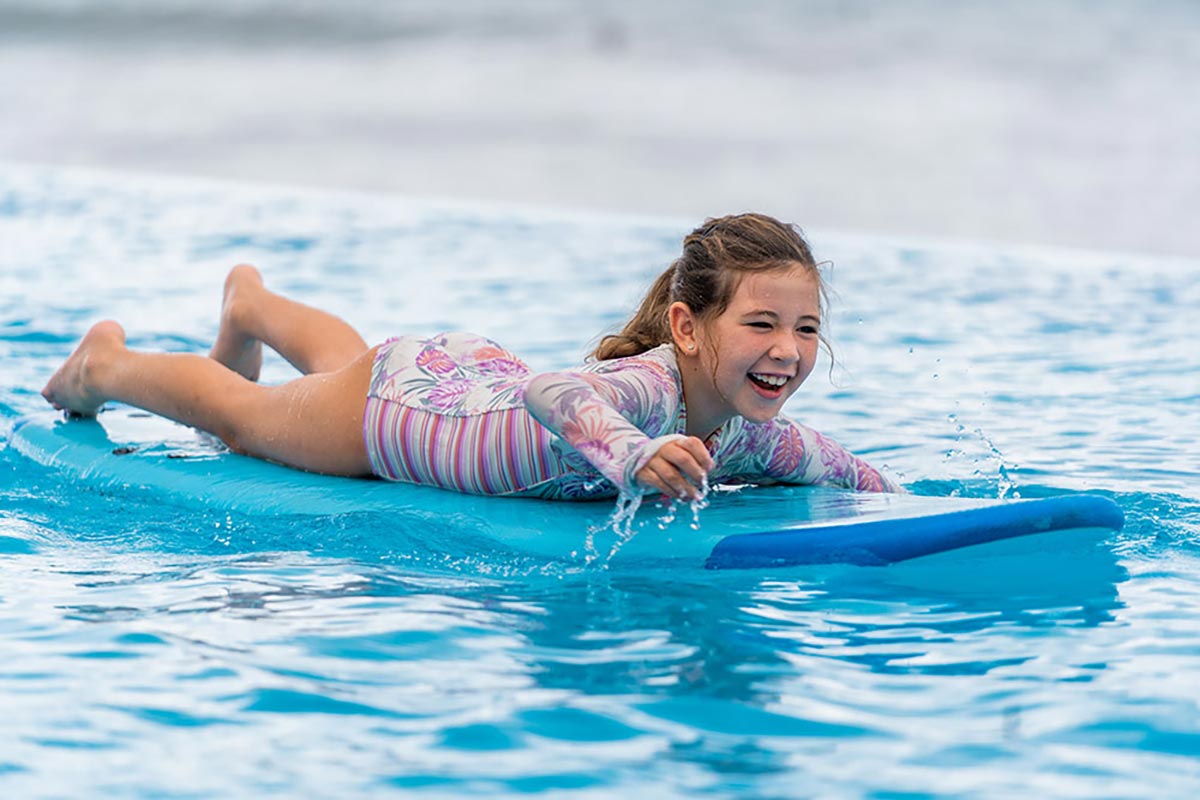 Wet and wild fun at Splash Water Park
Slide and splash at Bali's number one family-friendly water park, Splash Water Park, open daily from 9 AM to 5 PM.
It's wet and wild fun for all ages that the whole family will enjoy. Mums and dads can relax from the comfort of their daybeds or cabanas while the tots stay safe in sight (don't worry, lifeguards are on standby too).
This water wonderland will tickle anyone's fancy with its water cannons, racer and mini slides, climbing forts, and a literal super bowl that spins around and leads to a plunge pool below.
Bounce around at Bounce Trampoline Centre
When in doubt, jump around! The Bounce Trampoline Centre at FINNS Recreation Club is the only trampoline centre in Bali, making it a truly unique experience for kids in Bali. They'll love jumping, flipping, and dunking at our specially designed 360-degree trampolines.
They can bounce higher without compromising safety, thanks to the thick safety pads covering every frame and spring. Bouncing around is fun and a great exercise to work off the kids' excess energy on vacation–a win-win for families if you ask us!
Go bowling at Strike
Rainy weather need not dampen your spirits. Even when the weather is less than favorable, FINNS offers plenty of indoor activities that you and your family can enjoy around Bali. One of these options is Strike Ten Pin Bowling, where you can let the good times roll, rain or shine.
Strike is a modern ten-pin bowling venue in Canggu that features 6 lanes with automatic scoring systems, so there's no need to keep track of points, and you have more time to concentrate on enjoying your family day out.
The kids will love the alleys, fitted with bumpers to assist them as they practice their strikes. Plus, when hunger hits, as it inevitably will, the restaurant and bar area adjacent to the bowling alley has you covered.
Join the club – The Cubby House Kids Club
Toddlers and little ones will love having a playdate at the Cubby House Kids Club at FINNS Recreation Club.
The Cubby House Kids Club balances fun and learning and is open to kids 2 to 12. For a reasonable price, they can roam around the outdoor area or toddler zone, get crafty at the arts and crafts space, or watch films in the movie room. 
The options for leisure and mental stimulation are endless, including but not limited to play blocks, storybooks, Legos, dress-ups and Wii games. 
Parents can be at ease knowing the kids are safe with friendly and helpful staff with extensive experience handling children. Plus, a kids' menu is available if the kids get the munchies while in the club.
Dive into Bali water sports – banana boat rides and more
If you venture outside of Canggu, you'll find a never-ending variety of activities in all corners of the island. One of our favourites is near Nusa Dua, about an hour from Canggu, where calm, clear waters are perfect for water sports.
Take the whole family to an exciting banana boat or jet ski ride. Banana boats are great for thrill seekers, but if that's too much, glass boat rides are a great alternative. Glass boats will give you a peek into the marine life hidden under the waters, such as fish, turtles and coral reefs.
In some parts of Nusa Dua, kids can also parasail, paraglide, raft and snorkel to their heart's content. 
Go bird-watching at Bali Bird Park
Another favourite activity outside Canggu but worth a day trip is the Bali Bird Park. Be one with nature and see birds in their natural habitat. This can be a great sightseeing and hiking activity for kids with a penchant for exploring.
The park recreates the indigenous homes of the birds to the native plant life. You can also enjoy exotic bird shows and feeding displays. Kids can meet and pose for photos with their feathery friends, making this fun, hands-on day for learning.
Visit the Sangeh Monkey Forest
If you're willing to journey north from Canggu, another great activity to do in Bali with kids is to drop by the Sangeh Monkey Forest in Ubud. It's a 35-acre forest filled with grey macaque monkeys and the 17th-century Hindu temple Pura Bukit Sari. The monkeys of this forest are said to be guardians of Pura Bukit Sari. 
Roaming around the grounds will give the kids a firsthand experience of Balinese heritage and culture. They can even feed the monkeys with peanuts that you can buy onsite. Be sure to mind your belongings, as the monkeys are notoriously naughty!
Get a day pass to FINNS
If you've ticked everything off this list or want to slot in a more laid-back day during your holiday, book a day pass to FINNS Beach Club and FINNS Recreation Club. 
The FINNS Bali Day Pass is great for families who want to combine fitness and fun because it gives access to both the beach and recreation clubs. 
It includes entrance to Splash Water Park, a single deluxe bed per adult, 25-meter swimming pool access, co-working hub spaces, complimentary fitness class, wifi, free luggage storage, and a spa gift voucher, among many other perks.
FINNS Recreation Club is the place to be for families.
We hope this list gave you some ideas for spending your next Bali holiday with the little ones. If you're interested in any of the activities on the list, contact our team, and we'd be happy to help you plan the perfect vacation in Bali.