The Ubud Monkey Forest is one of Bali's most popular tourist destinations, and for good reason. It's a sacred place to the locals and home to over 600 monkeys.
It's a great family-friendly break that gives you the opportunity to interact with the animals in a safe and fun manner.
There's no need to worry about aggressive monkeys as long as you've got our guide to teach you what to expect in the monkey forest.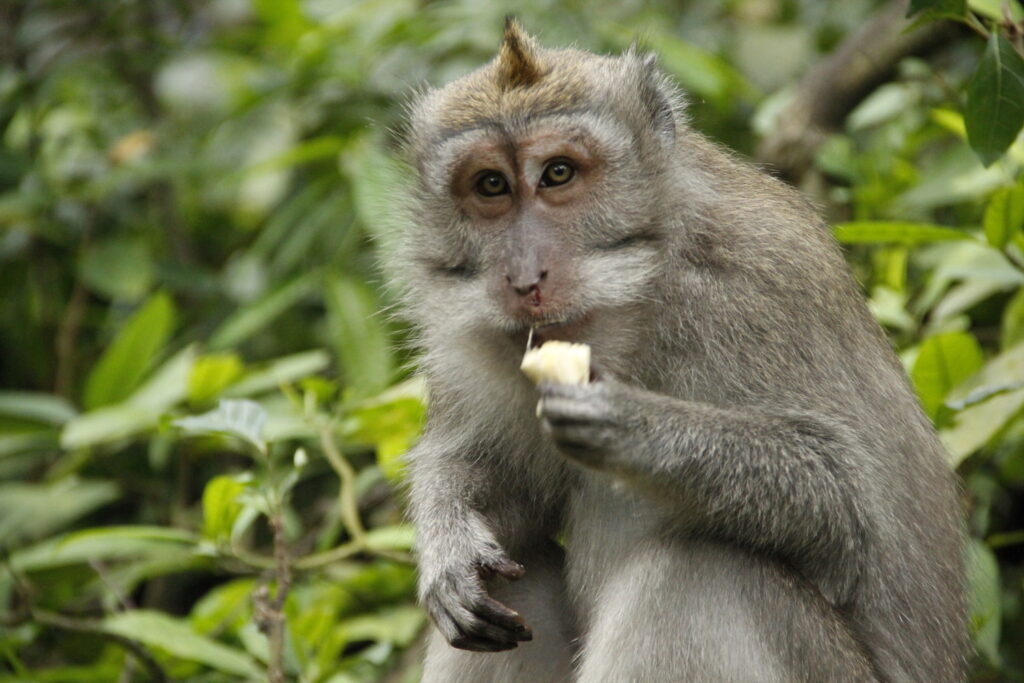 Where Is The Ubud Monkey Forest?
The Ubud Monkey Forest lies at Jl. Monkey Forest, Ubud, Kecamatan Ubud, Kabupaten Gianyar, Bali 80571, Indonesia.
It's outside of Ubud town and in the jungle nearby. It's a 10-minute drive and about 2 kilometres away.
It's so close to town that some people opt to walk there.
There is also an official Ubud Monkey Forest website.
When Does The Sacred Monkey Forest Sanctuary Open?
The opening hours for the Ubud Monkey Forest are 9 a.m. to 6 p.m. However, you cannot buy a ticket after 5 p.m.
How Much Is It To Get Into The Monkey Forest Ubud?
It's cheaper to visit on a weekday than it is on weekends.
Adults will pay 80,000 IDR on weekdays, kids (under 12), locals, and KITAS/KITAP holders will pay only 60,000 IDR.
On weekends, adults will pay 100,000 IDR, kids (under 12), locals and KITAS/KITAP holders pay only 80,000 IDR.
Children under three always get into the Ubud monkey forest for free.
They take cash, credit cards and bank cards at the entrance, so you can pay however you usually would.
Your entry ticket gives you unlimited access to the Ubud Monkey Forest for the day it is issued.
It also provides access to the nearby temples and cemetery adjacent to the Monkey Forest.
There are staff on site who are very kind and helpful, but be aware that many people are often seeking their attention, so you might need to be a little patient if you want their assistance. 
How Long Should I Stay At The Ubud Monkey Forest?
While the entire Ubud monkey forest is about 30 acres, you're expected to cover only some of that ground.
Most people will spend no more than an hour or two wandering the grounds, enjoying the monkeys and seeing what else is available at the monkey forest.
However, you're welcome to stay until 6 p.m. if you have a ticket, and if you want to take photos or contemplate nature and the world at the temples, you can.
What Is Jalan Monkey Forest?
Jalan Monkey Forest Ubud is the road that leads up to the monkey forest. The word "Jalan" means "a physical way" but it's used in the way that we use the word "road" in English.
It's a Bahasa word, and you may also find the word "Jalan" in the same way in Malaysia, Singapore, and Indonesia. Oddly, it's not used in the Philippines, even though Tagalog is also a Bahasa language. 
What Should You Expect At The Sacred Monkey Forest Ubud?
Monkeys! Lots of monkeys! And the typical fun that comes from being around lots of monkeys.
The Ubud monkey forest describes an area where monkeys can thrive in their natural habitat. There's nothing more literal than the name of the monkey forest grounds.
Many people say that when they see pictures of the Ubud monkey forest on Instagram, they plan a trip to Bali to see it.
Other people say they're just not keen on monkeys and want to avoid the Ubud monkey forest for their whole trip (and that's OK, don't make someone afraid of monkeys visit the Ubud monkey forest).
However, you need to know that the monkeys here are wild. There's nobody whose job is to tame the monkeys at Ubud Monkey Forest, which means interactions with the monkeys can be surprising at times.
We've seen a monkey steal someone's water bottle, knock off and then wear their sunglasses, sleep in the middle of the path and even, rarely thankfully, urinate on a visitor.
You're likely to avoid coming to harm at this Bali monkey forest, but the monkey forest grounds are an adventure.
About The Monkeys At The Sacred Monkey Forest Sanctuary
The monkey forest area provides a home for over 600 Balinese long-tailed macaques. (In fact, some estimate that there may even be twice this number of monkeys in this Bali monkey forest).
There are baby, adult, and obese monkeys in the park's natural environment.
The monkey forest's governing council protects all the monkeys here, including the ancient temples and their visitors.
They have their work cut out for them as the monkeys are divided into 10 different groups spread out across the park and may occasionally conflict with each other if they stray into each other's territory on the park grounds.
In addition to the park's monkeys, there are nearly 200 species of plants (including rare plants) and trees in the jungle, and it's a forest conservation area, too.
The village members serve as the ultimate guardians of the monkeys, and the local community sees them as a spiritual blessing to the area and the forest.
Do These Monkeys Have Rabies?
Probably not. The Balinese long-tailed monkey is studied regularly by overseas scientists, and to date, they haven't found any rabid monkeys. However, there's no doubt that monkeys CAN carry rabies.
Monkey bites are common in the area, mainly when foolish tourists try to intimidate aggressive monkeys and hide food or disturb the monkeys' rest. The best thing you can do is not get bitten by a monkey. So don't provoke them.
There are no recorded cases of tourists getting rabies from the monkey population here, and it would likely become a matter of local news if it did.
Many of the humans visiting the park who have been bitten have not bothered to get rabies shots, and no recorded human visitors are dying of rabies, either.
However, we'd urge you to play it safe. If you are unlucky enough to get chewed on by a monkey at the monkey forest, we recommend you visit a local clinic and get a rabies shot.
This can be expensive and a bit of a pain, so we recommend not getting bitten, but a shot is critical if you do get bitten.
That's because there is no cure for rabies. Once you develop symptoms, it's always fatal. So, it's better to be safe than sorry.
This advice also aligns with the monkey forest management recommendations, which say you should prioritise human health in every interaction with monkeys.
Can I Get A Selfie With A Monkey?
Yes! But please don't just grab a monkey and try to get it to pose with you. That's going to end badly.
Approach a member of staff. They will lure a friendly monkey over to you, give it a snack to motivate it to pose momentarily and use your phone to capture the action.
You can't say fairer than that, and it means you run no risks of upsetting any monkeys in the process.
The good news is that baby and young monkeys are the friendliest monkeys, and they're the cutest ones, too. So, the staff will ensure you get the best and safest selfie!
However, if you stand still in this natural environment long enough, you will find that the monkeys invariably approach human visitors out of curiosity anyway.
How Do The Staff Deal With Misbehaving Monkeys?
It's a relatively rare event that the monkeys cause real trouble at the monkey forest, but if they do, the staff is equipped with slingshots.
Mostly, they don't use them. Just brandishing one is enough to see the naughty monkey turn tail and flee, but if they do use one, they use a specially designed load that won't hurt the monkey. It will just make them scared and run away.
About The Deer In The Sacred Monkey Forest
The Timor Rusa deer is also kept in the monkey forest and contained in a deer enclosure in one corner of the park.
These deer are native to Indonesia but not to Bali. They come from Timor, though they are also found in Java.
You're welcome to admire the deer and to take their photographs.
Things You Should Never Do At The Monkey Forest Ubud
This is perhaps the most important thing to know about visiting the forest: the list of things not to do if you want to have a good time without too many monkey-based hassles:
Never bring small, valuable items.

 This is particularly true of jewellery items that a monkey can snatch. We've seen monkeys happily yank things off visitors; remember, they're wild animals, not tame ones.

Don't wear glasses or sunglasses.

 The monkeys will steal them, and they will run away and lose them.

Do not panic or run away from a monkey. 

Monkeys know what that means. It means you're afraid, and you're losing. They will go bonkers if you run away from them.

Don't bring food items, not even in your pockets.

 If they think you have good monkeys, demand that you give it to them. They can get cranky if you don't.

Only feed the monkeys from an official feeding station.

 Feeding the monkeys is fun, but don't make them fat by feeding them snacks for people.

Don't make eye contact with monkeys.

 If you stare into a monkey's eyes and smile, don't be surprised if it squares up for a fight. That's how monkeys tell each other they are angry and aggressive.

Don't bring any plastic or paper bags with you.

 Monkeys will steal them, and then they will throw them all over the forest. The litter sucks even when monkeys make the litter.

Don't try to pick up or grab monkeys.

 Yes, even if one decides to climb you, you need to let it do its thing and then move on.
Should Children Visit The Ubud Monkey Forest?
Yes, very much so. In fact, children are going to have a great time at the monkey forest, but… make sure they street clear of older monkeys.
These monkeys are the most significant and likely to be aggressive and can weigh as much as a small child.
The Three Hindu Temples Of The Sacred Monkey Forest Sanctuary
Several ancient temples in the area are essential in bridging the monkey and human worlds in the forest.
The local community views the forest as sacred and the temples as sacred, and you may even run into a few monkeys as you explore the temple grounds.
Watch for the vast banyan tree as you visit the temples. It's over 100 years old and often has a bunch of monkeys enjoying its branches.
Pura Dalem Agung Padangtegal
The Pura Dalem Agung is the main temple in the Southwestern part of the park.
It's used to worship Hyang Widhi, the Hindu God Shiva. Shiva is often thought of as the recycler or transformer of souls.
The literal translation of Pura Dalem Agungn Pandangtegal is "Pandegtegal the Temple of Death")!
It was built around 1,350 AD (all the temples were built roughly the same time).
One of the groups of crab-eating macaques has made its home in front of this temple.
Pura Beji
The Pura Beji is a bathing temple. It's found in the Northwest of the Park, and people come to conduct spiritual and physical cleansing by bathing in the holy spring at this site.
It's most busy just before a Hindu religious ceremony as there's a need to purify before participating in some ceremonies.
Pura Prajapati
This temple is near the cremation and cemetery area in the park's Northeastern section.
It is dedicated to the Vedic deity Prajapati, and they store bodies at this temple from the local community for up to 5 years before they are all burned simultaneously in one of the most significant mass cremation ceremonies in Bali!
Please be aware that with all the temples, you must remain respectful as they are places of worship and genuinely sacred to the Balinese.
It's worth noting that you may only enter the most sacred parts of a temple in Bali if you have donned Balinese prayer attire. Trying to enter without this kind of clothing is considered very offensive.
The Dragon Statues Of The Monkey Forest Ubud
You will need to take the path deep into the jungle to find these statues, but they're fantastic and worth a bit of a walk.
They're representations of a pair of Komodo dragons running down the balustrades of a set of stairs (in a similar fashion to how nagas often run down the stairs at Buddhist temple sites).
There's so much native vegetation present that the whole thing could come from a scene in an Indiana Jones movie!
When Is The Best Time To Visit Ubud Monkey Forest?
The monkeys of Ubud Monkey Forest are there all year round, and mostly, they're running about and having fun no matter what the weather is like.
However, if you want to beat the crowds (which can get very sizeable during the peak season, in particular), we recommend getting there at 8.30 a.m. before they turn up.
Leave the cremation and cemetery area until the end of your visit, as most people ignore it, and it never gets hectic.
FAQs
Is Monkey Forest In Bali Worth It?
The Ubud monkey forest sees over 10,000 visitors a month, so it's certainly popular.
It's worth it, but only you can decide if it's worth it.
If you love spending some time out in a natural habitat and enjoying the company of monkeys, it will be an ideal trip for you.
How Long Does It Take To Walk Around The Monkey Forest In Ubud?
The Ubud monkey forest is not the most significant place in Bali, and you can comfortably walk around the whole monkey forest in about 2 hours.
Now, that doesn't mean your visit will only take 2 hours. Keen nature lovers, temple visitors or photographers may spend more than 2 hours enjoying the sights here.
Why Is The Ubud Monkey Forest Famous?
The monkey forest is famous for monkeys. Yes, it's a literal naming convention, but that's OK. With more than 600 monkeys living on this patch of jungle, they are its best-known and loved inhabitants.
What Is The Best Monkey Forest In Bali?
The Ubud Monkey Forest is generally considered the best of the monkey forests in Bali.
But in peak tourist season, it gets a bit busy. Then you might prefer the Sangeh Monkey Forest, which is close to Ubud, too.
There is also Alas Kedaton Monkey Forest in Bali, which is also a bat sanctuary! It's home to the "flying foxes", the world's biggest bats!
Can I See Monkeys In Ubud Town?
Yes, sadly, you can. Monkeys in Ubud Town, however, are not usually happy, friendly monkeys. They do generally ignore humans, though.
When a monkey leaves the Ubud monkey forest, it becomes an outcast from the other monkeys.
If you see a monkey running around in Ubud, they will likely be foraging for food and may be much more aggressive and angry than expected.
We've seen the occasional tourists wishing they'd left well enough alone regarding the monkeys in Ubud Town.
You're not likely to find any escapees from the Ubud monkey forest in your hotel room, mind you, though if monkeys are a common issue locally, you might be asked to keep your belongings and shoes inside your room at all times.
How Do I Go To The Ubud Monkey Forest?
If you're in Ubud, getting to the Ubud monkey forest is very easy, but if you're looking to travel to the monkey forest from another part of the island, we recommend talking to our friends at Bali Res Centre.
They can help organize an itinerary so that you see more than the Ubud monkey forest and have a good day in Ubud.
They'll also ensure you get a solid driver and guide to make your trip more enjoyable.
Final Thoughts On The Sacred Monkey Forest Ubud
Ubud monkey forest is a fantastic part of Balinese life, and we can't imagine visiting Ubud without spending a little time in the monkey forest.
It's a fun way to spend time in Ubud, and if you have children, they will love the time they spend at the Ubud monkey forest.