There is so much to explore around the Island of the Gods. While we'd love for you to spend as much time as possible with us at FINNS during your Bali holiday, we highly recommend you get out and see the island's unending beauty and splendour.  Our top day trips for sightseeing (and of course, Instagramming!), are below.  Our travel agency for Bali trips can help organise and personalise your trip, with local guides to help you learn about Bali's history and culture along the way.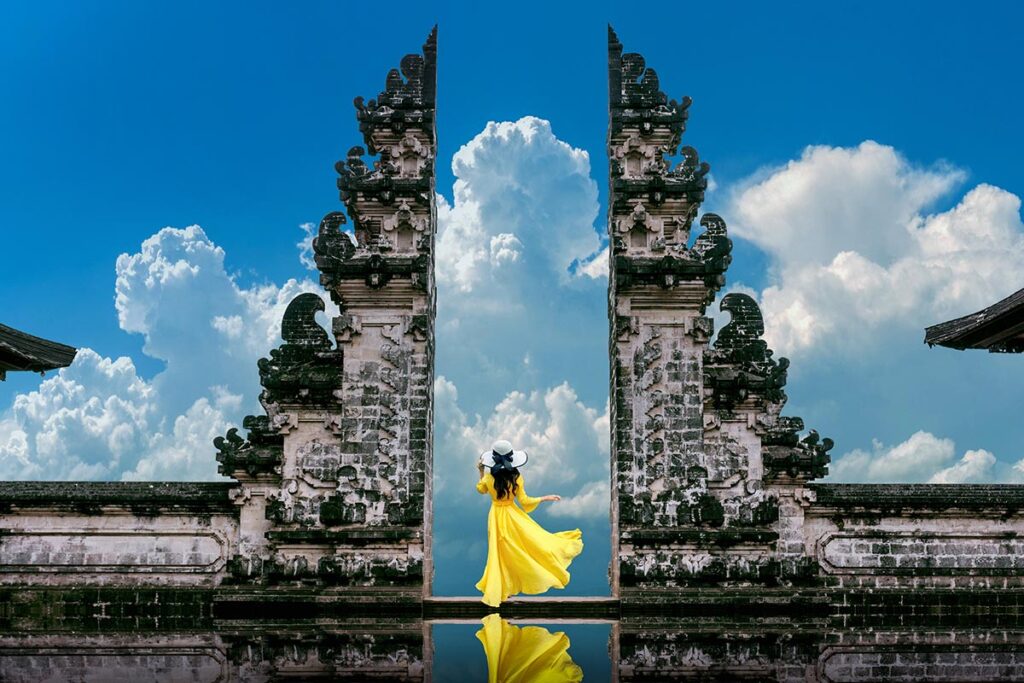 Bali Tour Company – Why use an agency for your day trips?
There are many benefits of using a Bali travel agency, and one of the most important would be that you want local guides who are knowledgeable and reputable. It is safest to go with a local guide, rather than trying to organise your own transport or even drive yourself. When you are not familiar with roads, terrain, or even a language, it can be risky to set out on your own. A Bali travel agency can organise your entire itinerary with a reliable Bali driver and tour guide, who are often the same person, who can take you on your tour in a private car. The tour guides have local knowledge of the sights, history and culture, so you can learn more about the island as you go.
Bali Day Trips to explore the Island of the Gods
Bali may seem like a small island, but there is so much to discover, we could never cover it all. Among our best places to visit in Bali, we have listed our favourite sites that can be done as day tours, to see while you are here to be immersed in Balinese culture, see incredible scenery, and experience the magic and wonders of Bali.
West Bali and Tanah Lot Day Trip
This is a trip that is easy to do from Canggu and FINNS, because it's located not too far to the north, along the west coast of the island. Tanah Lot is an iconic Hindu temple and UNESCO World Heritage site, that sits upon a platform of solid sea rock. When the tides are low, the temple can be reached, and often there are ceremonies and rituals performed. The views are stunning, the locals are friendly, and there is plenty to explore in the local markets. Make sure to stick around for the magical sunset hour – it's definitely a sight to behold!
Uluwatu Bali day trip
One of the most scenic regions of the beautiful island of Bali is the southern part of the island – Uluwatu. Here, you can explore the spectacular beaches, enjoy amazing views from the clifftops, experience world-class surfing, savour fresh seafood at local restaurants, and visit the famous Uluwatu Temple. This awe-inspiring temple is perched on a 70-metre-high cliff and is believed to be guarded against evil spirits by hundreds of mischievous monkeys. Nightly, the famous Kecak Dance ritual is performed for hundreds of spectators. If you're looking for some exciting water sports to enjoy, Uluwatu has iconic surf breaks – but be warned that they can be a bit challenging for beginners. If you go a little further east, you can also find parasailing on the cliffs, family fun on jet skis and other water sports, and the incredible snorkelling and marine adventures. If you are staying in Canggu, you can go to Uluwatu for a day trip, but we also recommend taking a few days to relax and enjoy. Book your tour or stay today!
Ubud Day trip
If you're looking for a day trip that will enchant and amaze you, then you have to visit Ubud! This village town is the spiritual capital of Bali, and within the centre and surrounding areas you will find some of the most beautiful attractions on the island, including the iconic Tegalalang Rice Terrace, stunning and picturesque Tegenungan Waterfall, serenely spiritual Tirta Empul Temple and the popular walk-through lanes of the Sacred Monkey Forest.
Tegalalang Rice Terrace.
The Tegalalang Rice Terrace is one of the most popular attractions in Ubud. It is a series of terraced rice paddies that have been formed to follow the traditional Balinese irrigation system that has been used for generations, called 'subuak'. The terraces and rice paddies are arranged in such a way that they make for stunning views, and they are a photographer's dream come true.
Tegenungan Waterfall.
On your Ubud adventure, you can also visit the Tegenungan Waterfall, which is 15 metres high and surrounded by lush greenery. Bring your camera and your swimsuit to capture one of the most memorable moments and scenery from your Bali holiday.
Tirta Empul Temple.
If you're looking to experience traditional Balinese culture, the Tirta Empul Temple is a must-see. It's a sacred water temple with a series of holy springs that are considered to have blessings and soul-cleansing powers by the Hindu Balinese community. Bathing in the springs is said to purify those who do so. Tirta Gangga Water Palace is a worthy alternative you could check out too.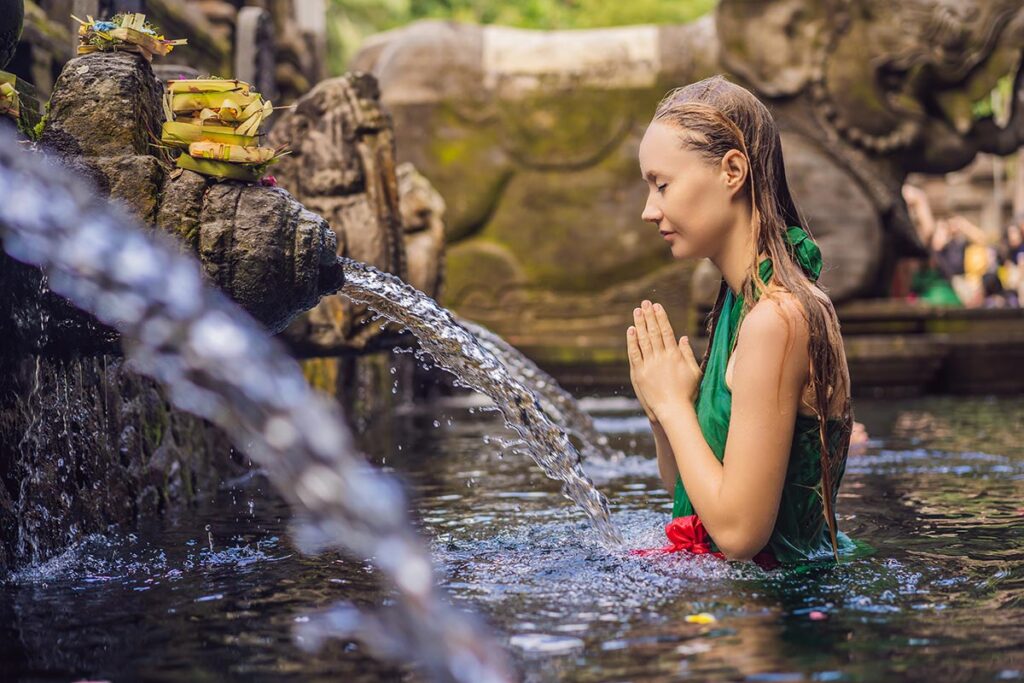 Sacred Monkey Forest.
While you are exploring the centre of Ubud, perhaps doing a bit of shopping at the markets, take a stroll through the Sacred Monkey Forest. This is a sanctuary where you can adventure along the paths on foot, surrounded by the native long-tail macaques. They are notoriously naughty though, so be sure to bring them some fruit, so they don't help themselves to your other items.
On top of the famous sites, Ubud has rolling rice fields and resorts that are hidden among the forests and lush greenery. It's a must-see place for Bali visitors, So be sure to put Ubud on your list of places to visit while in Bali – you won't regret it!
Mount Batur Sunrise Trek
Wake up early for an unforgettable adventure on Mount Batur, an active volcano and one of Bali's most iconic landmarks located northwest of Mount Agung. Your driver will pick you up in the early morning, around 1:00 or 2:00 am depending on your location, and take you to the base of the mountain. As you trek up the volcano under a starry sky, you'll be rewarded with a breathtaking sunrise at the top. Your guide will serve breakfast while you wait for the sunrise and take photos, and you can warm up with a coffee or hot chocolate. After the trek, many tours offer the option to visit a waterfall, Luwak coffee plantation, or hot spring to relax. While you are in the area, you can ask your guide to take you to one of the local cafes at Kintamani, where many of them overlook the view of Mount Batur, Mount Agung, and Lake Batur – it's a stunning sight to behold. Book your sunrise volcano hike for an experience you won't forget.
Sideman Village Tour
Experience the beauty and serenity of Sideman Village on the Sideman Village Tour. This tour takes you through breathtaking rice fields, farmlands, and peaceful villages, including the opportunity to see Mount Agung in all its splendour and visit one of the region's agricultural valleys. Sideman is a lesser-known and largely untouched part of Bali, offering a unique chance to observe local life. There are also several stunning natural and cultural sites to visit, such as Gembleng Waterfall, where you can take a refreshing dip and enjoy breathtaking views, and Taman Ujung Water Palace, a historic site built in 1919 surrounded by picturesque pools and ponds. Don't miss out on the opportunity to explore the incredible Sideman Village.
Gates of Heaven – East Bali
If you are in Sideman, it would be well worth it to go further east to see the Gates of Heaven. The Gates of Heaven in East Bali offer an amazing view, that is one of the most iconic photos across social media. If you want to get this popular shot, you'll need to leave early to avoid the crowds. Lempuyang Temple is known as one of Bali's oldest and most highly sacred temples, with high soaring parallel spires and a majestic backdrop of Mount Agung. Thousands of people visit each day to take in the stunning views, so make sure to add this stop to your tour if you want to get some great photos. Gates of Heaven is an easy stop from Sideman, or if you're staying in the eastern coast villages of Candidasa and Amed.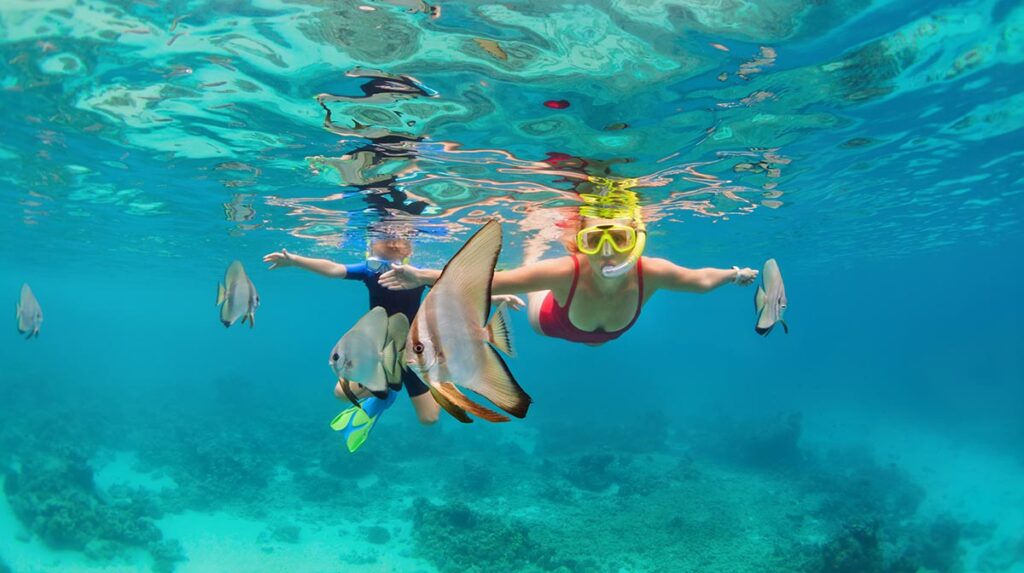 Nusa Penida Snorkelling Excursion
The island of Nusa Penida is a paradise for those who love snorkelling. Located just off the coast of Bali, it boasts crystal clear waters and an abundance of diverse marine life that make it an ideal destination for a day trip. Broken Beach, which is one of the most famous spots on the island, has earned its name due to its unique landscape. The best way to travel to Nusa Penida is to take a fast boat from Sanur. During your visit, you can snorkel at various points in the clear waters and if you are lucky, you might even find giant manta rays swimming around. After a morning of enjoying the underwater views, you can enjoy a delicious lunch at one of the many restaurants on the island or bring your own food to enjoy a picnic with breathtaking views of the cliffs and ocean. We highly recommend adding Nusa Penida and Nusa Lembongan to your holiday itinerary, even for a quick day trip if you're short on time, as they offer some of the best snorkelling experiences in Bali. Whether you're a seasoned snorkeller or a beginner, there's something for everyone on the beautiful Nusa Penida island. Don't miss out – book your trip today!
Bali Travel Agency – Ask the team at FINNS to organise your Things To Do In Bali itinerary
If you're planning a trip to Bali, we can help make sure your time in Canggu is unforgettable! A day at FINNS Beach Club and FINNS Recreation Club should be on your list for some fun in the sun or to Splash Water Park, Bounce Trampoline Centre, Body Temple Spa, or even some surf lessons or yoga classes. Our reservations team can book your activities for a day at FINNS Recreation Club, as well as reservations at the best restaurants in Bali, poolside daybeds and packages at FINNS Beach Club and more. Then, we can help you get out and explore everything the island has to offer and see, and our list above is only scratching the surface.
So don't hesitate, get in touch with us today!