It's no secret that Bali's temples are magical, and at the top of the list as one of the most awe-inspiring is Tirta Gangga Water Palace. It's an exquisite complex of ponds, swimming pools, carved gateways, fountains, and lush gardens. This majestic palace was built in 1948 by the late king of Karangasem. It's a popular destination for anyone who has come to Bali to enjoy more than just fun in the sun, beaches and our World's Best Beach Club. When in Bali, we highly recommend you get out and explore everything that the Island of the Gods has to offer. Book a day trip or take a few nights to stay in East Bali, near Candidasa, and enjoy the quieter side of the island, with the most beautiful scenery of Mount Agung and Mount Batur as your backdrop. 
Here's a quick overview of Tirta Gangga: its history, what to do when visiting, and how to get there. To book your day trip or your East Bali excursion, contact our team at Bali Res Centre, who can help you with accommodation, a private car and driver and all of your entrance fees as well.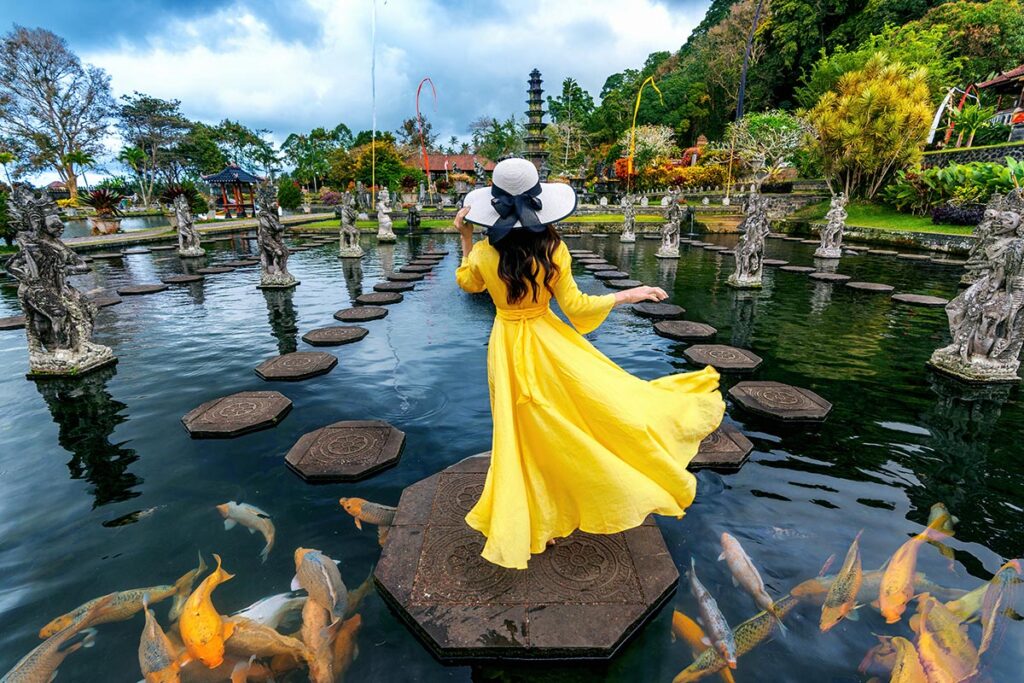 Location
Tirta Gangga sits in eastern Bali, in Ababi village. It's near Karangasem Regency and a 2.5-hour drive from Canggu. It stands on a hill, surrounded by lush gardens, and Mount Agung is 15 kilometres away.
The entrance fee is IDR 50k and another IDR 20k for when you want to enter the pools. 
What is the significance of Tirta Gangga?
Tirta Gangga means "water from the Ganges" in Indonesian. It's a royal palace east of Ubud. It has a large and grand water palace with steps to enter. Its pools have holy water, believed to have healing powers. People come here for festivals and ceremonies—to dip in the pools and honour their spiritual meaning. Balinese people believe it protects them from evil spirits, bad luck and illness. 
The main attraction of Tirta Gangga is its water garden pond with fountains and cascades. The pools are connected by traditional water channels used for irrigation. There are ornamental fish in some of the pools. Food is provided on entry to feed the fish.
Tirta Gangga is one of the best examples of Balinese culture and traditional architecture—with carved pillars, archways and statues of gods. They line the palace's pathways. 
Origin & History
Tirta Gangga was constructed in 1946 by the late King Anak Agung Anglurah Ketut Karangasem, the king of Karangasem. It was designed as a place of worship and meditation for the royal family. Its grounds are spread over a large area with lush gardens and pathways. It is still beloved by the Balinese today.
The palace has its roots in an ancient belief system. Some suggest it was built in the 8th century AD, dedicated to Dewi Danu or Shiva. It has been passed through many hands throughout the years. 
The palace suffered significant damage during World War II when Japanese soldiers occupied it. The palace was left in ruins for many years until the Indonesian government restored it in the 1970s. Now, it is managed and maintained by members of the local regency council.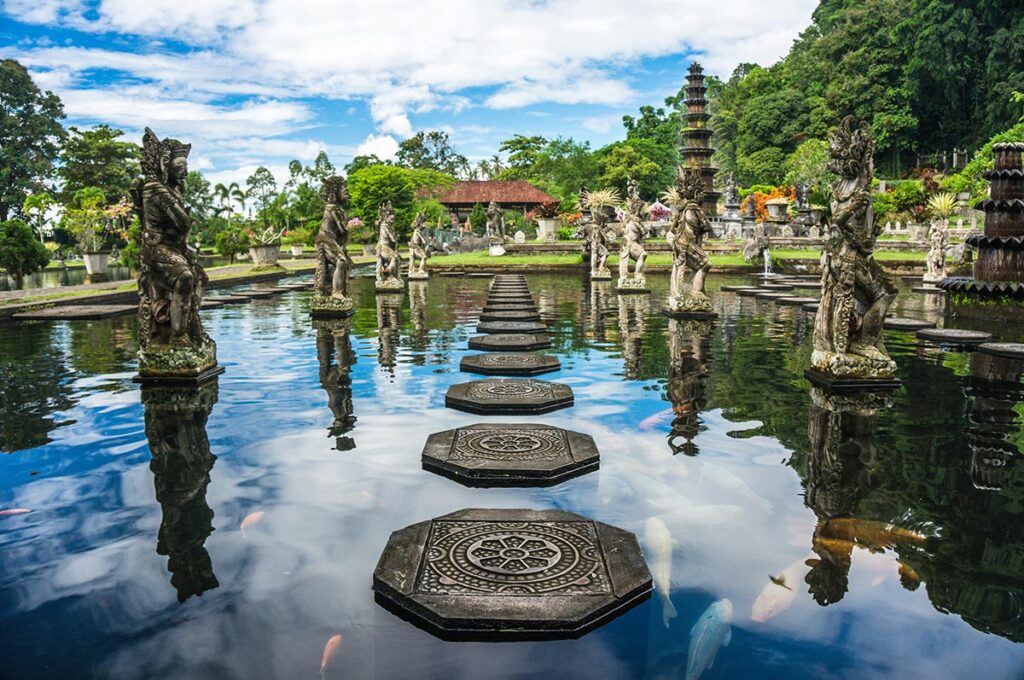 What to Do in Tirta Gangga Water Palace
The Tirta Gangga Water Palace is one of Bali's must-see temples and attractions. There are aquamarine pools, fish ponds, and some beautiful Hindu and Buddhist statues. The architecture and religious symbolism of the palace are well worth seeing for a day trip or within a tour of East Bali.
Let's look at what you can do in the Tirta Gangga Water Palace.
Take a tour of the palace.
You are welcome to explore the water palace at your own leisure and pace but to learn more about its history and significance, book a guided tour by one of the guides. As you walk into the palace, you will be welcomed by two towering gates at the entrance of a long pathway. Fountains feature seven statues of characters from Balinese mythology. Ornate pavilions with prayer flags hang from their eaves. Unusual stone sculptures showcase Hindu gods carved into them. Plants, trees, and shrubs surround beautiful koi ponds.
Explore the gardens
Explore the lush gardens around the palace. You'll find exotic plants and statues of kings from centuries ago. Paths lined with lotus ponds and grassy spots – take pictures or enjoy the serenity.
The palace walls have ten divisions of Balinese garden architecture – pools and shrines connecting the park to its larger landscape. There are three necklaces (tera), shellfish-horned walls (kala-makara), terraces, archways, and pavilions.
Take a dip in the pool.
Within the water palace, the fountains are not for swimming. However, there are pools where visitors can enjoy a cool dip in the spring waters. Tirta Gangga boasts two rectangular pools with carved stone steps leading down into them. The inner pool was built for the royal family and guests.
The pools offer a tranquil atmosphere, surrounded by lush greenery and yellow frangipani flowers. Visitors can explore the gardens, the deep river-like bottom and the underwater rock formations. The crystal clear water is free of chlorine and other chemicals. Soap is strictly forbidden, and visitors must wear appropriate clothing within the pool.
A Tour of East Bali
If you want to visit Tirta Gangga, why not make the most of your time in East Bali, and see all of the magic that exists in this part of the island, far away from the crowds? It's a blissful escape and, in many ways, like taking a trip back in time to experience the rich Balinese culture and the island's untouched natural beauty.
Here are some of the top attractions to consider:
Besakih Temple. Known as the mother temple of Bali, Besakih is a complex of 23 temples on the slopes of Mount Agung. It is the largest and most important temple in Bali, and it offers breathtaking views of the surrounding landscape.

Amed Beach. If you're looking for a quiet and relaxing beach, Amed is a great option. The black sand beach is surrounded by hills and offers some of the best snorkelling and diving in Bali.

Mount Agung. At 3,031 meters tall, Mount Agung is Bali's highest volcano. It is considered sacred by the Balinese people, who believe it is the centre of the world. Many visitors hike up the mountain to watch the sunrise from the top.

Taman Ujung Water Palace. Built by the last raja of Karangasem in the early 1900s, Taman Ujung is another beautiful water palace in East Bali. It features stunning gardens, pools, and pavilions with a mix of Balinese and European architectural styles.

Candidasa. A small seaside town in East Bali, Candidasa offers a more laid-back and less touristy environment than other parts of the island. It has a quiet beach, good snorkelling and diving, and plenty of restaurants and bars.

Lempuyang Temple. Also known as the Gateway to Heaven, Lempuyang Temple is a Hindu temple atop a hill that offers stunning views of Mount Agung and the surrounding

rice fields

. It is considered one of the most Instagrammable spots in Bali.
These are just a few of the many sites to see in East Bali. Each one offers a unique perspective on Balinese culture, history, and nature.
Book your Tour with Bali Res Centre
Tirta Gangga Water Palace is a magnificent Hindu water garden in East Bali. Tourists are attracted to this gorgeous palace, as it offers incredible views and various activities. Booking a driver with us is the perfect option for reaching the temple and exploring the surrounding areas. With a private driver, you'll have the comfort and flexibility of having your tour guide, who can customise the itinerary to your needs and interests. We've got you covered if you plan to go to Tirta Gangga Water Palace, and we highly recommend that you add it to your Bali itinerary.