With 170m of oceanfront space, FINNS earned its reputation as the World's Best Beach Club. Daybeds, stunning sunset views, happy hour, and an always fun and electric vibe keep people coming back.
Visit FINNS Beach Club any day of the week for the best beach club experience day or night. Book your daybed or sunlounger now.
Best beach club Canggu. 10 things you might not know about FINNS Beach Club.
Let's explore a list of lesser-known reasons that make FINNS Beach Club the best:
1. We have a chic, VIP side.
FINNS features a VIP area for a more sophisticated experience. The crowd is extra fashionable and the bubbles flow plentifully among the white and clean decor. An adults-only pool and exclusive perks like a special menu, unlimited water and premium spirits, a complimentary locker, cold face towels, free coffee, and juice (until 3 PM), and free gelato (3 PM to 6 PM).
2. FINNS Beach Club is family-friendly.
Kids are also welcome. There are 2 pools open for kids, one in FINNS Beach Club, and a family gazebo pool in FINNS VIP. There are also kids' menus available. A pool day at FINNS Beach Club is one of the great things to do with kids in Bali.
3. FINNS has 5 restaurants.
You are spoiled for choice at FINNS. With the ocean views and beach club atmosphere, you're sure to work up an appetite when you are here. When you do get hungry, order poolside bites from the menu, and our staff will bring them right to your daybed. Or, choose dishes and delights from any of our 5 restaurants: Flippas Bar, Bondi Cafe, Sushi Bar, and Mumbai Kitchen. Our focus is on "simple food, done well" and we use only the finest and freshest ingredients.
4. Arrive before 3 PM, and save up to 50%.
For online reservations, if you choose the option to "Arrive before 3 PM", you will save 50% off your minimum spend. Of course, the caveat is that you must arrive before that time, or your reservation will be released. If you aren't sure if you can make it before 3 pm, then you should select the "Arrive anytime" option, and we'll hold your reservation all day. The added savings are an incredible incentive to come early and make the most out of your day with us. 
5. Ultimate Experience is Bali's best VIP experience.
For the best value and VIP experience, book an Ultimate Experience package. Book online, with 100% of the spend going to F&B, and enjoy benefits like free wine and spirits, welcome drinks, a dedicated service staff with VIP check-in, and queue skipping. And, we can also let you in on a little secret… If you check our website on the weekends, we often run Flash Sales to book your Ultimate Experience packages for 50% off (subject to availability).
6. Book online and choose your poolside spot.
If you enjoy pre-selecting your seats for flights, you will love our online booking system. Choose your daybed or sun lounger and be as close to the action or beach as you want, with clear displays for location, minimum spends, capacity, and inclusions. Booking is easy and takes only a few minutes. We highly recommend pre-booking, as walk-in seatings are subject to availability and popular areas tend to fill up early. As mentioned above, there's also up to 50% savings on minimum spending for booking online and arriving before 3 pm.
7. There are no bad seats and views at our beach club in Canggu.
The first thing you will notice about FINNS is our space, with iconic bamboo structures, 4 pools including 2 oceanfront infinity pools, and countless loungers, daybeds, lagoon beds, and party platforms. Due to our strategic design and layout, there are no bad seats in our venue, and everyone has a direct view of the ocean and sunset, making it the perfect spot for a lazy day. Sit anywhere, including our restaurants, and enjoy the view and ocean breezes all day and into the night.
8. Clubs Canggu. We have live music daily.
Keeping with our reputation as being the best Bali Party place, we have the island's best lineup of resident DJs and live vocalists. Every evening, starting at 6 pm just as the sun starts to set, our incredible live acts turn up the party vibes as we roll into the sunset hour and into the evening. On-site, we also have an in-house music studio, where our DJs and musicians create and mix their own music and original sounds.
9. Beach bar Canggu. We have a nightly Happy Hour.
Who doesn't love a great Happy Hour? Just after sunset from 7-9 pm, we have a 2-for-1 cocktail special. As the sun goes down, our party atmosphere heats up with dancing and two cocktails for the price of one. Join us every evening for our happy hour specials, and dancing on our dance floor surrounded by two pools and party platforms.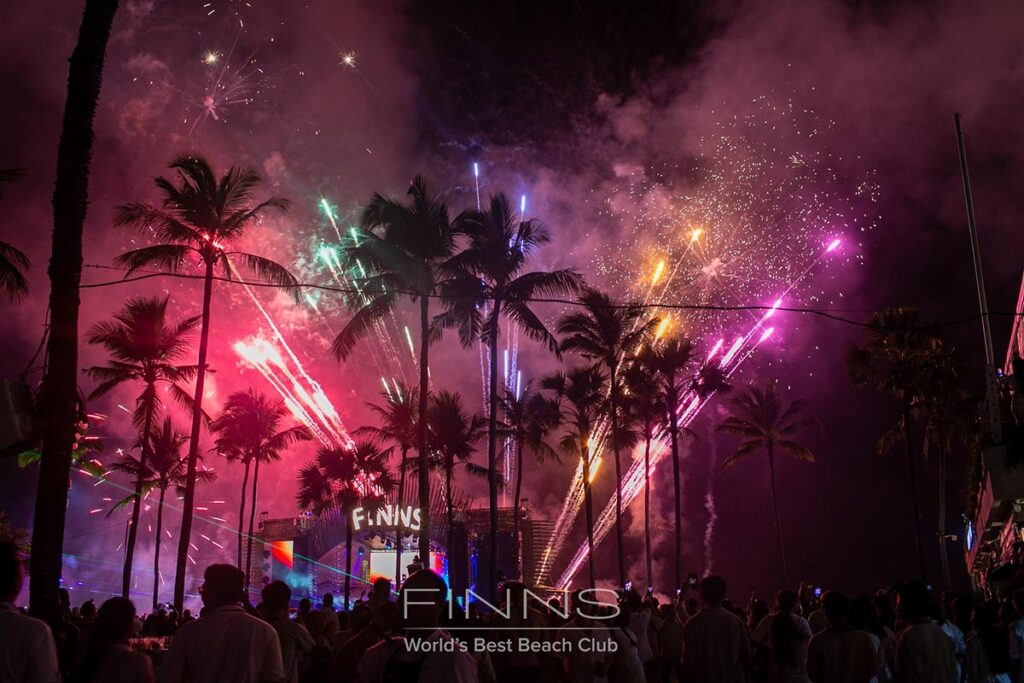 10. Book your NYE ticket early, and save BIG.
Every year we have Bali's biggest and best NYE party, with some of the best DJs and entertainers in the world. Previous main acts have included Diplo, Robin Schulz, Martin Solveig, and Roger Sanchez. Every year we go bigger, and we also sell out tickets weeks before the big day as well. The earlier you book, the more you save, with pre-sale tickets available months in advance, 50% off the normal ticket price. As those sell out, there are specials for early birds and the first releases. Don't miss our NYE event, and book your tickets today!
Beach club Bali, Canggu. Why we love FINNS Beach Club.
The list of reasons to love FINNS is endless, and it's easy to see why it's the best beach club in Bali and in the world. The beach club vibes flow through the 4 pools, including 2 beachfront infinity pools, and 9 bars, including our 2 swim-up bars, and our 5 different on-site restaurants. FINNS Beach Club is the perfect day out for families, friends, romantic dates, work outings, parties, and we also cater to large events and special occasions as well.
Book online, or walk in to join us any day to Indulge in the island vibes, have a bit of sunbathing, sip on a cocktail in hand, and dance and party with our resident and international DJs. All of this comes with the backdrop and setting of stunning oceanfront views and a tropical bamboo structure.
Book your daybed, sunlounger, party platform, or Ultimate Experience package today!
Frequently asked questions
Is FINNS Beach Club Free Entry?
Yes!
Do you need to book FINNS Beach Club?
Yes, it is recommended to book a reservation at FINNS Beach Club in advance, especially during peak seasons or weekends. Booking in advance ensures that you have a confirmed spot at the club and avoids any disapointment of learning all furniture is already sold out when you arrive. It is advisable to book thorugh the FINNS Beach Club website – all available options for your desired date of visit are visible there.