We may be biased, but we think Bali's beauty is incomparable. This island is one of the most stunning places in the world because of the natural scenery with volcanoes, beaches, staggering cliffs, terraces and rice paddies and jungles. In addition, we also must include the magnificent temples that are all over the island. The Balinese culture is rich and woven throughout the landscapes. The historic temples hold great significance in the traditions and religion. Exploring the temples of Bali is merely a glimpse into the culture, and we highly recommend that you take some time away from the beach clubs and scenes of Canggu to see some of Bali's most majestic temples.
Book a car and driver with our team at Bali Res Centre, and we'll coordinate your sightseeing day trip to see the best sights – waterfalls, mountains, temples, and picturesque villages.
Below, we have listed some of our favourite temples, from illustrious monuments to sacred spots shrouded in mystery and wonder; this article have you covered.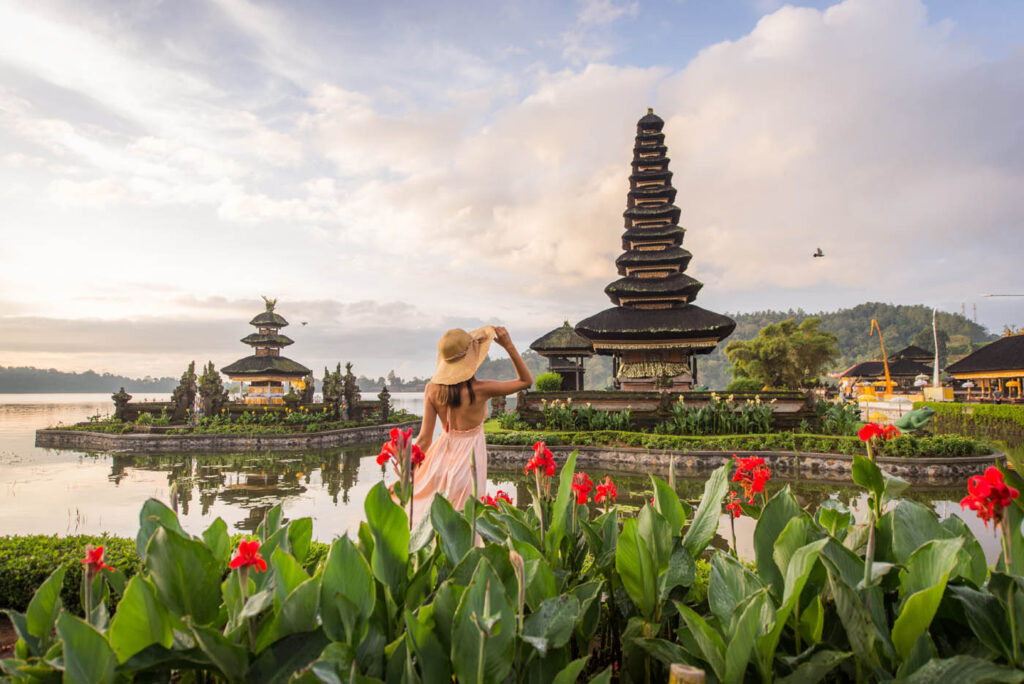 Tanah Lot Temple
Tanah Lot Temple is an absolute must-see for all travellers, especially if you are staying in Canggu. Located in the Tabanan district, Tanah Lot Temple is a famous setting on the rocks, surrounded by the Indian Ocean. The name translates to "land in the sea," and it's believed to have been formed when the Hindu god Baruna threw a rock into the waves.
This temple has regular ceremonies, giving onlookers and tourists a unique chance to watch the processions and ceremonies in progress. As you walk around, you'll also get to explore nearby small shrines, which are often decorated with intricate carvings, statues, paintings, and offerings left by devotees. Sunsets here are incredible, with the colours of the sky and water as the backdrop for the temple.
Tanah Lot Temple is one of Bali's most popular tourist attractions, with many visitors coming to explore the surroundings, temple architecture and the local markets and food stalls that are nearby. If you are staying in Canggu, Tanah Lot is one of the easiest places to explore Balinese culture and take a few photos of this magnificent temple on the rocks.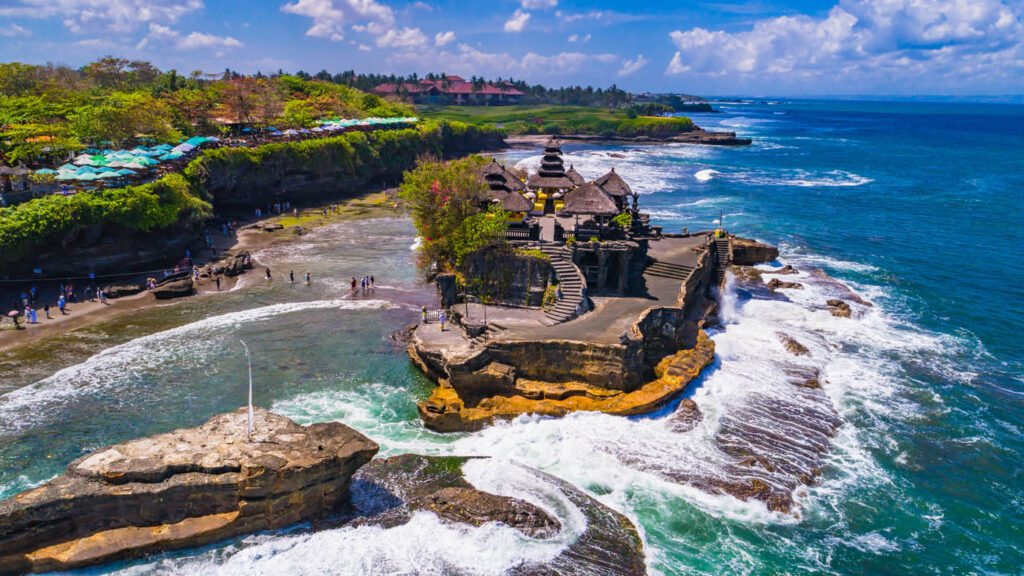 Uluwatu Temple
Uluwatu Temple, also known as Pura Luhur Uluwatu, is perched atop the beautiful Bukit Peninsula in southwest Bali. It's a simple one-hour drive from Canggu and is popular among tourists, not just for its beauty but because of its cultural significance. Uluwatu Temple is one of Bali's main temples as the setting for Hindu rituals honouring gods and demons.
The Kecak dance at Uluwatu Temple is one of Bali's most iconic performances. As the sun sets beyond the open-air theatre, audiences are treated to the story of the journey of Prince Rama as he searches for his wife Sita, who has been kidnapped by the demon king Ravana. The dancers act out different scenes from the story while chanting "cak" in a rhythmic pattern, which creates a hypnotic and trance-like effect.
Tirta Empul Temple
Pura Tirta Empul, also known as the water temple, is one of the oldest and most spiritual locations on the island of Bali. It was built in 962 AD and has 30 springs and two sacred bathing pools. This holy site offers a chance to connect with the spiritual atmosphere through the purification rituals that are regularly performed here.
The holy springs are believed to bring good luck and rejuvenate the body and soul. People come here to cleanse themselves physically with baths and spiritually with prayers for health and prosperity. Aside from the healing power of the pool waters, visitors come to appreciate the temple's stunning architecture and many carved statues inside and outside the grounds.
If you would like to take part or have your own purification, be sure to bring your swimsuit, but you will be given sarongs for proper clothing in the temple.
Taman Ayun Temple
Pura Taman Ayun is a UNESCO world cultural tourism site in Mengwi. It's easily recognisable due to its towering gates, pagodas and courtyards that reach up to 4 stories high. It's huge, complex and filled with intricate carvings, shrines and gardens. It's one of Indonesia's most impressive architectural achievements.
The temple complex includes a central courtyard, two main meru towers and seven terraced shrines, built in 1632-1634 by the first Indonesian king Tjokerda Sakti Blambangan – making them some of Bali's oldest structures.
Ulun Danu Beratan Temple
The famous Ulun Danu Beratan Temple is in the Bedugul highlands, atop a small island in Lake Beratan. You can spot this iconic site from the surrounding mountains and lush greenery. The temple is dedicated to 3 of the Hindu's most revered gods, Shiva, Sang Hyang Widhi, and Vishnu, whose energies surround the temple and lands around it.
You can stroll around the lakefront gardens or admire the architecture of the tiers. Lake Beratan backdrop makes Ulun Danu Beratan perfect for sunrise and sunset viewing. This temple is truly one of Bali's most beautiful sites, and exploring it is an unforgettable experience.
Besakih Temple
Besakih Temple, also known as the mother temple in Karangasem, is one of Bali's oldest and most iconic Hindu temples. It is also the biggest, which is why some refer to it as the 'Great Temple." Located on the slopes of Mount Agung, Besakih is a complex of more than 20 separate temples, with entrances facing all four directions.
Although Pura Besakih is full of tourists, you can still feel an atmosphere of peace and tranquillity as you walk its grounds. The temple complex features intricate carvings, statues, and other artwork that showcases the rich cultural heritage of Bali. Mount Agung provides a stunning backdrop, and the views from the temple are breathtaking, and the surrounding countryside is also beautiful.
Goa Gajah Temple
Goa Gajah Temple is known as the "elephant cave," and it is a renowned temple near Ubud. It is surrounded by gardens and natural rock formations and dates back about 1,000 years. People believe it has a powerful energy that connects visitors to nature.
Inside, you can find an old meditative cave, where Hindus practised rituals like chanting mantras and healing prayers. Follow the stone elephant sculpture to an inner chamber with delicate non-Hindu artworks. These relics are remarkable and very unique, not found in other locations around the island. Goa Gajah has been on UNESCO's World Heritage Tentative List for 20 years, but it was pulled in 2015.
Lempuyang Temple
Lempuyang temple, also known as Pura Lempuyang Luhur and 'The Gate of Heaven', is a famous temple in Bali and probably the most Instagram-able spot on the island. It is on the Eastern side of the island, on the peak of Mount Lempuyang, surrounded by greenery and valleys.
This temple is well worth the visit for more than just a quick social media post. It dates back to the 11th century, with terraced gardens with stone statues and pavilions. A mystic stairway takes you to the main structure at 1,175 meters above sea level. You can see the incredible mountain skyline of Bali in every direction. The best time to visit Lempuyang Temple is early in the morning to avoid the crowds and take a hike up Mount Lempuyang after exploring the temple grounds. The views from the top will make all that effort worthwhile!
Saraswati Temple
In the centre of Ubud rests the iconic Saraswati Temple. Built in the 1950s and dedicated to Saraswati, the Hindu goddess of knowledge, art, and culture, it features a large whitewashed water garden and some of the most incredible Balinese carvings. Inside the main shrine sits a golden effigy of Saraswati and devotees performing ceremonies.
Wild birds and soft instrumental music fill the courtyards, creating an ethereal atmosphere.
Every day at 7:30 PM, you will be able to witness traditional Balinese dance performances for an entry fee of 80k IDR.
Samuan Tiga Temple
Along with Saraswati Temple, if you are visiting Ubud, a stop at Samuan Tiga Temple is highly recommended. This temple is surrounded by seven courtyards, and it Is intricately decorated with carvings of Hindu deities. It is a wonderful display of Balinese culture and its artistry. Samuan Tiga should be on your itinerary for Ubud day trips for its beautiful landscape, exotic carvings, mysterious caves and proximity to other Ubud attractions.
For those looking to explore the many Balinese temples, booking a driver with us is the best choice. Our drivers are experienced and knowledgeable in the area, so they can help you get the most out of your experience. They will take you to all popular temples, such as Lempuyang Temple, Ulun Danu Batur Temple and Samuan Tiga Temple so that you can fully appreciate their beauty and cultural significance. Plus, our drivers know all the hidden gems that tourists may not know – giving you access to an even more authentic Balinese experience! Our reliable service ensures that your temple tour goes smoothly and safely while ensuring that your time in this beautiful country is unforgettable.
Ulun Danu Batur Temple
Pura Ulun Danu Batur, not to be confused with Ulun Danu Beratan, which we mentioned above, is nestled in Kintamani with stunning views of the lake and Mount Batur. Dedicated to the goddess of lake Batur and Vishnu, it's one of the most visited temples in Bali, with structures like shrines ascending into the air among the terraces and courtyards.
First established in the 17th century and rebuilt in 1926, the temple became a UNESCO World Heritage Site in 2012. The temple has seven traditional statues, each representing a manifestation of God. The people come to this temple for the Odalan ceremony to make offerings to Dewi Danu and strengthen relationships. The combination of culture and landscape makes Ulun Danu Batur one of the most iconic representations of Bali's beauty.
Ask our team at Bali Res Centre, located on the third floor of FINNS Recreation Club, for anything you need to organise day trips and tours to see Bali's iconic temples. Many are close to Ubud and can be seen together in one day. Others are a bit farther out, in the mountains of Kintamani or Bedugul, with stunning views of lakes and volcanoes. Your tours can also include stops at majestic waterfalls and renowned rice terraces. Book a car and driver with our team, with our local guides who can share their best tips and secrets, and relax as you are chauffeured to these extraordinary locations.