Uluwatu Temple is one of the nine directional temples of Bali. That means it's meant to protect the island from the evil spirits that seek to do it harm.
It stands on the cliff side above Uluwatu Beach, keeping guard against the demons from the sea.
It's the most popular tourist attraction in Uluwatu, and that's because it's wonderful to look at. Monkeys dwell among the buildings, it's vitally important to Balinese Hindus, and it's one of the best places to watch a sunset or a kecak fire dance.
Our guide to Uluwatu temple will show you how to get there, why you should go, and much more about this awesome place that wards the nation against the might of the Indian Ocean.
Where Is Uluwatu Temple in Bali?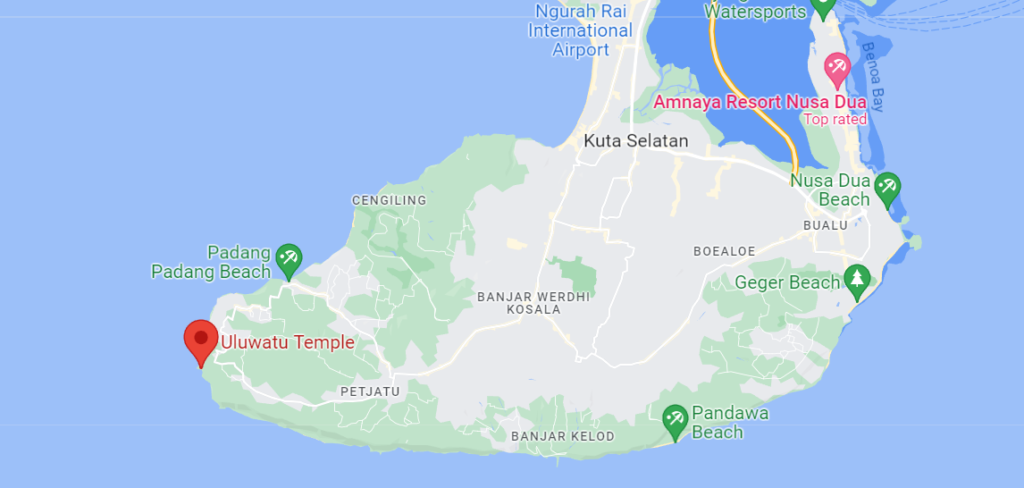 Uluwatu is in the Southwest of Bali. It sits on a cliff approximately 70 metres tall above the Indian Ocean, and it's not far from most of the other tourist areas on the island.
The address is simply Pecatu, South Kuta, Badung Regency, Bali, Indonesia
Anyone in Uluwatu will know how to get to the Uluwatu Temple, and most drivers on the island will have been to this temple too.
How To Get To Uluwatu Temple In Bali?
The best way to get to Uluwatu Temple is to use the services of a guided tour. That's because a local guide can really help you understand the Uluwatu Temple's history and why it's so important to Balinese Hindus.
A tour will usually collect you from your accommodation and get you back safely. It may include food, snacks, drinks, etc., and it means you don't have to deal with the awful traffic on Bali Island. Your driver will take care of that.
You can book a tour through the Bali Res Centre (see the FAQs for contact details), and it won't break the bank.
Alternatively, you could hire a private driver and car and get them to take you to the temple, but this is going to work out quite expensive even if there are four people in the car.
It's also possible to use Grab or Gojek to get to the temple, though it may be hard to get a ride-share back as Uluwatu doesn't tend to have as many ride-share drivers as the busier parts of the city.
After sunset, it's fair to say that your chances of getting a ride-share from this remote location drop to about zero.
So, if you do take a ride-share, you want to leave Uluwatu Temple before the sun goes down, and that's a shame because the Uluwatu Temple sunset is one of the reasons most people come to the Uluwatu Temple in the first place.
Finally, you can rent a scooter (assuming you are road legal – this means a current International Driver's Permit and a license with a motorcycle endorsement) and drive yourself, but we don't recommend this.
It's fair to say that even experienced motorbike riders can struggle on Bali's roads, and it's very unsafe if you're not used to driving a bike.
What's The Best Time To Go To Uluwatu Temple?
When you visit, Uluwatu Temple does matter. If you want a spectacular sunset background for your photos, then you must visit Uluwatu Temple later in the day.
This is also true if you want to witness a kecak fire dance performance. These only take place after dark for fairly obvious reasons.
However, because of this, the Uluwatu Temple grounds are often very crowded in the late afternoon, and this important sea temple can start to feel like a more trivial tourist attraction rather than the vital part of Balinese culture that it is.
It can be worth visiting Uluwatu Temple in the early part of the day to appreciate the waves crashing against the steep cliff approximately 70 metres below your feet and to tour the grounds to see the ancient sculptures and learn about the history of Uluwatu Temple and then come back again, later in the day to see the Uluwatu Temple Sunset and dance performances.
Certainly, if you arrive at 7 a.m., you will have the place almost to yourself, and it's a much more spiritual experience that way.
You can visit Uluwatu Temple at any time of the year. While it's slightly cooler and less likely to rain during the dry season, it's fine to go during the wet season (it doesn't rain all day long), and the humidity isn't unbearable.
When Is Uluwatu Temple Open?
The opening hours at Uluwatu Temple are from 7 a.m. to 6 p.m. every day of the year.
Please be aware that during Balinese festivals, this temple can get very busy, indeed, as it's an active place of worship and not something preserved to keep tourists happy.
In fact, Balinese pilgrims are allowed access to the temple 24 hours a day for them to be able to carry out their rituals and ceremonies as needed.
You may also find that the opening hours can be modified at Uluwatu Temple depending on what's going on – it's worth checking before you travel to see if there have been any changes.
How Much Is It To Get Into Uluwatu Temple?
As we go to press, the entrance fees at Uluwatu Temple are based on two things – your nationality and your age.
International tourists are asked to pay 50,000 IDR as adults and 20,000 for children aged 6-12. Children under 6 enter for free.
This entrance fee does not include the entrance fee to the dance performance, which is currently 150,000 IDR per person.
Domestic tourists receive a small discount, and adults will pay 30,000 IDR and children 15,000 IDR.
This is reasonable given the wealth disparity between most tourists and locals, as well as the fact that this is a site of worship for Indonesians.
What To Wear At Uluwatu Temple?
We need to stress that this important sea temple located in Uluwatu is a site of worship and not a tourist attraction.
That means you are expected to dress modestly when visiting Pura Uluwatu and its grounds.
In practical terms, this means your shoulders and arms should be covered, and you should wear something to cover your legs, too.
The locals wear a shawl and a sarong to achieve this objective, and you may rent (it's included in the ticket price, in fact) or buy these garments at the temple grounds if you're inappropriately dressed.
You will not be allowed into Pura Uluwatu Temple without being modestly dressed, and if you should decide to remove garments inside the grounds, you risk getting into trouble with the police and might even be deported from Bali.
So, it's best to enjoy the magnificent location of Pura Uluwatu dressed in the way that's expected of you.
What To Expect At Uluwatu Temple
Uluwatu Temple is a visual treat. Its position on the clifftop above Uluwatu Beach means that you get incredible panoramic views of the local area, and it's a landscape photographer's delight.
You can hear the roar and crash of the waves below as they dash themselves against the cliff face, and the Indian Ocean horizon seems to be infinitely far away.
It's awe-inspiring and humbling in the same instance. Your camera is rarely going to be in your bag or pocket at Uluwatu Temple.
It's also one of Bali's spiritual pillars, and there's more to Uluwatu Temple than inspiring Balinese architecture and a wonderful setting.
The legend of the temple will unfold before you as you examine the statues, carvings and buildings.
All the elements combine to help you truly understand Bali's past, its religious customs and the complex and long-lasting traditions of this proud island and its people.
The position of this temple at the Southwestern Tip of Bali isn't an accident either. It's a profoundly spiritual and symbolic location for the people of Bali.
Uluwatu Temple is an integral part of the makeup of the island, and it deserves and commands your respect.
You can also learn more about Balinese traditions by observing a fire dance at this temple.
The History Of Pura Luhur Uluwatu
The word "Pura" in Bahasa means "Temple". So, this temple is quite literally called Uluwatu Temple.
It is one of the six sanctuaries of the world. That is, it's one of the six most holy places in Bali.
It's one of the pivotal points that is meant to bring a level of spiritual balance and, thus, spiritual defence to the island.
It was dedicated to Sang Hyang Widhi Wasa, a Balinese Hindu deity, in the form of Rudra, "the roarer" God of Storms.
They say that a temple has existed on the site of Uluwatu Temple for many centuries, but there's nothing at the site currently that existed prior to the expansion carried out by Empu Kuturan, a Javanese Sage, back in the 11th century.
It has been expanded and renovated many times across the centuries, and the sage, Dang Hyang Nirartha, is said to have attained moksha (a form of enlightenment) here after he constructed its padmasana shrines (empty throne shrines waiting for the arrival of the gods).
Moksha in the local language is sometimes described as "to go up" or "luhur", which is why the name "luhur" is often found in the name of Uluwatu Temple in Bahasa.
The Legend Of Uluwatu Temple
There is a legend of the founding of the Uluwatu Temple. It is said that centuries ago, in the time of myth and legend, a sage by the name of Mpu Kuturan lived in Bali.
He was revered by the Balinese people for his wisdom, which was said to be "as deep as the ocean, as boundless as the sky" and beloved by all.
Mpu Kuturan's vision transcended the plane of physical existence, and thus, he felt called to help shape the spiritual environment of Bali.
Guide by whispers of the diving, Mpu Kturan came to the future temple area and sat on the cliffs.
Before him, he saw the meeting of the heavens, the earth and the oceans, and thus, he was inspired to plant the seed of devotion, which marked the founding point of Uluwatu Temple.
He was followed by Empu Kuturan, who, stirred by the same passions and divine connections as Mpu Kuturan, began to breathe life into his predecessor's vision.
Empu Kuturan would transform the temple area into Uluwatu Temple in a similar form to the one we see today.
Balinese Hindus see the Uluwatu Temple as a place of intercession for the Hindu divine trinity. That is, Brahma, Vishnu and Shiva.
Rudra is also considered to be Shiva Rudra (or Siva Rudra) and to preside over all of the universe and every aspect of life.
They say if you stand on cliffs here, you can still sometimes hear the whisper of the gods in the wind.
The Monkeys On Uluwatu Temple Grounds
The Uluwatu Temple is not just home to the gods. It's the physical home to hundreds of long-tailed macaque monkeys.
Unfortunately, they are complete thieves and are famous for stealing things from visitors and then holding them to ransom.
To get your stuff back, you have to pay them in fruit, nuts or candies. Worse, if you do pay them, you're just encouraging them to mug more tourists.
Incredibly, scientists came to study this behaviour among Uluwatu Temple primates and came to a stunning conclusion. The monkeys know what people value the most and make the most effort to steal those things.
Thus, your sunglasses or your camera are far more likely to be snatched than a water bottle! They also know to steal phones and wallets.
If you do have something snatched, do not try and fight the monkey for it, it's going to result in an injury to you and potentially a lot of angry monkeys ganging up on you.
The right way to approach this is to ask a staff member to intercede on your behalf.
They will negotiate for the return of your goods and how much you need to pay to get stuff back.
And yes, the monkeys do know which items are worth the most money, so don't expect to swap a grape for a camera.
If you'd prefer not to deal with monkeys stealing your stuff, make sure to keep your things tightly attached to your person. If it can't be stolen, it won't be stolen.
Unfortunately, it's hard not to hold a camera or phone up to take pictures. But if you do, be aware that if a monkey steals it, there is no guarantee that you will get it back.
The little beasts have been known to throw things off the cliff in spite, and there's nothing that the staff can do to retrieve anything from the Indian Ocean for you.
How To Avoid A Monkey Attack At Uluwatu Temple
We do have some simple tips that will help you avoid being mugged by a monkey at Uluwatu Temple.
These include:
Learn to spot an aggressive monkey – most monkeys don't mug humans and are, in fact, reasonably friendly. However, monkeys that are clinging on to their babies, fighting with other monkeys, snatching food when offered or, oddly, bald monkeys are most likely to steal stuff.

Don't wear any jewellery – jewellery is really easy for monkeys to steal. It's also sparkly and shiny in the sun, and that means the monkeys are going to notice it. We recommend leaving them in your hotel, and if you can't bear to do that, we'd recommend leaving them in the car.

Don't carry snacks and drinks in the open – monkeys like snacks, and they like drinks. They may prefer to steal cameras, but that's because they're worth more snacks. They will happily rob your snacks and drinks, too.

Don't make eye contact – this is an act of aggression between monkeys, and it's basically a direct challenge to a fight. Unsurprisingly, if you ask for it, sometimes a monkey will take you up on it.

Think twice about going to the monkey feeding exercise – they do have times when tourists are encouraged to feed the monkeys at Uluwatu Temple. Critics say that this is positively inviting a monkey attack as you and what the monkeys most want are present in the same place at the same time. We're not monkey experts, but they may have a point.

Never, ever hit the monkeys – monkeys are much stronger than they look, and an aggrieved monkey will not fight fair. He or she will call all of their friends to the fight, and they will do a mass takedown on you. If something is stolen by a monkey at Uluwatu Temple, always ask the staff to help, don't tackle the monkey yourself.
What To Do If You're Bitten By A Monkey At Uluwatu Temple
The good news is that if a monkey attacks you (or even if a group does), you're not likely to die on the spot.
However, you may be left covered in painful bite wounds. This is not good news, as monkeys can potentially carry rabies and other diseases.
This means that if you are bitten by a monkey, you need to find a clinic and get rabies shots. These clinics are not conveniently located, and the shots are expensive in Bali.
However, if you do not get these shots and then start to show symptoms of rabies, it's 100% certain that you will die. There is no cure for rabies, it's a vaccine or nothing.
To be certain that the vaccine is effective, you must seek treatment within 24 hours of the bite if you have not been vaccinated against rabies before and within 48 hours if you have been vaccinated against rabies before.
After this time has expired, if the animal was rabid, it is highly likely that you will get rabies, too. Please, don't risk your life to save a few bucks on treatment.
The Uluwatu Temple Sunset
The biggest draw here, apart from the spiritual nature of Uluwatu Temple, is the Uluwatu Temple sunset.
When the Uluwatu Temple sunset arrives, the light of the sun starts to turn the cliffs from white to gold.
It's a very popular time of day, mind you, and you can often find hundreds of people on the clifftops above the Indian Ocean watching the sunset.
Even the monkeys seem to love this time of day and settle in to watch the light show rather than annoy tourists.
Photographers may find that it's too busy to set up a tripod, which can be quite frustrating as it's this kind of view that a tripod was built for.
However, this won't stop a legion of "influencers' seeking splendid sunset backdrops for their images at this holy place.
You might prefer to visit Tanah Lot Temple on the island's Western shores if you want a sunset that you can enjoy without quite as many people muscling in on the action as you get at the Uluwatu Temple sunset.
The Kecak Dance Performance At Uluwatu Temple
It takes place against the backdrop of a beautiful sunset at Uluwatu Temple to make it even more memorable.
It tells the story from the Hindu Epic, the Ramayana, of Princess Sita, who has been abducted from the heavens by the demon king, Rahwana.
Her husband, Prince Rama, with his army of monkeys in tow, undertakes a mighty quest to rescue her from the evil demon lord.
What makes the Kecak Dance unusual is its unique vocal routine. Male performers form a kind of choir, which sits in a circle, and they chant the words "cak-cak-cak" over and over to create a rhythm that is almost hypnotic.
It provides the musical background for the dance, and the individual singers then provide voices and emotions for the dancing characters.
It's a very emotional and exciting thing to watch the Kecak Dance, and if you have the time and funds to stay for the Kecak Dance, you really should.
As the sunlight fades from the sky, the Kecak Dance becomes a fire dance, and the dancers begin to dance across burning coal embers!
This represents the fearlessness of the monkey god Hanuman. It's a very spiritual moment for Balinese people.
Tips For Visiting Uluwatu Temple
We've got a few tips to make your visit to Uluwatu Temple easier:
Follow the dress code – it's above for a reason. It would be a shame to spoil your holiday over something trivial.

Be polite – don't swear, don't enter the forbidden areas, don't touch shrines (and don't pray) unless you are a Hindu, and be quiet and respectful.

Carry sun protection – there's nothing worse than sunburn or heat stroke.

Wear easy-to-remove footwear – you will need to take off your shoes inside the temple, so make it easy to do so. Thongs are fine here.

Watch the wildlife – the monkeys are great, just don't annoy them.

See the Kecak Dance – it's amazing and unique.

Ask before photographing people – you can photograph the landscape and temple to your heart's content, but it's rude to just thrust a camera in a priest's face.

Don't park at Uluwatu Temple – there are almost no spaces, and you might need to wait a long time for a space.

Pay attention to personal security – sadly, pickpockets often visit popular tourist sites.
Photography Tips For Uluwatu Temple
You can get amazing pictures at Uluwatu Temple, but you may find that these things help you get the best shots:
A wide-angle lens – for the temple and the landscapes

A telephoto lens – to save you from getting your camera stolen by the monkeys you want to capture

A circular polarizer and an ND filter – this helps to both minimize or maximize the reflections in the water and the colour of the water and sky. It also allows for long exposures.

A tripod – because hand-holding long exposures is hard work (or impossible)

A secure camera bag – to protect your gear from the monkeys
Please don't use a flash while you're on the grounds. It's off-putting for worshippers, and you won't need one for the sunset.
Luxury Resorts Near Uluwatu Temple
There are some lovely places to stay around the temple, too, and they include:
Ayana Resort – is so luxurious that it has an even more exclusive resort RIMBA built on the same grounds

Bulgari Resort Bali – some amazing cliff-top views over the ocean and truly world-class experiences

Alila Villas – one of the most incredible private villa complexes on the island

Anantara Uluwatu Bali Resort – culturally authentic, but still very luxurious and one of the best spas in Bali

The Edge Bali – a boutique resort with some of the best clifftop views anywhere in the world
You can book accommodation in Bali through the Bali Res Centre (see contact details in the FAQ).
Where To Eat Near Uluwatu Temple Grounds
There are some very nice places to eat around the area, too, and they include:
Rock Bar Bali – named for the impressive rock formation on the ocean next to it, not its music policy.

Jum-Ma-Na – one of the best French and Japanese fusion restaurants on Earth

Warung Bejana – a great place for authentic local cuisine and some great views over the ocean.
Attractions Near Uluwatu Temple
There are some pleasant attractions near the Uluwatu Temple that are worth checking out, too:
Uluwatu Beach (one of the best surfing spots on the island and a place of real natural beauty)

GWK Cultural Park – with the largest statue in Indonesia and some awesome Balinese cultural experiences

Jimbaran Bay – the best place to eat seafood in Bali

Tanah Lot and Pura Luhur Lempuyang – two more amazing temples

Suluban Beach – a secluded beach for surfing and chilling
The Six Key Temples Of Bali
If you want to learn more about the temples of Bali, then you might consider visiting the other temples of the Sad Khayangan Jagad (the six sanctuaries of the world).
They are (in addition to Uluwatu Temple):
Pura Besakih (this is in Karangasem) – the "mother temple of Bali."

Pure Lempuyang Luhur (also in Karangasem) – the oldest temple in Bali

Pura Goa Lawah (in Klungkung) – the cave temple

Pura Luhur Batukaru (in Tabanan) – the mountain temple

Pura Pusering Jagat (in Gianyar) – the centre of the universe
FAQs
Is It Worth Going To Uluwatu Temple?
Yes! Uluwatu Temple is one of the most visited places in Bali for good reasons. The beautiful sunset alone would be worth the trip, but people choose Uluwatu temple on the holidays because it's such an interesting and significant place.
Yes, it can get crowded at times, but that doesn't detract from this magical place just above sea level on a clifftop with the waves crashing below.
Why Is Uluwatu Temple Famous?
Uluwatu Temple is an ancient relic of Balinese history and a modern, thriving temple. It's one of the key temples believed to protect the nation from the anger of the sea. It has the most stunning sunset views.
It has a monkey population, and it's one of the only authentic places to see a Kecak Dance/Fire Dance thus, it's famous for quite a few things.
How Long Is The Uluwatu Temple Walk?
There is a walkway along the edge of the cliff leading through the temple and its grounds. It takes about an hour to walk from one end to the other and to enjoy everything that you can see.
However, if you're a landscape photographer chasing the best light, it's entirely possible to spend much more time walking through this temple area.
How Much Is The Entrance Fee For Uluwatu Temple 2023?
Currently, it's 50,000 IDR for adults and 20,000 IDR for children (locals are 30,000 and 15,000, respectively). There is an additional fee for the Kecak Dance (150,000 IDR per person).
Are There Monkeys At Uluwatu Temple?
Yes, there are, and there have been monkeys at this temple for a long time. They're not going anywhere, but if you read our safety tips above, you ought to be able to enjoy the Uluwatu Temple without having any problems with the monkeys.
How Do You Arrange A Trip To Bali, Uluwatu Temple?
We recommend that you book a trip to Uluwatu Temple through the amazing people at the Bali Res Centre.
This is a locally owned and operated travel service that has excellent contacts throughout Bali to get you great deals and to ensure that your holiday goes with the minimum of fuss and hassle.
We always recommend the Bali Res Centre because we believe that local knowledge matters and that you deserve the most competitive pricing, too.
Final Thoughts On Visiting Uluwatu Temple in Bali
The Uluwatu Temple should be high on everyone's list of places to visit in Bali. It's a place of natural beauty with real spiritual meaning, making Uluwatu Temple one of the most authentic experiences of Balinese culture that you can enjoy.
The Kecak Dance is very much worth seeing, too, and it's another amazing highlight of this beautiful temple.
The only downside is the wild monkeys that roam the grounds, and as long as you're careful, they should never cause you any problems as you enjoy an awesome time at Uluwatu Temple.