As you probably know, Bali is a paradise for surfers, and its waves attract the surf community from around the world. With its crystal clear waters, perfect weather, and consistent waves, it's no wonder that the island is one of the most popular destinations.  Whether you're a beginner or an experienced surfer, Bali has something for everyone, from long and mellow waves to world-class breaks. You can see surfers on the waters at almost any time of day, particularly along the shores of Canggu – right on our doorstep, outside FINNS Beach Club.
Want to know more about surfing in Bali, check out our guide below, and if you want to try a lesson or perfect your skills, sign up for our classes and course at FINNS Surf Academy .
Surf Lessons in Bali – FINNS Surf Academy
Bali is an awesome place to learn how to surf and is home to several surf camps. First-timers will love the classes at FINNS Surf Academy located in the heart of Canggu. The academy is open to beginners and intermediate surfers. All ages can join the sessions.
Book a one-on-one lesson with experienced instructors who will introduce you to the sport and hone your skills so you can confidently ride the waves. If group sessions are more your style, FINNS Surf Academy also hosts small group classes. 
3 Days – Learn to Surf Program
First-timers and novice surfers can learn how to surf in just three days with a Learn to Surf Program designed to take you through the basics, gain the proper technique, and correct your form through video analysis. You'll have firsthand experience in the pools at FINNS during your sessions, as well as go on 2 surf trips as part of the program.
2 Days – Fearless Surf and Survival Program
Seasoned surfers can join the two-day Fearless Surf and Survival Program for a deeper dive into surfing techniques. The intensive sessions spanning 6 hours will prepare you to tackle bigger waves and practice mind-body connection. You'll master how to hold your breath for long periods and by the end, you'll feel safe and fearless when you ride. It includes lunch and a fitness pass to FINNS Recreation Club, so you get a lot of bang for your buck.
Surf Lessons for Kids Bali.  Kids Surf Program
If the little ones are tagging along, don't worry because they can try a hand at surfing too. The Kids Surf Program at FINNS is led by world-class surfing coaches with years of experience. Children will learn safely while having fun, amidst the shimmering waters of Bali. 
The program is open to kids aged 18 to 14 years old and surfboards and transportation to and from the beach are included with the package. They'll be surfing superstars in no time!
Guided Surf Trip
Every weekend, the surfing academy hosts a guided surf trip where kids and beginners can be supervised by coaches as they paddle out and ride the waves. Sharpen the skills you've learned at the academy and get more comfortable with a surfboard with these guided trips. 
Learn to surf in Bali
The beaches of Bali aren't just for lounging and swimming. Once you have a taste of Bali surfing, you may find it harder to leave the island. And if you don't have the chops yet to take on the long rides and currents with confidence, drop by FINNS Surf Academy anytime. Contact us for more information on our surfing programs and upcoming surf retreats.
Bali Surf Spots for Beginners
The best spots to learn to surf in Bali are along the west coast, starting from Kuta, going up past Canggu and to Echo Beach.
Kuta/ Legian Beach.

Kuta Beach

is another popular destination for surfing. Its white sand beaches attract locals and tourists alike due to its predictable wave conditions and good swells. It can get crowded though as it's a well-known tourist location with lots of

Bali surf outlets

and restaurants close by.

Berawa Beach. This spot doesn't get as crowded as the others, because the waves aren't always favourable. But there are still plenty of opportunities for beginners and longboarders to give it a try, with mellow waves that are close to the shores.

Batu Bolong Beach. Canggu's most popular spot draws surfers of all skill levels, from sunrise and until the last light of day. As it is the most popular, it can get very crowded, but the waves are long and mellow and perfect for learning.
Best Bali Surf Spots for Experienced Surfers
Bali's world famous waves that bring talent from all over the world are for more experienced and advanced riders.
Uluwatu. This is one of the most famous surf spots in Bali, with some of the longest and most challenging waves on the island. The waves at Uluwatu break over a coral reef and can reach up to 8 feet (2.5 meters) high.

Padang Padang. Another famous surf spot in Bali, Padang Padang has heavy, barreling waves that are only suitable for

expert surfers

. It can get crowded, especially during the high season.

Impossibles. Located in

Uluwatu

, Impossibles is known for its fast, hollow waves that can reach up to 10 feet (3 meters) high. It's a challenging surf spot that requires experience and skill.

Keramas. Located in Gianyar, Keramas is known for its long, fast barrels that break over a black sand beach. It's a high-performance surf spot that's suitable for experienced surfers.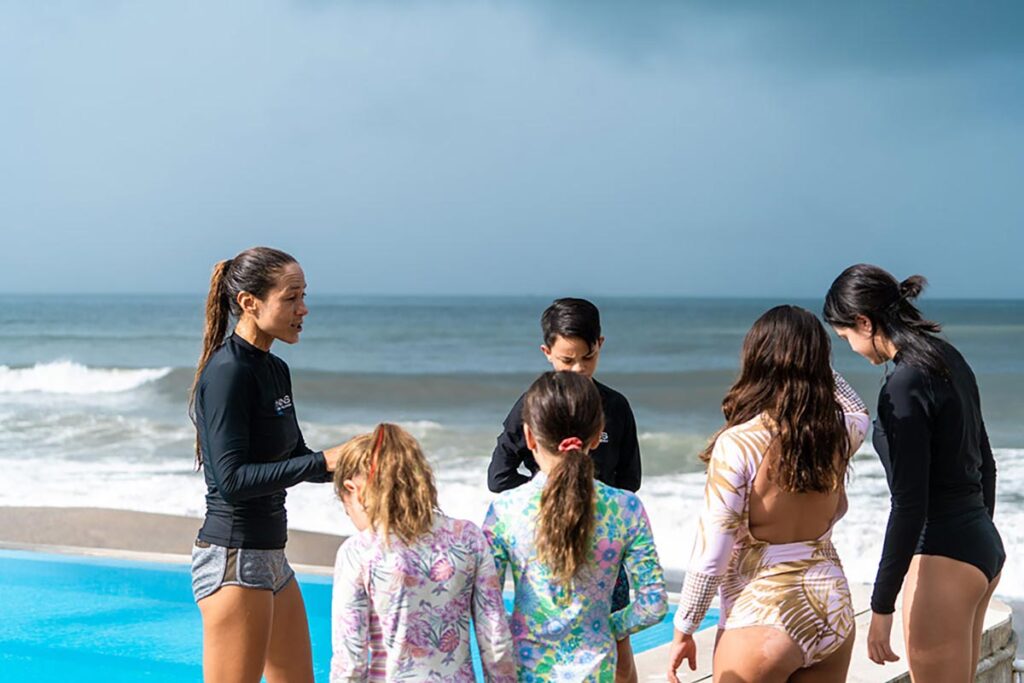 Bali Surfing FAQs
Here is our complete guide on everything you need to know about Bali surf today.
What is the best time of year to surf in Bali?
The best time to surf in Bali is during the dry season, which typically runs from May to September. During this time, Bali experiences consistent swells and offshore winds that create ideal conditions for surfing. However, this is also the peak tourist season in Bali, which means that the beaches and surf spots can be crowded. During the wet season or rainy season, from October to April, you can also have good surfing conditions. Still, the Bali surf forecast can be unpredictable, and the waves can be bigger and more challenging.
What is the water temperature in Bali for surfing?
The water temperature in Bali for surfing ranges from 26 to 29 degrees Celsius throughout the year. The water is warm and inviting, so many surfers choose to surf in Bali without a wetsuit.
Do I need to bring my own surfboard to Bali?
While it's possible to bring your own surfboard to Bali, it's not always necessary. You can easily rent or buy a surfboard once you're on the island. Many Bali surf shops offer surfboard rentals, and there are plenty of options to choose from, including shortboards, longboards, and funboards. Rental prices vary depending on the type of board and the length of time you plan to use it.
What should I wear when surfing in Bali?
When surfing in Bali, it's important to wear appropriate clothing that will keep you comfortable and protected while you're in the water. Surfboard shorts or a bikini are the most popular choices for surfing in Bali. It's important to choose a pair of board shorts that are comfortable and allow for freedom of movement. Many surfers in Bali also choose to wear a rash guard, which is a tight-fitting shirt that provides protection against the sun, sand, and wax on your surfboard.
Are there any local customs or etiquette I should be aware of when surfing in Bali?
Respect the local surfers: Balinese surfers are known for being friendly and welcoming to visitors, but it's important to show respect for the local surfers and give them priority on the waves.

It is recommended to dress modestly

.

In Bali, where Hinduism is the predominant religion, it is crucial to dress modestly as a sign of respect for the local customs and traditions.

Avoid wearing skimpy swimwear or going shirtless when you're not in the water.

Don't litter. Bali has a serious problem with plastic pollution, and it's important to dispose of your trash properly and not leave any litter on the beach or in the water.

Follow the rules. Be sure to follow any posted signs or regulations at the surf spots you visit, and be respectful of any local rules or guidelines.

Learn some basic Indonesian. While English is widely spoken in Bali, learning some basic Indonesian phrases can go a long way in showing respect for the local culture and community.
By following these local customs and etiquette, you can show respect for the local culture and community while enjoying some of the best Bali surf spots.
Bali Surfing safety and risks.
It is generally safe to surf in Bali, but like any outdoor activity, particularly one that requires skills and when you are dependent and among nature's elements, there are risks. 
Some of the risks associated with surfing in Bali include strong currents, sharp reefs, and dangerous marine creatures. To ensure your safety while surfing, it is essential to select surf spots that align with your skill level and be mindful of local conditions, such as tides, swell, and wind.
It's also important to take basic safety precautions such as wearing a leash, staying hydrated, and applying sunscreen to protect your skin from the strong Bali sun.
Overall, while there are some risks associated with surfing in Bali, by taking the necessary precautions and being aware of the local conditions, you can enjoy a safe and memorable surf experience.
Ask our team at FINNS Surf Academy if you have any questions or would like to sign up for a lesson. And after your morning on day on the waves, join us at FINNS Beach Club to relax with a poolside cocktail or refuel with a snack.