Nusa Lembongan Guide: 28 Things To Do On The Jewel Of The Nusa Islands
One of the most awesome things about a holiday in Bali is how close you are to other amazing islands like Nusa Lembongan. 
You can nip over to this unspoiled treasure on a day trip or even venture out for a longer period to fully explore.
But whichever you decide to do, you only want to visit Nusa Lembongan once you've read our guide to all the fantastic things there are.
Where Is Nusa Lembongan?
Nusa Lembongan is part of a group of islands known as the Nusa Islands, which lies southeast of Bali.
This group of islands, in turn, is part of a larger group of islands called the Lesser Sunda Islands.
How To Get Around The Island When You're There?
You have several transport options if you're not staying or want to explore the island.
Scooters
You can rent a scooter from the main strip close to where you come ashore.
It costs about 80,000-100,00 IDR per day (that's around $5). You will need an international driver's permit if you want to drive legally (and if you drive illegally, you will not be insured).
The roads are pretty good in Nusa Lembongan and are less hectic than in Bali. But driving can still be risky if you're not an experienced bike rider.
Taxis
Alternatively, you can enjoy the local taxi service, which consists of small pick-up trucks with bench seating in the rear.
These cost about 50,000 IDR per trip. Many visitors say that a ride in one of these taxis is part of the fun of visiting Nusa Lembongan.
Golf Buggies
You can also rent a golf buggy for about 800,000 IDR a day to get around the island.
There are rental shops near the landing spot and on the main high street.
Where Should I Stay On The Island?
There are hundreds of hotels on the island and something to suit every budget and desire.
We recommend discussing your options with the Res Centre staff, who can make up-to-date recommendations based on your needs.
28 Awesome Things To Do On Nusa Lembongan
There is no shortage of awesome things to do on this island and you will be certain to have fun, no matter which options you pick from the list below.
Experience Dream Beach
Dream Beach is the island's most famous beach because it is a dream beach.
It has the most golden sand you've ever seen, colourful reefs for snorkelling past, and extraordinary cave complexes.
Dream Beach will be the highlight of a trip to the Nusa Islands for many people. It's one of the most beautiful beaches in the world, not just in Indonesia.
You just can't beat a great beach in this part of the world.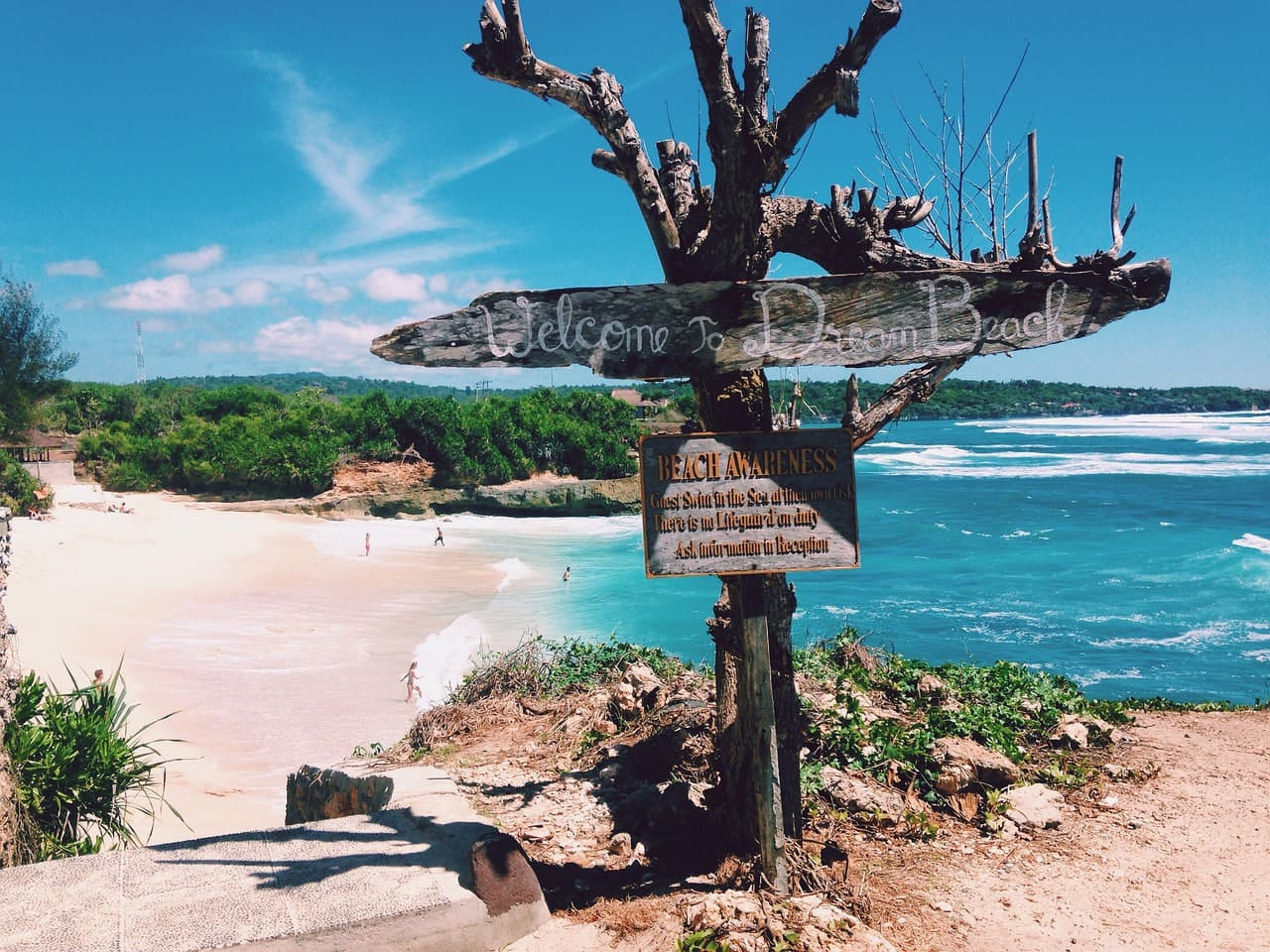 Be Blown Away At Devil's Tear
Devil's Tear is on the southern end of Nusa Lembongan and is an impressive sight.
The water flows into a cave, which is then ejected via a blowhole in a powerful upward surge. (Be careful not to get too close to this, you could get hurt).
A few happy sea turtles are swimming in the water there too. Just don't be tempted to swim with them.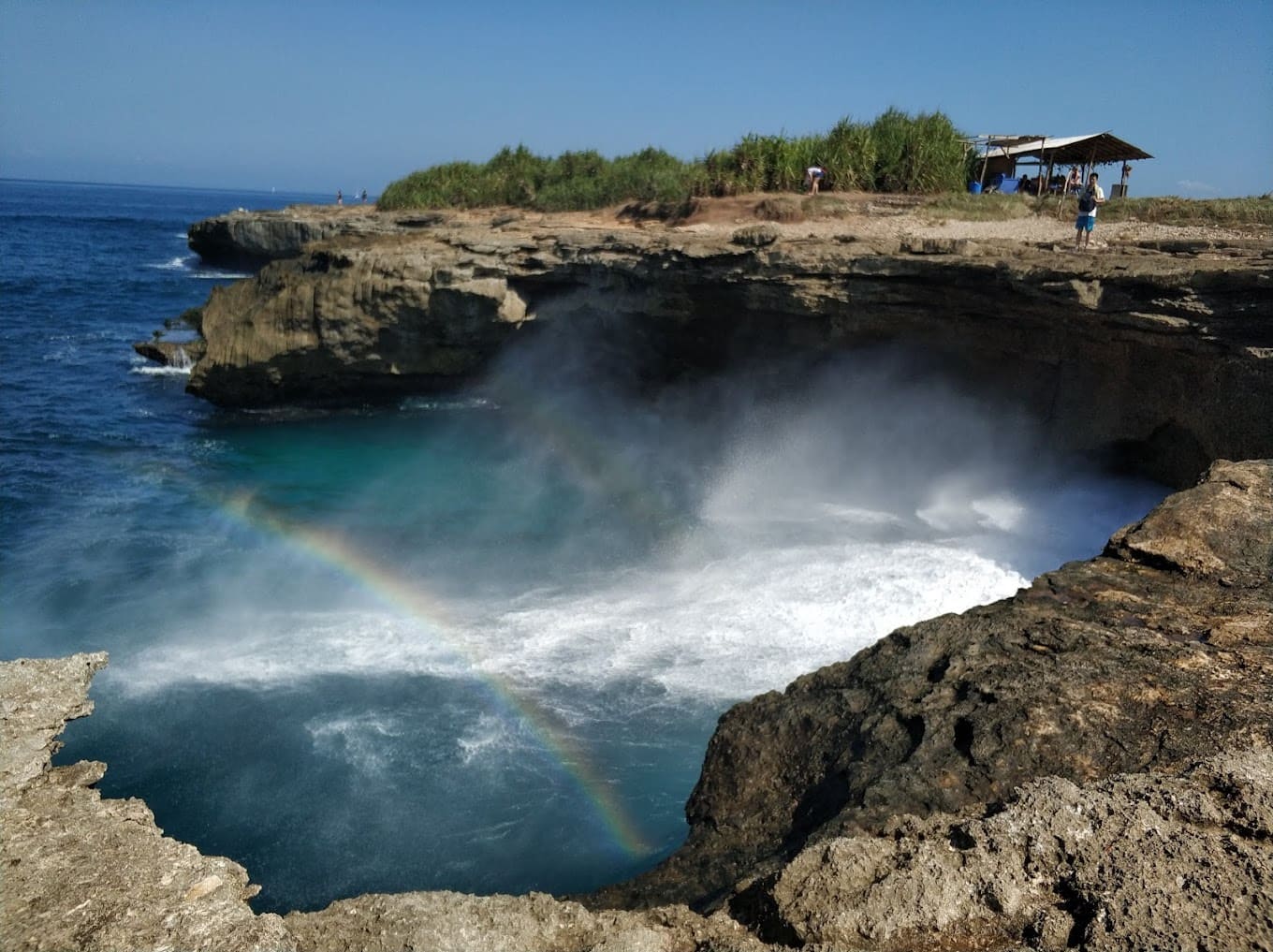 Reflect In Tidal Pools
The tidal pools aren't far from the Devil's Tear, so you might as well do them both on the same trip.
We'd recommend trying to time your visit for sunset (ideally, at tide, if it's low tide, the pools may dry out, at high tide, the pool won't be visible).
If you brought a camera to Nusa Lembongan, this is a great place to grab some cool snaps in the reflections of the pools.
Visit Nusa Ceningan
This island has plenty to offer visitors too. You can enjoy a secluded beach or two, blue lagoon swimming, cliff jumping, turquoise waters, and more.
Stop At The Coconut Hut
This bar and restaurant complex on Nusa Lembongan has a cool mini-golf course (18 holes too!).
You can get some great shots for Instagram while you down a couple of cold ones in the heat of the day.
Go Surfing Near Shipwreck Point
The surf breaks hard onto a reef at this spot, meaning you should only surf here if you're an experienced surfer.
If you are? You can rent a board for a couple of hours for 50,000 IDR and catch some rad barrels.
This spot is near some beautiful beaches, so non-surfers should be energized. Some cool shacks offer shade and drinks there.
Visit Some Seaweed Farms
Seaweed farming is way more interesting than ordinary farming and it's a big part of the local economy.
The best farms to visit are those that sit between Nusa Ceningan and Nusa Lembongan, it's a great location to spend time in.
We recommend stopping at a warung and watching the farming over tasty local food.
Don't Miss Manta Point Snorkelling
Talk to our friends at the Res Center to pre-book a snorkelling tour for Manta Point before you get to Nusa Lembongan.
This will ensure you get on a trip and see many manta rays. It takes about 30 minutes offshore and then you swim with the manta rays!
Manta rays are huge but harmless (they're not stingrays). Swimming with manta rays is one of our favourite activities on the island of Nusa Lembongan. 
Snap Some Shots At The Yellow Bridge
If you're looking for a guaranteed win for your Instagram account, look no further than the Yellow Bridge, a suspension bridge that runs from Nusa Lembongan to Ceningan Island.
Get your photos in, then head over the Yellow Bridge to Nusa Ceningan.
Delight In A Coastal Walk
If you head to Jungutbatu Beach, you will find a boardwalk that offers the longest beach walk on the island.
Follow the boardwalk and you can follow the cliffs along the ocean. Wear shoes because this walk can get a little slippery in places.
We like to do this around sunset or on the way back. We can have some cocktails in the cliffside bars. That's a great way to end a day on Nusa Lembongan.
Watch The Sunset At The Deck
The Deck is a bar on Nusa Lembongan that seems to be the most popular spot to view the sunset.
That's probably because a healthy amount of drama comes as the sun breaks over the horizon and it's nice to have a cold drink to hand while you appreciate it.
It's near the coastal boardwalk, so you won't have to go out of your way to find it.
Visit Nusa Penida
Assuming you're spending some time at Nusa Lembongan and not just here for a day, you should also head over to Nusa Penida Island at some point.
It's only a 15-minute boat trip away and there's a ton of awesome beaches to explore there too!
Snorkel At Mushroom Bay
Mushroom Bay may be less famous than Dream Beach or Sandy Bay, but the beach here is very pleasant.
You can soak up the rays all day long on the golden sands and now and again, just take a cooling dip in the Indian Ocean as it fills the crystal bay.
If you want something more exciting, Mushroom Bay is the place to do it.
You can get very good value (200,000 IDR a head) tours to snorkelling the reefs here.
We also like that Mushroom Bay has plenty of warungs, restaurants and bars. It's a nice venue for a relaxed island lunch with a few beers.
Mushroom Bay is a real highlight of a visit to Nusa Lembongan.
Get Off The Beaten Path At Hidden Beach
Just around the corner from Mushroom Bay is the Hidden Beach. You can get there by road and then it's a short walk to the beach.
It's not a secret beach, everyone knows it's there, but that's OK. If it were truly a secret beach, we wouldn't know where it was, but it is off the beaten path.
If you'd rather swim there, then if you head around the cliff to the North of Mushroom Bay, you'll be able to get there without much issue.
It's quite a distance; you should be a strong swimmer to tackle this.
As the name suggests, Hidden Beach gets fewer visitors than Sandy Bay, Dream Beach, or even Mushroom Bay; thus, it's a nice place to go if you want some chill-out time away from the crowds.
We think it's one of our favourite snorkelling spots on Nusa Lembongan.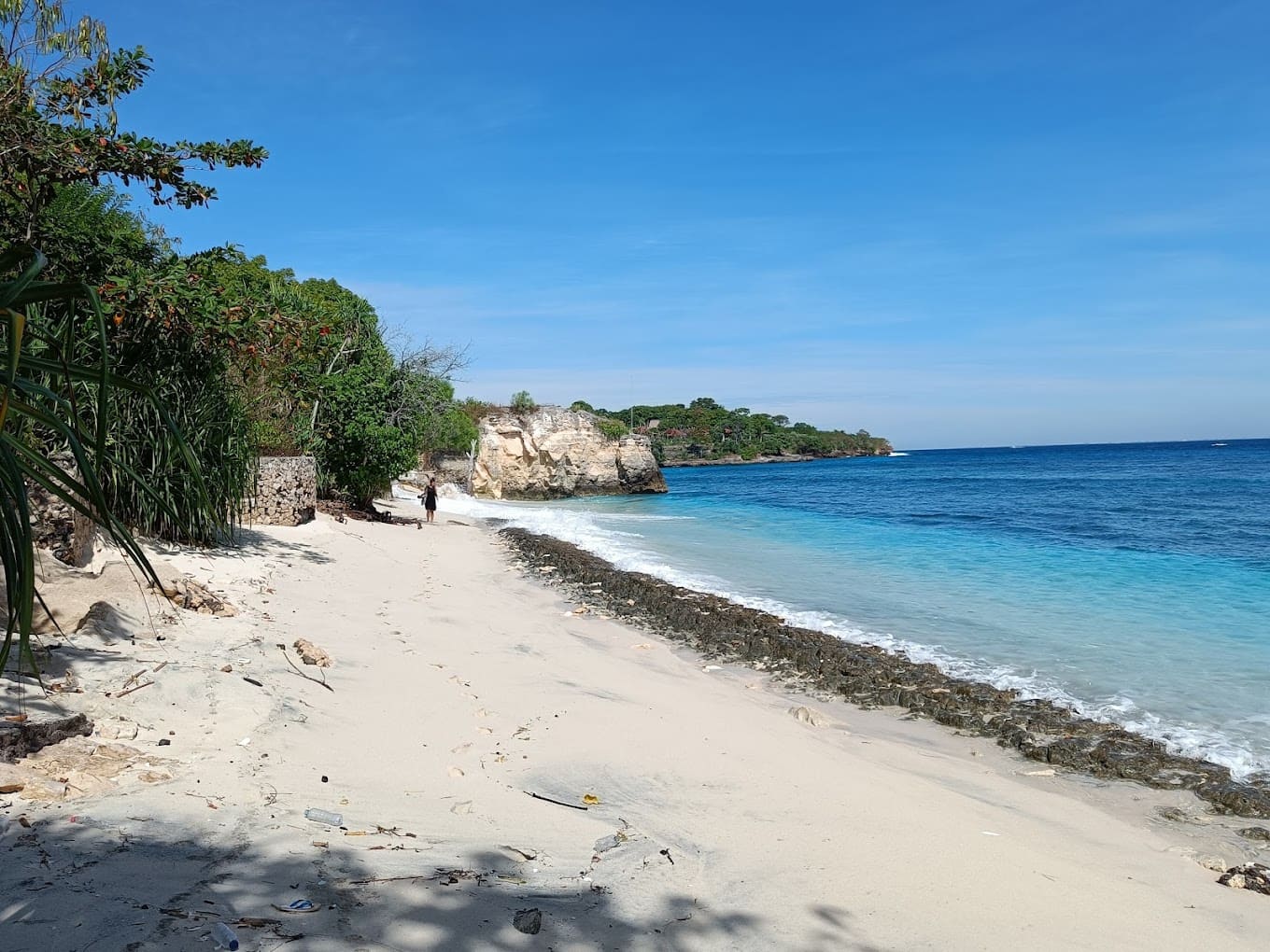 Eat A Tasty Barong Shakti Acai Bowl
This tiny little cafe on the main street near Jangutbatu Beach is awesome! Not only is it one of those places that look great in your 'Gram feed, but the acai bowls are to die for.
Seriously, they use only the finest organic ingredients available on Nusa Lembongan and you can taste the difference.
Their smoothies are also fabulous!
Have A Mangrove Forest Boat Tour
If you head to the northeasternmost point of Nusa Lembongan, you can take a local cruise through the Mangrove forest.
This costs very little (roughly 200,000 IDR) and it's very pleasant and relaxing. If you'd rather not rely on a guide, rent a paddleboard and tackle the route yourself.
There's no need to pre-book these tours; they're always available on Nusa Lembongan, and plenty of locals will be happy to introduce you to this striking part of the island. 
Party At Lago Pontoon
The Lago Pontoon is a floating deck a few hundred meters from the shores of Nusa Lembongan.
You can hire a private boat to take you out to the pontoon and then you'll have access to drinks, music and new friends. The best time to be there, of course, is at sundown. 
Shop The Local Food Markets
If you want to enjoy a more traditional side of Nusa Lembongan, we recommend you wake up early and visit the local food markets.
They're on the main street as you head out of town towards Ceningang Island.
The fruits and vegetables are very fresh, reasonably priced and super tasty.
It's a great place to spend time people-watching and practising street photography, even if you're not buying anything.
See The Banyan Tree
You don't need to go out of your way to see the island's biggest Banyan Tree. It's right next door to the food markets.
You absolutely can't miss it. If you want to photograph it, you will need to stand a long way back or use a very wide lens. It is the biggest tree on Lembongan Nusa or any other islands nearby.
Banyan Trees are meant to symbolize prosperity in the Hindu faith. They also offer shelter to spirits and gods.
Find Shade Under The Palms At Pasir Beach
If you like your time on the beach shaded by stunning palm trees, don't go to Dream Beach or Sandy Bay, head to Pasir Beach instead.
This is a long beach with some of the whitest sand we've ever seen and plenty of palm trees.
It's a cool place for some Instagram shots and while it's not our favourite beach on the island, it's definitely among the best.
Catch Some Waves At Jungut Batu Beach
If you want to surf, the best surf breaks are near Jungutbatu Beach, not Dream Beach.
It's easier to hire a local to take you out in a boat to the breaks near the reef (and it's cheap, only 50,000 IDR return) than paddling out there.
The turquoise waters are fantastic and with plenty of facilities within walking distance, this is a great place to go for a long stroll along a beach too. 
Tour The Cemetery
We're not being unduly morbid when we suggest checking out the cemetery. It's on the road that runs up to Dream Beach and it's one of the most unique sights on Nusa Lembongan.
The graves are quite plain and simple, and the site could probably use more maintenance.
But this place is special because an ornate and brightly coloured umbrella shades each grave!
You should be able to get some lovely Instagram shots here, but please don't stand on the graves or move anything – it is a real cemetery and people's relatives and loved ones are interred here.
Visit The Puncak Temple
This pleasant and small Hindu temple is the main temple for Lembongan Village and it's on the hill near the village.
It's regularly used for ceremonies, so if you arrive at the right time on the right day, you may get a glimpse of authentic island life.
We recommend taking your camera to Puncak Temple as it's very photogenic and big crowds won't interfere with your view.
You can also get a surprisingly good view of most of the island from up on top of this hill.
And who doesn't love a beautiful panorama in their Facebook feed?
Do Sunrise At Jenggala Hill
Jenggala Hill is a private resort, but they allow guests from outside if they stop by the bar or the restaurant to buy something.
The reason to visit, however, is that it offers the most engaging view of any point on the island.
If you get there in the early morning and the skies are clear, you will see Mount Agung in Bali in all of its glory.
You don't want to leave your camera in the hotel for your trip to this place.
Drink In The View From The Cliffs At Blue Lagoon
There are plenty of blue lagoons on the islands of Indonesia, but Nusa Lembongan has the only Blue Lagoon.
The Blue Lagoon is a wonderful place to take some jaw-dropping ocean shots from and it's also one of the best cliff jumping spots for the more daring visitor.
The water can be wild at the Blue Lagoon, though, and if you do swim at Blue Lagoon, you should try to stay a little offshore from the coastline as you don't want to get injured.
Get Into Dream Beach Cliff Jumping
If you want a huge thrill, jumping from Dream Beach cliffs should provide it. Lembongan Nusa has many great cliffs, but these are among the most challenging and exciting to jump from.
You must do a depth check before you jump here, as you don't want to injure yourself at Dream Beach. We recommend heading about two-thirds down the coastline to a clearing to find a good jumping spot.
The water is very deep there. But don't take our word for it. Go and survey your landing point before you jump. The underwater landscape can shift at any time and you want to ensure the spot is free of rocks and reefs before you jump.
Coming ashore is only sometimes pleasant at Dream Beach, as there are sharp rocks to contend with, so bring reef shoes.
On the bright side, this keeps the number of cliff jumpers to a minimum and you won't need to queue to get your adrenalin thrill here.
Image: https://www.journeyera.com/dream-beach-nusa-lembongan-bali/ 
Swing On Bali Swings
You can find some really pleasant island swings on Nusa Lembongan and Dream Beach has some of the best of them.
There are other swings on Nusa Ceningan too, you could even spend a day trying to track down all the different swings on the Nusa Islands!
They're the perfect place to relax without any stress and just enjoy the sunshine with the waves lapping at your feet.
They also look great in your Instagram feed, which is a bonus. 
Enjoy Sandy Bay
Sandy Bay is a pleasant beach that's very popular with tourists. The area is quite swanky and the facilities are more expensive than others in Nusa Lembongan.
If you want a taste of the high life and are okay with paying for it, Sandy Bay could be exactly where you want to go during your visit to the Nusa Islands.
Image: https://www.sunshineseeker.com/destinations/sandy-bay-beach-club-lembongan/
FAQs
Is Nusa Lembongan worth visiting?
Yes! Nusa Lembongan has a wonderful reputation with visitors. It's a little quieter than Bali and has plenty to see. Throw in Nusa Ceningan and Nusa Penida, too and you've got plenty to explore for a week or so.
We'd say it's worth visiting just to swim with manta rays and do some cliff jumps. Lembongan Nusa has so many beautiful beaches to enjoy too.
What Is Nusa Lembongan famous for?
There are many things that the island is famous for, including the Yellow Bridge, seaweed farms, white sand beaches, crystal clear waters, beautiful sunset sea conditions, stunning views, great cafes, and its neighbouring islands, Nusa Ceningan and Nusa Penida.
Is it better to go to Nusa Penida Island or Lembongan Nusa?
We think you should visit both! But if you can only visit one island, Lembongan Nusa is the more developed and has more to do.
How Long Is The Ferry From Bali To Lembongan Nusa?
It's a short crossing and you can get from Bali to the island in 45 minutes.
How Many Days Do You Need In Nusa Lembongan?
You can see a lot of Lembongan Nusa in a single day, but if you want to enjoy the island and see everything? 3 days is about right and 4 if you want to explore Nusa Penida and Nusa Ceningan too.
Final Thoughts On Nusa Lembongan
A trip to Nusa Lembongan is a great way to break up a longer stay in Bali or experience something a little different while in Indonesia.
It's not the biggest island, so you won't need a long time to enjoy it, but we're certain that you won't be sorry if you spend some time on Dream Beach, swim with some Manta Rays and see a spectacular sunset view from one of the cliff tops there.
We also like the neighbouring islands of Nusa Ceningan and Nusa Penida and the can add a little variety to a longer trip to Nusa Lembongan.