How To Rent A Scooter In Bali And Why You Might Not Want To
It's fair to say that Bali isn't the smallest of islands and it can take a few hours to travel from one edge to the other.
So, many foreign tourists want to rent a scooter to get around on, they figure that this will mean they can see more of the island and get more out of their holiday.
However, this isn't as straightforward as you might think and foreign visitors would be best off reading our guide on how to rent a scooter before they part with any money.
Your health, safety and liberty might be at risk if you don't.
Can A Foreigner Rent A Scooter In Bali?
It's fair to say that the Balinese rental market isn't very strict about renting scooters. The rental company only has one real motive and that's to profit from the scooters that they have.
Even if it weren't legal for foreign tourists to rent scooters, they'd probably rent them anyway.
However, it is legal under certain specific circumstances for foreigners to rent scooters in Bali.
You don't need a local driving license, but you will need a valid international driver's license and a few other things if you want the rental process to go smoothly.
Can Tourists Rent A Scooter In Bali?
Yes. In fact, the process to rent a scooter is very easy, though if you need to know what you're doing – you might be setting yourself up for problems later on.
Read this guide in full before you part with any money or wave your driver's license and money at a rental agent in Bali.
Can Tourists Rent Motorbikes In Bali?
Yes, there's no constraint on any kind of motorized vehicle when it comes to renting in Bali. As long as you have the money to rent, somebody will rent to you.
But unless you want to spend time in a Bali police station or, worse, a Bali jail. You should ensure that you follow a proper process for renting, even if the rental company insists that it's not necessary.
Should You Rent A Scooter In Bali?
This is a much better question than "Can you rent a scooter in Bali". You see, there are real pros and cons to renting a scooter in Southeast Asia.
Indonesia isn't a fully developed nation and there are challenges that you might face when driving in Bali that you won't face in your own country.
Safety Issues
The biggest concern when renting a scooter in Bali is safety. If this is your first time riding a motorbike or scooter, this is a good place to learn.
The roads are not always very well maintained and the local drivers tend to follow a "might is right" (unwritten) driving law that looks nothing like the orderly approach to driving mandated by law in most Western nations.
You are, quite literally, taking a gamble on your safety when you jump on a scooter in Bali.
Bali Traffic
If you're driving through Bali's cities, the first thing you're going to notice is that the traffic is chaotic.
There will be far more people sharing road space with you than you're used to and they may need to be obeying the rules of the road.
It would help if you had eyes in the back and sides of your head when driving in Bali and even experienced riders can find it hard to drive defensively for long periods. 
Storage Constraints
A scooter is not a removal van. In fact, if you were thinking of using one for a couple, you can pretty much forget putting any luggage on the bike.
And even if you're going solo, you should be aware that chancers often steal from scooters at traffic lights in Bali.
If you can't fully secure your luggage on your scooter, don't even try to take it with you. In reality, you can probably wear a small backpack and stow your helmet under your seat, that's it.
Rental Company Bikes Aren't Well Maintained
We'll come back to this later, but our last major con when it comes to renting bikes in Bali is that they need to be in a better state of repair.
There's nothing worse than breaking down in the middle of intense traffic or the middle of nowhere.
It doesn't cost a lot of money to get scooters repaired, thankfully, but it can take a lot of time out of your holiday.
Scooters Are Cheap
Perhaps the best case for renting a scooter is the cost. You can rent a scooter for a day for less than the price of a beer in Bali.
You will need to pay for fuel on top, but that doesn't cost very much either. 
You Set Your Own Schedule
Having a scooter means not having to use guided tours, drivers, or taxis for all your on-island travel.
That means you can get up when you want, leave when you want and if the mood strikes you, you can change your plans in a heartbeat and go somewhere else.
Convenience
It's very easy to rent a scooter in Bali. There are rental companies all over the place and it's simple paperwork and an intensive process to get your scooter, unlike in your home country, where renting is often a drawn-out pain in the posterior.
Overall, we only recommend that you rent a scooter in Bali if you have some previous experience using a bike and you have an international driving license, which includes a motorbike license.
The most common cause of hospitalization for non-medical reasons in Bali is a scooter accident.
Do You Need Scooter Lessons?
They are not mandatory, but we think they're a good idea. Even if you have an international driving permit, you probably don't have any experience of driving on Balinese roads.
You can take a quick half-day course that ensures you have the basic skills to drive safely in Bali. International drivers often find that it takes some getting used to driving here and some basic scooter lessons can really make it much easier.
There needs to be a driving examination for these sorts of courses. Mind you, you won't be made to sit a practical test or do a written exam like you did to obtain a driving license. In fact, as a tourist, you can't do a driving test legally in Indonesia.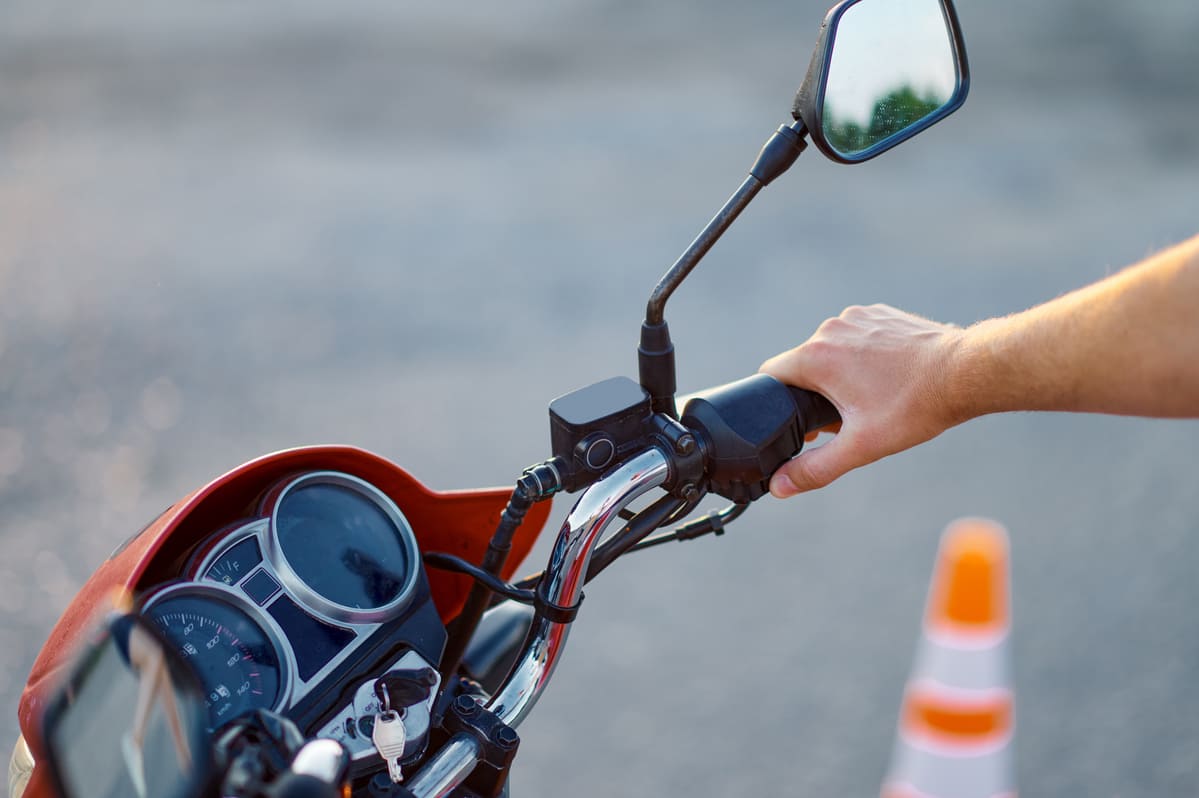 Is There A Minimum Age To Rent A Scooter In Bali?
Yes. Bali officials don't issue driving licenses to people who are under 17. So you need to be at least 17 to be legal.
However, we've heard that the kind of rental company that doesn't ask to see your international driving license is also the kind of place that doesn't check if you have a driver's license at all.
Driving without a driver's license can land you in hot water with the police and it's impossible to get insured without one. But sadly, it does happen.
We strongly urge you only to drive with insurance and legally in Bali. The risks are too great not to.
Do I Need An International Drivers License To Driver A Scooter In Bali?
Yes. You need an international driving permit or international driver's license to drive in Bali. This is not optional. If you don't have an international driving permit, then you are not legal to be on a bike.
While that might sound trivial if you know how flexible the law can be in Southeast Asia, it's not. There are two major problems with needing an international driver's license and they can be really detrimental to your holiday.
If you don't have an international driving permit, you're not insured.

 That means travel insurance, health insurance, home insurance, etc., none of it will cover you if you get injured. That might sound like a minor issue because Bali is pretty cheap compared to back home, but that's different from how things work. If you are seriously injured, ask 

Peta Richards

 or 

Kaitlyn

 how driving without insurance in Bali turns out. Unless you're sure that your friends can raise $250,000+ in the event of an accident, make sure you have an international driving permit and some valid insurance.

If you don't have an international driving license, you could be in trouble with the police.

 Driving without a driver's license is not a trivial offence and you could get in real trouble with the police if you are caught. As you will see later on, this can work out pretty expensive, too.
How Do You Get An International Driving Permit?
You need to get an international driving permit in your own country before you come to Bali. While foreigners can get an international driving license in Bali, they can only do so if they are an expatriate with a local ID known as a "KITAS".
The process varies from country to country or even by region of a country as to how exactly to get an international driving permit. For example, in New South Wales, you need to apply via the Australia Automobile Association's NSW member, NRMA.
This process takes about 5 to 7 days. If your Bali vacation is coming up sooner than that, then if you live in New South Wales, you can visit a Service NSW Center or mobile service centre to get one on the same day. You may need a passport-style photo to go with the application for the international driver's license.
This process changes in other states and it can be very different in other countries.
Your international driving permit isn't expensive – the fee is usually only about $50. But it only lasts for a year and then you need another one.
One thing they need to tell you about an international driving license is that you can only use it for 3 months in Bali. If you want to stay longer and drive, you will need to get an Indonesian driving license.
If you drive after the 3 months are up and don't get a national license, your insurance will become invalid and the local traffic police can cause you real problems.
It's worth noting that a government-affiliated organization always issues an International driving permit. There is an International Drivers Association, but the International Drivers Association is not responsible for handing out any kind of international license.
So make sure you get your international driver's license from your government's official organization. Otherwise, your international license will probably be a fake and worthless to you.
What Else Do I Need To Rent A Scooter In Bali?
Before you can rent your scooter you will need the following:
Some form of ID. 

Ideally, you have your international driving license, but sadly, many scooter rental shops don't care about whether you're legal and won't mention an international driving license at all. They'll be happy to see a passport.

A deposit in cash. 

You want to review our scooter rental checklist below carefully if you want to get your deposit back. However, always leave a cash deposit (you will normally get it back unless you trash the bike you've been riding) and never leave your passport as a deposit (this is a great way to get scammed).

The full rental fee is in cash.

 Yes, it's standard for you to pay for the rental period upfront (though if you rent for more than a month, you can usually pay a month at a time).

Your address and a WhatsApp number. 

The company will want some way to contact you and everyone in Bali uses WhatsApp for calls. Just download the app when you're here. You can always delete it later.
Do You Have To Wear A Helmet On A Scooter In Bali?
Yes! Not only is it the law to wear a helmet, but if you don't wear one, you are not going to be insured and if you come off your bike, you are far more likely to be seriously injured or killed.
Yes, we know they don't look awesome, but we've seen enough terrible things over the years to tell you it's not a joking matter. Helmets save lives. Your first concern should always be to ensure safety for you and any passengers that you have.
You should also know that it's mandatory to wear a shirt when driving a bike in Bali. This is to "prevent unruly behavior," according to the local authorities, and it's an offense punishable with a fairly stiff fine not to wear a shirt on a scooter. 
So, wear one. It will help prevent sunburn as well as fines.

How To Rent A Scooter In Bali
OK, so assuming you have an international driving license, insurance, and the money, and you're off to rent your first scooter in Bali, this is what you need to pay attention to.
Your Scooter Rental Checklist
Pay for your rental or commit to do so with a full inspection of the scooter first. One thing that you can be certain of is that if you don't do this, you may lose a lot of money and spend a lot of time getting the bike repaired at your own expense.
Wheels & Tires
Your tires are what help your scooter stick to the road. This is doubly true in a tropical storm and it can really rain when it rains in Bali.
What you're looking for is that the tires are not bald, that the tread depth is reasonable and that they have been properly inflated.
The wheels should be undamaged and properly straight.
Brakes
You'll need to do a little test drive to ensure that the brakes are working, but that's OK. The scooter rental place is used for that.
Your brakes are your best friend in Bali's stop-start traffic. Check them for any physical signs of wear and damage before you test them and then make sure they handle properly.
Headlights, Brake Lights & Indicator Lights
Once you get out of the cities, they don't really believe in street lighting in Bali. That means you want to ensure that your lights are all in good working order.
Check everything and that means your headlights (including high beam functionality), brake lights and indicators (you'll be amazed at how many scooters have a broken indicator light here).
Engine Sounds
You don't need to be a motorcycle expert to know that the engine needs to sound right.
Listen out for bumping, rattling, or any other noises that scream, "I am not very well".
At the same time, check to ensure that no warning lights come on on the dashboard of your scooter; if they do – don't rent it.
All The Bodywork
You now need to go over the body with a fine-toothed comb and find any scratches, scrapes, etc. and take pictures of them and video them.
Send these on your phone to the rental agent. In the event of a dispute at the end of the contract, these photos are your evidence if you have to get the police involved.
To be fair, while this is a common problem in Thailand when renting scooters, mainly here in Bali, the rental agents are pretty lax and you probably won't be charged for a scratch.
The Helmet
Yes, we're going to say it again. Your helmet might just save your life. But it can only do that if you make certain that it's up to the job.
That means make sure it's not cracked, that the chin strap works and is comfortable and that it feels like it's in good working order. Refrain from rejecting a helmet if it's not up to the task.
We would note, however, that if you have a particularly big head, you might need to find your own helmet. Rental companies can need help to deal with equipping the biggest foreign tourists.
Also, helmets get stolen a lot in Bali. Make sure to secure them under the seat and put the pin in place to hook yours up when not in use.
What Kinds Of Scooter Can I Rent?
There are a huge number of choices when it comes to renting a scooter in Bali and you want to pay attention to the following:
CCs 

– this is a reference to the capacity of the engine. They tend to go from about 110 CC to 160 CC. The smaller the number, generally, the cheaper the scooter is to rent. However, if you intend to drive up big mountains – you will want to rent a bike with a high CC level.

Brand

 – The most popular brands are Honda and Yamaha and they tend to be the most cost-effective scooter rentals. Low CC models include the Honda Scoopy or Honda Beat. Mid-tier includes the Yamaha Lexi and Honda PCX. At the top end, the Yamaha Max series tends to be your best option.
Note: If you are an inexperienced driver. Try to go for fewer CCs. The lighter the bike, the easier it is to drive.
Note: A high CC scooter is pretty much the equivalent of a motorbike back home. And note while your home country may let you drive up to 125 CC on a car license, Indonesia won't. You still need a bike license. 
Can You Rent A Scooter Without An International Driving Permit?
Sadly, yes, you can and it's actually very easy to do so. It's common for foreigners to have their first run-in with the law in their lives because they weren't legally riding a bike.
Locals tend to avoid getting caught up in validating whether you have a driver's license or not, but the police will if you get pulled over in traffic.
Getting Caught Without An International Drivers Permit? What The Police Do To Foolish Foreign Tourists
If you get caught at one of the many traffic stops in Bali, the first things that the traffic police will want to see are your scooter registration and your international driver's license.
If you can't produce them, you're going to be in trouble. At this point, you will get a ticket from the police officer for a fine. Depending on how many violations you're being charged with, this probably won't be a fortune, but you will have to attend a court date and won't be allowed to leave Bali until it's over.
Don't panic! You are very unlikely to have to pay this amount or attend court. The thing is, if you don't have a driver's license, the police don't care if you pay a fine; they care if you pay them.
The right thing to do is to say, "I don't have enough for that. I have this much, instead!"
The police officer will then rip up the ticket (metaphorically speaking and pocket your cash for themselves. If you have no money on you at all, they may take you to an ATM… but be prepared to pay out a lot of money at that point.
Many expats carry a second wallet with just 100,000-150,00 IDR in it for this very purpose.
Does My Travel Insurance Cover My Scooter Use?
Maybe. Firstly, you will need your national driver's license, an international license, a motorcycle endorsement on the driver's license and a travel insurance policy that specifically states in the terms that you can drive when covered by the policy.
Secondly, you must obey the Indonesian traffic law when riding your scooter. If you're drunk or you don't wear a helmet or shirt, etc. You won't be covered.
Oddly, there is no specific law against drunk driving, but you will find that if you get into trouble with the police, you get a higher fine and sentence if you're drunk.
This is also true in your home country. Insurers insist you must be driving legally in order for you to be covered. So, you should be used to the idea.
A Step-By-Step Guide To Staying Safe On A Scooter In Bali
OK, so here's our final recap on driving safely in Bali and having fun rather than problems from renting your scooter.
Have An International Drivers Permit And A Motorcycle License
If you don't have the right license, don't drive. It's that simple. The license is what makes you legal and makes certain that your insurer will consider a claim if you get into an accident.
Your Helmet Isn't An Ornament, Wear It
The CDC makes it clear. 750 people die each year in the USA, where very few people ride bikes because they aren't wearing a helmet.
You are 37% less likely to die in a crash when wearing a helmet if you are the driver. 41% less likely if you are a passenger.
And best of all, you are 69% less likely to get any kind of head injury if you wear a helmet.
Seriously, this is a big deal. Wear a helmet. It will also mean that your insurer pays out if you crash.
Never Rent A Bike Without Fully Assessing Its Condition
Faulty bikes aren't safe bikes, and a bike can develop a fault at any time. Why rent one that's faulty in the first place?
There are so many bike rental places here in Bali that there's no need to rent the first scooter you see.
Don't Let Yourself Get Scammed
Any deal that sounds too good to be true probably is. Never leave your passport as a deposit on a scooter or motorcycle.
Photograph Any Flaws In The Scooter Before You Rent
You will be liable for any damage while a bike is in your care. If you have proof that you didn't do the damage, you won't have to pay for it.
Stick To The Law When On The Road
This is good practice anywhere in the world. Not only does it keep you safe, but the police are less likely to pull you over to inspect your driver's license if you're driving properly.
Park Sensibly
Yes, we know, people just dump their bikes wherever they feel like dumping them here. But that doesn't mean you should. Make sure your scooter is clear from traffic or pedestrians when you park it. Then, it's much less likely to be damaged in your absence.
What Can I Do If I Don't Rent A Scooter?
There are other options for transport in Bali that you might want to consider.
GoJek/Grab
The local Uber alternatives are GoJek and Grab. They're both very safe and reasonably priced. You always know what you're paying before you get in the car with these apps too.
You may want to experiment with both apps until you find the cheapest option, as they can vary a bit depending on your start and end points.
These apps are fully cashless experiences if you connect them to a card and you can even leave a tip without paying cash.
We recommend installing them as soon as you arrive, not just for taxis but also for food delivery and other services.
Rent A Car (Or Rent A Car With A Driver)
If you have a car license, then you might want to consider renting a car (though you need an International Driving Permit (IDP) for that too). There are plenty of car rental companies on the island.
You can also rent a car with a driver if you want to enjoy getting around the island without the hassle of driving yourself or turning your car license into an international one.
We recommend opting to take a car with a driver because it doesn't cost much more and then all the risks of the road are their responsibility, not yours.
It's worth noting that you must be 23 years old to rent a car in Bali legally.
Bus Or Taxi
There are some limited bus services in the big cities and you can also hail a BlueBird Taxi. But be careful. A fake BlueBird taxi is still a fairly common sight and they can be a total rip-off that's why we prefer ride-sharing apps to taxis.
Where Can I Rent A Scooter In Bali?
If you're living in a tourist area, you will probably stumble over 8 rental places between your hotel and the beach.
But if there isn't a scooter rental place nearby, you can ask your hotel and they will usually be able to arrange a rental for you in no time.
FAQS
What Age Must You Be To Rent A Scooter In Bali?
17 is the legal driving age in Bali. You may be able to rent a scooter if you're younger but it won't be legal and you can get into a lot of trouble if you get caught.
What Side Of The Road Do You Drive On In Bali?
You drive on the left-hand side of the road in Bali, but be warned traffic rules are often unfollowed guidelines by many local drivers. Be prepared to veer around when necessary.
Can I Drive In Bali With My Australian License?
Yes, but only if you have an international driving permit as well.
How Much Is Petrol In Bali?
A litre of petrol is currently 13,388 IDR per litre as we go to press. That's substantially cheaper than in most Western Countries. Scooters can get around without a huge amount of fuel.
What Happens If The Police Stop Me In Bali?
If you have a motorbike license, an International Driving Permit (IDP), a helmet, and a shirt and you are obeying the law? Nothing. The police are just carrying out a random stop and check.
If you don't have those things or were breaking the traffic laws? You will be fined, though this will normally be negotiated into a smaller sum paid as a bribe to the police officer.
Am I Required To Have Travel Insurance To Rent A Scooter In Bali?
No, but it's a good idea to have some sort of insurance. While medical care isn't expensive in Bali, a vehicle accident can cause you to incur huge costs if you are seriously injured. With insurance, you may be able to rely on charitable donations to pay for treatment.
Are Balinese Roads Good For Scooters?
No. Balinese roads could be better in a lot of places, full stop. Motorbikes and scooters can end up in serious accidents due to the state of the road surfaces. You need to pay careful attention to the road itself as well as what's going on around you if you want to drive to Bali.
Final Thoughts On The Bali "Rent Scooter" Experience
Renting scooters to get around Bali is something that foreigners have been doing for decades and bikes are a very cheap form of transport.
However, many drivers find that it's too easy to get into accidents and prefer to take another vehicle, even if it means paying a bit more.
One thing's for certain if you need the proper license, insurance and a bit of experience, Bali is a good place to learn to drive a scooter or to get into an accident on a scooter.
With our guide, you have all the information that you need to ensure you're a valid driver in Bali and a safe one.
And for one last time, because this can't be said often enough, if you rent motorbikes in Bali, please use a helmet at all times. We want you to have a great holiday and to go home safely.