Seminyak, Bali is one of the top destinations for holidaymakers on the island. This is because it has a great reputation for being fun and friendly.
It's an upscale resort destination with a focus on shopping, partying and chilling on Seminyak Beach and it attracts a mainly young and trendy crowd.
There are luxury resorts and villas galore and even some options for those on tighter budgets. Here's everything you need to know before you plan a holiday in Seminyak.
Where Is Seminyak?
Seminyak is on the west coast of the Southern part of Bali. It's just to the North of Kuta and Legian the two most popular destinations in Bali.
It's very much a beach town and its best-known beach is Seminyak Beach.
How Do I Get To Seminyak?
There's only one airport in Bali, the Ngurah Rai International Airport so you'll need to fly in there. (Note: The airport is also sometimes called Denpasar International Airport but it's the same airport).
Flights come to Bali from international and domestic destinations and you may need to change flights depending on where you are travelling from.
Then you can take a taxi or to your hotel. Many of the better hotels in Seminyak also offer a hotel shuttle service (sometimes free or sometimes paid) and it's worth checking on this when you book as it can be the best way to get to where you need to be.
It is possible to take a bus from Jakarta to Bali, believe it or not, but it's a very long journey and you can expect to spend over 24 hours on board (and that's assuming everything goes perfectly on the journey).
You can also arrive in Bali, as many do every day, on a cruise from somewhere else like Singapore or Sumatra.
Which Other Areas Of Bali Is Seminyak Close To?
Bali is a big island but it's not that big and most places are not that far away. However, Kuta, Legian and Canggu are the closest areas to Seminyak.
The first two biggest tourist draws on the island and for a long time, Seminyak was nothing but a sleepy village in the shadow of its southern neighbours.
Now, however, Seminyak has come on leaps and bounds and is nearly as busy and vibrant as the two towns to the South. It's worth noting though that Seminyak Beach is still much less packed than Kuta Beach.
When Is The Best Time To Visit Seminyak?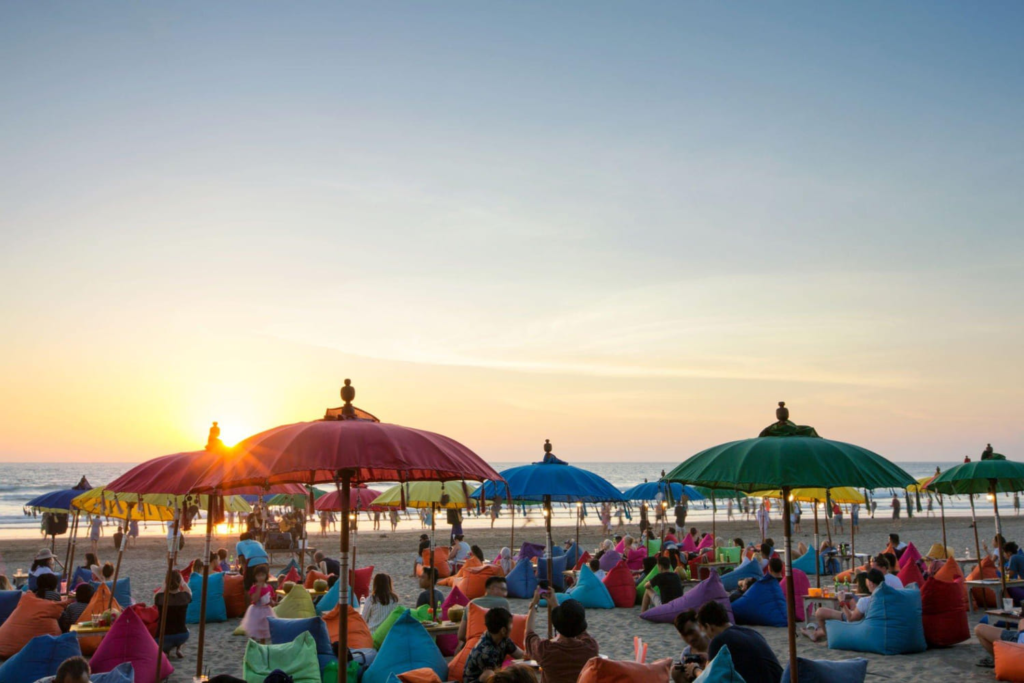 Seminyak is popular and fun all year round and there's really not a bad time to come to Seminyak.
However, the busiest time in this area is Christmas and New Year and if you're looking for a deal on a hotel room or a private villa with a private pool, you won't get it at this time of year.
May to September sees a fairly dry heat settle over Bali and if that's not your cup of tea, you should pick a different time of year to travel to Seminyak.
The rainy season sets in from October to April but don't worry, even if you come then, there'll be plenty of time to lie out in the sun on Seminyak Beach. It rarely rains for a long period of time.
There is no equivalent of "Winter" in the tropics, so the weather stays warm to hot all year round and the sun absolutely loves Bali and is out almost every day of the year for, at least, some of the day.
What Should I Do Before I Come To Seminyak?
If you want to have the best time in Seminyak we'd recommend doing these things before you arrive:
Book your flights in and out of the country and ensure your proposed stay in Bali is in line with the visa you will be using

Arrange a visa (if you need one – most visitors on holiday won't need to do this)

Book your accommodation – this is particularly true if you're coming during the peak season, the last thing you need after a long flight, is a long trek around hotels and resorts to be told they have no room at the inn

Change some money into Indonesian Rupiah – you don't have to bring a lot. You can use the ATMs to withdraw more or a money changer to change up cash from home, but life is easier if you have a little cash on you when you arrive to pay for a taxi and to tip your busboy in the hotel.

If your hotel offers a pick-up service make sure to book it – yes, this can cost a little more than a taxi (though sometimes it's a perk of your stay in Seminyak) but it's usually way more convenient and there will be somebody waiting for you as you get off the plane

Make sure you have copies of all your important documents – we like to photograph everything and store them on our smartphones as well as keep a hard copy. It's much easier to replace a lost passport or find out where your hotel is if you have copies of the important stuff.
And that's about it. You don't need to go overboard when preparing for a trip to Bali, the truth is that most holidays to Seminyak are blissfully uneventful except for good times and fun. But it can't hurt to be prepared, either.
What Should I Do When I Arrive In Seminyak?
Assuming that you've booked your Seminyak hotel and you're not looking to stay for a very long time in Bali (if you are – you should see our guide to phones in Bali as you may need to register your phone with the authorities) – you just need to get a taxi or the hotel transport to your hotel.
Then, we strongly recommend that you buy a SIM card before you do anything else as it makes it super easy to access all the local app-based services as well as reducing your call and data costs when compared to using your home network.
After that, it should all be about having fun in Seminyak and doing the things that you came to do.
What's The Vibe Of Seminyak?
eminyak is an upscale beach town. It's the sort of place to rent a private villa or stay in a luxury resort, chill out by the swimming pool or on the beach during the day, enjoy spa treatments and watersports, and then go out in the evening for fine dining and great nightlife.
It's not the kind of place that you visit for culture and quiet, however. Seminyak really serves as an upmarket destination for young, hip partygoers who want something a little more refined than the nightlife in Kuta and Legian.
Is It A Family-Friendly Destination?
Yes! Seminyak is very much a family-friendly destination (assuming you're not going to spend your evenings around the nightlife district).
Many families stay in Seminyak's Private Villas or glitzy resorts and have a great time of things. Most of the family-friendly hotels have kids club facilities to help you get a better life balance from your time in Seminyak on holiday.
And almost every place to stay will have a fantastic outdoor swimming pool to enjoy.
Is Seminyak Safe?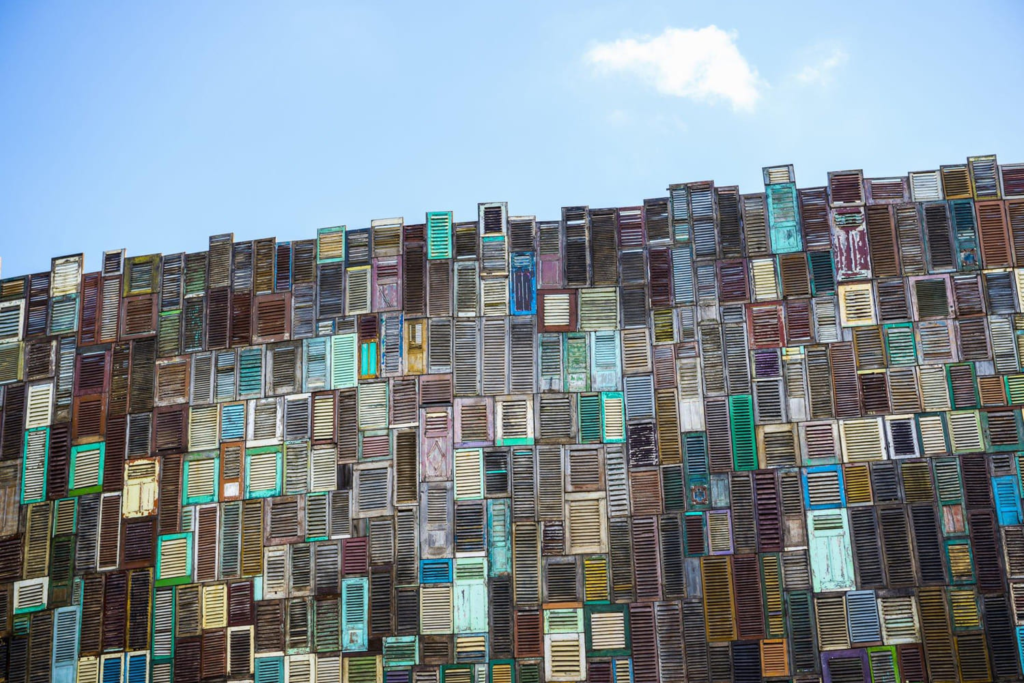 Yes! Seminyak Village is, like the rest of Bali, a safe place to spend your holidays. Now, that doesn't mean that you can throw caution to the wind and do stupid things that you wouldn't do at home.
There are opportunistic thieves around and you do need to take care of your personal belongings and not do anything daft like wave large sums of money around in plain view of everyone.
It's also a party destination and as with all party destinations, there's a certain unsavoury element that can come out at night. If you're on your own, you should always seek to take a taxi rather than walk around late at night in Seminyak Village.
However, as we always stress, most people's Seminyak holidays are completely crime-free and just involve having fun on and around the Seminyak Beach area.
How Do I Get Around Seminyak?
Seminyak isn't that hard to get around though the traffic can get pretty hectic at times and you have several options for transport.
Taxis
We don't recommend flagging down taxis in the streets of Bali. Unfortunately, as with almost all major tourist destinations in the world, many of the taxi drivers are con artists.
You may find that the meter suddenly starts going up at an incredible rate or that you get to your destination and they demand more cash than you had agreed, or even that they take you on a huge detour and try to get you to ditch your hotel for a friend's place.
If you must flag a taxi then Blue Bird Taxis are the most trusted brand of taxis in Seminyak.
However, we do recommend downloading and installing the two local Uber equivalents – Gojek and Grab.
These services are the easiest and safest way to book a taxi.
You will know what you're paying before you get in the car and if you hook up your card to the app, you don't even need to pay in cash (though if you are paying in cash, make sure to take the right amount, drivers rarely have change) and can even leave a non-cash tip.
Scooter
If you are not an experienced bike rider, learning to use a scooter in Seminyak is a bad idea.
In fact, it's probably a bad idea for two reasons 1.) if you haven't ridden before you probably don't have a motorbike endorsement on your International Driver's Permit and thus, it's illegal to ride one and 2.) Seminyak traffic can be really dangerous and accidents are very common.
It's also worth noting that if you're not driving legally, you're not insured. If you have an accident you will be paying a huge hospital bill in Seminyak with your holiday money.
However, if you do want to rent a scooter, you can easily rent one in Seminyak and it's a very cost-effective way of getting around the island under your own steam.
Just please, wear a helmet and drive safely. Don't become a statistic on Bali's roads.
Rent A Car
The best way to rent a car in Bali is to rent a car with a driver, this costs very little over the price of a car and ensures that you don't have to deal with Bali's traffic.
You should be able to arrange this in advance, at the airport, through your hotel or at any of the car rental locations in Bali.
You must have a valid International Driver's Permit if you want to drive a car in Bali and you must be 21 years old to rent a car.
Rent A Bicycle
Cycling is definitely a healthy way to get around most places, but the Bali traffic makes us nervous about seeing Seminyak under our own steam.
You can rent bicycles in Seminyak very easily and they're not expensive. Just make sure to wear a helmet if you do opt for this mode of transport and you might want to wear an N-95 face mask too to save you from the worst of the exhaust fumes.
Walking & How To Cross The Road Safely in Seminyak
Walking is a great option in Seminyak particularly as so much of this beach town is within walking distance.
However, you do need to learn to cross the road safely and the traffic here can be very intimidating until you're used to it.
The trick is to walk slowly into the stream of traffic with your hand raised in a "stop, please" fashion. Then, you must commit to walking forward.
You don't run, and you never step backwards. Everything on the road will see you and judge their speed to anticipate your movement. Nobody will blow their horn at you or throw a fit of road rage, either.
What's A Typical Day Like In Seminyak When You're On Holiday?
Everyone's holiday needs are different so there's no truly "typical day" but we suspect that a lot of visitors will follow this kind of pattern:
Have breakfast – Seminyak has some lovely coffee shops and cades for this, though if your hotel provides breakfast, you should probably check that out.

Hit the swimming pool – there's something really nice about a dip in your hotel swimming pool and doubly so if you're staying in a private pool villa.

Have lunch – a local warung (Indonesian restaurant) is probably your best bet. These places serve tasty food, that's great value for money and cold Bintang to wash it down with.

Hit the beach – now it's time for some surfing, sunbathing and sand.

Dinner reservations – Many of Seminyak's awesome fine dining restaurants require reservations. Make sure to book and then enjoy some amazing food.

Go clubbing – and a night in Seminyak really isn't complete until you have had a few cocktails and a dance in one of the island's hippest clubs.
What Should I Wear In Seminyak, Bali?
Seminyak as with all of Bali is reasonably conservative and you should always dress appropriately in temples, government buildings, etc.
But mainly, it's fine to grab your thongs, slip into some shorts and wander around the town in a civilized fashion.
On the beach, all you need are shorts/trunks or a bikini. If you have a private pool you may not even need to wear that much.
Be warned though, during the wet season, if you're leaving the road and beaches, a lot of surfaces can get very slippery and/or muddy. You may want something a bit more substantial than thongs on your feet in that case.
What Are Some Hotels & Resorts In Seminyak?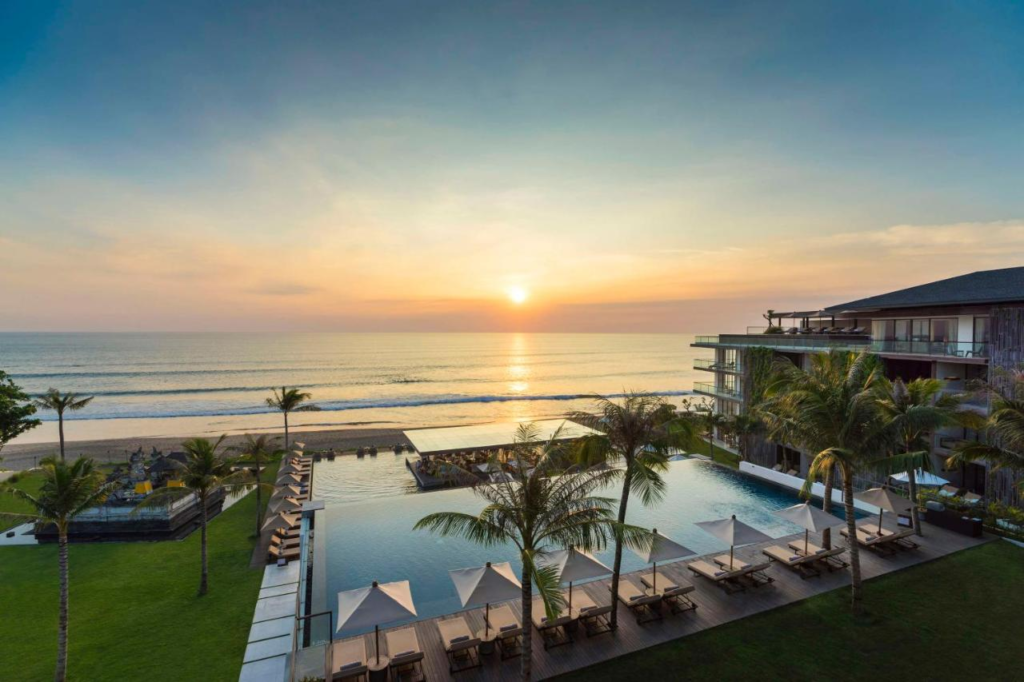 Seminyak is home to some wonderful luxury resorts and hotels. There are mid-range and budget options in this part of the island but Seminyak's not the best place to look for cheap accommodation in Bali (or cheap anything for that matter).
Some of the best resorts and hotels in Seminyak, Bali include:
Hotel Indigo Bali Seminyak Beach

Alila Seminyak

The Legian Seminyak, Bali

The Colony Hotel

Anantara Seminyak Resort

Amadea Resort & Villas

Courtyard by Marriott Bali Seminyak Resort

The Dipan Resort

Montigo Resorts Seminyak

The Breezes Bali Resort & Spa
Can You Rent A Private Villa In Seminyak?
Yes, very much so. If you want a private pool or just somewhere to chill out with your friends and/or family in privacy and away from the crows then private villas are a very good idea.
Top choices for private villas in Seminyak include:
Sahana Villas

Abaca Villa Elegancia Bali

Hiburan Villas

Sini Sie Villa

The Cotton House

Villa Atas Ombak

Windu Asri

Villa Massilia

NoKu Beach House

Villa Issi
Note: Be careful when booking private villas, sometimes they're not quite as advertised and it can completely spoil your holiday if you turn up at the time when the private pool is under maintenance. Make sure to use a local travel agent such as Bali Res Centre to book.
About Seminyak Beach And Seminyak's Beaches
Seminyak is a beach resort and it has plenty of beaches for you to choose from.
Of course, the most famous beach is the one the village gets its name from – Seminyak Beach.
Seminyak Beach is the most fashionable place to spend time on a beach in Bali. It's hope to plenty of high-end resorts, boutique stores and beautiful dining locations.
In addition to Seminyak Beach you'll also find:
Double Six Beach – This beach has plenty of bars and restaurants running along the front and it's never usually that crowded. It's very popular with surfers.

Legian Beach – part of Legian Beach runs into Seminyak. It's very busy and a popular place for watersports. The white sands are lovely and the sunsets here are spectacular.

Petitenget Beach – This more private and secluded beach is very popular with couples on honeymoon or seeking a romantic break away from the crowds. Pura Petitenget Seminyak Beach is our favourite spot in Seminyak.

Kayu Aya Beach – This is a much less popular beach but it's still worth a visit. They have solid surfing options and it's a great place for a swim too.
And because Bali's not that big, you're not that far from a host of other beaches if you want to see more of the island.
Surfing
While Uluwatu tends to be the biggest draw for surfers on the island, Seminyak is a great place to learn to surf or enjoy some gentler waves as you adapt to the local conditions.
You can easily arrange surf lessons if you've never surfed before and board hire is cheap and easy too.
Bali has a good reputation for hire services too, it's not like Thailand and there's not much chance of getting ripped off for surf gear.
However, in peak season, you may find it's not so easy to find a surf school with any spare slots.
If you want to make surfing a part of your holiday, we suggest contacting the Bali Res Centre and booking lessons in advance. They can also help book other activities such as scuba diving, cooking classes, etc.
Scuba Diving (And Helmet Diving)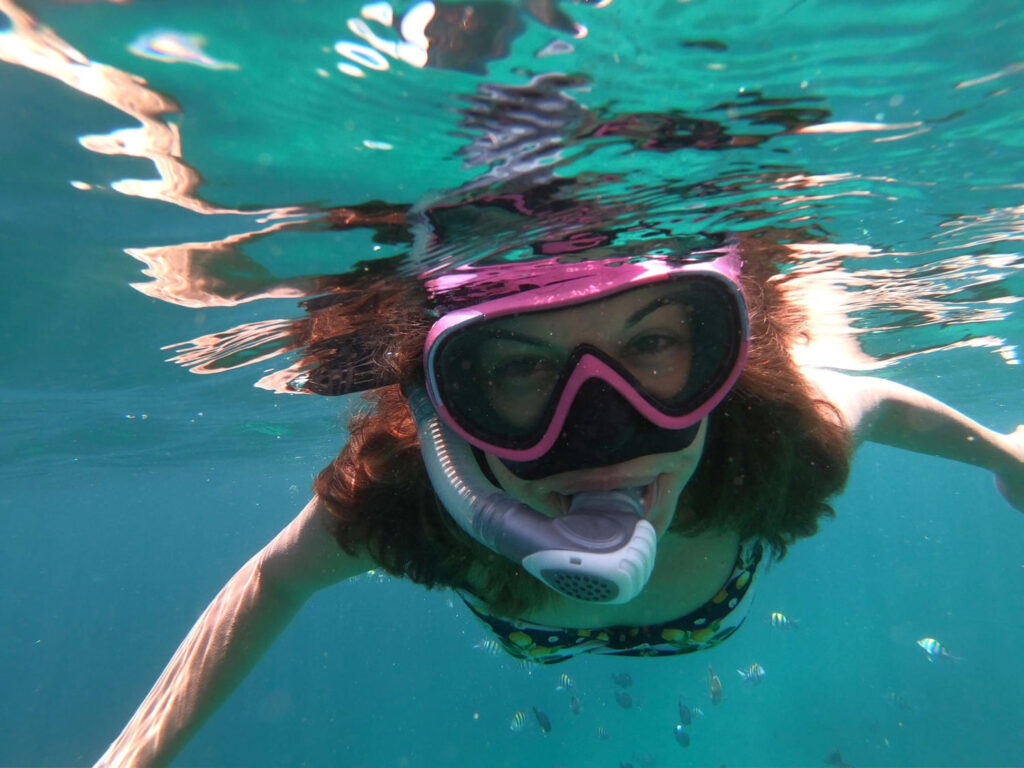 It's easy to get a snorkel and enjoy some nice views of the local marine life on Seminyak Beach but if you want a much more enjoyable experience among the reefs and fishes, we'd recommend doing a scuba day trip.
In fact, if you're going to be in Seminyak for a while, you might even consider taking a PADI-certified course to become a certified diver.
If you don't want to scuba dive or if you just can't deal with your hair getting wet – you can opt for a helmet diving session instead.
They put a big helmet on your head, it's super easy to breathe in and you can even take a walk along the seabed in it.
The best diving trips from Seminyak will call in at the USAT Liberty Wreck in Tulamben Bay and the Padangbai Blue Lagoon.
Yoga
We know, normally people go to Ubud for yoga and meditation but if you want to do yoga in Seminyak there are plenty of yoga studios for you to attend and the yoga's as good as it is in Ubud.
Try any of the following:
Yoga 108

Yoga Shala

Jiwa Yoga

Blooming Lotus Yoga

Pondok Yoga Bali

Olop Yoga Studio

Snana Yoga

Oasis Yoga
Cooking Classes
We've got a list of all the best cooking classes in Bali on this site and it's definitely something you can do in Seminyak.
A typical cooking class here will involve getting up a little early and visiting a local market with a locally trained chef.
They will help you pick out the choicest of ingredients and ensure they're fresh and awesome before you learn to make tasty Balinese dishes.
You can learn to make satay, nasi goreng, gado gado and much more. And of course, once you've made the food, you can eat it and enjoy it.
We like that cooking classes give us an insight into Balinese culture and some new skills to take home from Seminyak.
Food Tours
Love the thought of eating fantastic Balinese food but you're not so keen on cooking it? Well, you can always take a local food tour and skip the step where you cook anything.
Talk to Bali Res Centre about arranging a food tour that takes you to all the places that the locals love to eat.
Or if you're in the mood for luxury eating, you could design your own food tour based on the ridiculous number of wonderful fine dining options in Seminyak.
Work On Your Fitness
People don't stay looking amazing in Seminyak for very long if they party all night and don't work out during the day.
Seminyak has some excellent gym options and many of the resorts and hotels have private gyms for their guests too.
If you want to work out in Seminyak you can try:
Bali Fitness Seminyak

Louis & Friends Fitness

CrossFit Seminyak

Daily Gym Bali

F45 Training

Athlean

Hammerhead Fitness

Bali Asri Gym

Moxx EMS
Don't Miss Petitenget Temple
Petitenget Temple is a locals-only affair. It's hidden away near Petitenget Beach and it's a really attractive and interesting place to spend some time.
Be aware that as with all temples in Bali, you may not enter the inner sanctum, this is reserved exclusively for Hindu practitioners who want to pray here.
Nearby, you'll also find the Pura Masceti shrine where locals make offerings to the gods to ask them to deliver a bountiful harvest.
If you go on a Hindu holiday, you will probably find locals dressed up and having fun at the temple.
Given that most visitors to Seminyak rarely stray beyond Seminyak Beach a visit to this temple will mark you out as a real traveller, not just a tourist.
Where To Go For Coffee In Seminyak?
If you want a great cafe, Seminyak has plenty of them for you to choose from.
Indonesia's coffee culture may not be as famous as that of some other nations, but there are great local beans and a real desire to make sure that coffee shops and cafes here are on par with anywhere in the world.
Some of our favourite coffee shops in Seminyak include:
Sisterfields Cafe

Revolver Espresso

Cafe Kim Soo

Watercress Cafe

KYND Community

Sea Circus

Pison Coffee

Cafe Organic
What Are The Best Places To Eat In Seminyak?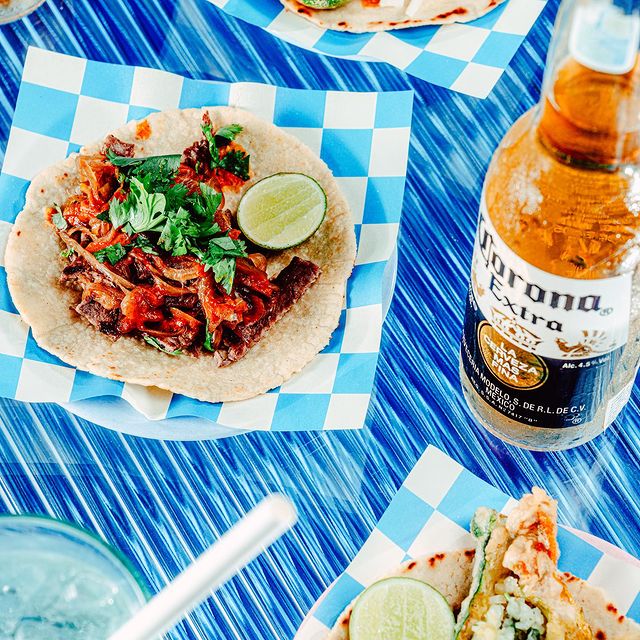 There may be no greater privilege to a foodie than trying all the best restaurants in Seminyak, but you'd better book a long holiday here if you want to do that – there are so many of them!
Some of our highlights include:
Da Maria

Motel Mexicola

La Lucciola

Si Jin

Mama San

Seasalt

Mauri

Lacalita

Sarong
Check Out The Art Galleries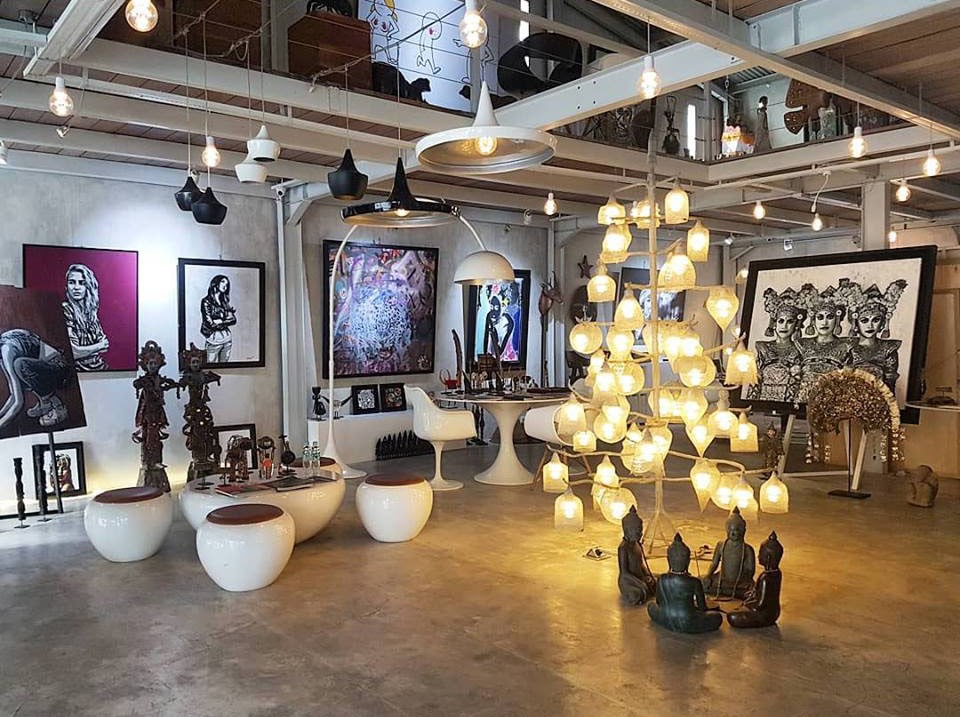 While Seminyak may not be home to many museums, if you love contemporary art it's definitely one of the best places in Bali to find an art gallery.
There's a strong emphasis in Seminyak's galleries on local talent, though many also offer an international theme too.
Art isn't cheap in Seminyak, Bali but it's very reasonably priced when compared to the international art scene.
You will often find that art galleries offer affordable souvenirs if you're not in the market for a new wall hanging.
Check out:
Nyaman Gallery

Purpa Fine Art Gallery

Nacivet Art Gallery

Positive/Negative Visual Gallery

Reservoart

Buddha Gallery

The Gallery

The Yellow Brick Road Gallery
Where To Shop In Seminyak?
Seminyak is one of Bali's most popular, if not THE most popular, shopping destinations. Whether you're looking for international brands or local chic, you can find it in Seminyak.
What Is Jalan Raya Seminyak?
The main shopping street is Jalan Raya Seminyak (or Jl Raya Seminyak) and you'll find that Jalan Raya Seminyak is lined from end to end with excellent boutique stores and cafes.
Other Great Shopping Spots In Seminyak
You could also visit Seminyak Square which is a lovely location again stuffed with local chic boutique stores that really elevate the Balinese shopping experience. Seminyak Square is a popular choice with those in the know.
We also think that a trip to Seminyak Square can be a great part of a holiday as you can get some super Instagram shots there.
For those looking for a more budget-friendly experience, Seminyak Market is within a short walking distance of most places in town and you can pick up some cheap souvenirs easily there. Taman Sari Market is also a local market destination.
And for all your grocery needs, check out Bintang supermarket which is very popular with locals and expats alike.
Have A Full Pampering Session
Seminyak is famous for its high-end spas. You can get everything from a traditional Balinese massage to luxury treatments in these best of Bali's spa establishments.
If you're staying in a villa with your own private pool then the odds are pretty good that you already have a nice spa in-house and the same is true at the high-end luxury resorts.
Otherwise, you can try:
Lagoon Spa Seminyak

De Nyuh Spa & Beauty Salon Seminyak

Spring Spa Seminyak

Eco Bali Spa

Kimberly Spa – Jl. Raya Seminyak

Prana Spa

Terra Spa & Wellness

Glo Day Spa

Cool Spa

Naka Contemporary Art
What's The Nightlife Like In Seminyak?
If there's one reason above all that holidaymakers choose Seminyak, Bali, it's the nightlife and that's because it's varied and awesome.
The scene here is very much full of young, attractive people in designer clothing looking their very best and having a great time as they do it.
Everyone is welcome, of course, as long as you're old enough to drink alcohol (and you may be asked for ID to make sure) but it might not be your scene if you're 50 and looking to recapture your misspent youth.
Booming Bars
After a day lounging by the outdoor swimming pool or on the beach, what could be better than grabbing a cocktail or three in one of Seminyak, Bali's booming bars?
You can find everything in Seminyak from meticulously kept speakeasies to outdoor venues with spectacular sunset views.
Great bars in Seminyak, Bali include:
Akademi

Cocoon

Single Malt

Capri Beach Bar & Restaurant

Char Char Bar & Grill

Motel Mexicola

Sea Circus

Sea Vu Play

Red Carpet Champagne Bar
Serious Clubs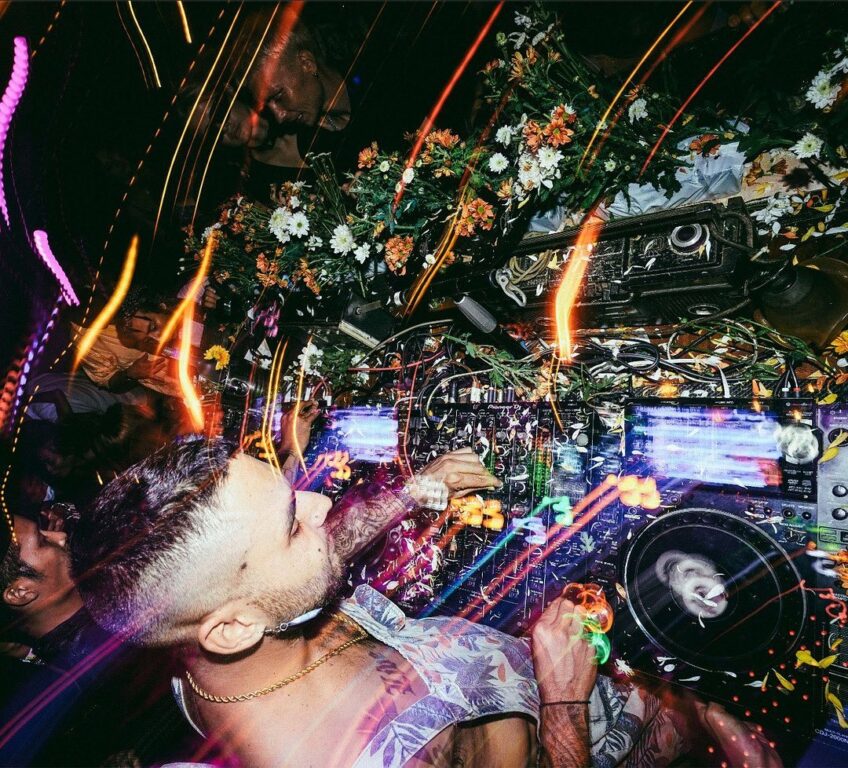 And if you want to dance the night away in Seminyak, Bali then there are plenty of amazing nightclubs to choose from too.
Be warned, it's not the cheapest clubbing destination on the island but it is one of the most sophisticated.
Try:
La Favela – Jl Kayu Aya

Motel Mexicola – Jl Kayu Jati

Mirror Lounge & Club – Jl Petitenget

Red Ruby – Jl Petitenget

Red Carpet Champagne Bar – Jl Kayu Aya

Shi Shi – Jl Petitenget

Nineteen Lounge – Jl Petitenget

Da Maria – Jl Petitenget

Bali Joe – Jl Camplung Tanduk

En Vie Lounge – Jl Kayu Aya
Great Day Trips From Seminyak
Staying in Seminyak doesn't mean that you have to limit yourself to Seminyak for all your time in Bali. In fact, there are plenty of great options for day trips that you can organize yourself or let the Bali Res Centre organize for you.
FINNS Beach Club – Why not take a day to visit Canggu and the world's best beach club? You may be sorry that you didn't stay in Canggu after you do. With 9 bars, 3 restaurants, regular live events and more entertainment than you can shake a stick at, FINNS is one of the most memorable experiences you can have in Bali. What could be better than a sundowner at FINNS getting ready to dance the night away with new friends?

Mount Batur – If you've never stood on the slopes of an active volcano, this could be your best chance to do so and don't worry, it's not dangerous (nor is it very difficult to climb unlike Mount Agung). You'll get some spectacular shots for your Instagram though and have a wonderful story to tell your friends when you get home.

Nungnug Waterfall – Bali has so many spectacular waterfalls that it's hard to keep track of them all. Nungnug Waterfall has the advantage that it's relatively close to Seminyak and is considered to be one of the most spectacular to look at. Instagrammers are going to live it here and the shots you get will be dramatic and awe-inspiring.

Jatiluwih Rice Terraces – The beauty of rice terraces simply cannot be overstated. There's something soothing about watching the green lines fade away into infinity among the local hills and valleys. You also get to learn a little about the local culture when you visit, a win-win as it were.

Nusa Lembongan – if you just want a day or two on a small island with some spectacular views and amazing snorkelling opportunities. Nusa Lembongan's a great place to go and it won't take long to get there by boat.

Uluwatu & Jimbaran – Fire dancing, temples and great surfing should make for an appealing day trip for everyone. This is a great part of the island to see.

Ubud – OK, you might need more than a day but if you want to see some of the cultural highlights of Bali, Ubud's the place to go.
Tips On Getting The Most Out Of A Stay In Seminyak
If you want some helpful hints on how to get the most out of your time in this vibrant part of Bali, we've got some help for you:
Stay away from tap water – unless you want to endure a chunk of your holiday glued to the loo with Bali Belly, it's best to use bottled water for everything. Yes, even for brushing your teeth.

Use taxi apps in preference to taxis – it is much, much easier to get a fair price and to avoid being cheated at the end of your journey if everything has been agreed online first. However, if you must use a taxi Blue Bird is the most reputable company in Seminyak.

Negotiate at currency exchange stalls – we don't mean in the bank, but we do mean at every less formal currency exchange place. They have some wiggle room, and the more you change, the more they can wiggle.

Haggle in local stores and markets – you can't haggle for your groceries or in a fast food joint but you can haggle in markets and even some boutique stores. Haggling is meant to be fun.

Take your own shopping bags – some tradespeople love to tack on a large fee for a plastic bag at the end of the purchase.

Get a local SIM card – Wi-Fi is plentiful in Seminyak and it's mostly free but it never hurts to have a backup plan. It's easy to get a local SIM card and it makes life so much easier.

Watch your feet – we're not saying you're clumsy here, we're saying that Bali's street surfaces can be the stuff of nightmares. It's really easy to go flying over your feet if you're not watching where you walk.

Stay safe at night – Seminyak is not especially dangerous but female and solo travellers, in particular, should still exercise precautions at night when travelling. It's better to take a taxi with an app than it is to walk late at night in Seminyak.

Never leave belongings unattended – the most popular crimes in Bali, like everywhere else, are those of opportunity. Smart people don't leave their bags lying around the beach or in a restaurant without anyone keeping an eye on them.

Don't flash your cash – Bali is becoming less of a cash economy at the moment but for now, cash remains king. It's OK to have cash, but it's a bad idea to wave it around in public. You might as well ask the local pickpockets to rob you.
FAQs
Why Is Seminyak So Popular?
Seminyak is an upscale venue for partying, eating out and shopping until you drop.
It's got a cool, hip vibe that plays very well to a certain crowd and though it's more expensive than some other areas, you do tend to get what you pay for.
And let's not forget the awesome beaches, spas, cafes, and nightlife. There's a lot to like about Seminyak.
Is Seminyak A Good Area In Bali?
We like to think that all of Bali is a good area because it pretty much is. Particularly, areas that are popular with tourists and visitors.
However, Seminyak is considered to be one of the nicer parts of the island's thriving tourist scene.
You should be aware that there is petty crime in Seminyak and it's worth taking basic precautions to ensure your safety and the safety of your belongings.
Having said that, the vast majority of visits to Seminyak are trouble-free.
Which Is Better Kuta or Seminyak?
It very much depends on what you're looking for from an area. Kuta and Legian (its neighbour) are the most popular tourist destinations in Bali. They have great nightlife and a young, trendy vibe.
However, they can be very crowded, indeed, particularly at peak times and though they have some luxury facilities, they are not considered to be upscale parts of the island.
Seminyak is the place that people go after their budget grows a bit but they still want the party-style vibe of somewhere like Kuta. There's more emphasis on luxury, fine dining and great cocktails in Seminyak.
If you love to go shopping Seminyak is usually considered to be the best part of the island for boutique stores.
Which Is Better Ubud Or Seminyak?
This is a bit like comparing chalk and cheese. Ubud and Seminyak are very different places, indeed.
Ubud is the spiritual heart of Bali and it's not a beach destination. It has no beach clubs. It has a lush green jungle and fertile rice paddies. People tend to go to Ubud to relax, to meditate and to focus on wellness.
They visit temples and Ubud's famous Ganesha Bookshop and enjoy the cooler temperatures there. Ubud is a place to visit if you want to explore Indonesian culture.
Seminyak, on the other hand, is a party and beach destination. You go to lie on the white sands of Seminyak Beach during the day, possibly while sinking cold ones and cocktails.
Then, at night, you go out and hit the active and vibrant clubbing scene, it's one of Bali's hippest nightspots. You might enjoy a spa treatment or two in Seminyak but it's unlikely to be the primary reason for visiting the area.
Seminyak also has an excess of world-class restaurants and trendy beach clubs.
Is Seminyak Very Crowded?
Yes. It's not as crowded as Kuta, particularly the Kuta Beach area but it's crowded all the same.
Traffic is very busy and you need to allow extra time for travel time while going through Seminyak.
However, it's worth noting that the crowds are a testament to Seminyak's popularity as a destination. People really do love Seminyak Beach and the surrounding areas.
What Is Seminyak Bali Best Known For?
Nightlife, shopping, Seminyak Beach and spas. Seminyak isn't usually considered to be a cultural destination, it's a place you go to let your hair down and party with friends (both old and new).
Is Seminyak Worth Visiting?
Yes, we think so. Thought a lot depends on the kind of holiday you're looking for.
If you're a retired couple hoping for serenity and long walks on the beach and to avoid the crowds? Seminyak's not going to be your top choice.
If, on the other hand, you're young, you love to party and want to be seen among the trendiest people, Seminyak is going to be great for your Bali holiday.
How Many Days Do You Need In Seminyak?
It depends. Many people spend their entire holiday in Seminyak. They're content to eat great food, lounge on the beach and party every night.
But we think that might get boring after a while and you probably only need 3 or 4 days to appreciate Seminyak's charms and experience its shopping before you can move on to another part of Bali.
Is Seminyak Expensive?
Seminyak is not the most expensive part of Bali but nor is it the cheapest. It's an upscale destination and it's certainly more expensive than Kuta and Legian.
Only you can really decide whether you think Seminyak costs a fortune or whether it represents great value for money.
What's The Best Way To Book A Holiday In Seminyak?
We always recommend our friends at the Bali Res Centre. They are a locally based travel service that can help you find exactly what you're looking for to enjoy the perfect stay in Seminyak or Bali for a while.
They can also provide the most up-to-date information on what's going on. You might not want to stay in that Seminyak Beach Villa if you find out that there's a building site just opened next door.
Finally, because they're local, they can often get the best deals on accommodation. That can save you a lot of money on your Seminyak holiday.
Final Thoughts On Seminyak, Seminyak Beach And More
Seminyak, Bali is one of the most popular destinations on the island and that's mainly for its reputation for great shopping, amazing nightlife and super spa and leisure options.
It's probably not for everyone but for the young, hip and trendy it's going to provide some amazing opportunities to have fun on holiday in a wonderful upscale environment.
Rent a private pool villa with some friends and you'll find that you're always in the mood for another party in Seminyak.