If you're going to spend time in Ubud, then you have to do the Campuhan Ridge Walk. It's one of the most beautiful walks in Bali, and it's truly spectacular in the late afternoon at sunset or in the early morning at sunrise.
If you love lush greenery in any area of spiritual significance with a peaceful ambience, then the Campuhan Ridge Walk is going to be the perfect place for you to enjoy your Bali vacation.
Here's what you need to know about the Campuhan Ridge Walk before you book a trip to see it.
What Is The Campuhan Ridge Walk?
The Campuhan Ridge Walk is one of the most popular natural trails in Bali, and it's a scenic trek along a ridge line above a beautiful lush and green valley below.
Hikers love the Campuhan Ridge Walk as a way of warming up or winding down from a day's hiking.
Nature lovers enjoy the chance to visit Campuhan Ridge Walk for all the greenery and the bird and animal life in the area.
Photographers can't get enough of the Campuhan Ridge Walk at Golden Hour when you can get some of the most amazing shots of Ubud ever.
Where Is The Campuhan Ridge Walk?
The Campuhan Ridge Walk is in Ubud in Central Bali. It begins near the Pura Gunung Lebah Temple and then follows a (fully paved) path up and along the ridge line.
The path passes through the local rice fields alongside palm trees and tropical plants.
It's a very pleasant walk, about 2 kilometres long from end-to-end that nearly everyone can tackle. If you have a basic level of fitness level, then you can easily tackle the Campuhan Ridge Walk.
We think that a wheelchair user could take on the Campuhan Ridge Walk as long as they had somebody to support them with some of the trickier bits.
One thing you should know is that the Campuhan Ridge Walk is simply a country walk – you're not in any rush to complete it. You can take as long as you need to finish the Campuhan Ridge Walk and stop as many times along the way as you like.
How To Get To The Campuhan Ridge Walk In Ubud?
As we've already noted, the Campuhan Ridge Walk is in Ubud. That means you're going to need to get to Ubud to do the walk.
You can get to Ubud in the following ways:
As part of an organized tour – this is probably the safest and most cost-effective way for most people to get to Ubud. It means travelling in larger transport and with a driver who knows the roads and the area. The downside of an organized tour is that it may be quite inflexible with what you will see and when.

By car or motorbike – if you've rented a motorbike or private car, then you should have no problem driving to Ubud from the rest of Bali. It will only take about 90-120 minutes from Canggu, Seminyak, Kuta, etc. You can find the start of the trail for the Campuhan Ridge Walk on Google Maps or just ask a local for directions to the Pura Gunung Lebah Temple.

By ride-share or taxi – we always recommend using Grab or Go-Jek rather than hailing a taxi, but it's easy enough to find a taxi in Ubud, and you should negotiate a price in advance if you're not using a ride-sharing app. Just go to Pura Gunung Lebah Temple, which is easy to find.

By bicycle – you can always rent a bicycle in Ubud for the day and it's a good way to get to the Campuhan Ridge Walk, just make sure to lock it up securely before you start the walk.

On foot – the Campuhan Ridge Walk is only about a 20-minute walk from central Ubud. Start at the Ubud Royal Palace and then walk to the Pura Gunung Lebah Temple and join the trail.
You can't go wrong on the trail itself. It's fully signposted, and it's a straight pathway along the ridge.
We recommend that you wear comfortable shoes with some grip (e..g not thongs) and take some water to stay hydrated.
It's also important to use sunscreen and wear a sunhat (and sunglasses too if you need them) to avoid burning. It gets very hot in Bali, and sunburn can be very unpleasant and even life-threatening.
When To Visit The Campuhan Ridge Walk In Ubud?
We are firmly of the mindset that there is never a bad time to visit Bali and that while there is a rainy season, it never really rains all day long.
That means you can do the Campuhan Ridge Walk at any time of the year. However, in the rainy season, the trail can become slippery due to the amount of mud that gets created.
We'd strongly advise you to wear appropriate footwear to create the right level of grip in these weather conditions.
Thongs are likely to see you sliding off the path and possibly straight down the ridge into the valley below.
When Is The Campuhan Ridge Walk Open?
The Campuhan Ridge Walk is, unlike many other attractions for tourists in Bali, completely open to the public at all times of day.
However, to stay safe on the Campuhan Ridge Walk, you probably want to visit during the daylight hours. That's roughly 6 a.m. to 6 p.m. all year round (Bali is tropical – the daylight hours don't vary that much).
You can check the exact times of sunrise and sunset on any given day in any place on Earth by Googling for it.
It's vital for you to know that the trail does not have any lighting and is quite challenging to navigate after sunset.
You can, of course, take a torch, but you will find yourself swarmed by insects at night, and no amount of insect repellent will keep them all at bay.
We'd also note that the path can become slippery in the wet, and you definitely don't want to tackle the Campuhan Ridge Walk at night in the rain.
How Much Is The Entrance Fee To Campuhan Ridge?
We were surprised to learn when we first went on the Campuhan Ridge Walk that it's completely open to the public.
That means there is no official fee to walk any part of the Campuhan Ridge Walk. If anybody asks you for money, they are scamming you.
There are some donation boxes set up around the temple if you'd like to make a contribution to the upkeep and repair of the ridge walk.
This ridge walk in Ubud is worth keeping open and in good condition for visitors.
About Pura Gunung Lebah Temple
The temple itself is a very pleasant place to spend a few minutes before you tackle the Ridge Walk.
It's an 8th-century temple at the end of the main road (Jalan Raya Ubud.
The name Pura Gunung Lebah means "mountain valley". The language here is old Balinese, though and not modern Bahasa.
The best time to visit the temple is on a Wuku Sinta Wednesday (an unusual lunar festival that occurs once every 210 days) as the locals celebrate here, and the temple is lavishly decorated at this time of year.
There are three courtyards to view (please dress respectfully if you want to enter the inner courtyards). The Bale Kulkul Tower is worth seeing too.
Address: Jalan Raya Ubud No.23, Sayan, Ubud, Gianyar, Bali 80571, Indonesia
You don't need to bring very much on this walk, given that it's fairly easy. However, it's a good idea to have:
Shoes with grips – you could probably get away with thongs, but if things get slippery, you might also slide down the ridge in thongs. It really doesn't hurt to wear trainers or hiking boots for the ridge.

Sunscreen, sun hat, sunglasses – sunburn sucks. Trust us. It's always better to protect yourself from getting burned than it is to deal with burns.

Water/snacks – you won't starve to death or die of dehydration on this short walk, but it's always nice to have some water and something to give you a quick energy boost.
What To Expect At Campuhan Ridge
The Campuhan Ridge Walk is all about natural beauty. You're going to see rice fields, rice paddies, coconut palms, birds, animals, insects, etc.
There is also a substantial amount of jungle/rainforest in view, and you can really get an insight into how Bali would have been in the days when the jungle ran wild here.
How Long Will The Campuhan Ridge Walk In Ubud Take?
From one end to the other, you can walk the ridge line in about 30 minutes if you're walking at a steady pace.
However, we'd spend more time than that as we like the views and taking photos as we go. Perhaps an hour is enough.
Then, you've got to go back again, and that will take another 30-60 minutes.
So, overall, you can take 1-2 hours to complete the Campuhan Ridge Walk.
Single Direction Walking Distance And Timing
If you only walk from one end (say from the Karsa Kafe to the Warick Ibah) to the other, it will take about 25 minutes. That is assuming that you walk and don't stop anywhere.
A Potential Loop?
Sadly, there's no clear "loop" for walking at the Campuhan Ridge, but you can keep following the path to the Jalan RSI Markandya II road and turn left onto it.
If you then follow the road to turn left onto Jalan Ray Sangginga, you can walk all the way back to Jalan Raya Ubud.
This adds quite a bit of distance to the walk, mind you, and the total distance covered is nearly 8 kilometres.
How To Tackle The Sunrise Campuhan Ridge Walk
If you want to do this walk at sunrise (and you should), we've got some tips for you:
Start walking early – start walking up about 30-45 minutes before the sun comes up. This gives you time to set up your camera, etc.

Wear something warmer – it's pretty cool at this time of day. A jacket can really help keep you warm.

Watch your feet – it's all too easy to get distracted and not look where you're walking. This is how accidents happen.
How To Tackle The Sunset Campuhan Ridge Walk
We've also got some quick tips for doing the walk at sunset:
Check the sunset time and go early – you want to be on the ridge about 45 minutes before sunset.

Find the right viewpoint – the hilltop by Karsa Kafe offers a great panoramic view of the local countryside.

Wear something warmer – it will start getting cool when the sun goes down, a jacket is a good idea.

Watch your feet – the same as in the early morning, when it goes dark, you need to watch your footing.
Photography Tips For The Beautiful Campuhan Ridge Walk In Ubud
This is one of the best spots for photography in Ubud and if you want to get the most out of your trip to take great photos, then consider:
Using a wide lens – landscape photographers prefer wide lenses for a good reason: they help to open up the scenery and capture large parts of it.

Using a tripod – if you shoot at sunset or sunrise, in particular, it can really help to put your camera on a tripod to suck up as much of that lovely light as possible.

Using filters – an ND filter and a circular polarizer can help you better manage the light that comes into your camera to get better shots.
But don't forget, any camera can take great photos on this walk. Your smartphone will do just fine. You don't need to buy a camera unless you want to.
The End Of The Walk – Karsa Cafe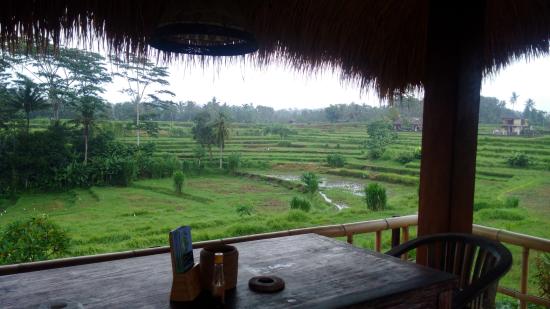 The Karsa Cafe is the restaurant that sits right outside the entrance to the Ridge Walk. You can grab a table here and enjoy a lovely view of the rice fields.
The menu is a mixture of international and Indonesian food, and they have a decent selection of both vegan and vegetarian options, too.
Karsa Cafe is the perfect spot for a refreshing smoothie or an ice-cold beer after you finish the walk. You can also buy drinks for the walk here.
Other Nearby Dining Options
If the Karsa Cafe is too busy or you want something else to eat, you can also check out these awesome restaurants:
Locavore – you will need to book this restaurant, and you will need to book a long time in advance. Locavore is one of the finest fine dining restaurants on an island crammed with amazing fine dining options. Their clever fusion of local and Western food wins hearts and minds every time someone eats here, mind you. It's a short walk from the ridge.

Moksa – this plant-based restaurant has its own permaculture garden and may be the best option in Ubud for vegans and vegetarians. There's a lot of focus on raw ingredients here, and the dishes are surprisingly tasty, and they look awesome in your Instagram feed, too.

Nuris – if you're all about the meat, then this BBQ place, which specializes in the best ribs in Ubud, is probably a win for you. It's very casual and reasonably priced and has a nice menu with both Western and Balinese dishes on it.

Swept Away – this lovely restaurant sits on the river and has a superb viewing deck. It's on the grounds of The Samaya Ubud, which means resort guests get preference, so book a table in advance. We love their use of locally sourced ingredients to create tasty Asian and Western fusion food!
Where To Stay Nearby?
Warwick Ibah Luxury Villas – this pleasant boutique hotel is not far from the ridge and you can rent a private villa with a private pool overlooking the Campuhan river.

Komaneka @ Bisma – this ultra-luxury resort has a wonderful infinity pool, spa services and one of the nicest restaurants in town on-site, too.

Pita Maha Resort & Spa – this hillside resort offers some great views over the local jungle, and they provide a free shuttle service to the parking lot/meeting point at the Campuhan Ridge Walk.
FAQs
How Long Does The Campuhan Ridge Walk Take?
The ridge trail is only a couple of kilometres long, and this beautiful walk in Ubud, Bali, won't take more than an hour in either direction (and might take less if you're in a rush).
We'd recommend stopping along the way to enjoy views of the natural beauty of the rice fields and rice terraces, the tall grass, the local village and more.
It does get pretty busy at times, and if you want a great walk undisturbed by others at your own pace, we recommend going at sunrise rather than waiting until the late afternoon for sunset.
Is The Campuhan Ridge Walk Difficult?
While there are a couple of steep inclines, overall, the Campuhan Ridge Walk, Ubud is not at all challenging, and if you want an easy walk in Ubud, Bali, where you walk past rice fields and rice terraces without a car in the world – you can't really go wrong with this one.
It's also only two kilometres from one end of the ridge trail to the other end of the trail. That means you won't be covering huge distances.
Finally, the trail is a fully marked and paved path, which makes it much easier than many other country walks in Bali.
It's popular with so many tourists, and that's because the stunning views from this ridge are simply unbeatable by any other in Bali.
What Is The Best Time To Go On The Beautiful Campuhan Ridge Walk?
The rice fields and rice terraces look their best during the early and late parts of the rainy season. That's because they require water to blossom and reach their maximum volume.
The sacred Campuhan River also looks amazing in the wet season as the capacity of the river grows and the flow ramps up.
However, there's no bad time to enjoy a view over the rice fields, and it's easier to tackle this walk in Ubud, Bali, in the dry season when there's less mud and less chance of slipping over.
How Much Does It Cost To Walk At Campuhan Ridge?
There is no entrance fee for this path in Central Ubud and thus the only costs you incur for this walk in Ubud, Bali are the cost of getting to Campuhan Ridge in the first place.
This could be as little as a few dollars if you rent a scooter to get here or as much as $100+ for a private car. An organized tour will offer the best value.
How Long Is The Walk Up Campuhan Ridge?
The walk up the ridge isn't that far from the temple below. The majority of this walk in Ubud, Bali, is along the ridge line itself, and that's about 2 kilometers.
How To Book A Trip For A Beautiful Campuhan Ridge Walk?
Whenever you want to book a trip to Bali, you want to talk to the lovely folks at the Bali Res Centre.
This is a wholly locally owned and operated business that has all the latest information to help you plan your trip to perfection.
And because they're local, they can always get a good price for you, so they're super competitive for your holiday booking needs, too.
Final Thoughts On The Beautiful Campuhan Ridge Walk
Check the weather forecast before you go to try and avoid the worst of the midday heat and any rain, but there's no bad time to enjoy the Campuhan Ridge Walk.
It's one of the most spectacular things you can do in Ubud, and it's so easy and low-cost that there's nothing stopping you from enjoying this walk at all. Have fun!