We love quad biking and can heartily recommend an ATV ride in Bali as a way to see more of the island than you might otherwise see.
There's something awesome about powering through rice fields and bamboo forests on a muddy track, knowing you're on a powerful piece of equipment that ensures an amazing experience at all times.
However, before you rent all the equipment, there are a few things you should know about quad biking in Bali, and we've rounded them all up for you.
We've also got a list of the nine best ATV ride experiences to make booking easier, too!
ATV/Quad Bike Basics In Bali
Before we get to the best places to go on an ATV ride, we think it's best to cover the basics of using an ATV in Bali.
Is Driving An ATV/Quad Bike Legal?
Yes, but you must stick to an approved off-road route and use all the safety equipment that is provided to you.
Driving on the road is not legal, and you may find your insurer refuses to cover any accidents if you don't use the safety equipment.
What Kinds Of ATV Adventure Can You Rent In Bali?
Assuming you have the money, you can rent pretty much any kind of ATV in Bali.
The most popular is the quad bike or four-wheeler, but there are also two-wheelers and buggies to choose from.
We'd recommend looking at the most technical terrain that you need to cover before you choose a particular vehicle.
You should also ensure that a safety briefing is included as part of the rental fee so you can be certain of taking all the right precautions on your trip.
What Should You Wear On An ATV/Quad Bike Ride?
ATV riding is one of the most awesome outdoor activities that you can get involved in, but riding safely means taking some sensible precautions when riding.
These include:
Wear closed-toed shoes with a solid grip – there's nothing worse than losing toes because you came off an ATV in a pair of thongs. Make sure you cover your feet, otherwise, the rental company will make you wear a pair of stinky communal rubber boots instead of your flip-flops.

Long pants and long sleeves – these can prevent grazes and scratches in the event of a tumble when riding an ATV. Sure, they won't make you invincible, but they are better than nothing.

Crash helmet – if you don't own one, you will be provided with one. No professional local guide is going to allow you to take an ATV without wearing one.
Where Can You Drive An ATV/Quad Bike In Bali?
You can only drive an ATV on the routes prescribed by the rental company. Each of the routes listed in the section below has a number of variations that can be selected to meet your sightseeing preferences.
How Much Will I Pay For An ATV/Quad Bike Adventure And Safety Equipment?
It depends. You will pay a rental fee for the equipment (which varies depending on what kind of ATV you have) and for the time you spend on a tour.
The shortest tours are only about an hour to an hour and a half long, others can last a full day.
You should expect to pay no less than $25 but might pay $100+ for a particular vehicle on a full day's tour.
You can get discounts, usually, if you book ATV experiences as part of a very large group. Tour operators love to book 20+ people in at one time. It makes the admin very easy.
Many tours will include a hotel transfer as part of the charge they levy.
One thing you should check is whether there is a free cancellation option that results in a full refund. Otherwise, in the event of bad weather – you may be forced to rebook or lose your money.
Please note: Pregnant travellers and those with other serious medical conditions must make the ATV operator aware of their conditions prior to booking. You may not get a full refund if you discover you're not OK to ride on the day of your Bali quad bike experience.
9 Awesome ATV/Quad Bike Tours In Bali
Ubud – Bali ATV Ride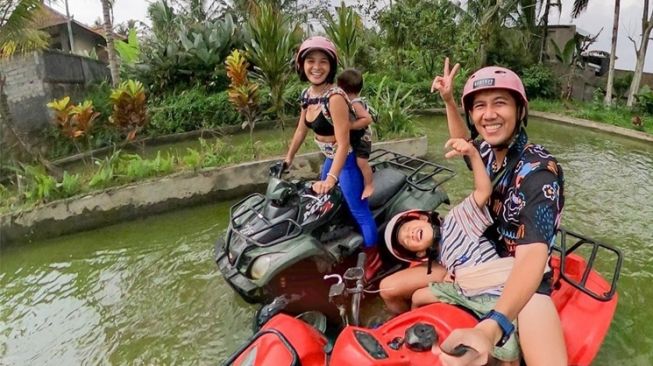 This is a bespoke tour that is a ton of fun. You can explore all of Ubud across the course of a full day, and the tour guides will customize the itinerary to match your needs.
You can visit any waterfall, spend time by the river, have an adventure as you take on a challenging hill covered in mud, visit local villages and much more.
You don't need to spend the whole day on your ATVs. Mind you, you can also visit the Sacred Monkey Forest, Ubud Arts Program, etc.
The one thing about this tour is that it's super popular and we'd recommend booking in advance for it.
Blue Lagoon Beach – Quad Bike & Snorkelling
The Blue Lagoon Beach is one of Bali's top snorkelling spots, and it's just near the harbour that sees boats heading to the Gili Islands and Lombok, too.
Your day here starts with an ATV powering through the local countryside and stopping at a waterfall or two before speeding through tunnels and onto jungle tracks.
After lunch, you abandon the ATVs for a boat and go snorkelling in the lovely village of Padang Bai.
Do you want a day swimming with sea turtles among the corals? You can't beat this ATV tour.
Waterfall Gorilla Cave – Ubud Bali Quad Biking
This is a great tour if you'd like to do a morning of thrill-seeking on an ATV and then opt for something a bit more sedate in the afternoon.
You explore the rice fields of Ubud in the early part of the day and then head off to enjoy some temples, spectacular rice terraces and the Sacred Monkey Forest in the afternoon.
We recommend taking a change of clothes on this tour. It's easy to get filthy in mud sprays in the morning, and that's not the best state to visit the sacred temples of Bali in.
Jungle Rush Tour – Canyon & ATV/Quad Bike
If, on the other hand, what you want is an excess of thrills. You might take this awesome tour, which will see you take on a hidden canyon and climb and slide down to the rock pools hidden below.
Then, after a tasty lunch, you jump onto your waiting ATVs and take a 10-kilometer run around the heart of Ubud.
The local guides on this tour are amazing, and they can give you a really good insight into the country and its unique culture as you go.
Jungle Swing & Rice Terrace Tour – Ubud Bali ATV Ride
This is another double thrill tour for the adrenaline junkies out there! You can spend the morning speeding through the Ubud Countryside on an ATV.
Then, in the afternoon, it's time to visit the Jungle Swings of Ubud and enjoy a swing high above the rainforest canopy (don't forget to bring a camera).
Finally, you visit the Tegalalang Rice Terrace and get to learn a little about Balinese food and food culture.
ATV & White Water Rafting – Bali ATV Ride
This is a brilliant day out for the ultimate in thrills. You start the day with some white water rafting on the Agung River and head downstream past hidden waterfalls and rapids.
Then, you stop for lunch at a local buffet restaurant before heading off on your ATVs to explore the Balinese countryside.
This ride is really off-the-beaten path, and it's one of the most beautiful places we've ever seen.
Cooking & ATV Tour
If you want a mixture of activities on your tour, this could be for you. Start the day at a local food market, where you learn about Balinese ingredients and local produce.
Then, head to a cooking class to learn to cook what you just bought and, of course, eat what you cook.
In the afternoon, as the meal digests, you jump on your ATV and head out into the countryside of Ubud to explore!
ATV Beach Ride – Tegal Mengkeb
The best beach ride ATV experience in Bali is the one at Tegal Mengkeb Village, which sees you speeding across a black sand volcanic beach!
If you want to see just how fast an ATV can go, this is the ATV tour for you.
It's also a photographer's dream, with some of the best views of the ocean and coastline imaginable.
Lunch is usually included at the end of a morning ride.
Mount Batur – Quad Bike Tour & Hot Springs
You can't use a quad bike to scale Mount Batur, and we'd recommend doing the sunrise hike before you take an ATV tour in this majestic area.
Once you do, you can enjoy 2.5 hours of heading down jungle trails and into the local villages. You will see the largest lava stone ever ejected from the volcano on your way.
At the end of this ride, you get to enjoy the Mount Batur Lounge, which is an exclusive villa with changing rooms, showers and clean, Western standard toilets!
After that, it's off to a local hot spring for a refreshing dip in the volcanic waters before finishing up with a delicious lunch and a visit to a coffee plantation!
General ATV Bali Tips
We've also got some great tips to help you make the most of an ATV adventure in Bali!
Wear comfy clothes – but make sure they're the kind of clothes you don't mind getting dirty. Mud sprays are very likely.

Turn up early – if you're in peak season, ATV routes can get pretty crowded, and arriving early always beats crowds in Bali.

Take water & snacks – many rental companies supply these, but sometimes, they don't. It's better to be safe than hungry and thirsty, right?

Use sunscreen and a sunhat – don't burn. Burning sucks and can even lead you to the hospital.

Be patient – learning to ride an ATV takes a bit of time. They're trickier than they look.

Consider signing up for a safety course before the main ride – if you're new to riding an ATV, this ought to be mandatory.

Always wear your helmet – don't risk your life for some holiday fun.

Keep an eye on your speed, don't drive recklessly – it's all about taking responsibility for yourself

Follow any direction given by your guides carefully – trust us, they know what they're doing.
FAQS
How Much Is An ATV Tour In Bali? How Much Is Quad Biking In Bali?
It depends. Quad Biking or an ATV tour in Bali can cost as little as $25 and potentially over $100 per person, depending on what vehicle you want and how long the tour lasts.
Is A Bali Atv Adventure Safe?
Generally speaking, yes. However, Balinese safety standards are probably not on par with your home country.
You will be provided with safety equipment and all the information you need to be safe, but you may need to rely on your own judgment on the spur of the moment.
ATVs tend to be reasonably well-maintained, but they're rarely brand new, and it's not unknown for them to break down on the tour.
They are swapped out quickly, however, if this happens. You won't be left stranded anywhere.
Do You Need Shoes For An ATV Adventure?
Yes. Well, it's either that or wear the big rubber Wellington boots that they will provide you if you don't have shoes.
Covered feet are much less likely to be hurt in the event of a fall or collision.
How Old Do You Need To Be To Ride A Quad Bike or ATV in Bali?
The insurance policy for most ATV companies requires a rider to be at least 13 years old.
There is an exception to this rule for 12-year-olds willing to undergo a period of additional instruction.
Children under 12/13 are allowed to ride on an ATV in Bali but must be a passenger on an ATV with an adult rider.
Can You Ride An ATV in Bali? Do You Need A License For An ATV In Bali?
Yes, anyone over the age of 13 can ride an ATV legally in Bali. You do not need a license for an ATV as long as you remain off-road on it.
How Long Is An ATV Ride In Bali?
It very much depends on what you're doing. A quick ride along the beach might take an hour. A complete tour of Ubud by the river, rice fields, etc., might take a full day.
How Do I Book An ATV Quad Bike Adventure In Bali?
We always recommend that you book any experience in Bali through the wonderful people at Bali Res Centre. The folks at the Bali Res Centre are all local travel agents.
That means they can find the best deals for you and ensure that they use all their local knowledge to book the perfect experiences for you, too.
We don't think it makes sense to book a fun experience through an offshore operation that can't possibly know what's going on right now in Bali.
Final Thoughts On An ATV Quad Bike Adventure In Bali
There is nothing more thrilling than speeding down a muddy track through rice fields to explore the countryside of Bali.
We'd be happy to recommend a great ATV tour to anyone who visits Bali. It's the perfect way to see anything from the jungle to the beach. Have fun!