Taking the family on an exciting trip to Bali can be a little overwhelming, as you try to plan and ensure that everyone is entertained, safe, and has a wonderful time. To make it a little easier for you, and you and your family to have an activity-filled holiday that goes smoothly and well organised, talk to our team or see our guide below for the best things to do in Bali with kids.
You can also see our other guides for Things to Do in Bali, and Things to Do in Canggu.
Bali holidays with kids – Family Fun at FINNS Recreation Club
We will start our guide with the best things you can do at FINNS Recreation Club, which is Bali's premier sports and entertainment complex. You can spend all day, or multiple days with us, and never get bored.  We have a huge 4-hectare facility and a variety of family-friendly spaces so you can spend time with the kids in a safe environment. FINNS is well-known for its inclusivity and for designing areas that are fun and welcoming for families.
Experience the best family-friendly waterpark in Bali, with wet and wild fun for all ages. Located at FINNS Recreation Club, Splash Water Park has water slides for all levels of thrill-seekers as well as a kids' water playground. Menus for poolside bites and drinks are also available at the restaurant and bar. It's the perfect destination for families, as parents can keep a watchful eye on the little ones while relaxing on daybeds or cabanas. Book a day pass and discover the excitement of Splash Water Park.
2. Strike Ten Pin Bowling.
Rain or shine, bowling is a great activity for kids! Bring the family to Strike Ten Pin Bowling, for an afternoon or evening. Strike has plenty of space for groups, with 6 lanes and bumpers to assist kids and avoid gutterballs. Food and drinks are available too.  Reserve your lanes for your next party or day out with the kids.
If you have never been to a trampoline park before, Bounce is Bali's one and only place where kids can literally bounce off the walls. It's fun to fly, jump, flip, and dunk! This air-conditioned indoor venue is unlike any other and is specifically built for bouncing and for kids. Bounce Bali is open to all ages, including adults, making for a fun and unforgettable day for everyone.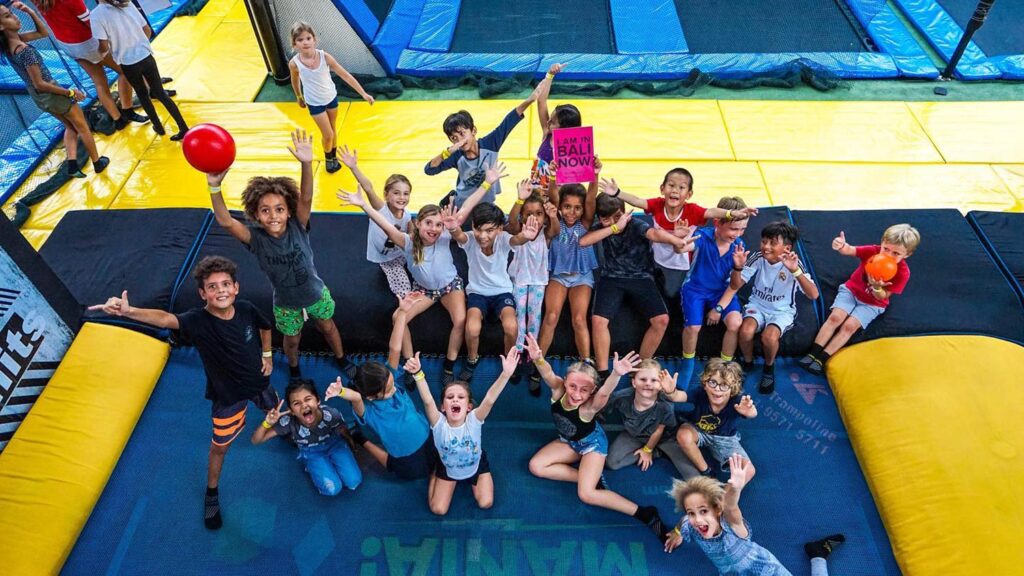 4. Junior Sports Academy
.
The Junior Sports Academy offers one of the best opportunities on the island for kids to play sports, have fun, and meet other kids too. The JSA program is renowned for providing children with the opportunity to receive instruction from some of the best athletes and coaches in sports like basketball, boxing, dance, capoeira, fencing, swimming, surfing, and more. The instructors prioritize inclusiveness and work hard to make sure each child has a fun and educational experience. Parents can choose from a 9-week term, after-school programs, or single sessions when booking.
While parents are at FINNS Rec Club, using the Fitness Centre or Body Works Spa, they can drop the kids at Cubby House Kids Club where kids can play or learn, do crafts and art, watch movies, and more. Cubby House has a full library of books and games, as well as toys for all tots. The kids club is fully staffed so you don't have to worry, the kids will have fun and be entertained and supervised the entire time.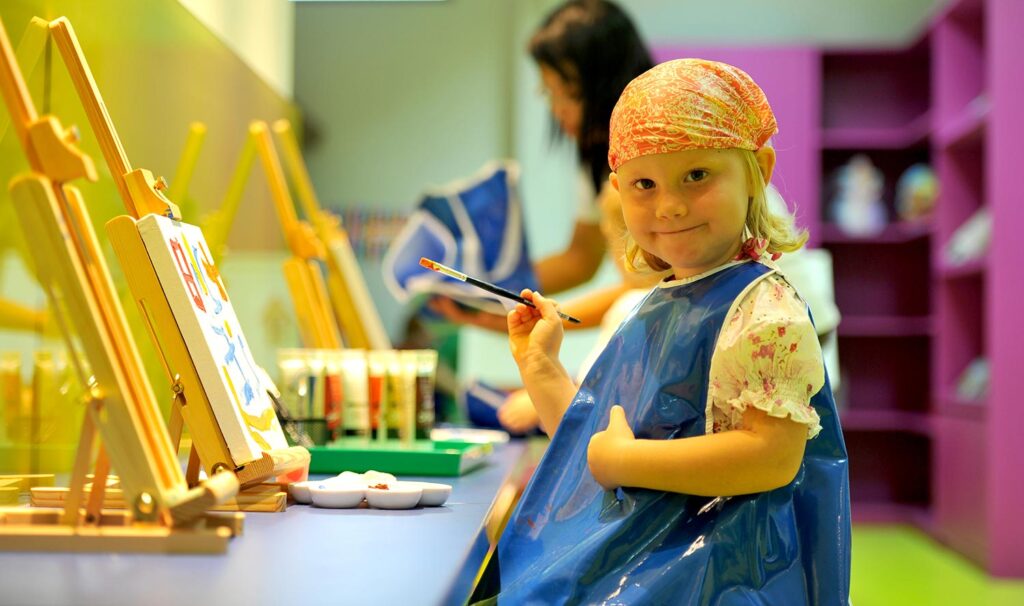 6. Mommy & Me Spa Treatment.
Kids love a bit of pampering too, so take them to Body Temple Spa for treatments for hair, nails, and kids' massage. The Mommy & Me package is ideal for a relaxing and bonding experience. Both of you will enjoy rose petal foot baths, followed by a Balinese massage and Illuminate Radiance facial for mom, and a kids massage and Happy Face facial for your little one.
Holidays with kids Bali. Beachside fun & sun at FINNS.
When on holiday in Bali, one of the best activities is to lie by the pool and relax. Soak in the sun, and do nothing at all. Watch the kids while they do what kids do best – swimming, jumping, playing, and splashing. For an epic pool day, bring the family to FINNS Beach Club, where there are 2 kid-friendly pools, plenty of space and sun loungers, and kids' menus available. Also, as an added bonus, on the FINNS VIP side, there's complimentary gelato served every afternoon. 
8. Surfing lessons.
Bali is renowned for its superb surfing since the island has world-famous surf breaks and waves all year round. FINNS Surf Academy is Bali's premier surf school, with programs for kids and adults to learn as beginners or to improve their skills. The lessons include land, pool, and beach training, which is perfect for kids of all ages to focus on their skills and have fun!  Registration is at FINNS Recreation Club, while the sessions are held on the beach and at FINNS Beach Club.
9. Head to the beach!
Kids love the beach, and we are so fortunate in Bali to have an almost endless number of beautiful beaches that are great for kids, including Canggu's Berawa Beach, Batu Bolong and Echo Beach. Make sure you have plenty of sunscreens, but then you can haggle for a sun lounger and umbrella and relax while the kids run around, build sand castles, swim, or play in the waves. 
Top things to do in Bali with kids – Nature adventures and day trips
While we would love for you to spend your entire holiday with us at FINNS, we must encourage you to get out and explore all the wonders that the Island of the Gods has to offer. Amongst all the incredible temples and vistas of rice fields, there are family-friendly parks and attractions that are sure to amaze and delight your kids, making it the perfect family holiday experience and an adventure they will never forget. Talk to our team at Bali Res Centre for recommendations for the best places to visit in Bali or to make your reservations for a driver and Bali tour guide.
10. Snorkelling excursions.
All around the island of Bali are rich coral reefs that are home to thousands of species of fish and marine life. Some of the areas are more family-friendly, such as Sanur, and Nusa Dua, or along the northern coast there are spots in Amed and Lovina. Families can also venture to neighbouring islands of Nusa Lembongan and Nusa Penida for brilliant snorkelling adventures or swimming with manta rays.
11. Mount Batur sunrise hike.
This is an activity we'd only recommend for bigger kids and teens because it is quite an adventure! Located northwest of Mount Agung, Mount Batur is a renowned active volcano and a popular mountain in Bali. Your journey will commence either at 1:00 am or 2:00 am, depending on where you are staying, as you will be picked up by a driver and taken to the base of the mountain to meet with your guide. From there, you'll trek under the starry sky to reach the summit, where your guide will offer you a small breakfast and hot coffee or hot chocolate while you wait to see an epic sunrise, over the peaks of Mount Agung.  
12. Waterfall adventures.
Bali waterfalls are a wonderful activity for kids because of their natural beauty and settings, where kids can often swim in shallow waters and splash around under the cool falling waters. Additionally, many waterfalls in Bali are surrounded by lush greenery, with cooler temperatures, making them ideal places to spend the morning or afternoon taking photos or videos, playing, or having picnics. Some of the most popular waterfalls are Tegenungan Waterfall, Nungnung Waterfall, Gitgit Waterfall, and Banyumala Twin Waterfall, but ask our team about the best ones for your visit depending on time and accessibility.
Bali with Kids – Bali's top animal attractions for kids
If your kids love animals, (and really, what kid doesn't), there are many places in Bali where you can visit to see, encounter and meet animals of all kinds, including those that are native to Indonesia and Bali, and some that are on the endangered species lists.
Bring your cameras and your sense of adventure, because you won't want to miss out on seeing some of Bali's most famous, and colourful creatures and critters.
13. Sacred Monkey Forest in Ubud.
If your little monkeys love animals, then they will be speechless when they walk through the Sacred Monkey Forest in Ubud. The grounds of this popular tourist destination are home to over 600 free-roaming long-tailed macaques, who aren't shy about up close and personal encounters. They are quite mischievous, so take a banana or two, so they don't try to take any other items.
14. Bali Bird Park.
Bali Bird Park is located in Gianyar, and it's very popular with kids and families and is ranked as one of the top 10 bird parks and sanctuaries in the world. Among the beautiful lush jungles, the park is home to over 1,000 birds from 250 species, and guests are also welcomed for exotic bird meet and greet workshops and learning activities all through the park.
15. Mason Elephant Park.
Experience the majesty of Bali's beautiful group of 31 Sumatran elephants, as they roam through their home, a park with lush botanical gardens and jungle. The elephants can be seen splashing in the park's lake in between participating in activities, and visitors can have close encounters, including hand-feeding, touching, and taking photos, all while learning about these magnificent creatures.
16. Bali Safari and Marine Park.
In Bali Safari and Marine Park, you'll find a blend of Balinese culture and the African Safari experience, as it is home to over 1000 animals from 100 species, including some rare and endangered. Exhibits and encounters include Sumatran elephants, tigers, leopards, Komodo dragons, and more. Bali Safari is committed to a mission of conservation and education, along with unforgettable experiences, making it one of the top destinations in Bali.
17. Bali Zoo.
Some of the top kids activities in Bali are at Bali Zoo, such as the very popular Breakfast with Orangutans and Elephant Mud Fun. The Bali Zoo is the first zoological park in Bali, and it's a magical place to see and meet over 500 rare and exotic animals in a lush tropical setting. There are animal presentations, and as you wander through you can greet and feed many of the tamer animals including deer, meerkats, and elephants.
For any of the experiences above, talk to our team at Bali Res Centre to book your driver and entry tickets, or for more information.
What to do with kids in Bali
If you're planning a trip to Bali with kids, you're in luck! Bali is a kid-friendly destination that offers endless opportunities for fun, adventure, and exploration. Above, we've listed some of our top recommendations for activities that are perfect for families with kids, but there is much more to discover. Depending on your children's interests, there is something for everyone in Bali.
For those who enjoy creative activities, Bali offers a range of arts and crafts workshops where kids can unleash their imagination and make unique, handcrafted souvenirs to take home. Shopping is also a great option for kids who love exploring new places and finding unique treasures. Bali is famous for its vibrant markets and street vendors selling everything from souvenirs and clothes to handcrafted jewelry and local delicacies.
If your kids are looking for an adrenaline-filled adventure, then water sports are an excellent option. From surfing to paddleboarding and snorkeling, there's plenty of water-based fun to be had. For a more relaxed and educational experience, consider booking a cooking class where your kids can learn about traditional Balinese cuisine and cooking techniques.
Lastly, Bali is also home to a rich cultural heritage, and there are several cultural attractions that will capture your kids' imagination. From visiting ancient temples and rice paddies to experiencing local festivals and traditional dance performances, there is no shortage of cultural experiences in Bali.
With so much to see and do in Bali, it's easy to see why it's such a popular destination for families. There are numerous family resorts in Bali that cater specifically to families, providing a safe and comfortable environment for everyone to enjoy a relaxing and enjoyable holiday. Whether you're looking for a luxurious escape or an affordable getaway, you'll find the perfect resort to suit your needs and budget. So, pack your bags and get ready for an unforgettable adventure in Bali with your kids!
Talk to our team to book your day passes at FINNS, get recommendations on the best family resorts in Bali to stay in, or book your excursions and day trips.