Ready for thrills, spills, and a whole lot of fun?  Come see us at Splash Water Park at FINNS Recreation Club, located just a 10-minute drive north of Seminyak and approximately 30 minutes from the airport.  When planning your Bali holiday, take advantage of the wide range of facilities available at FINNS Recreation Club and enjoy an entertaining, wet day out with family and friends at our Canggu water park. 
When you're searching for the best activities for kids in Bali look no further; the main reason Splash Water Park is so popular is because it is specifically designed so that parents, family and friends can sit back and relax on one of the many beds or cabanas available, while the kids are always safely in sight. We are Bali's #1 family-friendly water park, with slides and activities that combine to create a full-blown water playground for kids of all ages.  
Taking a walk around Splash Waterpark in Bali you'll notice the ingenious layout, pick a bed or cabana closest to the water slides appropriate for your kids' age and ability. The beds are not far from the toilets, changing rooms, lockers and showers. You can also take a break from the slides to lay by the 25m lap pool, or order some lunch or drinks from a bite from the menus from Splash or bistro.c, which can be served right at your cabana or daybed.
Bali water slides. A wet and wild day at Splash Water Park Canggu
If you're curious about all of our fantastic features, we'll run down all the slides for you, with options for all ages and abilities, but please note that some of the slides have a height restriction that must be followed.  All areas are also under the careful supervision of our trained Splash Park lifeguards. 
Splash Playground. The little ones will love Splash Playground, with a shallow lagoon pool, along with a full jungle gym for aquatic action, including water cannons, a climbing fort, mini slides and the giant water pail.
Crazy Creek. This gently paced creek isn't so "crazy" and it's suitable for all ages, with no minimum height requirement. Great to enjoy a slower pace through the 102-metre course. The nice easy journey, while lazing on inner tubes is the perfect time-out from the water slide excitement and action. 
Big Red. If you're ready for it, Big Red has curves starting from the fifth storey and all the way to the floor, while the speed intensifies at every turn, and the momentum of the water takes you rolling and weaving around the bends and curves.  
Giant Racer. Grab your family and friends and invite them to a challenge on the Giant Racer Bali water slide, standing at five storeys high, with four lanes for racing down the 90-metre chutes. See who's the biggest adrenaline junkie, and who can beat the rest to reach the finish line at the bottom. Little racers who feel the need for speed can go on the smaller version, Speed Racer. 
Super Bowl is quite a unique and wild ride. Build up your speed with every turn and twist into a tailspin around the giant green and orange bowl before you shoot out and into the plunge pool below.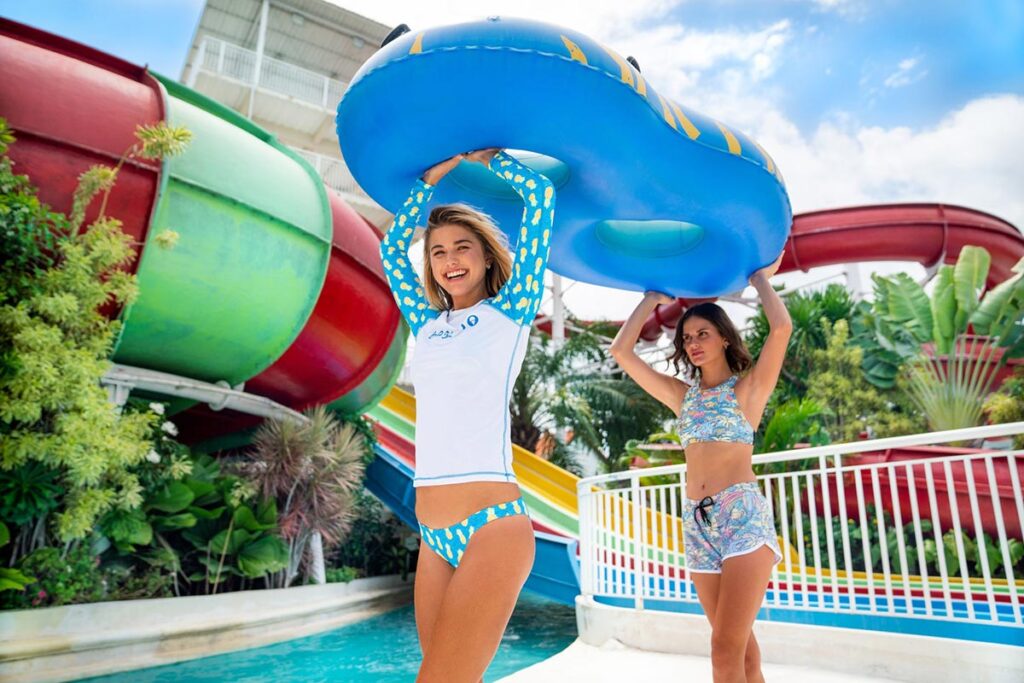 Bali Water Park: Book a day pass for Splash Water Park
Let's get ready to go! Bring your swimwear and your sunscreen, and prepare to get wet at our favourite Bali Water Park.
Daybeds and Cabanas:
What makes the experience of the best waterpark in Bali even more special and exclusive is that there is never a shortage of beds and cabanas available. Each Splash Water Park Day Pass ticket comes with complimentary all-day access to the single beds. Beds are on a first come first served basis. For bigger groups or more space, you can also upgrade your stay to a double bed or family cabana, with an applicable minimum spend for the day. 
Is all the waterpark fun making you hungry? There are many dining options and delicious food for all dietary requirements. Splash Water Park has its own menu and special Kids' menu; favourites include Fish and Chips, Nasi Goreng, Nachos, Loaded Fries, Pizza and FINNS Rice Paper Rolls. To quench your thirst, there is also a variety of drinks including cocktails, sharing Jugs, beers, ciders and more.
If you're with a group or have a special celebration, a wonderful Bali party option is a booking at Splash. Contact our team to pre-book for the group, to receive exclusive packages, discounts and inclusions. 
Safety is our number one priority.
While fun in the sun is what we strive for all members and guests, we have just a few other items we wanted to mention. Jewellery, clothing or accessories made from hard materials should not be worn in the swimming pools or slides. Don't forget to protect yourself with sunscreen and bring a spare T-Shirt, especially when getting in and out of the water. Life vests and pool towels are available to rent with a deposit. Feel free to check our FAQs page for all of the information you may need.
Canggu Water Park: FINNS Recreation Club Day Passes for Splash and more.
FINNS Recreation Club is one of the best places to visit in Bali, and among the top places to take kids in Canggu. See below for our full list of options for Day passes for Splash, or for access to a wide range of facilities at FINNS Recreation Club.
A Day Pass at Splash WaterPark in Bali can get you access to the water park and 25-metre lap pool. You can also access the general areas of FINNS Rec Club, such as the enclosed and air-conditioned sports bar and Bistro.C to grab a bite or relax with an ice-cold beverage while overlooking the expansive green sports field.
As the name suggests, this pass is perfect for all-day fun, and all weather conditions too! You can start the day at Splash Water Park or at the best beach club in Bali FINNS Beach Club. But if it's raining or if you've had enough of the sun, you can enjoy some AC at Strike 10 Pin Bowling, Bounce Trampoline, Cubby House Kids Club or Body Temple Spa.
This pass is for all-day fitness and fun, with full access to our best Bali gym Fitness Centre and other facilities at FINNS Recreation Club, including Splash Water Park, the Tennis Centre, Cubby House Kids Club or Body Temple Spa. FINNS Beach Club also awaits, and you can grab the complimentary shuttle for a 5-minute ride to the Bali beach club.
For more information on everything you can do at Splash Water Park or FINNS Recreation Club, contact our team today. Stop in and see why we are Bali's premiere entertainment venue!