How To Golf Bali: The Best Golf Courses And The Ultimate Guide To Bali Golf
Many people come to Indonesia just to golf in Bali. What could be better than golf courses under the warm sun that offer excellent onsite facilities without costing a fortune? An exceptional golf resort? Bali golf has it all. Here's why.
What Are The Best Golf Courses In Bali?
There are plenty of courses to try out during Bali vacation but these are a few of the best.
Bali National Golf Club (and Resort)
Bali National Golf Resort is the most luxurious of all the courses on the island.
The resort is in Nusa Dua, about a 20-minute drive from the Ngurah Rai Bali International Airport.
It has won many international awards for the lush 18-hole course, including a front nine loaded with canyons, creeks and native birdlife.
Then the back 9 offers a more mature grove-style with beautifully manicured fairways and the two most challenging holes on the golf course are the last two.
As you might expect, it's one of the most expensive golf courses in Bali and a round starts at 2,300,000 IDR. Their play packages can offer better value if you want to revisit the course on the same day.
If you want a guaranteed tee time, you should book in advance as you may be turned away on the day without a reservation.
Bali National Golf has a pro shop and other facilities onsite. You can get golf lessons from the golf academy there and practice with your golfing buddies on their immaculate putting greens.
There are even shopping centers, restaurants and a museum to keep you entertained off the gold course (or to give a non-golfing partner something to do while you golf Bali).
Nusa Dua is also famed for its lovely beaches and you're very close to about 3 miles of unspoiled beach at this club.
New Kuta Golf Club
One of the best golf courses in Southern Bali is the New Kuta Golf Club. You can find them online here.
We're big fans of this course and have a partnership with them to give Finns' customers special rates when they choose this Bali golf course.
The good news is that it's not as expensive as Bali National Golf Club and you can play a round for as little as 1,700,000 IDR. They have a wide variety of different play packages to suit every golfer too.
The golf course was designed by Ronald Fream who is one of the best-known golfing architects in the world.
We love playing at New Kuta because of the incredible Indian Ocean views and limestone cliffs offered by the signature hole at the 13th. Making that par 3 can be a real challenge when you've got that spectacle to keep you distracted.
New Kuta Golf Club has an excellent reputation for the facilities it offers too. Their clubhouse is full-service and often considered to be the best in Bali.
The driving range is top notch and we find their pro shop to be less pushy than you find at some of the other best golf courses in Bali.
If you want that private country club atmosphere but true accessibility? You want to play golf at this golf club. It's certainly the best golf course for tourists to start their Bali golf experience.
It's also very easy to get to the secluded Dreamland Beach from this course. Which is often a huge attraction of a golf trip to this club.
Handara Golf Resort Bali
This is very much a country club as well as a golf course and it's found in the mountains of Bedugul. (A two-hour drive from the international airport).
The golf course was designed by Ross Perret and Peter Thomson and you can't beat the views of the mountains overlooking this course.
The fairways present a strong challenge even to experienced golfers but the greens are superbly maintained.
As with Kuta Golf Club, Finns have a partnership arrangement with Handara Golf Resort and our guests get a discount on their time spent on this golf course.
You can find their website here if you want to book a "golf Bali" experience here. It really is one of the most astonishing golf courses in Bali and it's great fun to play golf here.
There's an excellent driving range available and a full round starts at 2,000,000 IDR with a discount if you don't want to use a golf cart.
For non-golfers and for time off the greens there are other leisure options too. You can go horse riding here or swimming or even play tennis!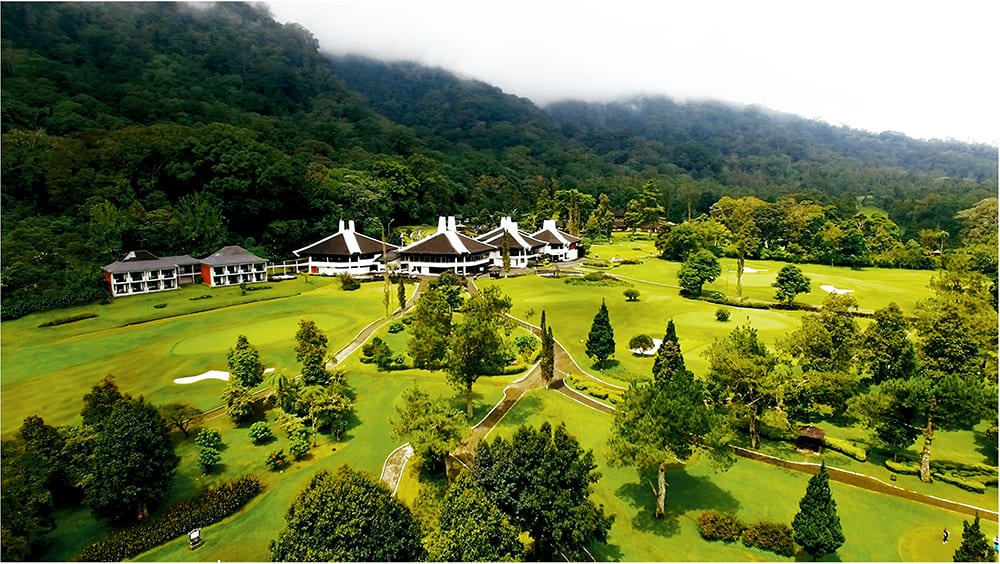 Bukit Pandawa Golf Club
This country club style golf club is also a Finns' partner and thus, you can get a discount on your game if you're a Finns member.
This is one of our favourite golf courses on the island. It was designed by Graham Marsh one of golf's top course designers and it is an absolute paradise.
The 18-hole par-72 course at this club has wonderful views of the Indian Ocean and the Bukit Peninsula.
The fairways are superbly kept and so are the greens. Watch out for the water hazards, though. They can be tricky.
It's also a fantastic place for golfing amenities and you'll find a great driving range and pro shop on site.
Better still, if you like to relax away the aches and pains of the day after a round? There's an excellent spa to be found here and then you can enjoy a great meal at the club's first-rate dining options.
You can find them online here. And yes, it's a very good idea to book a tee time in advance, as it's a very popular place to golf in Bali.
18 holes will cost you about the same here as at the other courses in Bali but they often have promos here that can bring down the cost substantially.
Don't Go To Bali Beach Golf Club or Nirwana Bali Golf Club
Bali Beach Golf Club was a great venue with a pleasant 9-hole par-36 course. However, Bali Beach Golf has now been permanently closed.
Nirwana Bali has also closed down which is a real shame as it had a great par 72 championship course to play on.
However, there are plans for Nirwana to return and the golf course has only been closed for extensive renovation. There is no reopening date, as yet but when things change as with all things regarding the "Golf Bali" experience, we'll let you know.
FAQs
Is Bali Good For Golf?
Bali is one of the best destinations for golf in Southeast Asia and even in Asia overall. Each golf course is well-tailored to its audience and you can play golf for much less money in Indonesia than you would in Australia or Europe.
Clubs like New Kuta Golf and Handara Golf Resort offer extremely competitive prices which, as we've said before, Finns' members get additional discounts on!
Is Golf Expensive In Bali?
Bali National Golf Club is the most expensive club in Bali and it's not a particularly expensive golf course by international standards. Most people consider Bali to be golfing destination that offers great value for money and lower prices than the ones back home.
Golf lessons are also reasonably priced in Bali.
When Are The Best Times To Play On Bali Golf Courses?
As you might expect, it can get very hot in Bali during the afternoons so the best tee times are in the early mornings.
This is doubly so in the rainy season (November to March) when the rain can really pour down in the afternoons and evenings.
That doesn't mean you should avoid playing in the rainy season, just that you should make sure that you've checked the weather forecast before heading to the course.
Are Caddies Available On The Golf Course In Bali?
Yes. Almost all of the courses here in Bali will make a caddie available for your game. They will carry your clubs and offer some advice for your game if you want it.
Though please remember, the caddy's first language is not English and sometimes, good ideas can get lost in translation.
How Much Should I Tip A Caddie In Bali After A Round Of Golf?
The standard tip for a caddie is 150,000 IDR but at the Bali National Golf Club, it's 200,000 IDR.
It's best given directly to the caddie at the end of the round. That ensures that it goes to the right person and isn't redirected inside the club.
Do These Golf Courses Offer Club Rental?
Yes, you can get club rental at all of Bali's courses, however, we ought to note that it's not always cheap and you may not always get exactly the set that you want.
Do All Bali Golf Courses Have A Clubhouse?
Yes, as you'd expect from the best courses, all of Bali's courses have all the facilities that golfers demand. Locker rooms, clubhouses, and much more.
Final Thoughts On The Golf Bali Experience
Golfers considering a holiday in Bali will find plenty of courses awaiting them and everyone can find a course they love.
Given that golf here is great value and so much fun, we'd recommend that everyone interested enjoy a game during their time in Bali, Indonesia.