If you're thinking about spending some time on Bali's black sand beaches or if you're just curious about what a black sand beach is or how many black sand beaches there are in Bali, we've got all the answers you've been looking for.
The most famous black sand beaches are in and around Amed Beach, but there are black sand beaches all over the island if you know where to look.
Our guide will show the most famous black sand beaches in Bali and ensure you have a great time exploring the black sand of Bali.
Is A Black Sand Beach Really Covered In Black Sand?
Sometimes. When we talk about "black sand", we're really trying to differentiate black sand beaches from white sand beaches.
That means "black sand" can mean "black" sand or "brown" sand. Our favourite black sand beaches have as close to truly black sand as you can get, but if you want to find black sand beaches in your neighbourhood in Bali, you may find that they're closer to brown sand than black.
The colour of the sand does not affect its quality underfoot or your ability to sunbathe on it, but it can be important for those Instagram shots.
Photography enthusiasts will know, however, that you can always tweak the shots you take in post-production to ensure that the sand looks like perfect black sand.
Why Is The Sand Black On The Black Beaches Of Bali?
Black sand beaches are covered in sand, which is formed from the rock ejected from Bali's volcanoes.
The rock lands in the sea, where it is broken up in the tides and then deposited as black sand on each black sand beach.
Thus, the closer to an active volcano that you are, the more likely that the water is full of volcanic minerals and rock and that the coarse particles washing up on shore are black sand.
Does Bali Have Any White Sand Beaches?
Yes! In fact, much of Bali's reputation as a paradise island in the tropics comes from its white sand beaches.
Many of the most popular tourist resorts are built around these beaches.
This means that black sand beaches are often less crowded than their white sand counterparts.
We think it's one of Bali's charms that you can easily find a gorgeous deserted black sand beach to chill on or head to the most popular beaches and go for some more classic white sand appeal.
When Is The Best Time To Visit The Black Sand Beaches in Bali?
There is no bad time of year to visit any beach in Bali.
While there is rain during the rainy season, on average, the island sees 9 hours of unbroken sunshine each day during the wet season.
That means there's plenty of time to swim, sunbathe, take a sunset stroll, etc., each day.
However, we admit that it's a little nicer to visit in the dry season.
That's because it's a bit less humid due to the lower amount of rain (it still rains during the dry season but not as much) and because the weather lends itself to onshore breezes that can keep you cool.
The Best Black Sand Beaches In Bali And How To Find Them
Echo Beach, Canggu
Echo Beach is not the busiest black sand beach, and that means that while you can't have Echo Beach all to yourself, you can have long walks here without being swarmed by hawkers (unlike on a few beaches nearby).
This part of Bali is rapidly developing, however, and it may be that in the near future, it will get much busier.
For now, it's a charming place to spend some time.
Pererenan And Seseh Beach
Seseh Beach is very quiet, indeed, and Perenan Beach isn't very far from it.
If you want some black sand beaches in Bali where you're rubbing shoulders with the locals, these two beaches are a great place to come.
If you want some lovely landscape shots of calm and pleasant scenery, you're going to love it here.
Pemuteran Beach
Pemuteran is an attractive village in North Bali, and it is very popular as it offers access to Menjangan Island, which is one of the prime diving spots in Bali.
However, most people don't stay on the beach here. They jump on a ship and go diving. That means you can often have Pemuteran Beach all to yourself.
It's even quieter than Amed Beach or Lovina Beach. However, it is also about a 3-hour drive from Denpasar Airport.
Purnama Beach, Gianyar
Purnama Beach is one of the best black sand beaches for walking on, and the sand feels soft and warm beneath your feet.
That's because the local sea conditions break the rock up into finer particles than you find elsewhere in Bali.
One other thing that's worth visiting this beach for is the interesting shrine, which has been built entirely from rocks from the local reefs to form a pyramid-like structure.
Nelayan Beach
Nelayan Beach is far from the beaten path, and it's one of our favourite places to go because it's quiet and chilled out.
It's also home to the most incredibly artsy fishing huts in Bali, and each hut is covered in bright and innovative murals.
Photographers and Instagrammers will love it here, and because there are no crowds, you can shoot to your heart's content without causing any trouble at all.
Keramas Beach
They say that the black sands at this beach have healing properties and that you should bury yourself in the sand (obviously apart from your head) to reap the benefits.
It's a very secluded place, though, and if you want to go body deep in the sands, you will need to get a taxi (and arrange one home, too – you will find ride-sharing apps are not great when you're in the middle of nowhere) or take a scooter.
The ocean here is a wonderful shade of blue, and it's one of the most photogenic spots in Bali.
Jemeluk Bay, Amed
Jemeluk Bay is part of the area of Amed Beach, and it's one of the most popular places to go diving on the island.
One interesting thing about this beach is it's possible to rent a sun deck to sleep on, and you can spend the whole day and night in your own private spot on the beach here.
Amed is quite a way from the rest of Bali, though, and we'd recommend that you hire a car and a driver to get out here.
Pantai Masceti Beach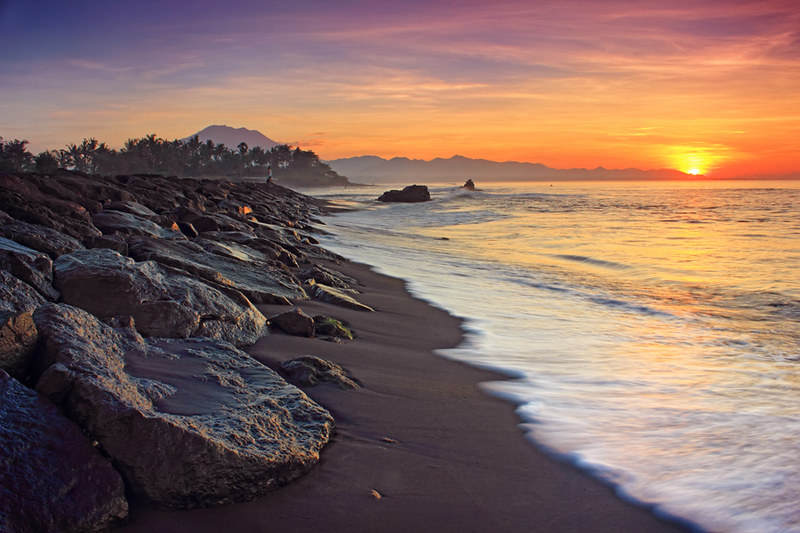 This place on the East Coast is absolutely breathtakingly beautiful, and the sand here is so fine that it's very gentle beneath your feet.
Tourists don't seem to have discovered Pantai Masceti (or the East Coast) yet, so you may well have it all to yourself except for the occasional local passing through.
However, you can't snorkel off this beach, so you probably won't want to spend more than half a day chilling and taking photos before you move on.
Baluk Rening Beach (Baluk Rening Jembrana)
This beach is another healing beach, and Baluk Rening Beach is very popular with both locals and foreigners seeking cures for various ills.
You can get somebody to help cover you in the sand very easily here, and who knows? It might make you feel like a new person.
The area is home to some lovely local cafes and restaurants, too, and we like to stop for a sundowner here.
Lovina Beach
Lovina Beach in North Bali is a great place, and the big attraction in this area is the dolphin-watching experiences on offer.
You can get a tour from the local harbour to see schools of dolphins frolicking in the waters of the Indian Ocean.
However, the beach is very pleasant, and the sunsets here are absolutely fantastic. It's worth checking out in its own right.
Kendungu Beach
Kendungu Beach is one of the few crowded black sand beaches in Bali, and sadly, that also means it gets quite a bit of garbage thrown around, too.
However, there's a waterfall right by the beach and some really striking black lava rocks that flank the area that make up for this, and you can get some really moody and atmospheric photos here.
Lipah Beach/Lipah Bay, Amed
This North Bali beach is home to a WWII Japanese shipwreck(it's about 3 meters below the surface).
Thus, it's one of the best beaches for shallow diving in Bali.
We have to warn you though, that the black sand here gets very, very hot indeed and you should wear shoes if you want to avoid burns, particularly from lunchtime onwards.
Mayo Resort, North Bali
Mayo Resort is not far from Lovina, and it's one of the quietest places on our list. You can enjoy a wonderful view of the sunset here in total peace and harmony.
On our last visit here, we were the only ones around for the entirety of our trip. That's pretty amazing in a nation full of beach-loving folks.
We'd recommend that you also visit Loving Beach if you make a trip out to the Mayo Resort beach.
Lepang Beach, Klungkung
This beach practically sparkles in the early morning light, and though it's only a 30-minute drive from the centre of Denpasar, it has almost no visitors.
When the water comes in, the sands here are the blackest in all of Bali and make for amazing photos.
It's also home to a special turtle sanctuary that protects the Olivery Sydney turtles of Bali.
Mengening Beach, Cemagi
This is not the easiest beach in Bali to find, but it's worth the trip. Not only is the sand pleasant underfoot and very attractive, but the water of the ocean here is a striking blue.
You can find a lovely holy temple nearby and join the local fishermen for some rock fishing on the low cliffs here, too.
While there are very few tourists around, the locals love to come to this beach to watch the sunset.
Pasut Beach
This is a very popular place with local Balinese, and it's about a 40-minute drive from Canggu.
We found the swimming here to be excellent.
Kusamba Beach, Klungkung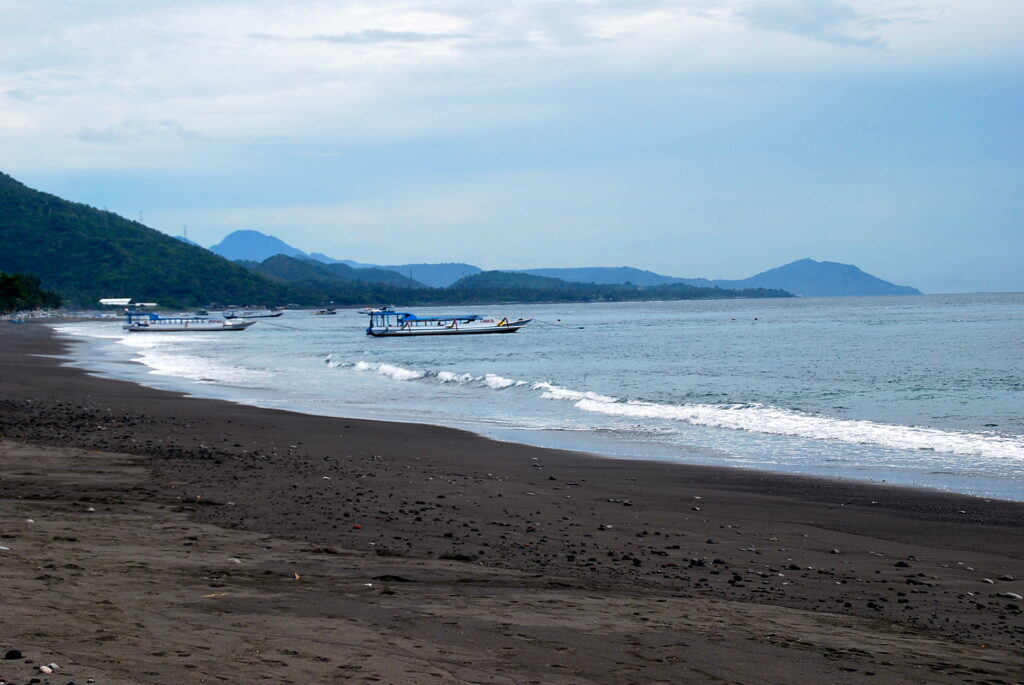 Kusamba Beach is surrounded by rice fields, which makes it unique among Bali's beaches.
Kusamba Beach is also the scene of one of Bali's most successful salt farms, and the seawater is filtered on the sands to produce salt to be sold in the local markets.
Tulamben Beach
This is going to be the most popular of all the black sand beaches in Bali, and that's because it's home to the shipwreck of the USS Liberty, which was sunk by a Japanese submarine during WW II.
You get a great view of Mount Agung from here, too.
Berawa Beach
This Canggu-based beach is the home of the legendary FINNS. It's also a very pleasant black sand beach for water sports, sunbathing and more!
FAQs
Is Seminyak Beach Black Sand?
No, in fact, while many of the beaches around Seminyak have black sands, the main beach is a white sand beach.
It's one of the most popular tourist beaches in Bali, and while there's plenty of natural beauty on display in Seminyak, it can get very crowded, and it's not ideal for a leisurely stroll thanks to the volume of resorts overlapping onto the beach.
However, it definitely has its own charm and beach bums will love the easy access to sun loungers, water sports, palm trees and an endless supply of beach hawkers.
Why Is Canggu Beach Sand Black?
When the lava flow exits an active volcano, some of it ends up in the ocean. This cools into rock, and over time (thousands of years), it is broken down into small, rough particles.
This rock is black or brown in colour as opposed to the typical white sand, which comes from the remains of coral reefs, shells, and other marine life and rocks.
Canggu Beach gets much more of the black rock from the volcanoes of Bali than it gets from the white sand in the water. Therefore, it is a black sand beach.
Does Bali Have A Pink Sand Beach?
No. There are no pink sand beaches in Bali. The nearest pink beaches are on Komodo Island (yes, the place with the world-famous Komodo Dragons).
You'd need to head to Labuan Bojo and then join a boat tour to see the pink sands.
The best beach of this nature is the one on Padar Island, just off the shore from Komodo, but Komodo has pink beaches too.
Which Black Sand Beach Is On Travel & Leisure Magazine's White List?
Keramas Beach is the only Bali black sand beach to have made this exclusive list.
The magazine describes it as a "stunning beach" with is "especially popular with surfers, so it's a great place to hit the waves (or, at least, to watch as surfers ride in over the black sand)."
It's worth noting that this working beach is lit up at night to allow for nighttime surfing.
We think this is exclusive to Keramas Beach and can't be found elsewhere in Bali.
What's The Best Beach Club In Bali?
That's easy. It's FINNS. It's the world's best beach club to popular acclaim and the best beach club in Bali.
If you're passing through Canggu in search of a black sand beach, you should drop in and spend some time at FINNS.
It's so popular that 1 in 12 visitors to Bali visits FINNs now, and there's no entry fee or minimum charge, so you can sample it for yourself without worrying about running up a huge bill.
How To Book A Trip To A Stunning Black Sand Beach In Bali?
If you're going to book a trip to Bali and any of the black sand beaches such as Amed Beach, Kusamba Beach, Lovina Beach, Mengening Beach, Echo Beach, Tulamben Beach, Jemeluk Bay, Mayo Resort, etc., then you should book using the services of Bali Res Centre.
This is a locally owned, managed and operated travel service that can help you find exactly what you're looking for in a quaint fishing village, a charming seaside village, a quiet beachside town or one of the island's hot spots.
They can also ensure that you get a fair and competitive price thanks to their local contacts.
We think it's always better to keep your money in the economy of Bali rather than handing it over to a faceless multinational corporation, and you get much better local knowledge that way, too.
Final Thoughts On Bali's Black Sand Beaches
A black sand beach is the result of volcanic activity, and in the volcanic islands of Indonesia, that's not too hard to find.
There are many popular black sand beaches in Bali, and there's something quite unique about hot black sand under your feet.
Why not take some time to explore the Balinese coast and enjoy some black sands during your stay in Bali? Oddly, it also makes the Bali sea colour slightly different too.
Enjoy, and we hope to see you on Bali's beaches soon.