Sanur Beach is one of Bali's quieter but still spectacular beach locations. It's not far from Denpasar City, and it's in South Sanur on the East Coast of the island.
If you're thinking about visiting this wonderful area, you'll want to read our guide to Sanur Beach, what you can do there, where to stay, and more.
About Sanur Beach (Pantai Sanur)
Sanur beach is the biggest beach associated with the Sanur Village area. It's a very nice beach which has warm, soft sands and calm waters with very gentle waves.
If you want a beach in Bali that's not a bit crowded and has access to many restaurants within a short walk, then Sanur Beach is a great place to choose for your Bali holiday.
What To Do On Sanur Beach?
Sanur Beach has plenty of activities to offer a discerning traveller, and it's very good for learning new watersports because of the relative calmness of the waters.
Water skiing is hard enough to get to grips with without having to deal with 20-foot waves as you learn. Sanur Beach is also great for restaurants.
Here's a quick rundown of your main options in and around Sanur Beach for fun.
Snorkelling/Diving
Sanur Beach, Bali, is simply awesome for snorkelling and diving. You'll find that the turquoise waters here are crystal clear, and the nearby Sanur Channel is host to a small coral reef.
As with all reefs, the one in Sanur attracts a ton of diverse marine life, and it's a real pleasure to snorkel around.
There are PADI-qualified schools in the area if you want to take your diving to the next level, too.
You don't need to bring any gear with you to enjoy these sports either. You can rent or buy anything you need in the area around the beach.
Sea Kayaking
Sea Kayaking is a different sport from river kayaking because the hazards and conditions you face at sea are very different to shooting rapids in the river.
Sanur is a great place to pick up the basics of kayaking at sea, and you can easily get out over the reefs and enjoy pristine views of the local marine life.
The local community ensures that boat traffic in the area is very well-behaved, too, which helps keep things safe.
Beach Volleyball
Many of the beachfront hotels in this area have invested in beach volleyball courts, and everything is set up, just waiting for people to play.
You may need to be a guest, however, or invited by a guest to use these courts.
You can set up your own volleyball game on some of the smaller beaches, though, and it's easy to rent the things you need from local vendors.
Surfing & Windsurfing
OK, Sanur's not top everyone's surfing paradises lists, but that's because the waves are pretty tame.
That's no good for a pro looking to bust some wicked moves on a rip curl, but it's awesome for beginners.
Just paddle a little ways offshore, and you can find some pleasant surfing spots, and there are surf schools on the beach ready to help you learn.
On about 20 days of the year, however, the right-hand break at the reff becomes one of the best on Earth. That's when it starts rolling in at over 8 feet!
Stand-Up Paddleboarding
Why not rent a paddleboard and enjoy exploring the local mangrove forests?
It's dirt cheap to rent this equipment, and you don't need a huge level of physical fitness to have a good day on it.
Sanur Beach is ideal for this form of paddleboarding thanks to the fairly shallow sandy bottom of the sea and minor waves.
Kite Surfing
For the adrenalin junkies out there, the big kick in Sanur is kite surfing, and you want to be here in the dry season to get the most out of it.
Dry season winds are stronger and more consistent than they are in the wet season, and that means you go further and faster at this time of year.
As you'd expect, you can rent all the equipment you need at the beach, and it's easy to find lessons here, too.
Kite Flying
Kite flying is very popular in Southeast Asia and, particularly in Bali.
It's super easy to find a kite for sale in the local stores (and they're not expensive unless you want to buy a 10-man 100-metre long kite, that is), and it's so easy to learn, too.
Better still, nearly everyone here knows how to fly, so if you run into any difficulties while you fly your kite, a local will immediately step up to offer some help and advice!
Beach Walkway (Walking or Jogging)
There's a long beachfront pathway that runs nearly the length of the whole beach.
While this beachfront path can get pretty busy during the peak season and the height of the day, most of the time, it's great to walk or cycle along.
We like to jog the beachfront path in the early morning as the sun rises over the beach. It's a great way to stay healthy and appreciate one of the most beautiful sights in Jimbaran.
Fishing
You don't need to be a local fisherman to catch your own romantic dinner in the waters around Sanur Beach, Bali.
In fact, anyone can take part in fishing as long as they have the right equipment (which, of course, can be rented or purchased locally).
Don't fish at high tide. The best time of day to catch small reef fish is when the tide is low. Snappers and groupers are very tasty.
If you want to go out at high tide, we recommend hiring a fishing boat and going out with an experienced fisherman. They can help you catch marlin, tuna, etc.
Sunrise Viewing
If there's one thing that everyone agrees on about Sanur Beach. It's that the sunrises are spectacular.
This is due to the direction that the shoreline faces, and sadly, it means that sunsets are not as spectacular in Sanur as they can be at other beaches on the island.
However, the sunrises are so good that it's worth getting up early to appreciate one before collapsing onto sun loungers for the lovely day ahead.
Yoga
If you enjoy yoga, then Sanur is a great place to practice your hobby. There are plenty of yoga teachers and schools in the area.
There are even free classes on the beach at times. On our last trip, back in March, there were two competing free classes on the beach, in fact.
You'll find one at around 4.30 p.m. near the Hyatt Regency Bali on Tuesday and Thursday and the other further down the beach between 7.30 a.m. and 8.30 a.m.
Sanur Beach Picnic
What could be nicer than a romantic picnic on the beach or a family picnic in the heat of the day?
You don't need permission. Just pack all your favourite treats and take them down to the beach, spread your feast out on a blanket and enjoy!
Please, though, take your rubbish home with you. Bali's beaches would be much cleaner if people didn't use them as trash cans.
Massage On The Beach
There are Balinese ladies in this area who will be happy to give you a massage on the beach in your sun lounger. Expect to pay around 100,000 IDR for this.
If you want something a bit more upscale to relax you, then you'll find plenty of spas and beauty salons offering spa treatments around the area.
Parasailing
Sanur is a great place to learn to parasail. The operators here are all highly trained and follow all the industry's best practices regarding your safety and welfare.
You can find plenty of schools along the beach that will rent you everything you need and provide an instructor and a boat to get you up into the air, too.
Parasailing trips tend to be quite short, just ten minutes or so, but they create lasting memories. We recommend trying a tandem ride with a family member or friend for maximum fun!
Beach Games
You can buy and rent equipment for pretty much any beach game or sport that you can think of around the Sanur Beach area.
If you want to try beach tennis or start throwing a frisbee around, the only thing stopping you from doing so is you.
Jet Skiing
If there's a more fun thing to do on the ocean waves than jet skiing, we haven't discovered it yet.
Unlike in Thailand, where the jet ski industry is famous for practicing tourist rip-offs, the Balinese industry is much better focused on making sure you have a good time.
It's not expensive to rent a jet ski, and you'll never forget your time in the Balinese sun on one.
Swimming
And we shouldn't forget simple, plain, old swimming. This beach area is one of the best places to swim anywhere in the ocean because of the calm nature of the waters.
There are very few waves and almost no undercurrents, and it's an absolute delight to swim around Sanur.
Attend the Bali Kite Festival And Bali Arts Festival
These two festivals take place during July or August each year and showcase local talents and art forms.
Many of the events take place on the beaches of Sanur.
Visit Bali Bird Park
You'll need transport because it's not within walking distance, but the Bali Bird Park is a great way to explore the native birdlife in a large enclosed aviary.
If you've got kids or you love birds yourself, you won't want to miss this. We recommend taking a camera with a telephoto lens if you want some Instagram snaps.
See Bali Zoo
Bali Zoo is not huge, but it has a nice collection of animals that live in pleasant conditions (particularly for a Southeast Asian zoo).
If you'd like to see some animals in a space that doesn't require too much walking, a trip to the zoo is an excellent idea.
Enjoy A Bali Safari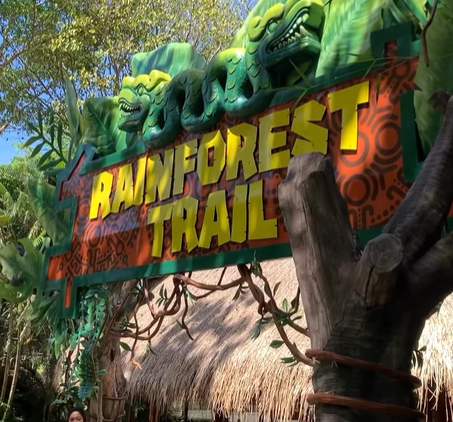 A Bali Safari is simply a ride down the beach on a camel, and these rides are very popular in the Sanur area for some reason. We found them surprisingly fun even though our first reaction was a bit, "You what? A camel ride on the beach?"
Visit Turtle Island
Turtle conservation is a big thing in Bali, and Sanur is very near to Turtle Island, where you can swim with turtles in the wild or even, if you arrive during hatching season, help to release some turtles back into the water.
Where To Stay Near Sanur Beach?
There are plenty of big names as well as boutique hotels in Sanur, and you should easily be able to find somewhere to stay near the beach that suits your budget. Some ideas include:
Hyatt Regency Bali

Prama Sanur Beach Hotel

Sanur Seaview Hotel

Intercontinental Bali Sanur Resort

Holiday Inn Bali Sanur
Where To Eat At Sanur Beach?
There are plenty of beach restaurants in this part of Sanur, and many more restaurants just a few minutes' walk from the beach. If you're staying in a beach hotel, they probably have a great restaurant (or more), too.
Some ideas include:
The beachfront restaurants such as Retro Beach Restaurant, Nelayan Sanur Bay, etc.

Lilla Pantai Karang

Bobbys Bar & Restaurant

Jack Fish

Coco Bistro
Other Beaches In And Around Sanur, Bali
Once you've spent some time in Sanur, you may want to explore some of the other excellent beaches in the area, and these include:
Taman Inspirasi Mertasari Beach
The locals call this "Sandy Beach", and it's a very calm, quiet, and tranquil place that you can go for chilling out during the day.
There is a small theme park at one end of the beach, which children absolutely love, and there are also camel rides available here.
It's a black volcanic sand beach that looks great on Instagram, too. We recommend stopping here when you're looking to relax.
Cemara Beach
This beach is a little closer to Denpasar, and it's a very serene place with a gorgeous view that runs all the way out to the horizon.
You can find fragments of red coral decorating this beach, and that always makes a bit of beachcombing fun here.
We like the beach shack restaurants on this beach, and if you want a beer and some nasi goreng for a sensible price, it's a great option for lunch.
Renting sun loungers and shades is very easy on this beach.
Padang Galak Beach
The annual kite festival also makes it onto this beach, and it's one of the places where the flyers can really show off their high-end skills.
We like coming at any time of year, though, because you get some beautiful views of the neighbouring islands from this spot.
It's also near the Padang Galak Temple, which is well worth a short visit if you're interested in Balinese culture.
Pandawa Beach
The beach is sort of halfway between Sanur and nearby Nusa Dua, and it goes on for about a mile along the limestone cliffs.
The food stalls at this beach are a cut above many others in Bali, and we love coming here to eat.
It's a great place for sunbathing and relaxation without any pressure to do anything else.
Nikko Beach (Sawangan Beach)
This pleasant white sand beach is one of the more popular choices further out of Sanur, and if you want crowds, you might go here.
It's popular for its camel trips across the sands as well as the proliferation of glass-bottom boats that give tours of the local waters from here.
It does attract some very good water sports, though, and you can often watch pros showing off their skills at sea.
(Pantai) Karang Beach
Karang Beach is a small beach in Sanur, and it's one of the most hidden beaches in the area.
If you get to this beach at about 7 a.m., you will find free yoga classes here, and you just need to bring your own mat/towel to take part.
These classes are led by a local professional instructor, so you can be sure that they are safe.
This beach has some great views over the water, too.
Pantai Segara Ayu Beach
This is a pleasant white sand beach in Sanur, Bali, and it's one of our favourite places to catch a romantic sunrise together.
If you like boats, then it's got some awesome outriggers moored just offshore, and they make for great photos.
The reef runs parallel to the shore here, and it provides a large but shallow swimming area that's ideal for first-timers in the ocean.
Day Trips From Sanur Beach
FINNS Beach Club
A trip to Bali isn't complete without a visit to the most legendary of beach clubs, FINNS.
FINNS is the best beach club in the world and provides you with endless entertainment accompanied by some of the best food and drink on the island.
The action takes place in Canggu, and you'll want to spend a whole day there by the Indian Ocean, living your best life.
Nusa Dua
Nusa Dua is the island's most expensive resort area, and it's not that far from Sanur Beach. Why not take a taxi or scooter journey and see how the other half live?
Nusa Islands
The Nusa Islands are only 45 minutes away by boat from Sanur Beach, and if you want to visit Nusa Penida, Nusa Lembongan or Nusa Ceningan, you can't go wrong.
Nusa Lembongan is the most popular of the islands, but Nusa Penida is a lot of fun, too.
You can't do them all in a single day, though, and if you want a quick but slightly less crowded experience, you might opt for Nusa Penida as your first choice.
You can even go swimming with Manta Rays out at Lembongan Island!
Mount Agung
You could also consider a trip to Mount Agung, the tallest active volcano in Bali. We would warn you, though, that this is a serious undertaking and requires a fairly substantial level of fitness.
Bajra Sandhi Monument
This monument in Denpasar is a tribute to the vibrant people of Bali and all they have overcome in recent years.
FAQ
Does Sanur Have Nice Beaches?
Yes, in fact, while they may not be as popular as the beaches of Kuta or Seminyak, Sanur Beach is quite lovely.
There's no fighting over sun loungers as the beach is less busy than in other areas, and it's one of the best places to go swimming on the island.
The waves at this point on the Southeast coast are surprisingly gentle, and small children and inexperienced swimmers should be perfectly safe with only a little
Can You Swim At The Beach In Sanur?
Yes! Sanur Beach is one of the best spots for swimming in Bali, in fact.
The waters are super calm here, and even small kids or new swimmers ought to find themselves having fun in the water.
Which Beach Is Better, Sanur Or Nusa Dua?
Nusa Dua's Beach is all about luxury resorts and excellent facilities, but they come at a fairly substantial price premium.
Sanur, on the other hand, offers a beach experience that is more chilled out, less expensive, more authentically Balinese and which is still a lot of fun.
Neither beach is "better", but the one that you will prefer will be down to what you're looking for out of your holiday.
What Is The Beach Like In Sanur Bali?
The beach vibe in Sanur is all about casual, relaxed, and fun.
The beaches are very family-friendly, and the waters are the perfect place to teach small children to swim or for older children to get their first lessons in various watersports.
During the dry season, the beach sees a very pleasant onshore breeze that keeps the Balinese heat more bearable while sunbathing.
Is Sanur Bali Worth Visiting?
Yes! We think it's very much worth visiting.
It's not a party destination or a luxury destination, but if you want something budget-friendly that will suit a family or couple looking for a more relaxed time, then Sanur is brilliant.
We'd also recommend the beach to anyone seeking to learn or master watersports. There's no better place for learning in Bali.
How To Book A Holiday In Sanur?
Booking a holiday in Sanur is as simple as calling our friends at the Bali Res Centre.
They know Sanur very well, and as locals, they have all the latest information to help you choose the best hotel for your needs.
They also get very competitive pricing to ensure your budget goes further than you thought it might.
Final Thoughts On Sanur Beach
While there are several beaches in the Sanur Village area, the best-known and biggest is Sanur Beach, and it's a great place to stay.
There are some really good restaurants along the beachfront, tons of things to do and some pleasant accommodations in the area that won't hurt your wallet.
Do you want a relaxing beach destination that has great reviews from the people who've been before? Sanur Beach, Bali, is awesome.
Share this entry