Most visitors to Bali tend to skip the capital, Denpasar, and head straight to the beaches of Canggu, Seminyak, Kuta, etc. or up into the highlands of Ubud.
Yet, Denpasar has plenty to offer the discerning tourist, and a visit to Denpasar is definitely something you should consider on your Bali holiday.
It's home to the Bali Provincial Public Museum, which is as close to a "Bali Museum" as you can get. It has excellent street food, beautiful Hindu temples, the Bajra Sandhi Monument, a city centre full of great shopping experiences. It offers one of the most authentic slices of Balinese culture on the island.
Our guide to Denpasar will walk you through the city and show you what you can expect to enjoy when you visit this awesome capital city of Bali.
Where Is Denpasar, Bali?
Denpasar, Bali, is in South Bali to the North of Kuta and Kuta Beach and the Bukit Peninsula.
It's right next to the Ngurah Rai airport, which is in North Denpasar and within a reasonable driving distance of most of the rest of the island.
How To Get To Denpasar, Bali?
By Plane
The easiest way to get to Denpasar is simply to fly there. You can fly in from almost anywhere in Indonesia with an airport, and most international destinations within the region have direct flights to Denpasar, Bali.
You can get a pre-paid taxi from the airport to Denpasar City Center, and it shouldn't cost more than 200,000 IDR. You can also use a ride-share app if you prefer – the local apps are Go-Jek and Grab.
By Road
Denpasar is very easy to get to by road from most of the rest of the island. You can take a ride-share from Grab or Go-Jek.
Kuta, Legian, Seminyak and Canggu are all about a 30-minute drive away.
Sanur is just 15 minutes away from the East, Ubud is only 30 minutes North and even Tabanan is just 40 minutes from Denpasar.
You could also rent a private car and driver if you want transport while you're in Denpasar.
There's also the option of renting a scooter, but we don't recommend renting a scooter in Bali.
If you do rent a scooter, you need an International Driver's Permit (IDP) and a current driving licence with a motorcycle endorsement to be legal. You must also wear a helmet and proper footwear and drive sober.
If you're not legal, you can't be insured, and in the event of an accident, you will not be able to claim your travel insurance or health insurance.
Accidents are very common in Bali for scooter drivers because the traffic is very heavy, and the local way of driving is very different from what you're used to at home.
Even though highly experienced riders find Balinese traffic hardgoing, it's definitely not a place for first-timers to learn the ropes.
By Bus
There used to be a big bus station called Ubung Bus Station in Denpasar, but it closed down a while back and is now a Bemo terminal only.
The main bus terminal is now at Mengwi, Denpasar. It's where you will find that most buses from the rest of Indonesia arrive.
Most departures from this terminal leave very early in the day for other parts of Indonesia. So, if you haven't booked a ticket and need one at the last minute – you want to get here very early, indeed.
We'd recommend that you Google the bus schedule for Indonesia and book online instead of going through the stress of trying to buy a bus ticket in Indonesia at 6 a.m.
You can easily get buses to and from Denpasar between Jakarta, Yogyakarta, Semarang, Bandung, and other major locations.
There is a surcharge on the buses during major holidays, particularly Eil Fitri.
You can also get minibuses to other parts of Indonesia from this area. They depart from the ferry terminal, which is directly opposite the bus station.
By Train?
There are no trains in Bali. However, that doesn't mean that you can't buy a train ticket in Bali.
If you visit the Mengwi Bus Terminal, you can buy a train ticket to Surabaya. However, in practice, this means an air-conditioned bus ride to Banyuwangi, a ferry to Ketapang and then a train to your destination.
The basic train fare is known as "business class". This has very limited legroom, and the seats can't be reclined. However, it does have air conditioning.
If you want more legroom and a reclining seat, pay a little extra (it really isn't very much) and get an executive ticket.
You can get an overnight "train" from Surabaya to Denpasar and an afternoon "train" from Denpasar to Surabaya.
How To Get Around Denpasar, Bali?
Good news! The easiest way to get around the centre of Denpasar is simply to walk around.
It's a bit hot and humid at times, but given the traffic and that most things are within a short walk of each other – it's the best option.
If you're going a bit further afield, there are some additional options.
Trans Metro Dewata Buses
There is a local bus service that connects different destinations in the city, the Trans Metro Dewata.
You cannot pay in cash on these buses and must, instead, purchase an electronic money card (found in most convenience stores in Denpasar), top that up and use it to pay for your ride.
We would note that not all these card services are as easy to top up, and you should check with a local to find which is the most convenient as the stores often sell the highest commission products rather than the most useful ones.
Taxis/Ride-Shares
We don't recommend flagging down taxis in Bali, but you can if you want to. Negotiate your fare before you get in if you do this and make sure you have the exact change – this may not stop you from being cheated, mind you, but it will help.
It's better to use the ride-sharing apps of Grab and Gojek in Denpasar. These apps will give you a fixed-price ride, and you can link them to your cards, which will ensure you don't have to worry about paying in cash, too.
Bemo
Getting around by Bemo is a bit complicated. You can flag them down and then get on (after negotiating the price), but you need to be certain they're going to the right place.
Given the propensity for Demo drivers to overcharge foreigners, we recommend that you go with a ride-share app if you can. It will definitely be more comfortable than a Bemo, too.
Scooter/Motorbike
It's very easy to rent a scooter or a motorbike in Denpasar, though that doesn't mean that we think you should (see our notes above in the travelling to Denpasar section as to why).
What Does Denpasar Mean?
The name Denpasar is, in fact, a compound of "Den", meaning North and Pasar, meaning "Market".
Thus, Denpasar is the North Market, literally, and the name clearly indicates that the city began as a market town.
Interestingly, the original Denpasar market would have been based where the Kumbasari Market (which was once called Peken Payuk) is found in North Denpasar today.
A Brief History Of Denpasar
Denpasar was once the capital of the Badung Kingdom. This kingdom was a prominent power in Bali during the 18th and 19th centuries.
However, when the Dutch colonized Indonesia, Denpasar was captured by the invading force in 1906.
It swiftly became the most important administrative zone in Bali, and Denpasar swiftly became a large city from a fairly humble market town's roots.
After the Dutch left, Denpasar became the seat of governance for the island of Bali in 1958.
As you might have expected, this change in status ensured that Denpasar went through a period of rapid prosperity.
It grew in size and stature and became the centre of government, Bali's cultural and social life, as well as the island's economy.
In 1992, Denpasar was granted city status, and then in 2009, Denpasar lost the status as the administrative capital of Badung Regency in order to better focus the government in the city on provincial management – the Badung Regency capital is now Mangupura.
Today, the city of Denpasar is made up of four districts named, somewhat unimaginatively, West Denpasar, East Denpasar, South Denpasar, and North Denpasar.
The city now covers an area of about 128 square kilometres (that's about 2% of the land area of Bali Province as a whole).
The majority of this land is dedicated to urban use, but some of it is for rice fields, and there's a small amount that has "non-specific use".
The Badung River flows through the heart of Denpasar and flows out into the Gulf of Benoa.
When Is The Best Time To Visit Denpasar, Bali?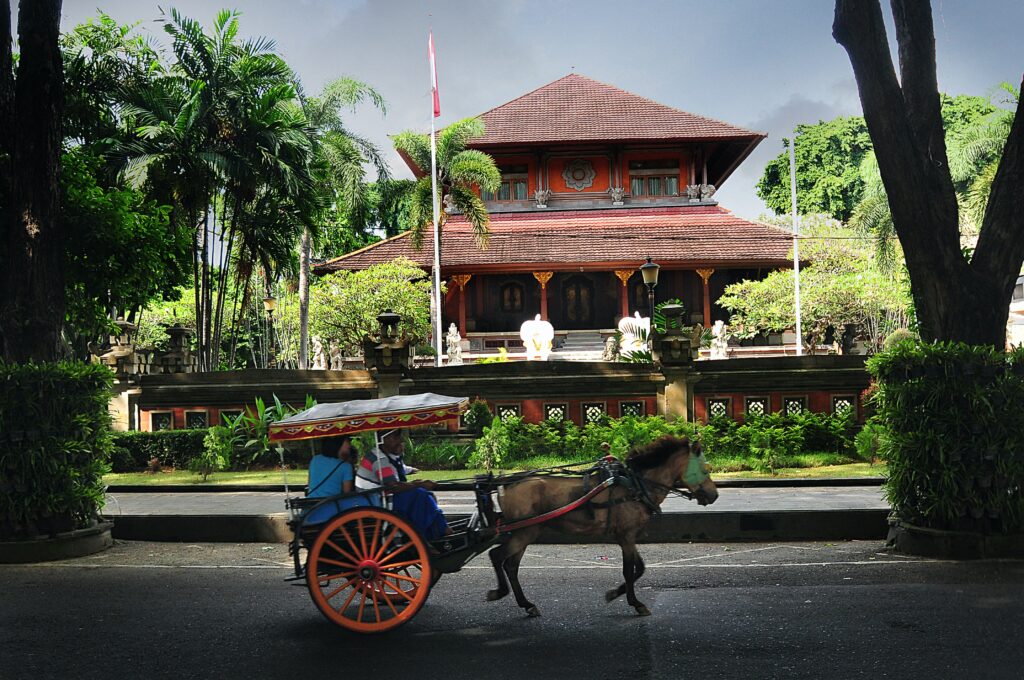 There is no bad time of year to visit Denpasar. In fact, because Denpasar is a city, it's probably even better to visit it during the wet season when the prices are lower than average for hotels, etc., in this part of Indonesia, at least.
After all, it doesn't rain all day, and it's easy to take shelter in a museum, pop hotel, etc., when you're in Denpasar.
However, it will be slightly cooler during the dry season as there's less humidity, and you get a pleasant inland breeze thanks to the weather conditions.
What To Do In Denpasar?
Denpasar has a host of great activities and places to visit. Our favourites include:
Bali Sharks Eco Adventures
This fun place is based on a pontoon, which is held just off Serangan Island in South Denpasar.
And yes, you can leave Denpasar City behind and swim with real sharks here.
It was actually founded by a surfer from Hawaii who felt called to help save the blacktip and whitetip reef sharks for future generations.
The team here works closely with fishermen from the local island, and they regularly bring injured sharks to be nursed back to health in the healing pool here.
These sharks don't bite or attack people, so don't worry. You will return to Denpasar City with all your limbs and digits intact after swimming with sharks.
Turtle Conservation And Education Centre (TCEC)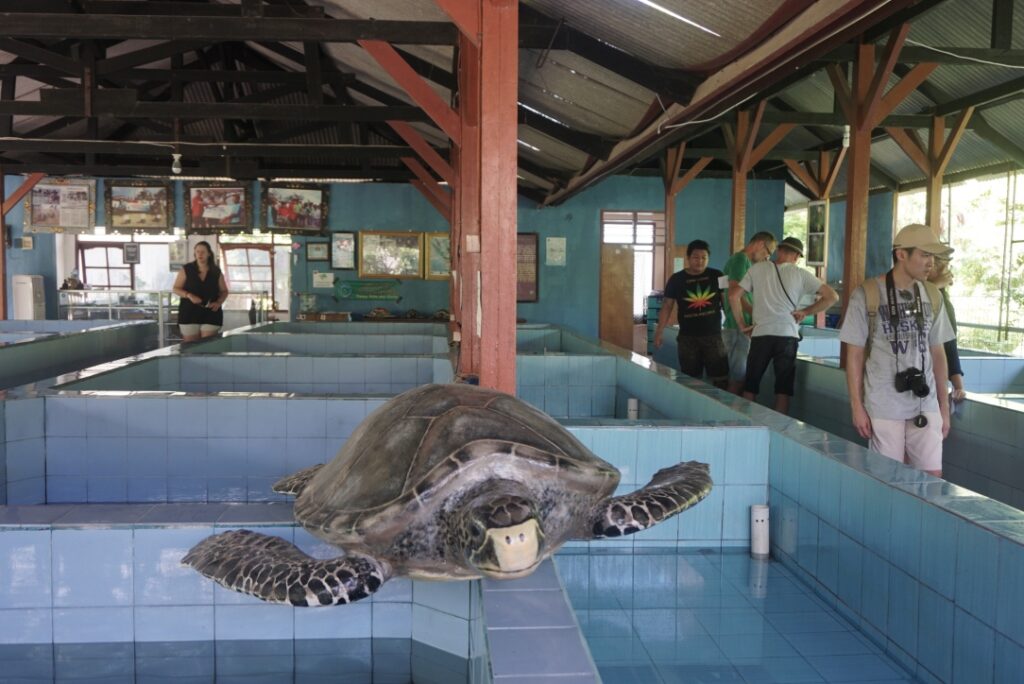 In the same part of South Denpasar, you can also find the Turtle Conservation and Education Centre.
This part of Bali was once a breeding zone for sea turtles. The turtle was used for food and trade in Balinese culture for centuries.
Today, this trade is over, and the centre aims to conserve the species for future generations and to treat turtles that have been accidentally caught by local fishermen and injured before they can be returned to the sea.
This Denpasar attraction offers the best chance to get up close and personal with a sea turtle in Bali.
Sakenan Temple
Pura Sakenan is one of the major temples of South Bali, and it, too, is on Serangan Island.
It's actually a pair of temple complexes that merge into a single complex, and it's fascinating to see because they use the coral stones that were so common on this island before they were replaced by brick.
In the past, before there were roads connecting the island to Bali, the Hindu pilgrims would wade out to the island at low tide or hire a wooden boat to make the crossing.
The best time to see this temple in action is on the day of Kuningan (a week after the holiday of Galungan), when it is packed with worshippers.
Museum Negeri Propinsi Bali (Bali Provincial Museum/Bali Museum)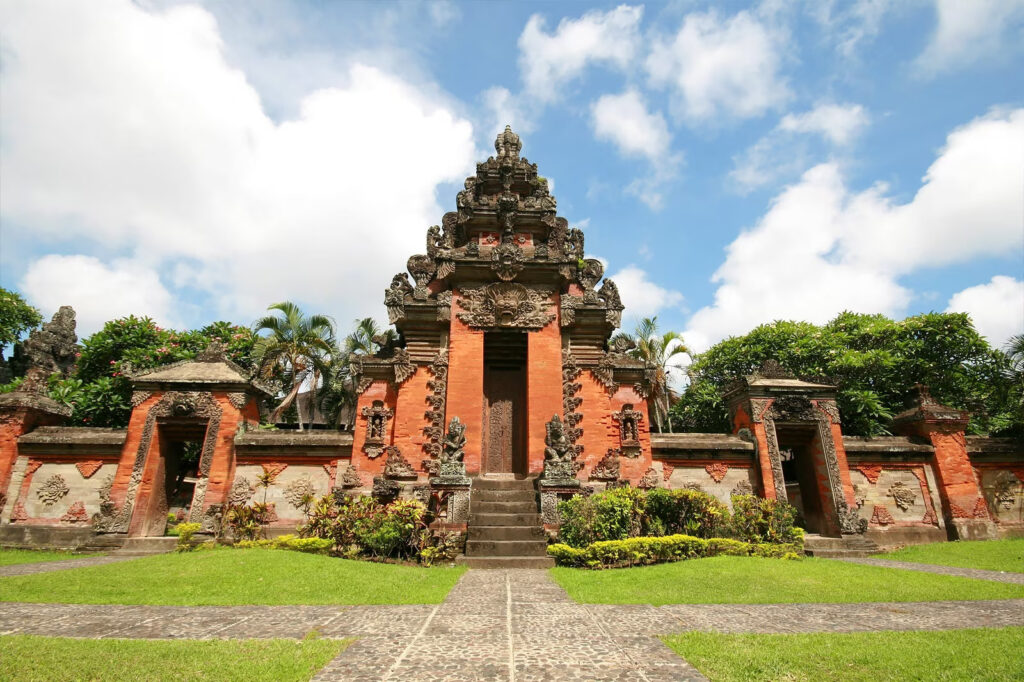 This Denpasar museum is probably the best museum in Bali, and it's certainly the oldest.
It has over 10,000 exhibits on display inside, and the building itself is a masterpiece of Balinese architecture.
The building is right in front of the square where the Dutch colonialists invaded the island and where the Badung War was fought back in 1906.
If you'd like to see art, weapons, agricultural implements, shadow puppets, and more, you can find them all here.
Lapangan Puputan Margarana & Bajra Sandh Monument
The Lapangan Niti Mandala Renon, or The Lapangan Puputan Margarana, is the biggest civic square in Bali.
It's also home to the Bajra Sandhi Monument. This monument, which is very easy to find on Google Maps, is one of the most striking features of Denpasar.
On the monument's upper floor, you can find an amazing diorama that captures the essence of Balinese history dating right back to 3,000 years BC.
It also offers an amazing view over the city of Denpasar itself, and it's a great place to capture an awesome Instagram photo on a clear day.
Palace Of Satria & The Royal Temple, Denpasar, Bali
As with most parts of the island, Denpasar no longer has a royal family, as such, though the former royal family remains well-respected locally.
Instead, the old palace and the royal temple on its grounds are open to all visitors and locals in Denpasar.
It opens at 8 a.m. and closes at 4 p.m., and you can find some beautiful examples of local carving work here.
An interesting ritual takes place here involving filling teeth. The ceremony is said to help a person become positive and lose the negativity in their life!
Jagatnatha Temple
This temple complex is part of the most well-known area in Denpasar, and it's near the Bali Provincial Museum and the Denpasar Puputan Square.
The main shrine towers over the site in a bright white. It's not the original shrine, mind you, but one placed here during a series of renovations carried out over the life of the temple.
There are some amazing stone carvings of the Ramayana (an epic Hindu work) to be found here.
There are large attendances here for prayers during the period of Purnama (the full moon).
Taman Werdhi Budaya Arts Center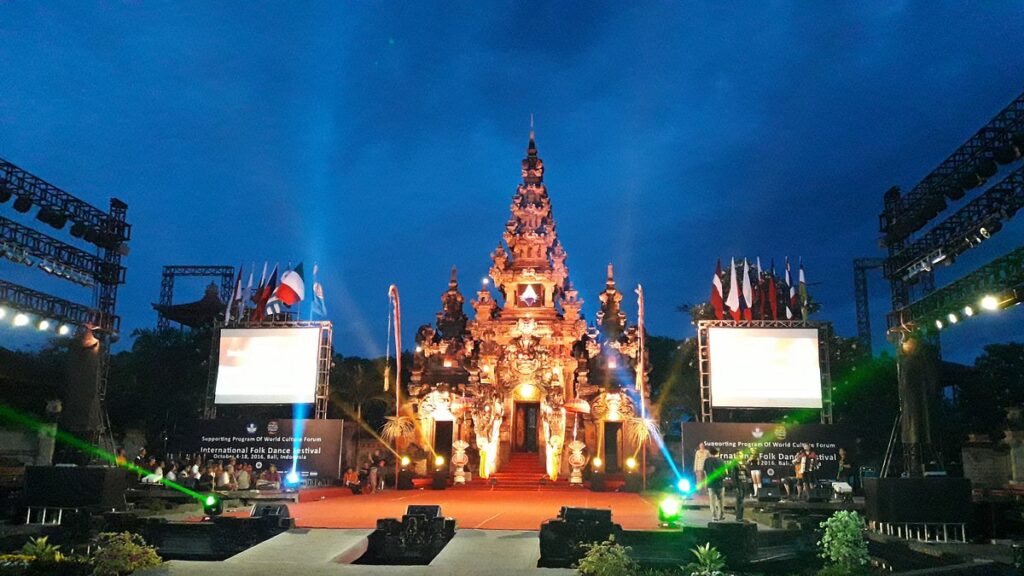 Denpasar is not just home to the Hindu faith on the island but also to the Buddhist faith.
This arts centre acts as a focal point for Buddhism and for the biggest arts festival on the island.
This festival runs from July to August and consists of live performances throughout Denpasar.
Kertalangu Cultural Village
This is a very pleasant spot on the Eastern side of Denpasar and just out into the rice paddies.
The village is actually an artificial creation for recreation rather than an authentic Balinese village, but that's not a bad thing.
If you want to learn traditional Balinese dance, woodcarving or art, you can do it here. They also offer horse riding, which is great.
There is a world peace monument set up here to ensure that Indonesia is in harmony with the world at large.
Ngurah Rai Mangrove Forest
This mangrove forest is huge and the largest of its kind in Bali. It runs along most of the South Coast of Denpasar and, in fact, borders Sanur and the Kuta Beach area.
If you want somewhere in Denpasar that's far away from the tourist crowds where you can enjoy communing with nature, it's an awesome choice.
You can enjoy access to several watchtower points in the forest, where you can wait to spot Balinese bird life or just take photos of this interesting place in Indonesia.
I AM Bali 3D Interactive Art Museum.
Not far from the convention centre, you can find the I AM Bali 3D Museum, which is a decent choice for a family day out.
It's home to a bunch of very clever 3D trick-art paintings that allow you to take some really cool photographs of your kids having fun.
When you walk in, the entrance hall is in a Harry Potter theme and is meant to look like Platform 9 3/4 at King's Cross, where Harry catches the train to Hogwarts!
Maospahit Gerenceng Temple
This is a wonderful cultural heritage site in Denpasar, which would have been founded when the Majapahit Empire was at its height.
Check out the terracotta figures of the Hindu deities and the basreliefs on the walls. They're really quite incredible and serve as a great introduction to the creatures of legend and myth here on the island.
There are some particularly impressive carvings to either side of the cani bentar (that's a "split gate" in English).
Don't try and get in through the main entrance, though. It's only open during major Hindu festivals.
Tambangan Badung Temple
This temple can be found near the Pemedilan Market on Jalan Gunung Batur. It's one of the oldest temples in Denpasar and would have been founded prior to the period of the Anglurah Pemecutan (the first Peceutan King).
It's been expanded several times over the years, and now it covers 3 mandalas, and the main circle is home to several shrines.
Look out for gora and gori when you enter (they're the two cannons that sit on either side of the outermost gate at this fascinating temple).
Serangan Beach
This attractive beach with white coral sands is on the southeastern shores of Serangan Island.
It's rarely crowded as it's something of an "off-the-beaten-track" location, and most visitors to the island don't even seem to know it exists.
The beach is on reclaimed land (the reclamation project was a success but caused a lot of controversy during the late 1990s).
It's a pleasant place to sunbathe, and it's great for a spot of onshore sea fishing (see the locals who turn up with rods and poles).
There's a nice beachfront path, too, and you can go for a walk or a jog or even cycle the length of the beach on it.
Sari Wisata Budaya Barong Dancing
If you head to the village of Suwung Kauh (which is to the east of Kuta Beach) and not far from Denpasar., you can enjoy Sari Wisata Budaya performances.
There's a large amphitheatre in the village, and you can watch both the Barong dance and the rather exciting Kris dagger dances here.
You will be given an explanatory leaflet prior to the show, which walks you through the story of Barong vs Rangda (a traditional good vs. evil local myth).
The "barong" itself is a lion-like figure, which is quite similar to that used in traditional Chinese dance performances.
Fingerprint Painting Museum (Museum Lukisan Sidik Jari)
This charming museum showcases I Gusti Ngurah Gede Pemecutan's private collection of art.
He is a member of the Denpasar Royal Lineage and is well-renowned on the island for his artistic talents.
The artist uses an almost unique technique that combines both dots and strokes in bright colours, with his fingers used as his brush.
You can also find some of his oil paintings from the period prior to inventing his own style.
Upside Down World Bali
If you want some fun photos for your Facebook and Instagram, then this is a nice place to go.
Each of the rooms is styled to appear upside down, and you will look like you're defying gravity in your shots.
Ask the staff for tips on how to get the best images in each room, and they've got tons of experience in finding the right angles.
Batik Shopping
Batik is one of Indonesia's traditional crafts, and there are dozens of amazing batik stores in Denpasar.
You will find that though these fabrics are soft and visually appealing, they're also very low cost. You won't get cheaper prices even in Jakarta!
A meter of fabric will normally cost less than 50,000 IDR, and the more you buy, the lower the price will go.
Some of the shops will be happy to explain how this material is made too.
Sanur Beach
Sanur Beach is not, technically, in Denpasar, but as it's only a 15-minute drive away, you can easily make a visit to this beach on a brief day trip.
The area is well known for its quiet pace of life and excellent swimming and water sports activities (though it's not a great location for surfing due to the protected nature of the beach by an offshore reef).
It's also lower cost than the beaches of the main tourist resorts, and you can find cheaper accommodations and restaurants in the surrounding area than in Canggu, Kuta, Seminyak or Legian.
However, there's also not very much in the way of nightlife in Sanur, and thus, sometimes people refer to it as "sleepy Sanur".
Visit St. Joseph Church
The first and oldest Catholic church in Bali was the Church of St. Hoseph, and it forms part of the Ecclesiastic Province of Ende in Indonesia.
Venture inside, and you can find some extraordinarily beautiful carvings and ornamentation around the altar, in particular.
The details are really well-rendered, and the colours are very attractive, indeed.
What we really like about this place is how obvious the Balinese influences are on this Christian place of worship.
Live Events
Denpasar is home to many of the best live events on the island. It's best to Google what's on before you travel. That way, you won't miss anything.
The art festival in July and August is fantastic!
Where To Stay In Denpasar?
There are plenty of great options for places to stay in Denpasar, and many of them are very cheap indeed. In fact, Denpasar makes places like Kuta look expensive by comparison.
It's easy to find somewhere near the convention centre, Badung market, or a fitness centre in Denpasar and you won't have to stray far from the main street in Denpasar if you don't want to.
Here are some great options for places to stay on your trip to Denpasar.
Budget Hotels
There are some very cheap hotel options in Denpasar, and they're surprisingly clean and comfortable:
Griya Tunjung Sari – this hotel has a pleasant terrace and a lovely garden. Each unit has a desk and flat-screen TV.

Merta Sari Hotel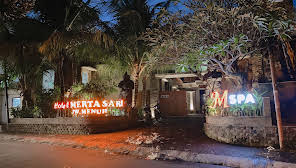 Tirta Lestari Hotel

Pop Hotel – Pop Hotel is a small chain of budget hotels with a couple of branches in Denpasar. They're very cheap to stay in and tend to be super clean and well-maintained. You won't find a huge number of amenities, but you should be able to get a comfortable bed and air-conditioning for a very reasonable price at a Pop Hotel.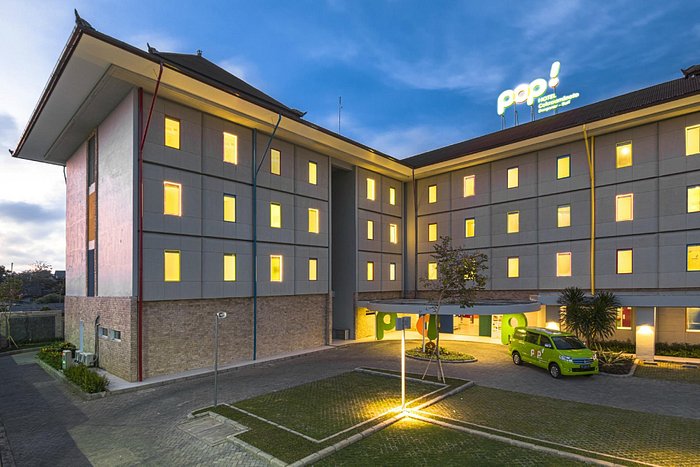 The best value-for-money accommodation in Denpasar is definitely in the mid-range hotels bracket.
That's because Denpasar is a bit short on luxury resorts inside the city (there are plenty within a few minutes drive, assuming traffic is OK, mind you).
Thus, the mid-range hotels in Denpasar tend to have a lot of premium facilities without a huge price tag.
Four Star by Trans Hotel – a nice 4-star with room service, an outdoor pool and a nice garden.
Aston Denpasar Hotel & Convention Center – right next to the convention centre, this hotel is aimed at business travellers.
Genesis Hotel & Spa – a pleasant 4-star hotel that specializes in catering to families of all sizes.
Inna Bali Inn – this business hotel often hosts its own conferences, and it's in a lovely colonial building.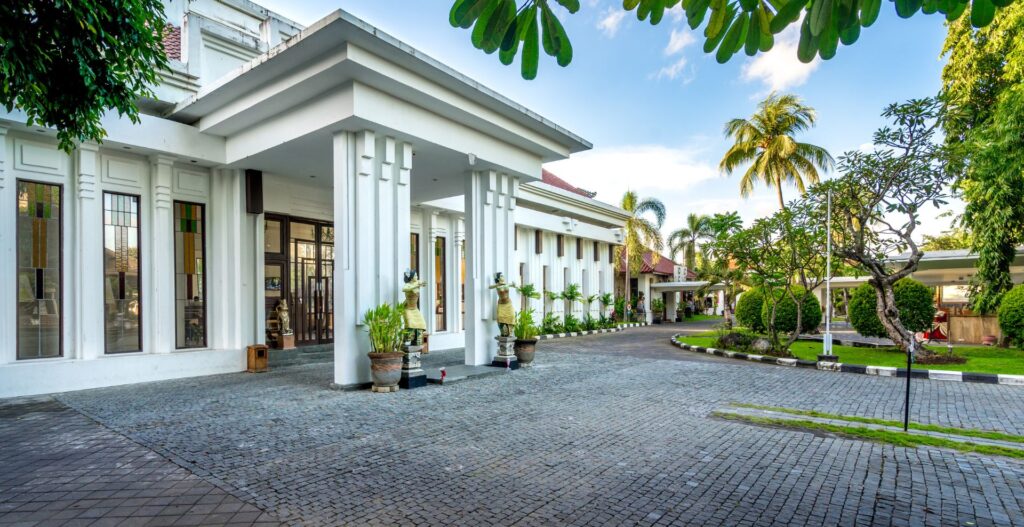 Super OYO Townhouse Oak Series Signature Bali – an elegant and contemporary boutique hotel on the border between Sanur and Denpasar.
As we said above, there aren't many luxury hotels in Denpasar city, and these hotels wouldn't really qualify as "luxury" in places like Nusa Dua, but in Denpasar, they are the best of the best.
The good news is that their price tags reflect this, and you won't have to break the bank to stay in some of the best hotels in Denpasar.
The Mavilla – a little outside the city but very upmarket with free parking and high-quality rooms.

The Cakra Hotel – a stylish and interesting boutique hotel with its own tennis courts and super swimming pools, and each room has a private balcony.

Golden Tulip Essential Denpasar – a business hotel with exceptional meeting facilities and an excellent restaurant and spa onsite.
Where To Eat In Denpasar?
Denpasar is, perhaps, the best place in Bali to explore Balinese cuisine, and you simply can't go wrong when looking for a place to eat in the city.
It's also worth noting that eating in Denpasar is often much cheaper than elsewhere in Bali, and many of the best places to eat are plain and unassuming local warungs.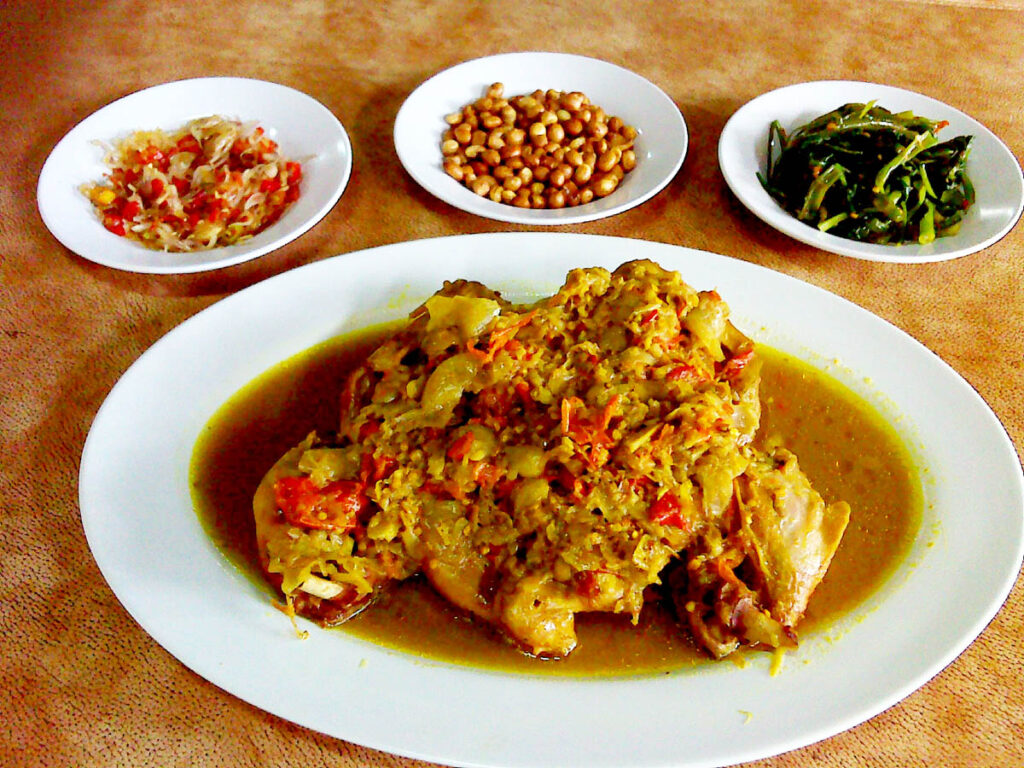 Here are some of our favourite places to eat in Denpasar:
Atoom Bara – not the prettiest place, but they do amazing Chinese seafood here.

Warung Ayam Betutu Bu Ferdi – very low cost and halal Balinese food warung.

Warung De Rujak – the best place to try Tipat Cantok in Denpasar. It's also very cheap.

Kak Man – the smoked duck at this location is out of this world. It's so tasty!

Bali Bakery – one of the best places to buy bread and eat cakes, pastries and bistro lunches.

Cianjur – this is an interesting place with a heavy Sundanese influence on the cuisine. Their Ikan Gurame rocks.

Warung Wardani – this is a mid-range Indonesian place with a very good Nasi Campur.

Hanamasa – tasty Japanese food for reasonable prices.
Where To Shop In Denpasar?
They say that Seminyak is the best place for shopping in Bali, and if you just want beachwear and designer brands, that's probably true.
However, if you want a huge range of goods and services at Southeast Asian rather than international prices?
Then you may find that you prefer to shop in Denpasar, which has the biggest range of choices that you're going to find anywhere in Bali.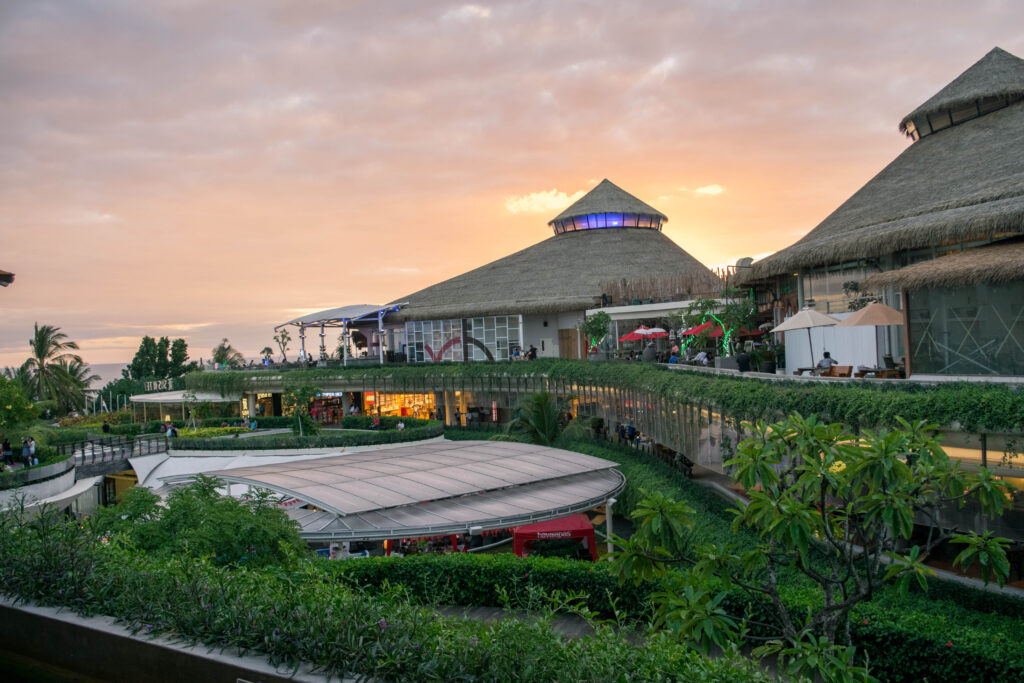 Badung Central Market/Badung Market – the best time to go is in the early morning when the odours of the market aren't too overpowering. Fresh food is on the ground level, dry food and spices are on the second floor, and silks and handicrafts are on the top floor.

Duta Silk – this is probably the best silk store in Denpasar, and it's on Jalan Dewi Sartika.

Gold Shops – Jalan Hasanuddin And Jalan Sulawesi – Denpasar has some of the best places to buy jewellery on the island, and prices are very competitive.

Fabric And Tailoring – Jalan Gajah Mada And Jalan Thamrin, if you have a fabric in mind, you can find it in this area of Denpasar.

Shopping Malls – there are several malls in Denpasar, and they feature huge ranges of both local and international brand stores.
Where To Party In Denpasar?
Downtown Denpasar, Bali, is not exactly the world's best party destination, and it's probably fair to say that if you want to party, you should head to Canggu and FINNS Beach Club or Seminyak, Kuta, Ubud or Legian after your time in Denpasar.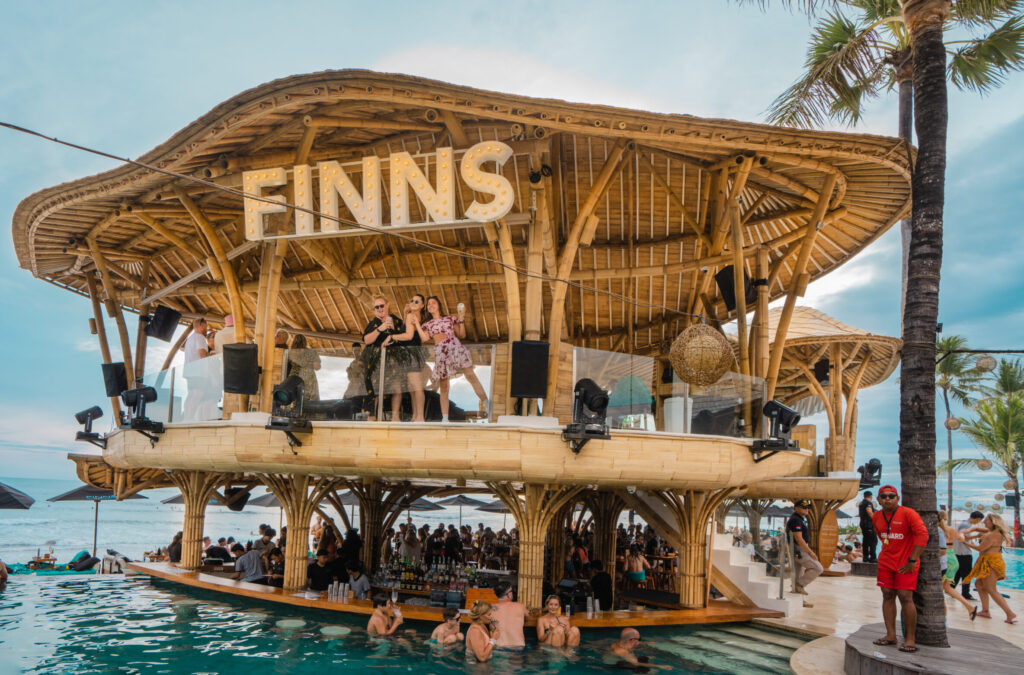 However, there are plenty of places to enjoy a nighttime drink in Denpasar, Bali too, and these include:
Kereneng Night Market – this night market is a great place for some tasty food and a few drinks. It kicks off at about 4 p.m., and hawkers here excel at Balinese food. Try some babi guling roast pork and enjoy a cold Bintang to wash it down with.
Arena Pub & Restaurant – this is a popular restaurant and pub near the border between Denpasar and Sanur. They have live bands on a Friday night, and it's a popular expat haunt. Particularly for the live sports feeds on the big screens.

The Cavern Bar – this is a really strange place. It's meant to be themed on The Cavern Club in Liverpool, and there's some Beatles merch and memorabilia on site. However, it's often not open, and if you want to get in, you need to ask at the condo complex next door, and they will open up the main entrance for you.

De Berry Karaoke Keluarga – if you're in a big group of friends and you want to do karaoke in a bar where the food and drinks are cheap, and the smoke is asthma-inducing, this is where to go.

Stumpys Bar – Stumpys is a small expat-focused bar with some live sports and a pleasant enough interior. There's a decent selection of beers available, too.

The Man Shed – this is out near the border between Denpasar and Sanur too. They've got some cool classic cars and motorbikes here and the occasional live band, too.

Serambi Arts Antida – if you'd enjoy listening to some local music and appreciating some local art. This is a great venue. The onsite cafe offers free Wi-Fi, cold beers and excellent food.

New Star Club – this house-music-focused club can accommodate up to 1,000 people. They have resident DJs and 16 karaoke rooms, too, if you want to make your own entertainment!

WBC Bali – this excellent billiard centre is all about having a good time. There are 12 tables to practice your skills on and a huge plasma TV for watching movies on. They also have karaoke rooms and live music three times a week, and DJs three times a week too.

Sector Bar & Restaurant – this sophisticated bar and restaurant is a big hit with locals and expats alike. It has a very laid-back vibe and live jazz.
Consulates In Denpasar
Denpasar is not the capital of Indonesia. That's Jakarta, and as such, if you need an embassy or a consulate, you may have to travel to the capital of Indonesia to get help.
However, there are some consulates in Denpasar, and the one that is probably the most used is the Australian Consulate. No surprise, given that Australians are, by far, the majority of visitors to Bali.
You can also find these consulates in Denpasar:
Austrian Representative for Consular Affairs

Japanese Consulate

Consulate of Switzerland

United States Consular Agency
We should also probably note that most major government offices, including the Bali governor's office, are in Denpasar, and if you're trying to conduct business in Bali or get a local driving license, etc., it's easiest to do it here.
In addition, the convention centre in Denpasar is where you will find the majority of the island's big business events and conferences being held.
FAQs
Are Bali And Denpasar The Same?
No, not really. Denpasar Airport, or Ngurah Rai International Airport, is the only airport in Bali, which is why there is some confusion over this.
However, Denpasar is the capital city of Bali, and it is one of the biggest hubs on the island, linking people to other cities and tourist spots.
Whether you're coming from elsewhere in Indonesia or arriving from overseas, you are very likely to land at Ngurah Rai unless you're on a cruise ship.
That means you will pass through Denpasar on your way to other parts of the island, and it's a good place to stop either early in your holiday or before you leave Bali.
Is Denpasar Good For Tourists?
We think it is. In fact, we'd say that Denpasar often gets roughly treated by guidebooks, but it's one of the best places to see modern and traditional Bali side-by-side.
It's a shopper's paradise with many of the best bargains to be found in the city's stores, malls and markets.
It also has some of the most interesting Balinese culture and heritage to explore, and if you love a good museum, local restaurants, etc., then you're going to enjoy Denpasar.
The biggest drawback is the traffic, but that's true in all the major cities and towns in Bali, not just in Denpasar.
Why Is Denpasar Famous?
The Balinese capital is best known for its temples and works of cultural significance, such as the Bali Museum.
It also acts as the gateway to the rest of the island, and if you like to rub shoulders with many locals on your holidays, it's the most authentically Balinese city on the island.
Is Denpasar In Bali Worth Visiting?
Yes! Denpasar is very much worth visiting, and whether you want a hotel with a nice swimming pool or to be within walking distance of the Bajra Sandhi Monument, you're going to be glad that you took a break from the rice fields and beaches of Bali to see this city.
It's also great value for money, and you will find that your dollars go further in Denpasar than they do on much of the rest of the island.
We wouldn't recommend that you spend your entire holiday in Denpasar, mind you, the beaches, mountains, rice paddies, etc. are all amazing too. But it's definitely worth visiting.
Is Denpasar A City Or A Town?
Denpasar started life as a Balinese market town, but it's fair to say that it's grown into a city today.
City status is officially defined in Indonesia and it's the "second-level administrative subdivision, which is equivalent to a 'regency'".
The government says that the difference between regencies and cities boils down to rural vs urban.
However, it's fair to say that this whole issue is confusing even for local people as cities have had many different definitions during the breadth of Indonesian history, and people may or may not see Denpasar as a city, depending on their view of events.
Denpasar had its current city status conferred upon it by the government on the 15th of January 1992.
How To Book A Trip To Denpasar?
You can book a trip to Denpasar or any other part of Bali through the lovely people at Bali Res Center.
This is a wholly locally owned, operated and managed travel agency with unique insight into Bali and the surrounding islands.
They can ensure your trip to Denpasar goes smoothly and that you're in a good position to see everything that you want to see.
The Bali Res Center can also ensure you get a competitive quote for your time in Denpasar, their local contacts can bring great value deals.
It's also nicer to use a local business and keep the money you spend in the economy of Bali rather than in the hands of a multi-national online business.
Final Thoughts On Visiting Denpasar On A Visit To Bali Island
As you can see, there's much more to Denpasar than you might have thought, given the snotty coverage of the Denpasar area in many guidebooks.
If you love local food, ancient temples, a great museum like the Bali Museum, cheap prices for hotels and restaurant food, a convenience store on every corner and don't mind city living to get it, then a visit to Denpasar, Bali can be really rewarding.
After your visit to Denpasar, you should check out FINNS Beach Club, which is the best beach club in the world, and a bit of a breath of fresh air after spending time in the city centre.