Pool Parties in Bali – Discover the Best Pool Party Experience at Finns Beach Club!
If you're seeking a phenomenal way to immerse yourself in island vibes, bask in the sun, revel in ]refreshing cocktails, groove to international DJs, witness breathtaking sunsets, and relish an extraordinary outing, we invite you to see us at the World's Best Beach Club – Finns Beach Club, Bali's ultimate pool party destination.
Located on Berawa Beach, offering 170m of oceanfront views and a stunning tropical bamboo structure, Finns Beach Club stands out with its exceptional reputation as the finest pool party venue in Bali. With its impressive array of amenities, including four pools, including two infinity pools overlooking the beach, and a staggering selection of nine bars, including two swim-up pool bars, not to mention an assortment of three fantastic restaurants and seven kitchens, Finns Beach Club sets the stage for an unforgettable pool party experience. The atmosphere is electrified by resident DJs and live vocalists who create a party vibe, complemented perfectly by the world-famous Bali sunsets.
One of the most appealing aspects of Finns Beach Club in Bali is its exclusive inclusivity that caters to all individuals and ensures everyone can have a unique and enjoyable experience. Whether you're seeking quality family time, fun-filled outings with friends, a romantic date for day or night, a corporate team-building event, or an extravagant gathering, Finns Beach Club surpasses expectations, genuinely earning its title as the ultimate pool party venue in Bali, if not the world!
Best Pool Party Bali – Unveiling the Unmatched Experience at Finns Beach Club Deluxe, Finns Beach Party and Finns VIP Beach Club
Now, let's dive into the allure of three phenomenal pool party venues side-by-side, alluringly known as Finns Beach Club Deluxe, Finns Beach Party, and its stylish and exclusive counterpart, Finns VIP Beach Club. These first tho venues share an entrance and parking area at Finns Beach Club, while Finns VIP envelops guests in a more relaxed and privileged ambience, offering exclusive VIP benefits.

Spend an Unforgettable Day at Finns Beach Club
Finns Beach Club welcomes guests throughout the day and night, offering ample opportunities to immerse yourself in beachfront activities, indulge in swimming sessions, savour delectable meals for lunch or dinner, and much more.
To ensure your ideal spot in the sun, we recommend reserving a daybed in advance, choosing from a range of options, including single, deluxe, lagoon, or VIP beds, or going all out with our luxurious deluxe or tropical Deluxe Platform.


For the ultimate group or party experience, don't miss the renowned Finns Beach Party. You can reserve party lagoon beds, super party beds, or even an entire booth for the day. Alongside ocean views, your benefits will include a welcome party cocktail from our renowned beach bar, a delightful party popsicle, a refreshing cocktail bucket and sunscreen, cold face towels, and plush towels to ensure your utmost comfort.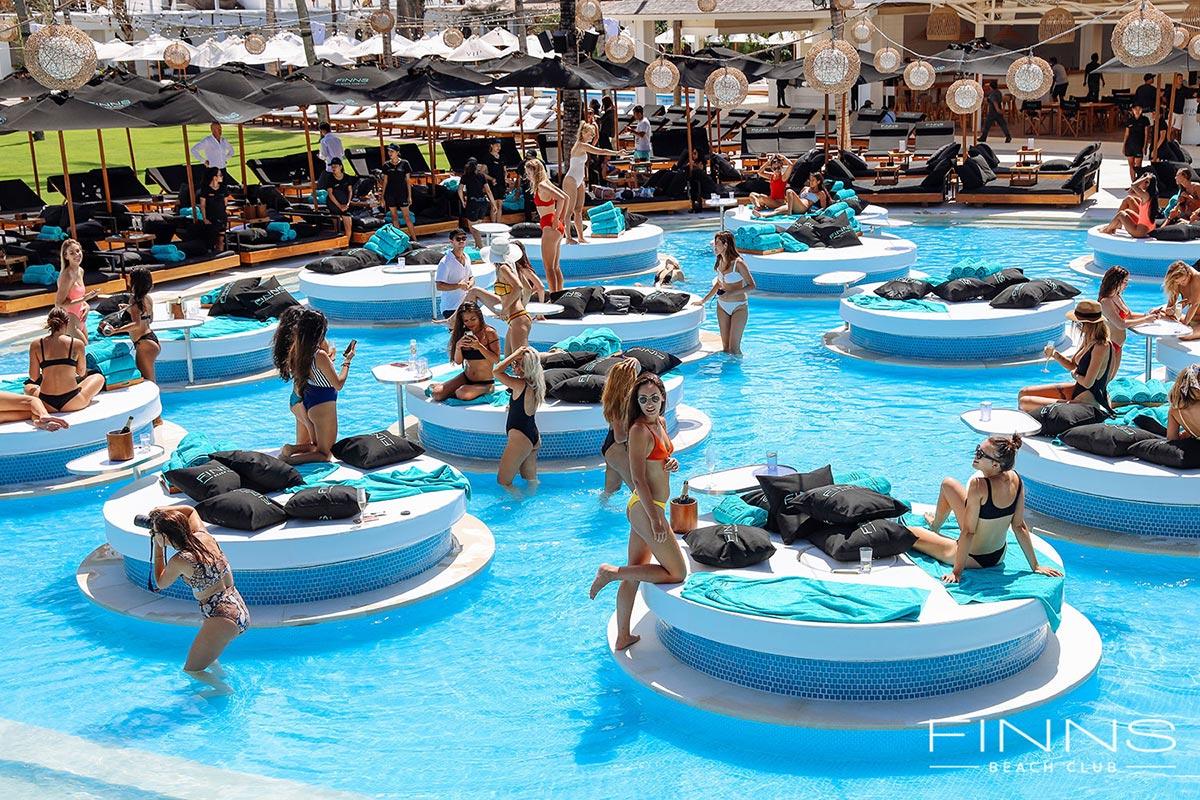 Come for Bali's Breathtaking Sunsets
Among the countless wonders of Bali, few things compare to the enchanting beauty of its sunsets. At Finns Beach Club, we pride ourselves on providing the best seats in the house to behold these magical moments. Our venue's design ensures that everyone, whether soaking in the pool, enjoying cocktails at the sunset bar Bali from their daybeds, or dancing away on the party platforms, can relish uninterrupted and awe-inspiring views of nature's nightly spectacle.

Party On for Finns After Dark
The fun doesn't end at sunset; it's just getting started at Finns After Dark. As dusk settles, the vibrant energy at Finns Beach Club surges, transforming it into Bali's ultimate nightlife hotspot. Happy Hour Canggu begins from 7 to 9 pm, featuring selected 2-for-1 daily drinks. Prepare to let loose and dance the night away with resident DJs and live vocalists, captivating crowds with their top-notch performances until 11 pm. Our talented resident DJs curate an exceptional music selection created in our state-of-the-art in-house studio, guaranteeing an unforgettable, daily pool party Bali experience. With our dance floor surrounded by two inviting pools and vibrant party platforms, you can revel in the night's festivities while enjoying the oceanfront backdrop at Bali's incomparable pool party destination.
Poolside Bars in Bali – Savour the Finest Cocktails at Finns Beach Club
At Finns Beach Club, one thing is certain: thirst will never be an issue, thanks to our array of nine bars conveniently situated throughout the venue, including two enticing swim-up bars within the pools. From freshly squeezed juices and refreshing mocktails to invigorating mimosas and classic bloody marys, our talented bartenders are ready to serve your beverage of choice from the moment we open until late into the night. Remember to take advantage of our happy hour specials, from 7 pm to 9 pm, featuring 2-for-1 prices on our delightful cocktail creations.

Bali's Premier Dining Experience – Explore the three Party Restaurants and 7 Kitchens at Finns Beach Club
Amidst the views and beach club ambience, you're bound to succumb to hunger. Luckily, Finns Beach Club boasts an impressive selection of three extraordinary restaurants with a total of 7 kitchens, each offering an array of mouthwatering culinary delights to satiate your palate and satisfy your appetite. Whether you prefer poolside bites delivered directly to your daybed or wish to explore the venue, these exceptional eateries present a fusion of international and local cuisine, each showcasing a commitment to "simple food, done well" and made using only the freshest and finest quality ingredients.
Bondi – All-Day Dining 
Indulge in a sensational all-day dining experience at Bondi Cafe. The restaurant opens its doors at 10am, enticing guests with a wide range of modern international dishes throughout the day and night. Feast on fresh salads, wood-fired pizzas, succulent burgers, and mouthwatering sandwiches, all crafted using the finest, freshest ingredients.

Sushi Bar Bali – A Haven for Seafood Lovers
Our Sushi Bar Bali
 is an absolute must-visit for connoisseurs of Japanese cuisine. Our expert chefs meticulously select the freshest seafood from around Indonesia, transforming it into tantalising flavours of Japan. From heavenly tempura to exquisite sashimi, choose your favourite rolls and savour an al fresco sushi meal for lunch or a romantic sunset dinner with a delightful selection of wine or sake. Prepare to be captivated as our sushi bar becomes the "catch of the day."

Mumbai Kitchen – Embark on an Authentic Indian Culinary Journey
Experience rich and authentic flavours of India at Mumbai Kitchen located within Finns Beach Club. Our talented chefs prepare artisanal dishes fresh from our tandoor oven, bringing you an explosion of aromatic spices and fragrances to satisfy your curry cravings and transport your taste buds to the heart of India.

Monsoon – the biggest dinner party extravaganza on the island 
It all comes together at Monsoon – Finns' famous party vibes and a whole host of options for dining. We turn the dial for dinner-time entertainment and offer international flavours from six cuisines. It's the perfect way to keep the party going after being at the beach club all day or start your night with us before heading out. 

St Tropez at Finns VIP Beach Club – Unparalleled Tropical Dining
Engulfed in breathtaking ocean views and caressed by tropical breezes, St Tropez at Finns VIP Beach Club offers the quintessential setting for an al fresco meal. Whether you seek a romantic dinner in Bali or wish to impress your friends and colleagues with stunning views and a chic coastal ambience, there's no better place to retreat. Allow yourself to be enchanted by exceptional culinary creations while immersing yourself in a cool coastal atmosphere.
Bali's Premier VIP Pool Party Experience – Discover Finns VIP Beach Club
For those seeking an elevated and refined pool party experience at Finns Beach Club, look no further than Finns VIP Beach Club. Nestled alongside its main counterpart, this five-star tropical paradise blends sophistication, impeccable service, and a glamorous crowd, all set against stunning tropical vistas.

Situated adjacent to the leading beach club, Finns VIP Beach Club offers an exclusive ambience with stylish surroundings and world-class facilities. While the main pool is reserved for adults, it is the epicentre of the Pool Party Bali experience. Indulge in an exclusive menu selection and amenities like free-flowing water, cold face towels, and complimentary coffee and juice until 3 pm. Remember to satisfy your sweet tooth with complimentary gelato from 3 pm to 6 pm. Finns VIP Beach Club also offers exclusive services and events such as the Grazing on the Green gourmet picnics and dining at St Tropez.

Join the Best Pool Party in Bali at Finns Beach Club!
If you're searching for the ultimate pool party experience in Bali, look no further than Finns Beach Club. Our venue is not only the biggest party destination on the island but also caters to all your party needs all year round. From daytime revelry to nighttime excitement, Finns Beach Club offers non-stop entertainment. Take advantage of the most incredible New Year's Eve celebration, featuring world-famous DJs and mind-blowing entertainment. For groups seeking an even more extraordinary experience, VIP packages are available.
Want to secure your spot at our daily pool parties? Book online today to secure your daybed reservations and Ultimate Experience packages, or to purchase tickets and packages for the highly anticipated New Year's Eve event. Prepare yourself for an unforgettable party experience at Finns VIP Beach Club, where the fun never stops.