Bali in December is awesome. Yes, we know you've heard that it's the rainy season, but the truth is that it doesn't rain all day, and the weather conditions are still great for the most part.
In fact, Bali's most popular season is the Xmas to New Year period! That's because there's more than enough perfect weather and sunny days in December to make your stay enjoyable at this time of year.
Here's everything you need to know about the Bali weather in December.
Bali Weather In December: Overview
The numbers for this time of year are pretty awesome, as you'd expect for the weather in Bali.
There are daily average temperatures ranging from 24 degrees Celsius to 33 degrees (that's 75-91 Fahrenheit). That's warm and pleasant all day long, every day.
It rains a total of 280mm (11 inches) in the month, and this is spread over 22 rainy days (with roughly 9 completely dry days in the month).
On average, each day gets 7 hours of sun! Yes, the December weather conditions lead to sunny days, not dull ones.
The only downside is that the average humidity is about 85%, which can make the days feel a bit hotter and more muggy than they would in a dry heat.
A Note On The Rainy Season/Wet Season And December
December falls in the Balinese wet season, which runs from October to March.
Along with January, it's the wettest month of the year, but that's not to say that it's raining all day long.
In fact, on most days, you will only see a couple of hours of rain in the afternoon or evening.
The weather in Bali is pretty pleasant all year round.
The Best Places To See When Visiting Bali In December
We've got some places you might want to visit in December, too – each of which benefits from the rain:
Nusa Dua Beach – Nusa Dua is a wonderful family resort town, and it has the best beaches in the rainy season. The water stays remarkably clear, and you can still do most water sports, too.

Ubud – You can always enjoy Balinese culture and food in Ubud, the spiritual heart of the land. It looks awesome after the rains give its rainforest a bit of a boost.

Sacred Monkey Forest Sanctuary – the monkeys remain friendly all year round.

Rice Terraces/Rice Paddies – the rains bring the rice fields to life, and the best time to visit these beautiful places is in December. You get to learn about the culinary and cultural heritage of rice and farming, too.

Mount Batur – it's cooler, and thus, it's easier to hike up the volcano at this time of year.

Bali Safari and Marine Park – it's one of the best times of year for the animals to come out and play!
Costs In December In Bali
December is a month of extremes when it comes to costs. If you come in the first half of the month, it's cheap.
This is because it's low season and the rains are keeping tourist numbers down.
But in the second half of the month, as preparations for Xmas and New Year go into full swing?
Prices shoot up. That's because it's the busiest time of year in Bali, and every resort and fine dining establishment has a queue of people waiting to get in.
Crowds In December In Bali
As you might expect, crowds in Bali are also a tale of two halves.
The first half of the month is very quiet, possibly the quietest time of year, and there are no real crowds.
In the second half, around Xmas and New Year, it's packed, and crowds are the heaviest you will ever see in Bali.
What To Wear In Bali In December
If you want to optimize your packing for this time of year, try bringing:
Light and breathable clothing – when it's warm and humid, the easier you make it for moisture to evaporate, the better. Standing in the sunshine in cotton or linen is best.

Rain gear – it's going to rain. No ifs or buts. So, you might as well bring some rain clothes, right?

Comfortable walking shoes – thongs are fine for the beaches, but it's good to have a pair of shoes that cover your toes and grip even when it's a bit wet.
What Else To Pack For Bali In December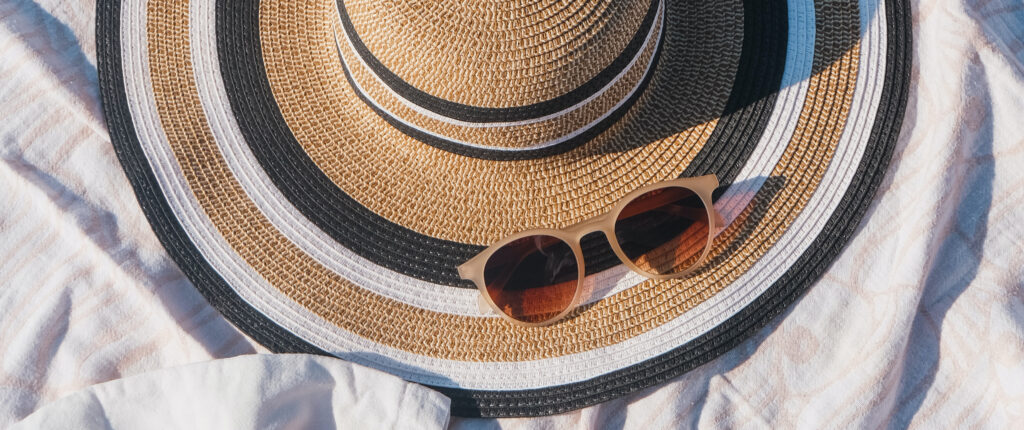 You might also want to bring
Sunscreen, sun hat and sunglasses – yeah, it's going to be sunny, and you don't want to burn. Water-resistant sunscreen is ideal for both the beach and pool, and it will stop the rain from washing it off, too.

Insect repellent – the rainy season is a paradise moment for mosquitoes. Keep them away with DEET.
Tips For A December Holiday In Bali
We've also got some tips to help you enjoy holidays in Bali in December:
Keep an eye on the weather forecast – weather conditions can change dramatically at this time of year. Make sure you have a good idea of what the weather will be like before making a long trip to see something

Carry an umbrella or raincoat all the time – you can't predict every shower

Book in advance – if you want to stay at Xmas, book, at least 2 months in advance, you will get better deals and are more likely to get what you want than if you book last minute

Allow time for longer road journeys – bad weather conditions make for longer traffic jams
FAQS
Is It A Good Time To Go To Bali In December?
Yes. In fact, the Christmas period is the busiest time of year in Bali, and the hotels and resorts are often booked out months in advance.
Sure, it may be the rainy season, but that doesn't mean very much, and people still come to Bali and have a great time of things.
It's worth nothing that when you come to Bali in December, you get quite a lot of extremes, and in the early part of the month, it's as you'd expect in the wet season, with few crowds, and plenty of bargains to be had at the luxury resorts.
But once you head towards Xmas, Bali in December is peak season, and prices go up, and the crowds are everywhere.
Is December Dry Season In Bali?
No. December is part of the wet season or rainy season in Bali. That doesn't mean that it rains all day every day in Bali in December, but it does rain most days.
Occasional rain showers don't make Bali's beautiful beaches any less fun, though, and a Bali trip at this time of year means you often get stunning beaches all to yourself.
Which Month Is Best To Visit Bali?
It really depends on what you want from your holiday. Many people visit Bali in December because it's the easiest time to get time off work or education for a holiday.
The average temperature is pleasant and Balinese culture is geared around the Hindu religion, not the Christian faith and thus, nobody minds working at Xmas.
The rain means that the natural beauty of Bali is often enhanced, and places like the Ubud Monkey Forest look amazing as their lush greenery comes to the fore.
But there are good reasons to visit every month, and each month in Bali offers unique experiences that can't be found in the other months.
What Are The Best And Worst Months To Go To Bali?
There are no best/worst months to spend in Bali. You can always enjoy pleasant weather conditions, Balinese cuisine, the beaches of Nusa Dua, etc., at any time of the year.
Sure, there are specific festivals in certain months, and, for example, if you want to spend time in the marine park with manta rays or Mola Mola fish, you might need to come in a specific month, but overall, the island is awesome all year round.
Does It Rain A Lot In Bali In December?
It rains more often in Bali in December than it does in Bali in July. There is a week or two around the New Year's Eve Parties that it can rain quite a lot more than most months.
However, though you do see heavy rainfall at times, it doesn't put a damper on the vibrant culture or the festive atmosphere of this time of year, and most days aren't made up of endless rain.
How Much Does It Rain In Bali In December?
The average rainfall across the entire month of December is about 11 inches or 280 mm.
However, it only rains on approximately 22 days out of 31. So, there are about 9 entirely dry days in December.
Is Bali Still Hot In December?
Yes. In fact, many would say that even though the average temperature is slightly lower during the rain, the humidity levels are so much higher that it feels very hot in December at times.
You get heavy rain for a period in the afternoon or evening, followed by a period of increasing humidity as the rain evaporates in the Bali heat.
Is Christmas A Good Time To Go To Bali?
Yes! If it weren't, travel agents would despair, but, in fact, it's the busiest period of the year in Bali.
Australians, in particular, love to make use of the holiday time at home to get away for a break.
December may be in the "wettest months" of the year in Bali, but that's not really a big deal, "wettest" just means a few hours of rain each day.
What Is Bali Weather Like At Christmas?
Warm and comfortable with occasional showers. Balinese weather conditions are pretty good at Christmas.
Certainly, you'll get plenty of sunshine and be able to enjoy the perfect weather for outdoor activities for much of the early part of each day.
How To Book A Bali Holiday In December?
We always recommend that you book a Bali holiday through our friends at the Bali Res Centre.
This is a fully local travel business that has all the up-to-date information as to what's going on in Bali and where.
They also get some of the most competitive pricing because they're able to maintain a good relationship with other local businesses.
Book with Bali Res Centre is a no-brainer for a holiday in any of Bali's popular destinations.
Final Thoughts On Bali Weather December
If you want to see Bali crowded, you come during the Xmas period. If you want to visit Bali in December with fewer crowds and get a bargain, you come early in the month.
What's absolutely guaranteed is that no matter what time of year you visit Bali, your time on the island soaking up its natural beauty and sunshine will be fantastic.