Tegenungan Waterfall – A Bali Favourite Day Trip Adventure
Nestled amidst Bali's lush jungles and serene landscapes, the Tegenungan Waterfall is a captivating natural wonder that should not be missed during your visit to the island. With its awe-inspiring beauty and tranquil ambience, this is one of Bali's most popular waterfalls and draws visitors worldwide.

While we appreciate everyone who comes to Bali and enjoys our incredible venues at Finns, we highly recommend that everyone also take the opportunity to explore this beautiful island. There is so much to see, with the natural beauty and rich culture. The greenery of the rice paddies, the magnificent volcanoes, and the wonder of the waterfalls are just the start.
Beautiful beaches and marine life are also on all corners of the shorelines. And awe-inspiring temples are symbols of the vibrant and welcoming hospitality of the Balinese religion.

We wanted to share a guide for our favourite spot – the Tegenungan Waterfall. It's possible to make a day trip here from Canggu, or we also recommend staying a few nights in Ubud and exploring the region and neighbouring sites. For more information and to book a private car and driver for a day trip or your stay in Ubud, talk to our team at Bali Res Centre. We can handle all of the organisation and book for you.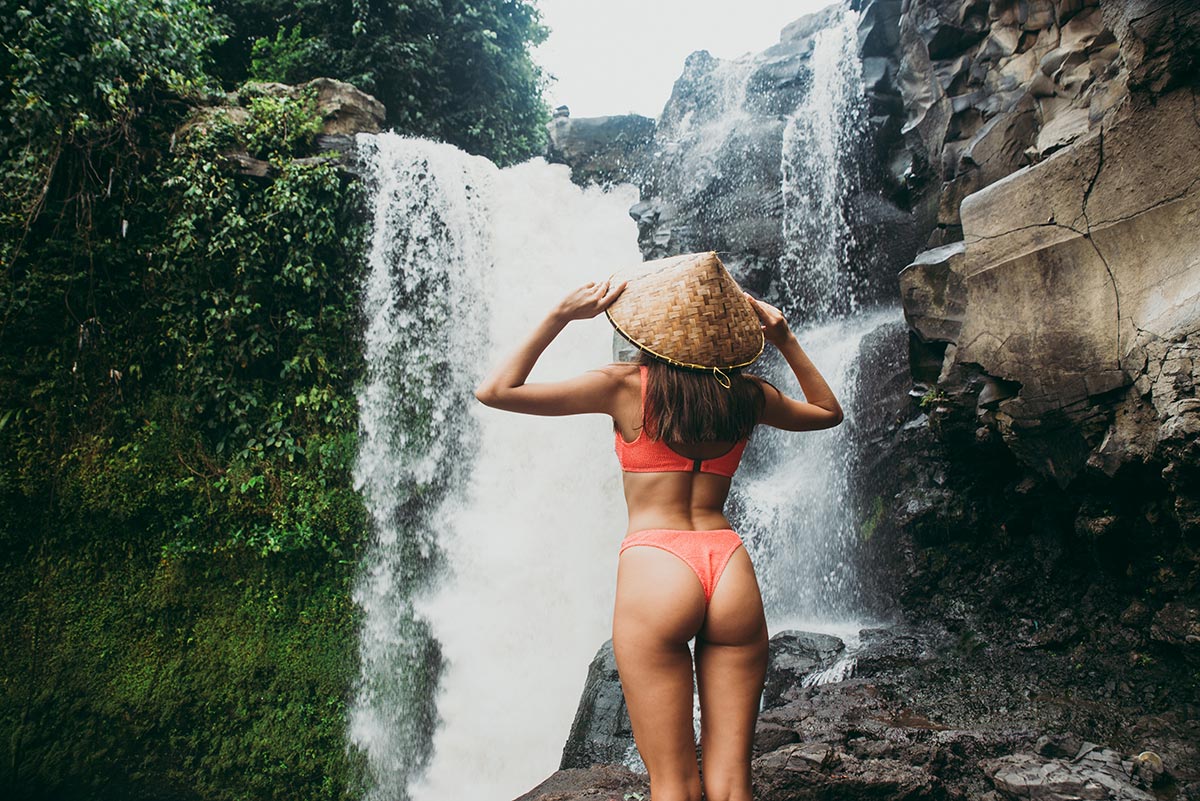 Location of Tegenungan Waterfall:
Tegenungan Waterfall is situated in the village of Kemenuh, just a short drive south of Ubud, one of Bali's cultural epicentres. The waterfall is conveniently located in close proximity to the main tourist areas, making it easily accessible to visitors looking to explore the island's natural beauty.

Getting to Tegenungan Waterfall from Canggu:
If you're starting your journey from Canggu, you have several options to reach Tegenungan Waterfall. The most convenient method is hiring a private driver, which ensures a comfortable and hassle-free experience. The drive from Canggu to Tegenungan Waterfall usually takes around 45 minutes, depending on traffic conditions and the route you choose. Our team at Bali Res Centre can arrange a private car and driver for you.

Alternatively, if you prefer public transportation, you can take a ride-sharing service, such as Grab or GoJek, or hop on a local bus that travels from Canggu to Ubud. Once in Ubud, you can rent a scooter or hire a driver to take you to Tegenungan Waterfall, approximately 12 kilometres away.
Guidelines for visiting Tegenungan Waterfall:

To make the most of your visit to Tegenungan Waterfall, consider the following guidelines:

Opening Hours: The waterfall is typically open from 6:30 AM to 6:30 PM, providing ample time for exploration and relaxation. Crowds do come later in the day, so we recommend going early for a more relaxing visit.

Proper footwear and clothing: Unlike most Bali waterfalls, there isn't a long hike to get to Tegenungan Waterfall. It's just a short walk down about 100 stairs from the parking area. However, we recommend wearing proper footwear since the stairs can be slippery, and the terrain around the waterfall is rocky. Wear comfortable clothing and swimwear, and be sure to bring sunscreen.

Admission Fee: There is a small entrance fee to access Tegenungan Waterfall, which is used for the maintenance and conservation of the area. Typically the entry fee is IDR 15,000, though there may also be a small parking fee.

Respect for Nature: When visiting the waterfall, respecting the environment is essential. Avoid littering and follow any regulations or signs instructing visitors to help preserve the natural surroundings. If you are coming for a picnic, take everything with you and do not leave any trash behind. There are trash cans around the site.

Swimming: One of the highlights of Tegenungan Waterfall is the opportunity to swim in its refreshing pool. However, exercise caution and adhere to safety guidelines, especially during the wet season when the currents may be stronger.

Photography: Capture the mesmerising beauty of Tegenungan Waterfall, but be mindful of your surroundings and other visitors. Remember to respect the privacy of the local community as well.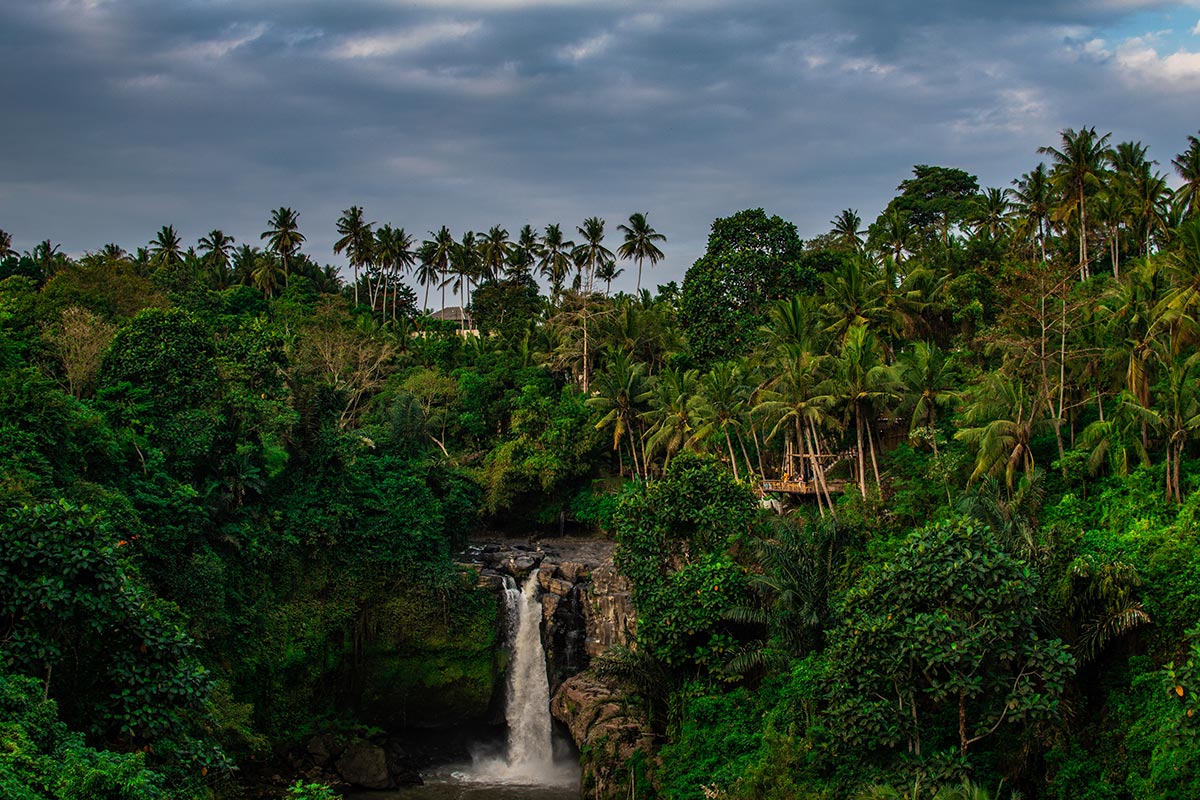 Nearby Attractions and Sights
After immersing yourself in the enchanting ambience of Tegenungan Waterfall, take the opportunity to explore the nearby attractions. This area is rich with culture and things to do, so you could have a whole day or even a few days to explore.

a. Ubud
Immerse yourself in Bali's cultural heart by visiting Ubud. Stroll through the charming streets, browse art galleries, visit sacred temples such as the Ubud Palace, explore the Monkey Forest, and indulge in local cuisine at traditional warungs.

b. Tegalalang Rice Terraces
Just a short distance from the waterfall, the Tegalalang Rice Terraces offer breathtaking views of tiered rice fields. Explore the lush surroundings or take a guided trek to learn about traditional rice farming practices.

c. Goa Gajah (Elephant Cave)
Delve into Bali's history and spirituality by visiting this ancient archaeological site with a mysterious cave entrance and intricate carvings.
d. Kanto Lampo Waterfall
If you're looking to satiate further your fascination with waterfalls, venture to Kanto Lampo Waterfall, located a short drive from Tegenungan Waterfall. This stunning cascade is more of a hidden gem, without the crowds, and well worth the visit.
Visit Tegenungan Waterfall
A trip to Bali is incomplete without exploring its natural wonders, and Tegenungan Waterfall is undoubtedly a must-visit destination. With its proximity, it's an ideal day trip from Canggu, easy access, and mesmerising beauty; it's no wonder why it's one of Bali's most popular waterfalls. Follow the provided guidelines, and you'll be able to appreciate this enchanting place responsibly while creating unforgettable memories. Don't forget to explore the surrounding areas and attractions, as they enhance the overall experience of your Bali adventure. 

And if you are making a day trip, you can always come back to Finns for sunset cocktails and relax after a well-spent day.