Pantai Padang Padang or Pantai Labuan Sait or Padang Padang Beach is the best beach in the Bukit Peninsula, Bali.
It's a proper paradise island beach, and there's nothing quite like descending the cliffside stairs as the striking cove below, shrouded on either side by imposing cliffs and lush, verdant rainforest, comes into sight.
Then, your feet touch the soft, white sand, and you know you've arrived somewhere truly special.
The coral-fringed beach is ideal for swimming as it forms a natural lagoon that even the most inexperienced swimmer can handle.
It's also one of the great surfing experiences in Bali, and experienced surfers love to come to Padang Padang Beach. The surf breaks here are absolutely top-tier, and it takes real skill to master the swells.
If you're not ready to tackle the challenge yet, never fear. You can find plenty of surf schools to help out.
So, let's take a closer look at Padang Padang Beach and learn all you need to know for an amazing visit to this hidden gem.
Where Is Padang Padang Beach?
Padang Padang Beach is on the Bukit Peninsula at the Southern End of Bali. It's normally considered to consist of everything that runs south of Jimbaran Beach.
To find Padang Padang Beach, you will need to head to Jalan Labuan Sait, Pecatu Village, South Kuta District, Badung Regency, Bali.
There is a very large parking area at the site. Once you arrive there, you must climb down a set of well-maintained cliffside stairs to the beach proper.
How To Get To Padang Padang Beach
If you're in Uluwatu, you can easily get a Grab or Gojek to this spot. Otherwise, it's best to hire a private car and driver (use the Bali Res Center, their contact details are in the FAQs) to get here.
You can always rent a scooter to get wherever you want on the island, but we don't recommend it. You must be road legal (International Driver's Permit and current license with a motorcycle endorsement) to be insured, and the roads are dangerous, even for experienced drivers.
How Much Is It To Get Onto Padang Padang Beach?
There is a small entrance fee at Padang Padang Beach. You must pay 10,00 IDR per person (and there is no discount for children, and they only accept cash in IDR) as an entrance fee.
If you want to use the car park, the parking fee is an extra 5,000 IDR.
It helps to have exact changes or small bills here as the entrance gate at this small beach is not always blessed with large numbers of visitors paying the entrance fee and creating change for other visitors.
Once you've paid, you can climb down the narrow staircase and make your way through the cave and onto the beach.
When Is The Best Time To Visit Padang Padang Beach?
There is no "best time" to visit Padang Padang Beach in terms of the time of year. While the dry season will be a little cooler (thanks to onshore breezes), it doesn't rain all day in the wet season, and you can expect around 9 hours of sunshine a day.
We'd also note that if you want the biggest challenge as a surfer, the waves are bigger and stronger in the wet season. But be warned, they're pretty big and strong even when it's dry.
It's worth noting that Bali's dry season is its peak season, and you may have to pay a premium for flights and accommodation at this time.
However, you do want to visit this beach at low tide as the tide is going out and then leave before high tide. This is because the unique hollow rock entrance of the cave here can be hard to access when the water levels are high.
You will need to check the tides online as they vary depending on the day, and we can't say "go during mid-morning" as some days will be high tide.
What To Expect At Padang Padang Beach
Padang Padang Beach is a pleasant and relatively local affair. The first thing you will notice is the row of nearby vendors selling the usual colourful sarongs, t-shirts, hats, board shorts, etc.
The good news is that most of what they sell is made locally, and it's not just imported Chinese goods, which is fairly common throughout Southeast Asia, sadly.
There are lifeguards on this beach, and they will be on hand to ensure that you act in a safe manner.
You need to obey any instructions from the lifeguards, they really do have your safety in mind, and they're not being difficult.
The limestone cliff face is worth admiring here too. It looks amazing, particularly in the golden hour.
International Surfing Events – Rip Curl Cup Padang Padang
This beach is a very big deal with the international surfing community, and it regularly hosts big international surfing events.
If you're lucky enough to arrive on one of these days, you may not find much room for sunbathing, but you can watch some of the world's best surfers work their magic on the waves coming off the break here.
The biggest regular event is the Rip Curl Cup Padang Padang, and it's an amazing time. Grab a cold Bintang and enjoy the show.
What To Do At Padang Padang Beach
This isn't an overly commercial or highly developed beach, but there are still things to enjoy here, including:
Surfboard Rentals
Those lifeguards that we mentioned earlier have a small beach shack, and from there, they rent out surfboards to keen surfers.
You can expect to pay about 150,000 IDR for a 2-hour rental.
That's more than enough time to go out and master that incredible surf break if you're skilled enough to do so.
Surf Schools
If you're not quite that skilled, well, there are no formal surf schools at this beach.
But that doesn't mean that you can't get lessons here, and it's a good place for beginners to develop their skills.
Talk to the lifeguards, and they will find you an experienced local surfer who will be only too happy to share their knowledge with you in exchange for some folding green. (IDR only, mind you).
If you need to hire a board, the lifeguards will help with that, too.
If you do go surfing, make sure to secure any loose belongings that you have on the beach – you don't want them to go missing while you're out on the ocean.
Instagram Shots (Natural Rock Formations & Secluded Beaches)
It's not the most spectacular beach in Bali, but Padang Padang Beach is a great place for grabbing some lovely Instagram shots.
You can obviously capture the surfers doing their thing out on the waves, but if you walk down the beach, you will see this beach features some lovely rock formations, and there is even access to some secluded mini-beaches.
And if you don't want to take photos, you can always take a book and chill out away from the busier parts of the beach.
Sunbathing
One reason that Bali's beaches are so popular is that they offer great sunbathing weather with blazing sun and often a pleasant breeze to go with it.
However, while we don't begrudge anyone a tan, we would urge you to use sunscreen because sunburn is just no fun. You might also appreciate a sunhat and sunglasses to help avoid heat stroke too.
Swimming
This is a good beach for swimming too. While the breaks do provide some amazing waves for surfers, closer to shore, the waves are quite delicate, and it's a nice place to swim for families.
What To Do Near Padang Padang Beach
There are plenty of other awesome attractions around the beach, and you're a short drive from all of these interesting places in Bali:
Uluwatu Temple
Uluwatu Temple, on Jalan Raya Uluwatu, is the best reason to visit this part of Bali. It's one of the six holiest temple sites in the nation and one of the most visually impressive places on the island, too.
It stands high above the Indian Ocean on cliffs, which offer dramatic views of the waves crashing against the rocks below, and it gets even better during the sunset when the light renders everything in magical shades.
There are monkeys living at this temple, and if you can't get out to Ubud's Monkey Forest, this is a great place to meet the local wildlife.
In addition, it's the best place in Bali to enjoy a kecak fire dance performance. This traditional Balinese dance is very much enhanced by the dramatic location on the cliffs.
Uluwatu Beach (Suluban Beach)
You climb downstairs at this beach, too and through another limestone cave, which is one of the most unique rock caves in Bali, to reach this beach.
There's a minor boat wreck on the beach you can take photographs of.
But the real reason to come here is to either watch the pro surfers tackle the world-famous surf break or, if you're a good enough surfer, tackle it yourself.
Just be aware that you should head down to this beach as the tide is going out so that you can get back through the cave before it comes back in again.
Garuda Wisnu Kencana Cultural Park (GWK)
GWK Cultural Park is an awesome place to visit in Bali, and it is home to the largest statue in Indonesia, a magnificent Garuda that towers above the landscape.
You can also enjoy some pleasant local food, such as a local nasi goreng dish, at the many food stalls there.
The park has some excellent traditional dance exhibits and sometimes other cultural displays to enjoy.
Balangan Beach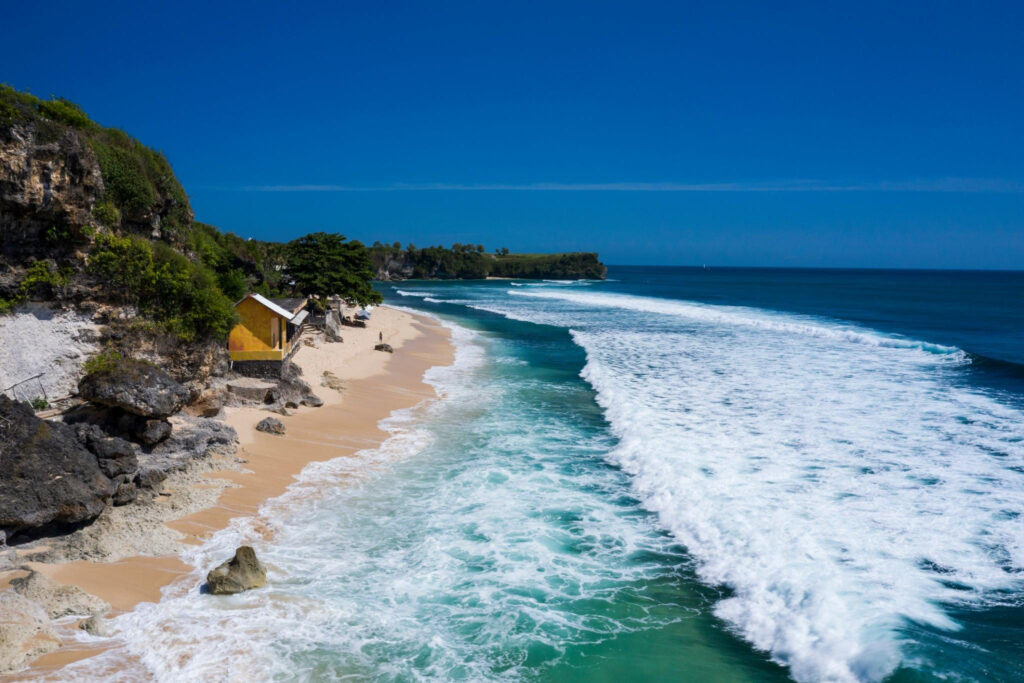 This beautiful white sand beach runs for about 200 meters and offers some amazing views out onto the Indian Ocean.
Sunsets here can be truly spectacular, and if you're looking for a very romantic setting, then you can't go wrong here.
This is another beach for experienced and/or pro surfers only, though, as the wave is huge coming in from the break.
Jimbaran Beach
This is the most popular beach in Bali for seafood. The fresh seafood here comes right off of the boat and straight into the local restaurants and resorts.
You can enjoy an amazing BBQ in the early evening with the most amazing picks of the catch of the day.
It's also home to some lovely secluded areas that are going to offer the chance for some peace and relaxation far from the tourist buses and the crowds that they can bring.
Bingin Beach
You can swim on this beach as long as you stick to the left-hand side of things.
It's important to take shoes into the water, though, as there are some sharp rock formations below the waves.
It's a very simple place, and there are no sun beds at all. Surfers should know that this is for advanced surfers or professionals only. The break is hardcore.
Dreamland Beach
Dreamland Beach would be our idea of heaven if it wasn't so overdeveloped and the volumes of rubbish that end up washed up into the sands.
It's not a good beach for swimming, either, the waves get quite vicious near the shoreline and then dump down heavily onto the beach.
However, it's a great beach to learn to surf on. The break is much more gentle than the waves near the beach.
Where To Stay Near Padang Padang Beach
If you want luxurious villas or an amazing infinity pool, then you're going to be in luck, as Uluwatu has some of the most high-end resorts in Bali, and they're all within a short distance of the beach. They all have much more than modern amenities and free Wi-Fi to offer. The best include:
Jumeirah Bali – the aim here was to create the feel of an ancient royal city by the sea, and every villa has a private pool and a walled garden. The architecture is inspired by the Majapahit Empire of Java. This is a truly refined and luxurious resort that is often voted the best in Uluwatu.

Anantara Uluwatu Bali Resort – this high-end resort offers an amazing view from the cliff it is perched upon. There are 72 suites and villas to choose from, with an emphasis on Balinese art throughout. There's a minimalist touch to the architecture, which makes it a very striking resort to look at.

Cross Bali Breakers – this lovely secluded resort is only a 5-minute bike trip from the nearest beach, and you will have your own private plunge pool with their villas. They all offer a private lounge deck, too, and their Hang Loose Bar is an excellent place to sink a few Bintangs as you unwind from a day of sightseeing.

Origin Uluwatu – this is an awesome glamping destination that contains just 14 ridiculously luxurious tents. It is the first such resort in the Bukit Peninsula. Their onsite Ember Restaurant & Charcoal Bar offers amazing food, and the Origin Spa is a great option for pampering.

Radisson Blu Resort, Bali Uluwatu – this is the most popular hotel for attendees of the Rip Curl Cup at Padang Padang Beach, and it offers wonderful views out over the ocean and of the local farmlands, too. The pool is excellent and the perfect way to escape the heat of the Balinese day. However, the stand-out offering at this resort is the quality of the service, which is fantastic.
Where To Eat Near Padang Padang Beach
If you want somewhere near this small beach where you can get soft drinks and order fresh seafood, you won't have to travel very far. There are some great restaurants in this part of the Uluwatu Region, including:
Bebek Puri Bukitsari Resto – this simple place serves a mix of Indonesian, Indian and Asian foods and some lovely cold beers. It's very good value for money.

Delmora Warung – if you're in the mood for a tasty seafood BBQ in the local style, you can't go wrong here. The food is extraordinarily good for such a humble place.

Maria's Cafe – if you want some international favourites or some local classics, Maria's is ready to serve you. They have some lovely views out onto the ocean here, too.

Crazy Bule Bistro – this place specializes in Mediterranean comfort food, and the portions are generous and very Instagram-worthy.
FAQs
Is Padang Padang Beach Worth Visiting?
It all depends on what you're looking for from a beach. You go to Padang Padang Beach for world-class surf, beach activities, and occasional friendship bracelets from other surfers and local vendors.
They offer surfboard rentals that are very competitive compared to other beaches, too.
However, if you want a beach with a ton of other people, then you might prefer somewhere like Kuta Beach, which is the busiest beach in Bali. It's surrounded by neon lights, and on Saturday nights, it's party central.
If you're looking for the ultimate Instagram moment, you might opt for Melasti Beach. If you want a secret beach, you could choose Pandawa Beach, and so on…
What Is Padang Padang Beach Famous For?
Padang Padang Beach is one of the most famous surf spots in Bali. Beach access isn't always easy, given that it's a fairly steep walk down the cliff to get to Padang Padang Beach, but it's an awesome place for beginner surfers, intermediate surfers and advanced board users alike.
At low tide, you can enjoy exploring the area around the base of the cliffs, too.
Is Padang Padang Beach Easy To Access?
Yes, but no. There is a fairly steep staircase down to this beach. It's easy enough to tackle if you are a relatively fit adult with no mobility impairments.
However, the beach is not accessible to wheelchair users, and small children or elderly people might struggle to get down the stairs.
You will have to use your own judgment as to whether you think it's worth trying to get to this famous surf spot in South Bali or not.
How To Book A Trip To Padang Padang Beach?
If you want to visit the Bukit Peninsula or stay near Padang Padang Beach, we recommend that you contact our friends over at the Bali Res Centre.
That's a locally owned and operated travel agency that can use its local knowledge to get you the most competitive prices and ensure you avoid the potential perils of booking next to a brand-new building site in Bali.
We always recommend the Bali Res Centre because we believe that being in touch with the lay of the land in Bali is always a good thing and because it's better to support a local business than a faceless international one.
Final Thoughts On Padang Padang Beach
If you love amazing surf breaks or just want to get off the beaten track for a bit, Padang Padang Beach is an ideal location for you.
It offers world-class waves and reef breaks, and tidal swimming pools, and it's an exotic setting for a great day on the beach.
Once you lay eyes on the verdant cliffs and the gorgeous sight of one of the best beaches in Bali, you will know why it's one of the most popular attractions in Uluwatu.
If you're going to spend any time at all in the Bukit Peninsula, you've got to visit Padang Padang Beach, and it's what Bali's all about – paradise on Earth.