International Schools Bali: The Child-Friendly Guide To The Island's Schools
It should come as no surprise that an island with as many expats as Bali has some excellent schools to cater for their kids.
There are over 20 international schools in Bali, finding the right one can be challenging.
Fortunately, you've got our guide to help you narrow the options as you seek the perfect school for your youngsters.
The 12 Best International Schools In Bali
We have yet to and can't test all of the international schools in Bali ourselves. However, we have spoken to parents and educators on the island to try and get a feel for the best schools.
We hope that this piece will serve as a starting point for finding the right school for your child.
But you must visit the schools that appeal to your family and ensure they are the right fit for your little ones.
Bali Island School (Sometimes known as an IB World School)
Bali International School or Bali Island School, has been on the island, providing world-class educational programs with an international curriculum for over 30 years.
A place at this school is considered highly desirable not just by expats but also by the local community and competition to get in is quite fierce.
It's the only place in Bali where your child can study the three full International Baccalaureate (IB) programs. It's an IB world school.
This independent school also comes recommended by the Council of International Schools and the Western Association with Schools!
The fees are not as extravagant as you might think, either. Bali Island School provides a world-class education with great value for money. International schools in Bali are similar to this.
Ages Accepted: 3-19
Where Is It? Jl. Danau Buyan IV No.15, Sanur Kaja, Denpasar Selatan, Kota Denpasar, Bali 80227, Indonesia
Online: Bali International School 
Canggu Community School
Canggu Community School (usually known as CCS) will allow you to introduce newborns to their learning environment on their First Steps program!
This private international school then provides education through to the age of 19!
They work based mainly on the British National Curriculum but also add elements from the Indonesian National Curriculum.
They have one of the best after-school activities set-ups on the island. And it's not just sporting fun that goes on. They also offer sciences, learning support and more!
And it's next door to Finns Rec Club!
Ages Accepted: Birth – 19
Where Is It? Jl. Subak Sari, Tibubeneng, Kec. Kuta Utara, Kabupaten Badung, Bali 80361, Indonesia
Online: CCS Bali 
Australian Independent School
As you might expect, this independent school delivers a world-class education that is based on the Australian curriculum.
Australian Independent School has fantastic sports facilities on the campus, which are the envy of many other schools in Bali.
After completing Year 10 of the Australian curriculum, senior students migrate to either an IB program or a senior certificate.
AIS has a good reputation for instilling the basics into its students and they see a lot of great scores in literacy and numeracy in tests.
Ages Accepted: Preschool – Year 12
Where Is It? Jalan Imam Bonjol No.458a, Pemecutan, Denpasar Barat, Pemecutan Klod, Kec. Denpasar Bar., Kota Denpasar, Bali 80119, Indonesia
Online: AIS-Indonesia 
Sanur Independent School
This school is all about instilling a desire to participate in lifelong learning and providing the life skills to ensure their students can tackle any problem.
They use an interesting blend of the Cambridge International Curriculum, the Australian Curriculum and the Indonesian National Curriculum to deliver their learning programs.
They have a particularly good reputation for the arts, music and physical education.
Ages Accepted: Early Years – Lower Secondary School Level
Where Is It? Jl. Tukad Nyali No.35A-B, Sanur Kaja, Denpasar Selatan, Kota Denpasar, Bali 80266, Indonesia
Online: Sisbali 
Taman Rama Intercultural School
This private school uses the National Plus curriculum and has a wonderful mix of local and expat kids attending.
They draw a lot of inspiration from the former Indian leader Mahatma Gandhi and teach their students the importance of both respect and non-violence.
Their early years of teaching are all in English, but as the children progress through their schooling, they will eventually be taught in Bahasa.
If you're looking for a moral education for your kids, this might be the place to go.
Ages Accepted: 3 – Year 12
Where Is It? Cokroaminoto St No.382a, Ubung Kaja, Denpasar Utara, Denpasar City, Bali 80116, Indonesia
Online: Taman Rama International School
Sunrise School Bali
This charming school looks to create more than academic success for its young charges.
They say that they want their children to finish school with confidence, compassion and the urge to build and create community.
The campus is a beautiful place with plenty of greenery to help the children better understand the sustainability elements of their learning programs.
Sunrise seeks to be one of the more progressive schools in Bali, but it always keeps its academic standards from slipping.
Ages Accepted: 18 months – 14
Where Is It? Jalan Merthasari Banjar Pengubengan Kauh, Kerobokan, Kerobokan Kelod, Kuta Utara, Badung Regency, Bali 80361, Indonesia
Online: Sunrise School Bali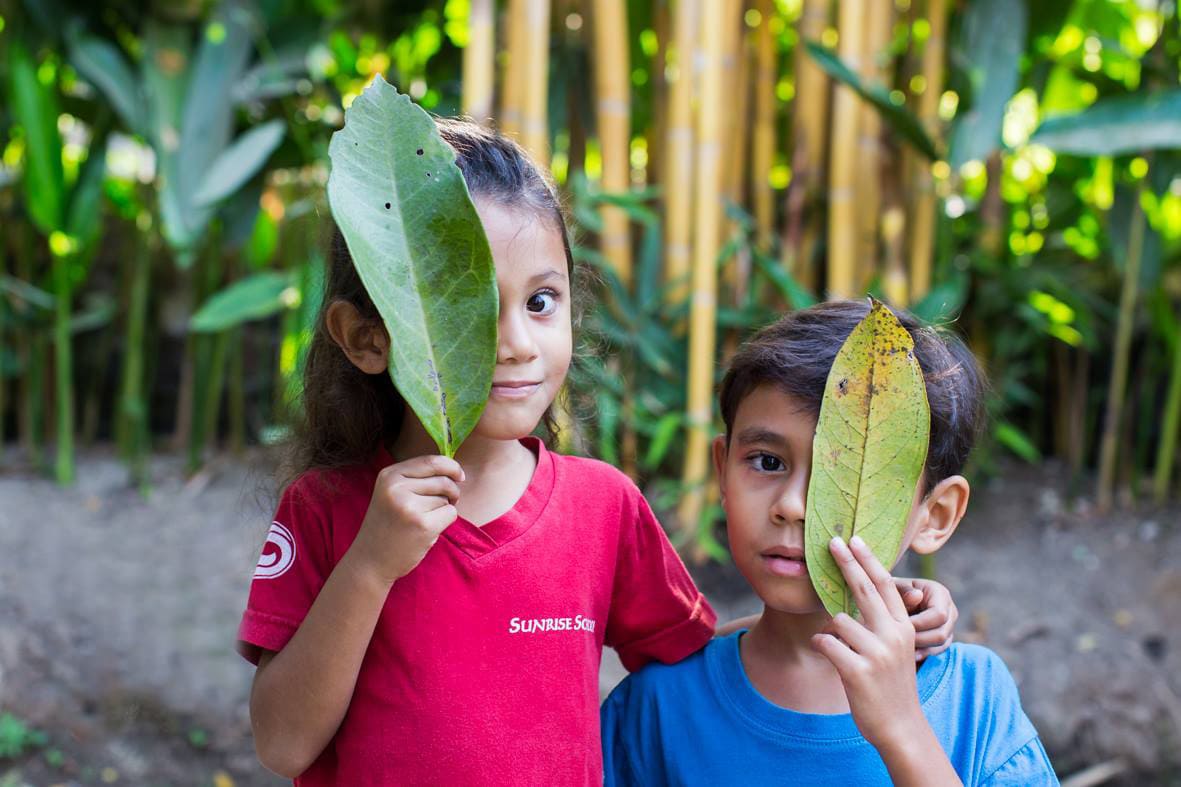 Pelangi School Bali
One thing you notice when you step through Pelangi Schoo Bali's gates is how happy the children there are.
There is a real emphasis on making learning fun and enjoyable and delivering test results.
They use the Indonesian National and International Primary Curriculum to get the most out of their students for a holistic academic life.
There is a lot of play-based curriculum at this school, as well as dancing, yoga, music and outdoor stuff that meets children's physical and educational needs. This is experiential learning at its best.
They blend these activities with reading and arithmetic to ensure that the kids always learn and enjoy it and their natural environment.
The expat and local community say that this is a very well-regarded school.
Ages Accepted: 2 – 12
Where Is It? F778+7QV, MAS, Ubud, Gianyar Regency, Bali 80571, Indonesia
Online: Pelangi School Bali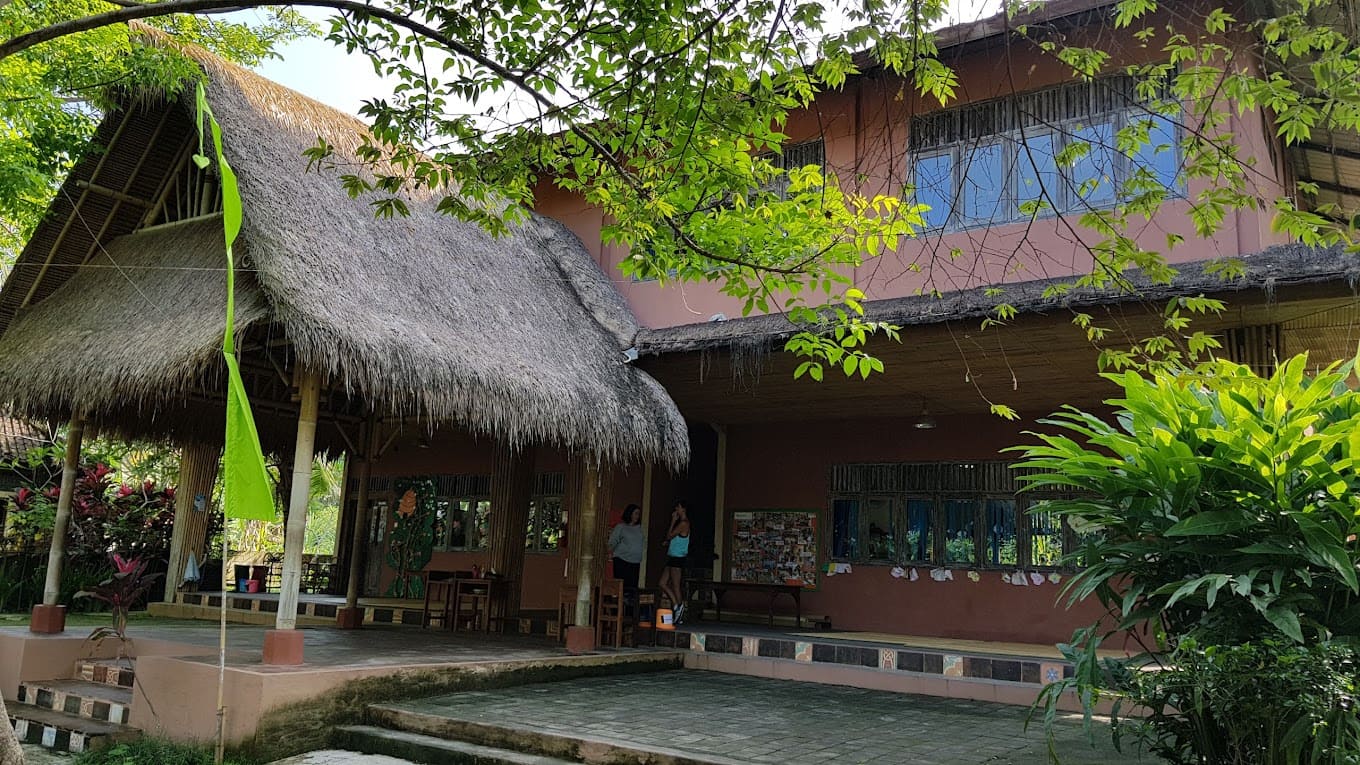 Dyatmika School
Dyatmika School, Bali, is the biggest school on the island and one of the most interesting bilingual options.
They have been fully accredited by the University of Cambridge International Examinations Board to deliver Cambridge qualifications and the Cambridge International Curriculum.
Those qualifications are highly regarded worldwide and offer any child an excellent start in life.
They can also provide Indonesian children with a tailored curriculum that lets them sit the Indonesian exams in years 6, 9 & 12.
If a child chooses to take on both sets of exams and curriculums, they are also given a Double Award when they graduate. This is very prestigious locally.
Dyatmika is one of the best international schools in Bali.
Ages Accepted: Primary Prep – Year 12
Where Is It? 87X8+QG3, Banjar Tangtu, Jl. Pucuk Bang, Kesiman Kertalangu, Kec. Denpasar Tim., Kota Denpasar, Bali 80237, Indonesia
Online: Dyatmika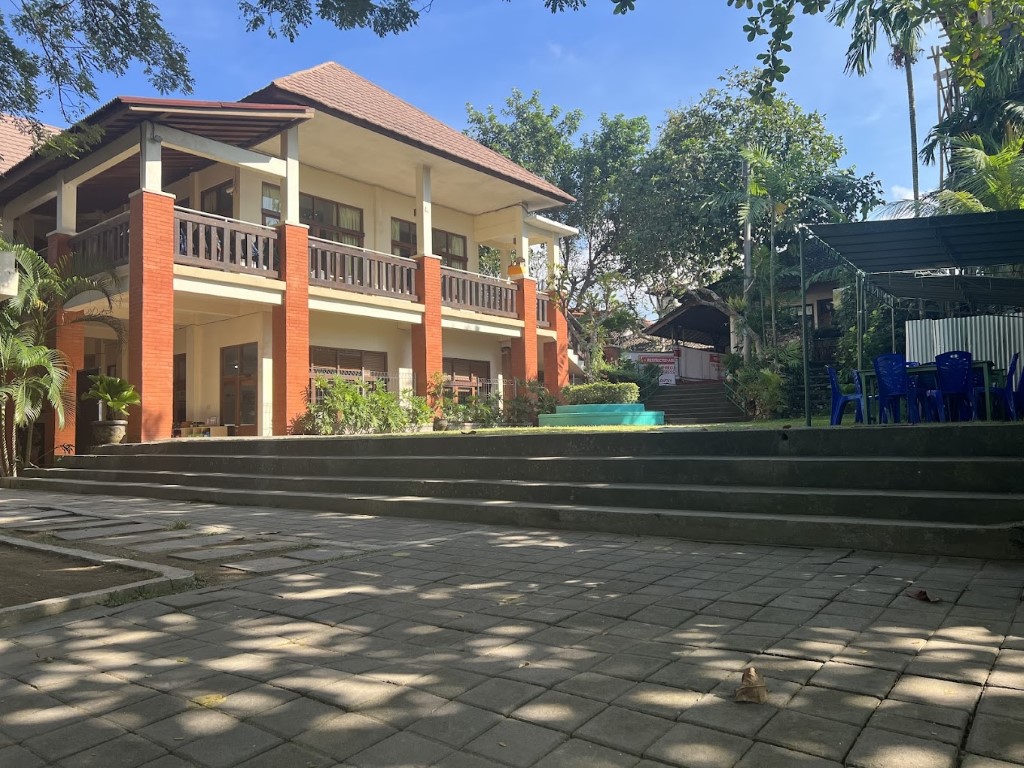 Montessori School Bali
Montessori School Bali, like all Montessori schools worldwide, uses the teachings of Maria Montessori to help guide children's development.
Children learn through self-directed activities, which include lots of play and practical work.
Their teachers then offer them age-appropriate activities to help engage the children in learning.
Some parents dismiss this approach as "woo woo" but many find it to be charming and admit that they'd have liked more freedom to decide how they learned as children.
Children who attend Montessori schools tend to be highly independent and curious but may not achieve outstanding academic results.
Ages Accepted: Infant – 12
Where Is It? Jl. Raya Semat No.66, Tibubeneng, Kec. Kuta Utara, Kabupaten Badung, Bali 80361, Indonesia
Online: Montessori Bali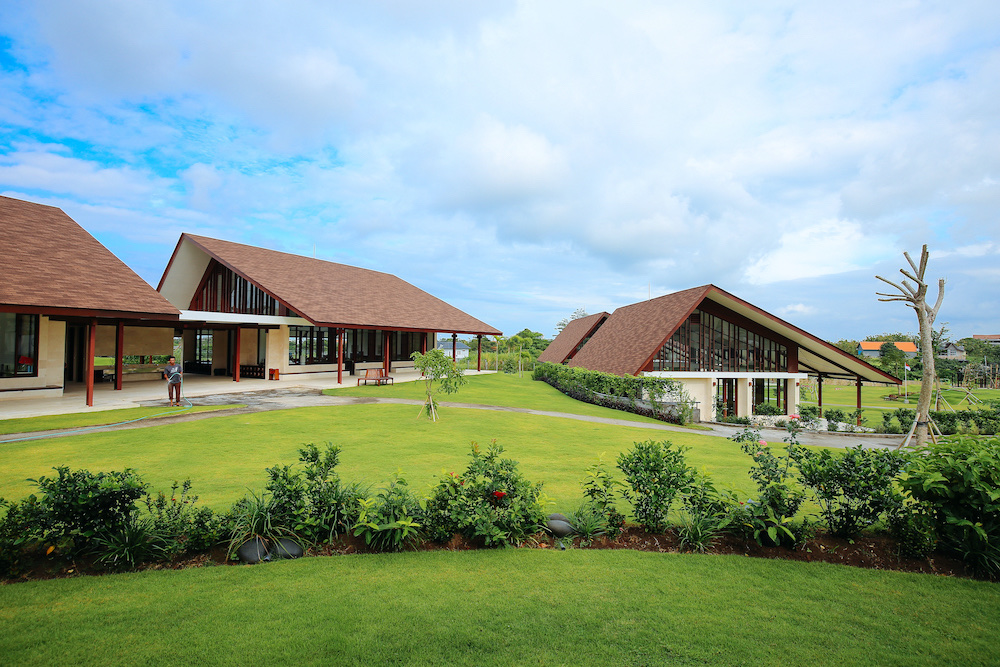 Wood School Bali
If you'd ever considered giving your child a neohumanist education, they can get one at Wood School Bali. What does that mean?
Well, a neohumanist education focuses on confidence and compassion rather than test scores and memorization.
Its proponents say that it helps children become more interested in learning and forges strong bonds between the child and the educator.
They emphasize holistic development, empathy, understanding, and joy, as well as helping children to develop a more ethical understanding of the world around them.
This style of education is becoming more and more popular around the world. But you should be aware that if your child is over 7, they must be able to speak English to gain admittance to this school.
Ages Accepted: 3 – High School
Where Is It? Pejeng, Tampaksiring, Gianyar Regency, Bali 80552, Indonesia
Online: Wood School Bali 
Asian Intercultural School Bali
Asian Intercultural School Bali (or AISB) follows the Cambridge curriculum.
There is no religious element to any teaching at this school with an emphasis on respect and secularism, instead.
They have a multicultural student base and it's fair to say that many children learn more than two languages by the time they finish this school.
They get good grades in their academic work too. It's worth noting that this is another school that emphasizes the teaching of Gandhian principles to their students.
One thing we like is how they celebrate student success on their website. It shows how proud they are of their kids at this international school.
Ages Accepted: 5 – Year 12
Where Is It? Perumahan Puri Gading, Jl. Puri Gading No.Raya, Jimbaran, Kec. Kuta Sel., Kabupaten Badung, Bali 80361, Indonesia
Online: AISB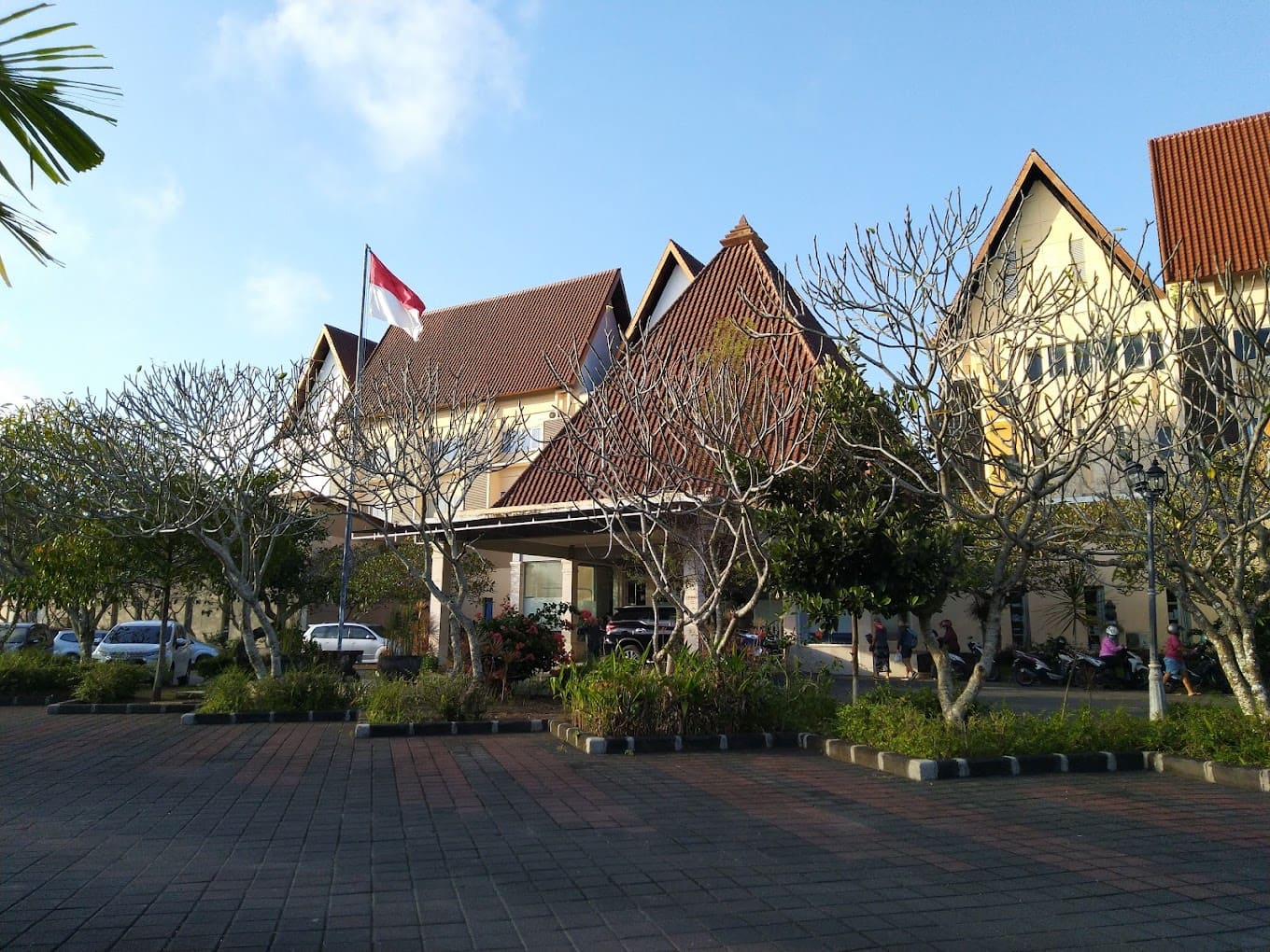 Green School Bali
Green School, Bali, is one of the island's most interesting private international schools.
The buildings are made out of bamboo! This means it's completely eco-friendly and offers an open-air classroom setting that another school cannot match in Bali.
Green School Bali also has its curriculum, which it says was developed to ensure that children could become future leaders in the green economy.
There's a lot of play in the curriculum at this school, particularly in the early years.
Everything here is "hands-on" if possible, and that means kids gain some valuable practical experience as they progress through the curriculum.
If your children love the great outdoors and would prefer to avoid being stuck in a boring classroom all the time, you might find they're in luck at Green School.
Ages Accepted: Pre-Kindergarten – High School Students
Where Is It? Jl. Raya Sibang Kaja, Banjar Saren, Sibang Kaja, Kec. Abiansemal, Kabupaten Badung, Bali 80352, Indonesia
Online: Green School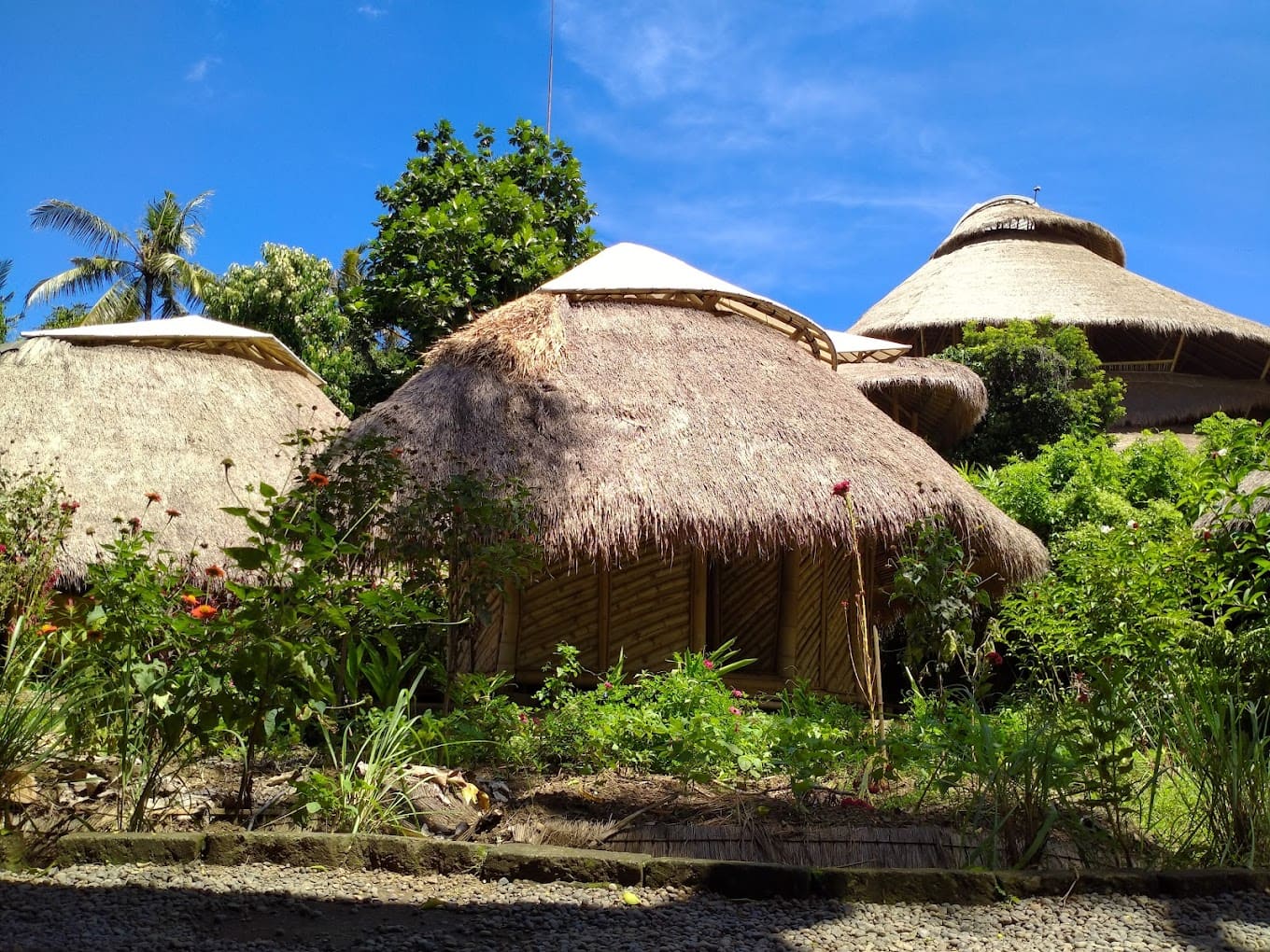 Other International Schools In Bali
There are also these international schools in Bali that you might want to consider in your school search: Skywalker Academy, Gandhi Memorial Intercontinental School, Children of the World School, Spark Bali, Lyucee Francais De Bali, Sekolah Montessori, Singaraja Montessori, Regents School, Sekolah Lantera Kasih, ProEd Global School and Trihita Alam Eco School.
FAQs
Does Bali Have International Schools?
Yes, Bali has over 20 international schools for parents and children to choose from.
Are There English Speaking Schools In Bali?
Yes, English is spoken at almost all of the international schools in Bali. Your child will most probably be in a bilingual school with a second language used to deliver the national Indonesian curriculum.
What Are Schools Like In Bali?
They vary immensely not just based on the fees, location, mix of expat and local students, and the curriculum but also on the individual students. All the schools we recommend offer a safe and caring environment and an international education.
What Is The Largest International School In Indonesia?
It's Jakarta Intercultural School, the largest international school in Bali is Dyatmika School.
Final Thoughts On International Schools In Bali
Bali has a wealth of international schools to choose from and whether you want a Montessori or an International Baccalaureate Diploma Program, you'll find it here.
There are bilingual schools, eco-schools, English-speaking schools and much more and we're positive that your school search in Bali will be fruitful.