Almost as synonymous with Bali as the surf breaks or ceremonies, are spa treatments. The island, and especially the tourist areas and resorts, have endless options for spas. Holiday time and spa treatments go hand-in-hand, as a break from your daily routine to relax, unwind, spoil yourself, and indulge. From traditional Balinese techniques to modern treatments from the world's best technicians, you can find a range of pampering, relaxing, and rejuvenating services to book during your Bali holiday.  At FINNS Recreation Centre, book an afternoon appointment at Body Temple Spa to experience one of Canggu's best spas.
At Body Temple Spa, it's a serene setting for pampering, Balinese massages, rejuvenating facials, energising body treatments, creative nail treatments, deep body scrubs, refreshing hair baths, flawless lashes, and premium spa packages. Whether you're on a Bali holiday, travelling with your loved one, on a family trip, or even if you are in Bali long-term as a resident or Body Temple Spa has everything you need for you to walk in, and float out.
Visit us at our Best Spa Bali. Located at the well-known FINNS Recreation Club Canggu, Body Temple Spa is a heavenly place; with an all-inclusive choice of blissful treatments for adults and kids and wonderful spa packages.  Book your appointment, and give your body the gift it deserves.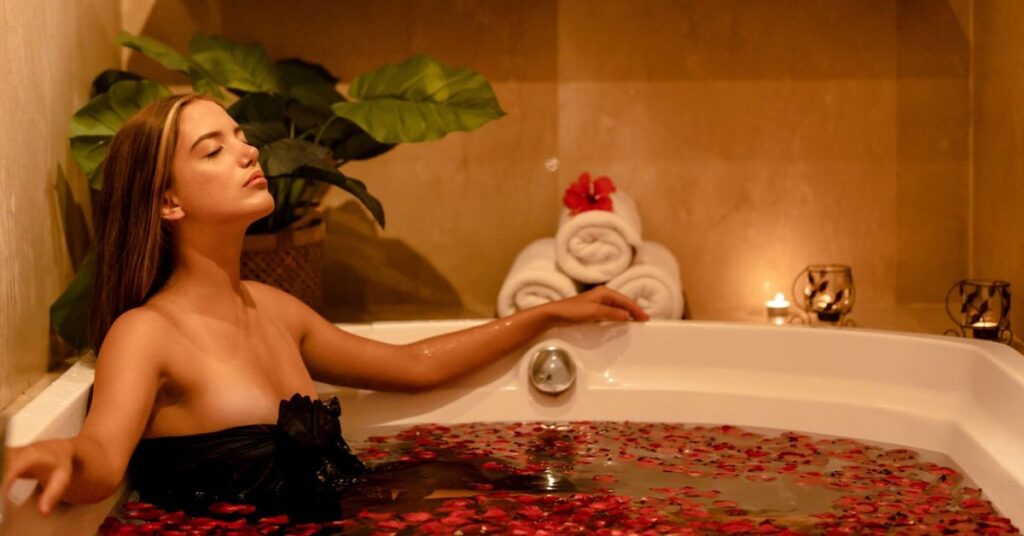 Best Massage Canggu. What is a traditional Balinese massage?
Traditionally, the Balinese massage style has influences from India, China, and Southeast Asia. The massage technique includes acupressure, deep tissue pressure, gentle stretches, head massages, and aromatherapy to create deep relaxation and focus on releasing tension from pressure points. The massage is aimed at boosting your well-being and circulation; decreasing anxiety and stress and finding the necessary balance in your body and mind. 
The Balinese Massage at Body Temple Spa will have you feeling revitalised and refreshed. It's a wonderful welcome to Bali, to ease tensions from long flights and travel, aid in jet lag recovery, or to escape the hustle and bustle of Canggu, for the ultimate relaxation treatment. This massage is designed to stimulate blood flow, release tension, decrease stress and calm your body and mind. Using the traditional Balinese massage techniques, the therapist will use long strokes along the muscles, gentle stretch through your joints and limbs, and kneading to relieve tension and stress.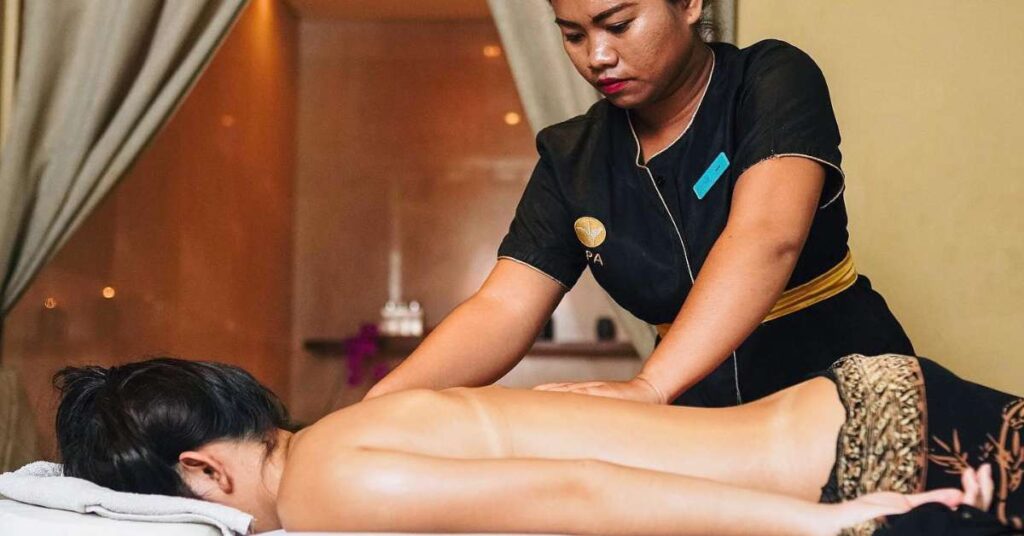 Best day spa Canggu selection of massages
Body Temple Spa has a selection of massages to suit your mood, release tension and stress, restore energy and blood flow, and focus on calming the mind. Each massage is tailored towards your individual needs for a premium experience.
Bali's Best Sports Massage. It should be no surprise that being located within FINNS Recreation Club,  Bali's premium fitness facility, our spa would have the best sports massage available. This is our most popular massage, and it is a regular treatment for workout recovery.  During this massage, our therapists apply deeper pressure and use stretching, thumb kneading, and Lomi Lomi methods to relieve muscle and joint aches and stiffness. Our sports massage can also help to alleviate chronic aches and pains in areas that are often affected by exertion or exercise, such as the neck, upper back, and legs.
Soothing Warm Stone Massage. With warm basalt stones combined with a traditional Balinese massage, this will soothe your body and mind into a deep state of relaxation, and also has the added benefit of improving your quality of sleep.
Bamboo Massage. Try something unique and different with a Bamboo massage. Continuing the relaxation, this massage involves gliding and rolling a soft bamboo stick along the skin with warm oil. The rhythmic technique and pressure will relax your muscles and calm your mind.
Body Temple Signature. This message is our own unique combination of techniques to switch from medium to strong pressure, to promote circulation and leave you feeling relaxed and energised throughout your whole body.
Foot Reflexology. This treatment goes beyond the traditional foot massage. Reflexology focuses on specific pressure points on the feet, targeting certain areas to reduce pain and anxiety and restore the flow of energy throughout the body. It's an ancient technique centred on the concept that there are reflex points on the feet that are connected to every part of the human body.
Mommy To Be. While pregnancy can be a glorious time for women, there are often times that can be rather uncomfortable due to the stress on the body. This discomfort can be in the form of back pains and difficulty sleeping. Our prenatal massage is perfect to pamper expectant moms, to relieve tension and stress, and promote circulation and sleep.
Quick Fix Back Therapy. Sometimes a quick 30-minute tune-up is all you need, with a back and shoulder massage to release tension.
Face Massage. You won't believe how good a face massage can feel until you try it. It's a deep relaxing massage for the muscles of your face, that rejuvenates a tired complexion by promoting blood flow and reducing puffiness. Your skin will have a fresh, youthful, and healthy glow that will leave you feeling radiant.
Whatever is ailing you, or if you simply want to relax and indulge, book your Best Massage Bali with us!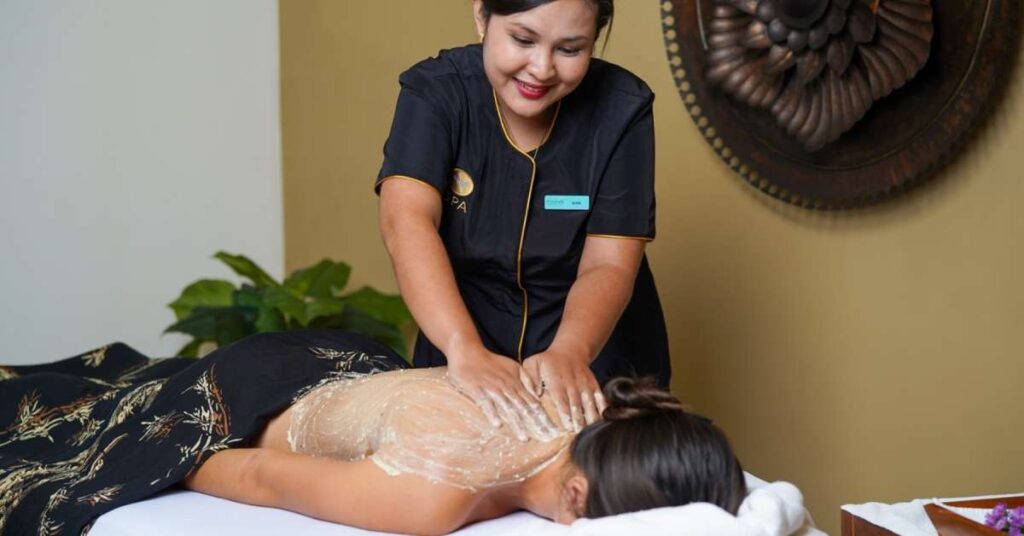 Top Spa Canggu. What are the benefits of facials?
Facials are one of the most popular treatments in Bali, where many feel and see the effects of exposure to sun, dirt and dust from cars and streets, ocean and salt water, and chlorine in pools. 
Facials can help to improve the appearance and health of the skin. This can be achieved through a variety of techniques, such as exfoliating the skin to remove dead cells, extracting blackheads and other impurities, and hydrating the skin to improve its texture and tone. Facials can also include the use of mask treatments and other products that are tailored to the specific needs of the skin, such as targeting acne or reducing the appearance of fine lines and wrinkles.
In addition to improving the appearance of the skin, facials can also offer a number of other benefits. For example, they can help to reduce stress and promote relaxation, as they often involve massaging techniques that can help to stimulate blood flow and relax the muscles.
At Body Temple Spa, we have a selection of facials that can be tailored to suit your skin's specific needs and give your complexion that Bali glow. Whether you're looking to hydrate your dry skin and get a fresh look, pamper your sensitive skin, minimise your pores and mattify the skin, get that instant glow or treat your Acne, there is a treatment for everybody 
Book your appointment with us and walk out with glowing fresh skin and a smile.
The best spa Canggu. Our indulgent Spa Packages
Can't decide on one treatment?  Or do you want some extra, all-over pampering?   At Body Temple Spa our indulgent spa packages are extremely popular because they are designed for unique experiences and all-over pampering, and as a packaged deal, the saving is an added bonus to your bliss.
Body Temple Ritual. This package is everything you need to wash away the stress from your mind and body, with a rose petal foot bath, full Balinese massage, and finished with an invigorating coffee and mint scrub.
Pure bliss. All-over relaxation comes from this package that includes a rose petal foot bath, our warm stone massage, and an ultra-hydrating Heart of the Ocean facial.
Mommy and Me. If you are looking for a wonderful activity with kids in Bali,  our Mommy and Me package is perfect for quality time and pampering for you and the little one. You'll both have rose petal foot baths. Then, mommy will have a Balinese Massage finished with an Illuminate Radiance facial and for your mini-me, there will be a kids massage and the Happy Face facial.
The Ultimate Indulgence. It doesn't get any better than this. Why not immerse yourself into the complete self-care package, and give your body a full pampering in paradise?  Starting with a rose petal foot bath, followed by our Body Temple Spa Signature Massage, then a soothing and cleansing Coconut and Frangipani Body Scrub. You'll then be beautified from head to toe with a hair mask, then a manicure pedicure with a gel coat.
Book your spa packages with our team. We can't wait to welcome you for your day or afternoon of indulgence.
Best couples spa Canggu. Treatments and packages made for 2.
Whether it's date night, a daytime escape from the sun, or if you are in Bali for your wedding or honeymoon, visit Body Temple Spa to spoil yourself and your partner in the perfect way.
The Amore Couples Delight package is designed for 2, for the ultimate day of relaxation and spending time together. Start with side-by-side foot baths, then choose your massages between the Balinese or Sports Massage, followed by an aromatic and soothing Vanilla Mocha body scrub, and an Angelica Pearl and Rose body mask to cool your skin. Finish it off with a romantic soak in lavender and rose petal bath.
Even without the package, there are plenty of treatments and services that can be done together for couples or groups of friends, so everyone can enjoy a spa day together.
Book your appointment at Body Temple Spa, conveniently located within FINNS Recreation Club. You can recover after a workout in our fitness center with a massage, or enjoy a facial or body scrub after spending a few hours or days in the sun. And for some adults-only time, you can bring the kids to Cubby House Kids Club where they will be fully supervised and entertained during your treatments.