We absolutely love being in Canggu with its energy that has transformed what used to be a quiet surfers' village into a hub of activity. Digital nomads, tourists, locals, and Bali lovers flock to this area to revel in the never-ending list of great cafes, restaurants, nightlife spots, shopping, and entertainment. After a long day of sightseeing, surfing, or soaking in the Bali sun, the choice looms of "Where to go to dinner in Canggu?" From casual warungs serving local dishes to trendy restaurants dishing out innovative fusion cuisine, the dining scene in Canggu is as diverse as it is vibrant.
Your options are endless, and you'll find choices for almost any cuisine. The most popular and some of our favourites are below.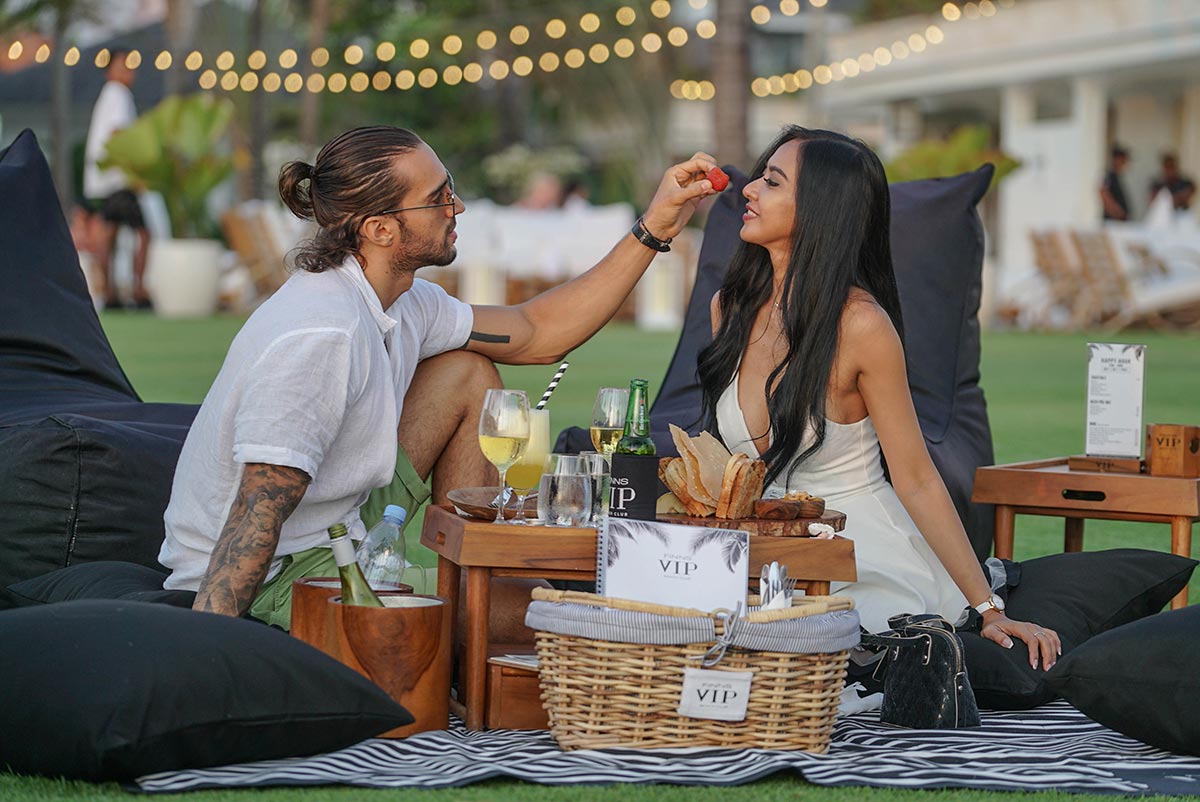 Best Dinner Canggu: Our favourite cuisines for a delicious dinner 
For any of the options at FINNS Beach Club, where we have 5 restaurants on-site at our beach club, book your table for dinner, or you can also book a sunlounger or daybed to enjoy your time at the club during the day and then stay with us for dinner. Our focus is on fresh ingredients prepared extremely well. There are plenty of choices to satisfy all appetites.

Indonesian Food
If you come to Bali, you must try the local food. Don't take our word for it, but Indonesian food is known for its bold flavours and fragrant spices, and it makes for a very tasty meal, especially lunch or dinner. Even better, there are definitely affordable price at the local warungs, where you can get a full plate with a medley of flavours for as little as $2-$3
Some of the best Indonesian dishes to try in Bali include nasi goreng (fried rice with meat and vegetables), mie goreng (fried noodles with meat and vegetables), sate (grilled skewered meat), gado-gado (vegetable salad with peanut sauce), and rendang (spicy beef curry). Other popular dishes include nasi campur (rice with various sides), babi guling (roast suckling pig), and soto ayam (chicken soup with rice noodles).

If you are in FINNS, and you are craving some local flavours, our menus have options for nasi goreng and mie goreng and selections for vegetarians as well.

Western Food
Western cuisine has become increasingly popular in Bali, partly due to the influence of tourism and ex-pats who have brought their food culture with them. In Canggu, you'll find a great variety of western restaurants alongside Indonesian and Balinese restaurants. There really is something for everyone and all preferences.

If Western is what you're craving, you'll find no shortage of pizza, pasta, burgers, sandwiches, steaks and chicken dishes, and grilled seafood. Some Western-inspired cafes and restaurants in Bali even offer health-conscious options such as salads and vegan dishes.
If you're at FINNS or if you are looking for dinner by the ocean, and you'd like a hearty meal of Western cuisine, you can select options from Bondi Cafe or St. Tropez. Our wood-fired pizzas are legendary, and our kinds of pasta are superbly flavourful.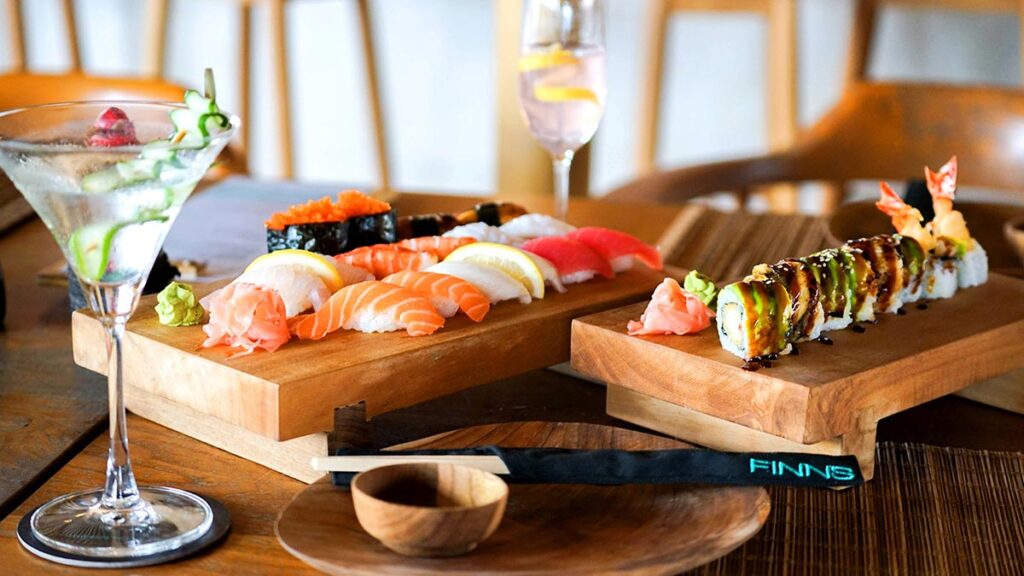 Sushi Restaurant Canggu
Sushi is a favourite choice for dinner in many places around the world. Japanese cuisine emphasises freshness and flavours. It's also high in protein and low on additives and starches, making it a delicious and healthy option that appeals to a wide range of palates. Additionally, sushi is often served in small portions and rolls, so it's a good option for sharing with couples and groups over dinner.

At most sushi restaurants, you'll find the following popular rolls and servings of fish and seafood. 
Nigiri – Thin slices of raw fish or seafood placed on top of a small mound of vinegared rice.

Maki – Rolled sushi made by wrapping rice and other ingredients in seaweed and slicing it into bite-sized pieces. Popular maki rolls include California rolls (crab, avocado, and cucumber), spicy tuna rolls, and dragon rolls (tempura shrimp, avocado, and eel).

Sashimi – Thinly sliced raw fish or seafood served without rice.

Temaki – Hand-rolled sushi shaped like a cone, filled with rice, seafood, vegetables, and other ingredients.



If fresh fish and edamame are on your mind, what better way to enjoy it than with an ocean view? In FINNS Beach Club, we have our Sushi Bar restaurant that serves the best sushi delights with a stunning ocean view for dinner. Our chefs prepare the freshest sushi dishes, with seafood and fish gathered from all around the Indonesian archipelago. Enjoy a glass of wine or sunset cocktails with a stunning view of the beach and ocean waves.

Indian Food
Indian food is another popular cuisine that is widely available in Bali due to the SE Asia influences and varieties of rich curries and spices. With diverse flavours, spices, and unique cooking techniques, Indian food has a variety of dishes that appeal to many different taste preferences. Spices like cumin, coriander, turmeric, and garam masala are used to create a range of flavours, from mild to spicy, sweet to savoury.

Indian cooking techniques, such as tandoori and curry, are distinct and create a range of textures and flavours in dishes. The use of clay ovens, called tandoors, for cooking bread and meat dishes is also unique to Indian cuisine. A few favourite Indian dishes include Butter Chicken, Chana Dal, Tandoori Chicken and various Naan bread.

At FINNS, we also have a delightful Indian restaurant, Mumbai Kitchen, where you can order your favourite Indian dishes, made fresh with all the authentic flavours and spices, and prepared in our very own tandoor kitchen. Our curries and naans make the perfect lunch or dinner options, especially when paired with a nice glass of wine or Bintang beer while watching the sun set below the ocean horizon.
Fine Dining Canggu
Celebrating something special? Or want to enjoy a wonderful oceanside dinner with your family, friends or loved ones? St.Tropez in FINNS VIP Beach Club offers a breezy and elegant oceanside dining experience. Our Mediterranean-style restaurant is open air, with uninterrupted views of the sunset and the ocean, so you can enjoy your dinner in a beautiful dining experience that combines excellent cuisine, stunning views, and a relaxed ambience.
A team of globally renowned chefs have sought inspiration from reinventing Mediterranean classics to showcase the light and lively essence of St Tropez. The menu features a meticulously curated selection of signature dishes crafted using a blend of traditional and innovative techniques to enhance the flavours and freshness of the finest local and imported ingredients.

The menu at St Tropez is simple yet alluring. It features a range of starters, light bites, and sharing platters that showcase a variety of mini delights designed to appeal to all palates. This is followed by a selection of delectable main courses, artisanal pasta, and gourmet wood-fired pizzas created to satisfy the most discerning of tastes. The focus of St Tropez's cuisine is on preserving the integrity of fresh produce and enhancing flavour, with an emphasis on nouvelle cuisine.

Book your table at St Tropez online, or if you want to organise a special event or group dinner, get in touch with our team, who can help you with all the details and make your dinner unforgettable.

Vegan and vegetarian
Canggu is also a hub for the vegetarian and vegan lifestyle for both local and international cultures. It's become more popular recently as more people are becoming more conscious about where their food comes from and have ethical concerns about animal welfare and environmental sustainability. Others believe there are health benefits to plant-based diets, as many vegetarian and vegan dishes are made with whole, nutrient-dense foods such as fruits, vegetables, legumes, and whole grains, which can provide a range of health benefits such as improved digestion, lower risk of heart disease, and better weight management.

Whatever the reason for choosing the vegan or vegetarian diet, we have options at FINNS Beach Club for everyone. There are dishes of tempe and tofu and fresh vegetables across our menus for dinner. If you have special dietary needs or need more information on our vegan menus, please contact our team, and we'll be happy to assist.
Restaurants Canggu
With its stunning ocean views, world-class surf breaks, and relaxed atmosphere, it's no wonder that Canggu has also emerged as a culinary destination. Above, we have given you our picks for favourite cuisines in Canggu, and they all can be found at FINNS Beach Club among our 5 beachside restaurants. Book your tables for dinner or arrange your special occasions with our team.