Looking for the best restaurant in Bali to give your taste buds a workout with some of the finest fresh fish and seafood? We've got you covered.
We sent our team out to find the 15 best seafood restaurants on the island, and they came up with a list of 15 excellent eateries. There's something for every budget, too. It's not all expensive fine dining (though there's plenty of that).
The 15 Best Seafood Restaurants In Bali
Eat Like A Local
Kedonganan Food Market
Where else would you expect to find the finest fresh fish on the island than near a fishing village?
When they want delectable delicacies at sensible prices to go with their steamed rice, Balinese people head to Kedonganan.
Don't worry, you don't have to cook it yourself. There are more than a dozen restaurants here that are happy to help out with a romantic dinner under the stars, on the sand, or by the ocean.
Where Is It? Jl. Pantai Kedonganan, Kedonganan, Kec. Kuta, Kabupaten Badung, Bali, Indonesia
Online: N/A
Jimbaran Seafood Market (and surrounding Jimbaran Seafood Cafes)
Jimbaran Bay seafood is something of a legend in Bali, and the market is a great place to get a taste of the fish, shrimp, calamari, crab, squid, prawns, etc., for a reasonable price.
There is a very laid-back atmosphere in the cafes nearby, and the seafood here is always tasty and well-cooked.
This is a popular seafood destination for locals, expats and tourists in the know, and it's a beautiful setting near some of the best luxury hotels in Bali.
Where Is It? 65V9+CCP, Jl. Pantai Kedonganan No.1100, Kedonganan, Kec. Kuta, Kabupaten Badung, Bali 80361, Indonesia
Online: N/A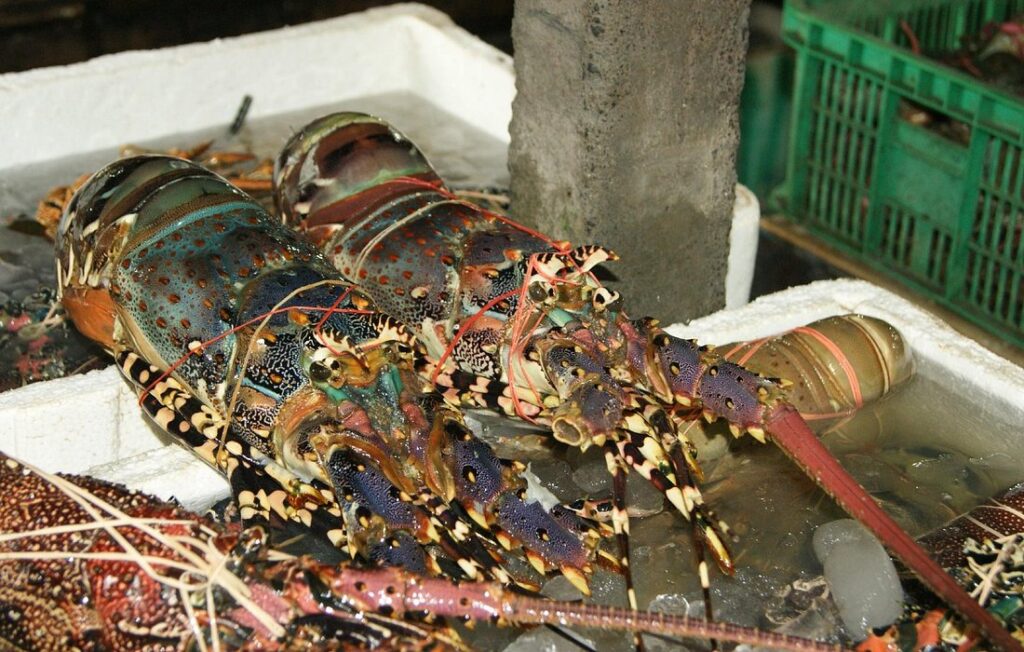 Kelan Seafood Market
If you want to see the planes take off and land at Ngurah Rai International Airport as you dine, then Kelan Seafood Market might be for you.
It's very similar to the other two markets and is surrounded by nice beachside restaurants that will happily cook your fish for you.
Try the Happy Gen, which does a fantastic fresh-shucked oyster for very little money but does so while maintaining the quality standards of fine dining restaurants.
Where Is It? Uluwatu St No.89X, Tuban, Kuta, Badung Regency, Bali 80361, Indonesia
Online: N/A 
Go Upscale
Seasalt, Seminyak @ Alila Seminyak
Seasalt brings a touch of Japanese style to the Balinese seafood dining scene, and if you're in the mood for some sushi, you won't be disappointed.
One thing we really like about this stylish restaurant is the live, open kitchen that lets you see the food being prepared – it's easy to eat with confidence in this kind of environment.
The view is gorgeous, too, and spending some time on the outer deck, watching the waves roll in, is the way we like to do things at Seasalt.
Where Is It? Jl. Taman Ganesha Jl. Petitenget No.9, Seminyak, Kec. Kuta Utara, Kabupaten Badung, Bali 80361, Indonesia
Online: Seasalt 
Arwana Restaurant @ The Laguna Beachfront, Nusa Dua
If you want truly delicious seafood such as lobster or sambal shrimp served in a very romantic setting, you're going to love Arwana.
You can select your fish, squid, crab, prawns and other dishes from the live tanks on display so you know everything is really fresh, and then they will cook it in front of you.
If you're going with a fellow seafood lover, they're sure to appreciate the candlelit tables and cocktails, too.
Where Is It? Kawasan Pariwisata Nusa Dua Lot N2, Benoa, Kec. Kuta Sel., Kabupaten Badung, Bali 80361, Indonesia
Online: Arwana
Huge, Seminyak
Huge is a relatively new addition to the seafood scene in Bali, but it's an incredible asset to the island already.
Everything here is about using seafood and taking it to the next level. There's a lot of European edge to the experimentation, and everything is guaranteed to be delicious.
Where Is It? Jl. Batu Belig No.4, Kerobokan Kelod, Kec. Kuta Utara, Kabupaten Badung, Bali 80361, Indonesia
Online: Huge
Dava Steak And Seafood Restaurant @ AYANA Resort, Jimbaran
We love the steaks at DAVA, but many people will tell you the seafood is the real star of the show here.
They have an incredible wine list, too, which lets you pair your seafood with some of the best wine on the island.
If you're here for sunset, make sure to take in the spectacular clifftop views.
Where Is It? Sejahtera, AYANA Resort and Spa, BALI, Jl. Karang Mas, Jimbaran, Kec. Kuta Sel., Kabupaten Badung, Bali 80364, Indonesia
Online: AYANA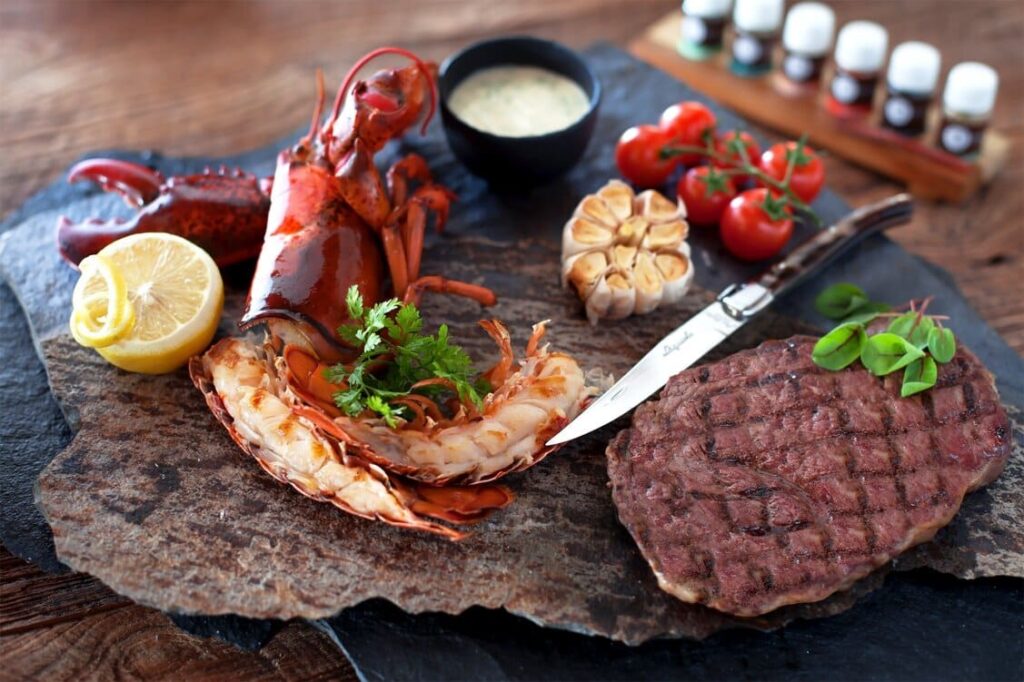 Sardine Restaurant, Seminyak
There's no doubting Sardine restaurant's fine dining creds. As soon as you step into the compound, the Balinese garden theme will wow your eyes.
The ponds here are truly incredible, and they'll help you strike up some pre-dinner conversation.
The menu changes regularly at Sardine restaurant in order to make the most out of the changing bounty provided by the sea. It's always good, though.
Where Is It? Jl. Petitenget No.21, Kerobokan Kelod, Kec. Kuta Utara, Kabupaten Badung, Bali 80361, Indonesia
Online: Sardine 
Ah Yat Abalone Restaurant, Rimba by AYANA, Jimbaran Bay
If you want Chinese-style seafood restaurants, then there aren't that many to choose from in Bali, but the Ah Yat Abalone is one of them, and it's amazing.
It's on the beautiful RIMBA by AYANA resort complex, and you can get some amazing views over the ocean as you head in for your feast.
The menu is near endless with, of course, pride of place going to the Abalone here.
Where Is It? Sejahtera, RIMBA Jimbaran BALI by AYANA, Jl. Karang Mas, Jimbaran, South Kuta, Badung Regency, Bali 80364, Indonesia
Online: AYANA
Crystal Blue Ocean Grill @ Samabe Bali Suites & Villas, Nusa Dua
This is a very premium destination and the perfect place to take someone for a romantic meal under the starry skies of Bali.
The ocean seems to go on forever here, and sitting out on the deck is a must while you eat.
The menu regularly changes to showcase the best and freshest local produce, and it's always exceptionally tasty.
Where Is It? 5686+CPG, Unnamed Road Benoa, Benoa, Kuta Sel, Badung Regency, Bali, Indonesia
Online: Samabe
Affordable Bites
D'Cost Seafood, Denpasar
This little restaurant in Denpasar is very much a "no frills" affair, but there's no doubt that if you ignore the setting, the seafood is among the best served anywhere in Bali.
Try the whole crab with salted eggs and black pepper, and you'll soon be coming back for more! This is the way that seafood is meant to be.
Where Is It? 969J+F3J, Tonja, Denpasar Utara, Denpasar City, Bali 80235, Indonesia
Online: N/A
Little Singapore by Chef Bernard
The salted egg crab here is a masterpiece, but the portion is huge, so bring friends. If you can't muster enough bodies to try that crab, try the Papua Crab. Instead, it's yummy.
The owner is a friendly chap who takes real pride in his establishment, and you can see how much love goes into the food here.
One thing you shouldn't miss is the Singapore Char Kway Teow, which is the best in Bali.
Where Is It? Jl. Umalas I , Gang XXV No 8B, Kerobokan Kelod Kec. Kuta Utara. Kec. Kuta Utara, Kabupaten, Kec. Kuta, Kabupaten Badung, Bali 80361, Indonesia
Online: Facebook 
Warung Amphibia
This beachfront seafood BBQ is the kind of place that everyone wants to discover on their Bali holiday – authentic, local and delicious.
Their homemade spicy sauce is the perfect dipping accompaniment for any of their local catch-of-the-day offerings.
We really enjoyed the grilled squid and octopus here. They were perfectly cooked.
Where Is It? Jl. Pantai Sindhu, Sanur, Denpasar Selatan, Kota Denpasar, Bali 80228, Indonesia
Online: Warung Amphibia
Warung Ketut
It's far from the regular tourist spots in Bali, but that makes Warung Ketut very much worth a visit from the true seafood connoisseur.
Their seafood spring rolls are exquisite and the perfect way to warm up your palate for a lovely meal of fresh grilled fish from the BBQ.
This is a family-run place, and as you'd expect, that leads to some of the best services you'll find in Bali, too.
Where Is It? Jl. Raya Lipah Jl. Raya Amed, Bunutan, Kec. Abang, Kabupaten Karangasem, Bali 80852, Indonesia
Online: N/A 
Bale Udang Mang Engking
Eating at this lakeside establishment in front of a lake full of fish is a real experience, and if you're passing by, you have to visit Bale Udang.
The view is great, and the set seafood dinners are ideal for you to try something new and fresh without getting lost on the menu.
The staff are also incredible and are very passionate about the food, and they have a great deal of knowledge about the dishes, too.
Where Is It? Jl. Nakula No.88, Pemecutan Klod, Kec. Denpasar Bar., Kota Denpasar, Bali 80119, Indonesia
Online: Bale Udang
FAQs
Is Bali Good For Seafood?
Yes, Bali is excellent for seafood restaurants and seafood in general. As an island on the Indian Ocean, there is always a fresh catch to be made into awesome seafood dishes in Bali.
Seafood lovers can choose from some of the most famous restaurants anywhere on the planet to indulge their love of amazing seafood, and they will never be disappointed.
How Do I Choose A Seafood Restaurant In Bali?
The best way to choose among all the seafood restaurants in Bali is to choose somewhere local to you that you are sure offers the freshest seafood and a wide variety of seafood dishes to choose from.
What Is A Restaurant Called In Bali?
A restaurant is often called "a restaurant" in Bali due to the influence of other cultures on the island, but the local name for a restaurant is "warung".
Final Thoughts On Fresh Fish And Fresh Seafood Restaurants In Bali
Bali is an incredible place to eat seafood, and even if your choice of dining venue isn't on our list of the best seafood restaurants, you're going to have some great food.
From Red Snapper to Sambal shrimp, the range of local ingredients ensures that your food is always tasty, and it should be cooked to perfection, too! Bon appetit!