Bali Nightlife – A Guide to Enjoying the Island's Best Nightlife Spots
Bali is renowned for its breathtaking landscapes, pristine beaches, and rich cultural heritage. However, more than the natural beauty draws visitors to this paradise island. Bali's nightlife scene is world-famous, with travellers coming from all over the globe to participate and revel in the party vibes from day to night. From chic clubs and world-renowned DJs and performers to live music and bars to beachy island festivals, Bali's nightlife is legendary – and with good reason.
Of course, our favourite spot – day or night – is at Finns Beach Club. The party doesn't stop at the World's Best Beach Club when the sun goes down. We have our famous happy hours, live entertainment, and non-stop dining and party experience at Monsoon.  
Read on for more information on Bali Nightlife, living it up at Finns, and our top tips for enjoying Bali's incredible party scene. 
Does Bali have good nightlife?
The answer is a resounding yes! Bali's nightlife is legendary, catering to diverse preferences and interests. From beach clubs to rooftop bars, live music venues to night markets, Bali has it all. No matter what you're in the mood for, Bali promises to deliver a remarkable night out.

What area in Bali has the best nightlife?
While Bali is relatively small, different areas offer distinct flavours of nightlife. Kuta, Seminyak, and Canggu are the most popular hotspots for nightlife enthusiasts. Kuta boasts a lively atmosphere with many bars, clubs, and bustling streets. Seminyak, known for its upscale establishments, offers a more sophisticated and trendy ambience. Conversely, Canggu provides a relaxed and bohemian vibe, with beach clubs and hip cafes lining the coastline. However, we would like to add that the Canggu nightlife scene is probably our favourite, but that's because Canggu is the home of Finns Beach Club!
Finns Beach Club: An oceanfront party paradise for day or night 
Located in the vibrant area of Canggu, Finns Beach Club stands as an iconic destination for those looking to experience the best Bali nightlife. Nestled along the pristine Berawa Beach, our venue, with 170 metres of prime beachfront, presents an unrivalled fusion of remarkable tropical ambience, delectable cuisine, and thrilling entertainment. Finns Beach Club has it all, whether you're seeking a rejuvenating beach day, a memorable evening, or an after-dark extravaganza.

Monsoon: Bali's Best Party Dining Experience
Step into Monsoon, an unparalleled dining and entertainment experience redefining Bali nightlife. Brace yourself for an extraordinary journey worldwide as we present Bali's only genuine party dining extravaganza. We have revolutionised the game, introducing a unique fusion of flavours and entertainment that has never been seen before on this island paradise. Indulge your taste buds in an exquisite selection of six different cuisines, each meticulously crafted to perfection, while immersing yourself in an atmosphere that will transport you to new heights of culinary delight and exhilaration. 
Welcome to Monsoon, where exceptional dining meets unrivalled entertainment, only at Finns Beach Club.
Book
your table today!
Finns After Dark: The Ultimate Bali Party Experience
Finns Beach Club heats up when the sun goes down, becoming the biggest Bali party destination. Finns After Dark offers an electrifying ambience that will keep you entertained throughout the night. Start your evening with Happy Hour in Canggu, from 7 pm to 9 pm, where you can enjoy 2-for-1 selected drinks daily, setting the mood for a memorable night.
The After Dark entertainment at Finns Beach Club showcases some of the island's hottest live entertainment. Let your hair down and party into the night with resident DJs and live vocalists performing until 11 pm. Finns Beach Club boasts resident DJs, the best in Indonesia, with music curated right at Finns in our in-house studio. Experience the daily Bali pool party, where our dance floor is surrounded by two pools and party platforms, allowing you to dance the night away oceanfront, all at the best beach club in Bali.
Bali NYE parties
Speaking of nightlife, we must mention Bali's biggest night of the year. Where to go for NYE? Look no further than Finns Beach Club—the epitome of the biggest and best party on the island. We take it to the next level each year, transforming our venue into a pulsating hub of celebration, music, and beach club enthusiasts. With 170 metres of oceanfront space, four inviting pools, nine vibrant bars, and multiple dance floors, we curate an epic party experience that is unrivalled by anyone. Previous acts who have played the Finns stage include Diplo, Martin Solveig, Robin Schulz, Khalid, Roger Sanchez, and this year in 2023, we will welcome an international superstar – Fat Boy Slim. 
Get your tickets for Finns NYE Party Today!
Enjoying Bali Nightlife Safely
While Bali nightlife is undeniably thrilling, it's important to prioritise safety and well-being. This is important no matter where you are, especially in a foreign country unfamiliar with the local area. Here are some tips to ensure a safe and enjoyable experience:
Travel in groups. Exploring Bali's nightlife with friends or travel companions is always more fun. Stick together and look out for each other.

Plan your transportation. Before heading out, arrange reliable transportation to and from your destination. Utilise registered taxis or reputable ride-sharing services. In Bali, it's very easy to download apps like Gojek or Grab, and rides are usually less than $2-$3. If you are going to bar hop, booking a private driver for the night might be worth it.

Be aware of your surroundings. Stay alert and be cautious of your belongings. Avoid dark and unfamiliar alleys, and trust your instincts at all times.

Drink responsibly. Bali's nightlife offers an array of tempting libations, but remember to drink in moderation and know your limits. Stay hydrated, and never leave your drink unattended.
Do not drink and drive. As mentioned above, organising rides around at night is easy. Accidents on motorbikes are too common, unfortunately. We encourage everyone to organise transportation and not drive after drinking alcohol.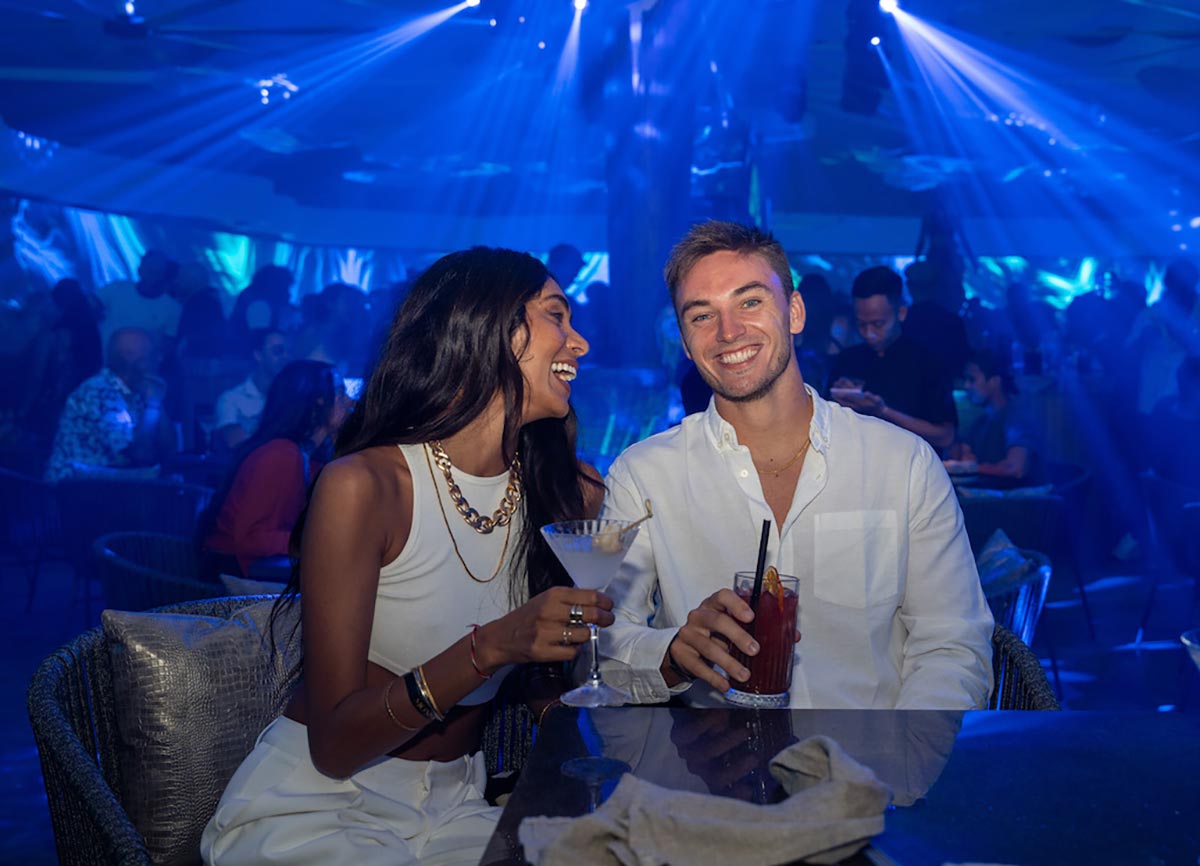 Bali's Best Nightlife Experiences
Bali's nightlife is incredible, with tourists and party revellers from around the globe coming to enjoy a holiday and dance to the island beats all night. Alongside our own beachside oasis, we've handpicked five other exceptional nightclubs that will elevate your experience on this enchanting island. These must-visit venues are sure to add a spark of excitement to your party itinerary.
3. La Favela
A must-visit for anyone exploring Bali's nightlife for the first time, La Favela transports partygoers to a shanty Brazilian favela with its captivating interior. Complete with semi-indoor gardens, ponds, and alfresco seating, the atmosphere is simply enchanting. Though drinks may be on the pricey side, the experience is well worth it. As the night progresses, the tables are shifted, and the DJ deck emerges, transforming La Favela into a vibrant dance party. Lose yourself in the rhythms and revel in the magical ambiance of this unique nightclub.
2. Shishi
Seminyak is the go-to destination for an amazing night out in Bali, and Shishi is at the heart of the action. Start your night at Izakaya Lounge, where you can indulge in delectable dining and drinks before moving upstairs to the second floor for electrifying EDM beats. Take the party to the next level on the top floor, where a chill R'n'B vibe sets the tone for an unforgettable night. ShiShi offers the perfect blend of excellent dining and electrifying party vibes, making it one of the best clubs on the island.
3. Mirror Lounge & Club
Inspired by New York's iconic Limelight Club, Mirror Lounge & Club is an opulent venue that boasts gothic architectural elements, including a stunning glass roof, stained glass windows, arches, and stone sculptures. The diverse range of tunes, from EDM and R'n'B to trance and Latin house, sets the stage for a night of non-stop dancing and excitement. This sophisticated club has been a popular hotspot in Seminyak since its opening in 2014, attracting party-goers and some of the world's finest DJs. Party in style at Mirror Lounge & Club for a multi-sensory experience you won't forget.
4. Motel Mexicola
Hidden among the bustling shopping district and busy roads of Seminyak, Motel Mexicola is a tropical oasis that comes to life as the sun sets. Although it may not scream 'club' at first sight, this vibrant Mexican bar and restaurant transforms into a full-on Mexican fiesta after dark. Savor mezcal cocktails and traditional Mexican plates before immersing yourself in the energetic party scene. With its lively courtyard, upstairs chill area, and bars serving up shots and cold beers, Motel Mexicola offers a laid-back, backyard vibe that will leave you with lasting memories of an unforgettable night in Bali.
5. Vault Bali
Vault Bali is a nightlife gem that should not be missed. Hosting weekly international DJs and musicians, this club offers an endless celebration of house, techno, hip-hop, R'n'B, and live music. But the surprises don't stop there. Discover The Bunker, a hidden cocktail bar within Vault, where expert mixologists concoct exquisite drinks perfect for your underground adventures or classy gatherings with friends. The club boasts a vibrant dance floor with a top-notch DJ, as well as a separate, relaxed lounge area for those seeking a moment of tranquility amidst the excitement.
Bali's nightlife scene is rich with diversity, and these five nightclubs stand out for their unique experiences, incredible music, and vibrant atmospheres. Whether you're a seasoned partygoer or just starting to explore Bali's nightlife, these clubs promise a night of excitement, dancing, and camaraderie that you won't soon forget. So, as you embark on your nightlife adventures, don't forget to include Finns Beach Club on your party list, where we host Bali's best entertainment and biggest parties of the year from 10 AM to 12 AM. Get ready for an electrifying night out on the Island of the Gods!