If you want local villages, rice terraces, amazing views, and a quiet place away from the modern world, then visiting Sideen, Bali, is a no-brainer.
This part of Eastern Bali is completely unspoiled, and it has echoes of Ubud from an earlier age before it became the go-to destination for every new-age traveller in Bali.
Our guide to Sidemen, Bali, will show you where to stay in Sidemen, where to eat, what you can do, and so much more. East Bali is the perfect destination for the adventurous traveller seeking another side of Bali.
About Sidemen, Bali
Sidemen, which is pronounced see-da-men, is the name of the local village and a substantial area of East Bali. It's quite a small village with no major facilities.
It's surrounded by valleys, rice paddies, and rice terraces, and Mount Agung dominates the view in the distance from this part of Bali.
Sidemen Village is part of the Karangasem Regency, and it's actually the smallest District in the regency (the others are Rendang, Manggis, Karangasem, Abang, Selat, Bebandem, and Kubu).
It's home to roughly 40,000 people (according to an estimate based on the 2020 population census), and they're spread out over a series of 10 local villages.
In short, this is rural Bali, and if you're looking for big nights out and the party scene, you won't find it in this part of East Bali.
What you will find is the peaceful place that is Sidemen Village above Sidemen Valley and some of the best and most unspoiled countryside in the nation.
If you like to be up in the early morning for stunning views of the mountains and rice terraces, then this is where you come.
The local community and local villagers will be very pleased to see you, and if you want a real insight into local life, you might even consider hiring a local guide to help you learn a little bit more about this area and the people who live here.
Where Is Sidemen, Bali?
Sidemen, Bali is in East Bali. It's about 20 kilometres inland from the East Coast, and visiting Sidemen is relatively straightforward from most parts of the island.
The drive out to Sidemen is very pleasant, and you will see plenty of rainforest, rice fields, rice terraces and rice paddies in all their glory.
These are all particularly green and verdant during the rainy season, and it's a good reason to stay in Sidemen during the off-season.
How Do You Get To Sidemen, Bali?
There is no public transport that takes you out to Sidemen, Bali. So, you're going to have to organize your own, and that means your options are going to be:
Airport Transfer
This may not be as easy to get to Sidemen, Bali, as it is to other parts of the island. You can talk to your hotel or resort and see if they can provide transport (this will almost certainly be for a fee – Sidemen is too far from the Ngurah Rai International Airport in South Bali for its resorts to offer free transfers).
If they can, you'll be met at the airport by someone with your name on a piece of card, and then you, your family or friends, and your luggage will be whisked away to wherever you are staying in Sidemen, Bali.
This is a great service if your hotel offers it, and it's worth paying a slight premium for because it's so convenient.
Hire A Private Driver And Car
Your second best option is to arrange a private car and a local driver. This is a good idea because it means you can appreciate all the scenery on your drive out to Sidemen Village in East Bali and because it means you won't need to handle the stressful traffic and roads of Bali.
The drive may also act as something of a local guide on the drive and give you some insight into local people and rural Bali.
You can, of course, just hire a car on its own and do your own driving. But given how cheap hiring a driver is, it's probably best to enjoy the trip to Sidemen Village in chauffeur-driven comfort.
Get A Taxi/Ride-Share
You can organize a taxi at the airport, but we'd recommend that you use a ride-sharing app instead as it's going to be cheaper, and there's less likelihood of being ripped off when you reach Sidemen, Bali.
Grab and Go-Jek are the two most popular ride-sharing apps in Bali, and both of them can arrange transport to pretty much anywhere you want to go.
You can also link your cards to these apps so that you don't have to pay in cash, and the fare is exactly as agreed on the app.
Again, the advantage of taking a taxi is you can look out of the windows and see the Sidemen rice fields and jungle in all their glory.
Rent A Scooter
This would be our least preferred method to get to Sidemen, Bali. Sure, it's the cheapest way to get there, but it's also the most dangerous.
Firstly, you must be road-legal if you want to be insured. That means you need to have a current International Driver's Permit (IDP) and a driving license with a motorbike endorsement. You must also wear a crash helmet and not drive under the influence of alcohol.
Secondly, Balinese roads aren't great at the best of times, and the further you go from the densely populated tourist areas, the worse the road quality tends to be. This can make driving hard even for very experienced riders.
Finally, other drivers on Balinese roads rarely obey what you will think of as "the rules of the road", and accidents are very common.
We think it's better to spend a little more than to end your stay in Sidemen in a local hospital.
How To Get Around Sidemen
You can easily walk around Sidemen Village, and you can take long walks in the rice fields and down into Sidemen Valley, too.
However, if you want to get around the wider area of Sidemen, Bali, you're going to need transport, and unfortunately, your options are a bit limited in this part of East Bali.
You can't get Grab or Go-jek easily out here, and while cycling is fine for short journeys, it's not going to help you get to some of the more distant attractions.
That means you will a.) need to rent a private car and driver, or b.) need to rent a car and drive yourself, or c.) rent a scooter and drive yourself.
We'd still recommend going with a private car and a driver, but we can understand why you might opt to trim your expenses and go with a scooter. However, the same warnings apply – you need to be road-legal, and the more experience of riding you have, the better.
When Is The Best Time To Visit Sidemen?
Sidemen, Bali sees more rain than most places on the island, and the best time to visit is going to be during the dry season.
However, there is no guarantee that you won't be subjected to the occasional downpour during your time here, even between May and October.
The area's proximity to Mount Agung means it has slightly different weather patterns to the rest of Bali.
Having said that, the best time to enjoy stunning views of the Sidemen Rice Terraces is in the wet season.
You just need to time your visit before the harvest seasons because once the rice fields are harvested, they become a sort of dull brown until the rice grows back.
That doesn't mean that you can't enjoy the rice terraces after a harvest. It just means that they will look very different from the way you expect them to.
How Many Days Should You Spend In Sidemen, Bali?
This is very much down to you. You can see everything of note in Sidemen Village and visit Sidemen Valley on a day trip. You can see most things around Sidemen, Bali, in another day or two.
But that's a pretty hectic pace for a relaxing time in the rice fields of Bali. You might prefer to take your time and settle into the relaxed pace of island life in Sidemen, Bali. That might make for a better holiday experience.
What To Do In Sidemen, Bali?
We've got some amazing things for you to add to your Sidemen Itinerary if you want to experience as much as possible when visiting Sidemen.
Google Maps will come in very handy when you're searching for some of these places.
Chill At Gembleng Waterfall
There are a lot of waterfalls in Bali, and each of them has its own unique character.
The joy of Gembleng is that it's a hidden fall in the middle of the jungle (you will definitely need Google Maps here).
Due to its multi-tier nature, it has formed a natural infinity pool that you can take a dip in and enjoy stunning landscapes while drinking coconut from the local farms.
Gembleng is far enough from the beaten path that you may well get it to yourself or only share it with a small group of other tourists.
There is no fixed entry fee, either, you just make a donation to the village community fund (10-20K IDR is more than enough).
If you're a photographer, the best light here is at sunrise, and there is almost never anyone here at dawn.
Enjoy The Sunset (or Sunrise) At Lahangan Sweet Volcano Viewpoint
If you want a dramatic photograph of the majestic Mount Agung rising above Sidemen, Bali, then you ought to head out to Lahangan Sweet.
It's about an hour's drive from Sidemen Village, but it's worth the trip. When you get there, you get an amazing view of the volcano towering above the valley below.
They've built some bamboo platforms here to take photos from, and you get some brilliant angles for your images, too.
If you come at sunrise, you have the best chance of a clear, uninterrupted view of the volcano. The colours are amazing.
Come at sunset, however, and you can get an amazing silhouette of Mount Agung as the sun drops below the horizon.
You'll need to pay 20K IDR each to get in.
See The Tirta Gangga Water Palace
This is, technically, a former royal palace, though ownership of this water palace is still in the hands of the Karangasem Royal Family.
It was built back in 1946 and has some amazing Koi ponds, fountains and statues of some of the legendary creatures of Balinese myth.
It's best to visit in the early morning as it gets very hot here in the middle of the day.
You only pay 50K IDR per adult and 15K per child, with a 2K IDR parking fee.
It's not the biggest complex, and it won't take all day to see – you might consider visiting Taman Ujung and/or Virgin Beach on the same day as you visit this place.
It's about a 45-minute drive from Sidemen, Bali.
Catch Some Rays On Virgin Beach
If you love unspoiled white sand beaches with no crowds, then you will love Virgin Beach.
The waters are calm and tranquil, and it's a great place for swimming for swimmers of all levels of experience.
You can enjoy meals and beers at the warungs and beach bars along the edge, and they'll be happy to rent you some sun beds, too.
If it's pouring with rain in Sidemen, Bali, you might want to take a drive to the beach because the weather can be very different here than it is around the Sidemen Valley.
Trek The Lush Green Rice Terraces And Rice Fields
Rice paddies, rice fields, and amazing rice terraces are what Sidemen Valley is famous for, and the best way to see these things is to go for a trek.
It's best to engage the services of a local guide for this kind of trek as they can help you find a route that won't damage the rice fields and rice paddies and tell you about how rice and Sidemen Valley have interacted over the years.
It should probably go without saying that this should be done before the farmers working the rice paddies bring in the harvest.
Otherwise, you will be trekking mud fields rather than green and verdant rice fields.
Visit Jagasatru Waterfall For Some Alone Time With Nature
Rice paddies are awesome, but if you fancy somewhere a little more secluded to spend time with nature, consider a trip to the Jagasatru Waterfall.
It requires a 5-minute walk down a steep cliff to get there, but it's worth it.
The fall itself is flanked on either side by a high cliff, and the forty-minute drop is dramatic and makes for great photos.
Locals come here to pray and purify themselves, but not all that often and if you come in the early morning, you can pretty much guarantee you will have it all to yourself.
Explore The Besakih Temple
It's a bit of a drive to the slopes of Mount Agung from Sidemen Valley, but it's a drive worth making to see the Bali Besakih Temple.
This temple is one of the six most holy sites in the land, and it's also the largest temple for Hindu worshippers on the island.
Locals refer to it as Bali's "mother temple". There are 86 individual clan temples and meru (or shrines) present here.
If you're lucky, you might also witness one of the 70+ ceremonies that take place at this temple complex each year! (One for each shrine in addition to all the standard Hindu festivals).
The views of the volcano from here are incredible, too, and the earlier you get there, the more likely that the view is clear and unobstructed by clouds.
If you want to see everything here, we'd strongly recommend that you hire a guide. This place is huge, and there's a lot to explore.
Feel Like Royalty At Taman Ujung Water Palace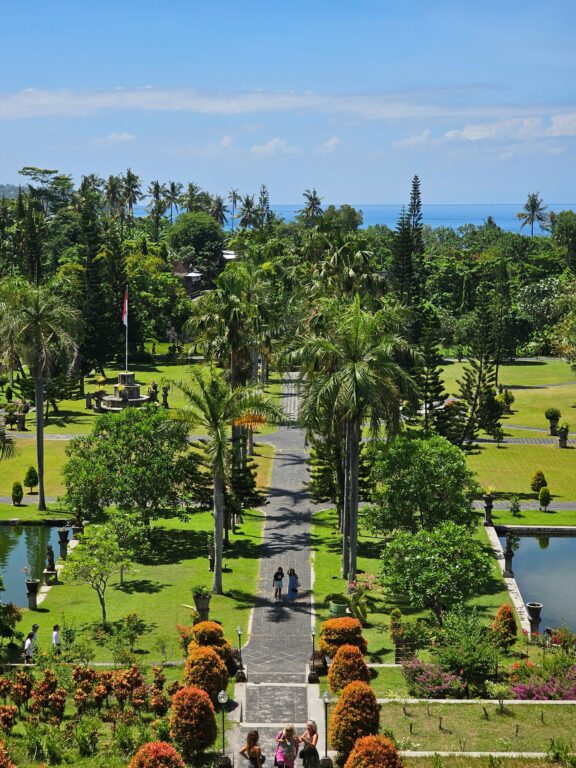 Taman Ujung is the second water palace within a reasonable driving distance of Sidemen Valley and we think it might be the more attractive of the two.
It was constructed back in 1909, and the architects were one Dutch person and one Chinese. It blends East Asian style and European ones very effectively.
It's a bit bigger than the Tirta Gangga complex, and you may want to spend 2-3 hours at this place.
You will pay 75,000 IDR per person to get in, though if you have a KITAS, there's a 33% discount.
As with Tirta Gangga, this gets very, very hot in the middle of the day. It's best to come early.
Watch The Light Break Across Tukad Cepang Waterfall
If you want an incredible backdrop for an amazing Instagram shot, then you're going to want to get out and visit Tuka Cepun waterfall.
To make the most of it, you need to arrive between 9 a.m. and 11 a.m. because as the sun's rays enter the valley here – the light splits and produces magical effects as it pours through the trees onto the rocks below.
Keep an eye on the weather forecast before you set off, as it's best seen when it's not raining.
You can read our full guide to Tukad Cepang here. See why it's on many a Bali bucket list.
Drink In The Sunrise From Mahagiri Resort
You don't have to stay at this amazing resort just outside of the main town to enjoy the beautiful landscape as it's bathed in the first light of the sun.
You can head to the La Montagne Cafe and just buy a drink or something to eat. It's a great local restaurant.
They serve a delicious meal, so if you're hungry, it's a good idea to indulge your appetite here.
Photographers will love the clear view of Mount Agung, the rice fields and the early daylight. It's real Bali as you want it to be.
Be Soothed By The Telaga Waja River
Head to Jalan Raya Tebloa (near the lovely Wapa Di Ume hotel) and it's an easy walk to the river banks here.
While the river is one of the more assertive rivers in Bali, this stretch is serene and pleasant.
You can easily find a spot to throw down a blanket and enjoy some meditation or a picnic and listen to the seductive sound of running water. It's the best of natural sounds.
Tourists very rarely visit this part of Sidemen, and it's a shame because it's a fantastic place to just be.
It's also completely free. There are no entry fees or pushy salesmen in sight.
Sleep In Bamboo Houses
We've got some bamboo villa complexes listed further down in this article, but we think this is a key reason to come to Sidemen.
After spending a day chilling by the Telaga Waja River, what could be better than retiring to your own bamboo house with a view of the mountain and the rice fields?
It's an ancient tradition brought up to date. The luxury bamboo homes have comfy beds, an outdoor bath or hot tub and natural pools or rock pools.
Many of them also serve delicious food with ingredients from this amazing rural setting. You can even get room service!
Get Snapping At Bukit Cinta Mount Agung Viewpoint
It's fair to say that this lovely spot, which offers panoramic views of the local countryside and the amazing Mount Agung, is one of the most popular places to be at sunrise in Bali and for good reason.
It's amazing.
The good news is that there's no entrance fee and you can park nearby on the road too.
Undergo Purification At Tirta Empul
If you want to understand the local people more, then why not drive out to Tirta Empul?
This is a sacred temple used for religious ceremonies that culminate in purification.
At most holy places in Bali, you can't take part in such things, but here, you are welcome to experience a water purification ritual, too.
Expect to pay just 50K IDR to get in.
It is about an hour away, but it's ideal to combine with any of the local waterfalls, including Kanto Lampo, Tibumana and Sawat.
If you have a few hours to spare, it's a great use of your time.
Bliss Out On Blue Lagoon Beach
If you spend a few days in Eastern Bali, then you will definitely want to visit the white sand beach of Blue Lagoon.
Not only does it have one of the most romantic names of any beach in Bali, but it has some of the clearest waters around.
It's one of the best places for snorkelling here, and the marine life is beautiful and varied.
There are plenty of local warungs to get some great food at, along with a cold beer.
This is a place of true beauty, and we'd heartily recommend a day trip to see it.
Though, if you intend to visit the Gili Islands, you might make this your last stop before you do. The harbour you catch the boats to the islands from is right next to this beach.
Pass-Through The Gates Of Heaven
If you spend a few days in Sidemen, then a quick trip to the Pura Lempuyang Luhur Temple may be very much worth your time.
It is Instagram-famous, even more so than the Yellow Bridge on Nusa Lembongan, thanks to the dramatic white gates through which you can see an amazing view of Mount Agung.
In fact, it's so Instagram famous that it's become a haven for pushy vendors and fake tour guides. It can get quite unpleasant at times.
It's best to get up in the early morning and get here before the crowds descend on the place.
It's also your best chance to get an unobstructed view of the volcano before the clouds roll in.
It's quite expensive, though, at 100,000 IDR per person to get in. So, unless you really want that shot for your Instagram, you might opt to skip this one.
Meet Mount Agung On Bukit Tengah
It's only 45 minutes from Sidemen, and the Bukit Tengah viewpoint is just superb.
On the right morning, you will get the perfect sunrise view of Mount Agung, and it's on the way to Blue Lagoon Beach.
There are some salt farmers you can stop at to learn how salt is traditionally extracted from seawater here, too.
White Water Rafting On Telaga Waja River
While sitting on the banks of the Telaga Waja River in Sidemen is a lovely and relaxing experience, it's not the only experience you can have on this river.
It's a great river for a thrilling whitewater rafting experience (we've got an awesome guide to rafting in Bali).
You can enjoy a 15-kilometre trip down the river among the local plantations and attractive green-covered hills.
Swim In The Infinity Pool Of Patal Kikian
We don't normally include accommodation on a list of "things to do", but the view from Patal Kikian's infinity pool is an exception.
If you want to swim or sip a cocktail with an incredible backdrop of the green valley below and Mount Agung looming above it all? You just can't beat this experience.
Incredibly, the hotel is not that expensive and for roughly $100 USD a night, you can enjoy this pool and one of the best breakfasts in Sidemen is included in the room rate!
Kusamba Beach
We mentioned the salt farmers in passing a bit earlier on in this list, and the best place to witness a traditional salt harvesting operation is Kusamba Beach.
The farm here is over 1,000 years old! That makes it one of the most historic locations on the island.
However, don't expect a bunch of ancient buildings, it's a working farm, and everything has been renewed again and again over the years.
It's fascinating to watch salt farmers. They head out carrying buckets on poles into the sea.
They capture water, bring it back to the land and dump it onto the boiling-hot black sands.
After a few hours of waiting, the water evaporates and the salt crystals form as a white powder on the black sand backdrop.
These are then collected and brought to the huts nearby, where they are filtered to remove any sand particles.
Refresh Yourself At Tibumana Waterfall
This waterfall is about halfway from Sidemen to Ubud, and it's a great place to enjoy a waterfall that tumbles directly into a natural pool beneath.
It's a very popular spot, but again, if you get there early in the day, it's not so busy.
You are allowed to bathe in the pool beneath this fall, and it's a wonderful feeling as you cool down after spending time in the Balinese heat.
Experience A Traditional Weaver's Craft For Some Authentic Balinese Culture
It takes a month for a Balinese weaver to weave a single high-quality sarong by hand!
It's a tradition that has been passed down from one generation to the next and is always on the female side of a Balinese family.
There are several shops and exhibits where you can see this kind of weaving on display in Sidemen.
If you want to buy one of the finished sarongs, expect to pay around 2,000,000 IDR. Craftsmanship like this does not come cheap.
Splash About In Kanto Lampo Waterfall
This place is just 40 minutes from Bukit Tengah and just 10 from Tibumana waterfall.
So, if you're out that way, why not stop in at Kanto Lampo too? It's gorgeous, and it runs down a multi-tier rockface, forming rock pools around the canyon below.
The water then seeps down into the rocks! You can shower in the fall, too!
Enjoy A Traditional Balinese Cooking Class
There are some lovely places to enjoy a cooking class in Sidemen, and we can recommend taking some time out to learn more about the local cuisine.
You can find a list of some of the best cooking schools in Bali here.
Go Shopping At A Local Market
The local market in Sidemen is a truly local affair.
You may encounter sights and smells that you're not used to, but there's no better place to shop like a Balinese person would too.
You can haggle. Just go easy when you do.
Try A Silver Workshop
Another local craft is silversmithing, and there are several silver shops in town where you can purchase their wares.
You can also learn the trade yourself and attend one of several silversmithing workshops in town.
This is great fun, and you will leave with a piece that you made yourself, guaranteed.
Walk The Yellow Bridge At Tukad Yeh Unda
It's not as famous as the bridge in Nusa Lembongan. However, it's a very attractive wooden bridge over a local ravine that will make you feel like Indiana Jones.
It looks awesome on your Instagram feed, and it's definitely an unusual place to be.
Visit The Yeh Unda Hulu Dam
It's not the biggest dam in the world, but the setting makes the Yeh Undu Hulu Dam worth a visit all the same.
If you've never seen a dam at all, it will help you understand the value of these systems in a river.
Get Pampered At Ananda Spa
If there's one thing you can bet money on in Bali, it's that you will never be too far from an awesome spa.
Ananda Spa is at one of the local resorts, and it's a great place to get a locally inspired treatment and Balinese massage.
We recommend visiting it after a day's trekking in the rice fields. This is a lovely place.
Try The Sidemen Swing By Sidemen Adventures
If you're in the mood for some serious adrenalin coursing through your veins and you don't mind taking a bit of a risk – you can try the Sidemen Swing.
This is a great opportunity to get an amazing shot for your Instagram and some lovely views of the local scenery.
Do Some Yoga At The Sidemen Yoga Center
Of course, Sidemen is only 30 kilometres or so from Ubud, and that means many of the spiritual opportunities have migrated here.
The first to arrive was the Sidemen Yoga Center, and you can enjoy a day of flexibility, a single class or join them for a longer retreat if you want to as well.
Meditating in the rice fields is pure bliss. Experience it for yourself!
Where To Stay In Sidemen, Bali
There aren't as many vacation rentals in Sidemen, but you won't have any problem finding a place to stay and enjoy Sidemen from, either. Some of the best options include:
Awesome Bamboo Houses
We mentioned the bamboo villas of Sidemen earlier, and the good news is there are a few resorts where you can arrange this type of accommodation.
These include these two great places to stay in Sidemen:
Veluvana – this is a unique and charming place with some of the most amazing views of the volcano in the distance. If you want something for your Instagram feed, you cannot go wrong with Veluvana. They have a private pool, kitchen and bathroom, too, which makes it a truly exception experience among the rice fields of Sidemen.

Camaya Bamboo Houses – these are the most popular bamboo homes in Sidemen, and as you'd expect, there are some lovely views of the area and Mount Agung in the distance. You can find this place on Instagram easily because the design lends itself to amazing photographs. The private plunge pool is a lovely place to have a dip after a hot day exploring East Bali.
Luxury Resorts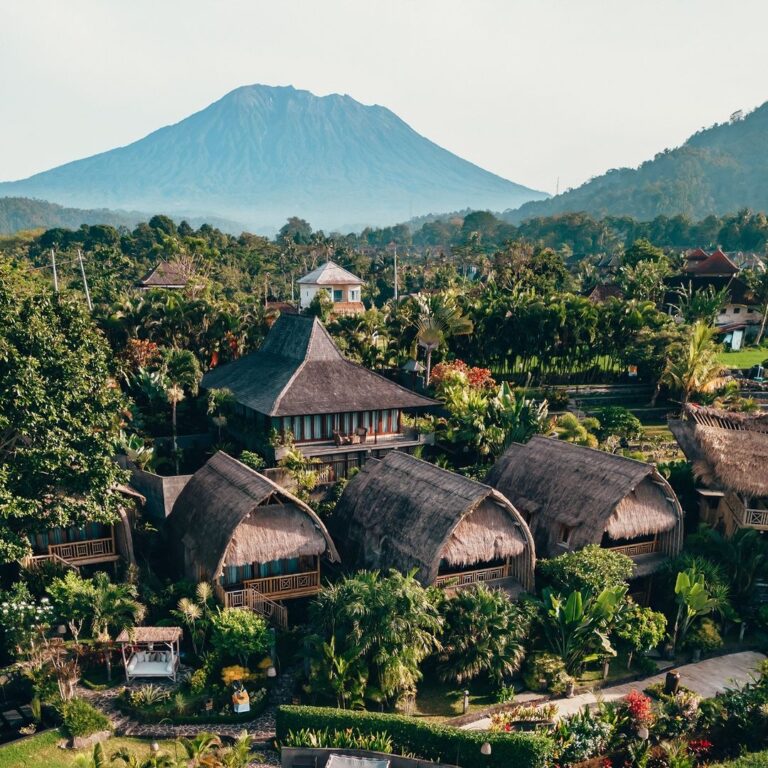 Bali is home to many of the world's finest resorts, and even in humble Sidemen, you can find some seriously luxurious places to rest your head, and they include:
Wapa Di Ume – if you want a private balcony and incredible views over the surrounding area, you won't find it a problem at Wapa Di Ume, which may be the most luxurious resort in Sidemen. You can also rent a villa with a private swimming pool if you want to take things up a notch.

Samanvaya Resort & Spa – incredible views are also the name of the game at this awesome place to stay. They have rooms and both bungalows and villas for rent. The spa is absolutely brilliant and their onsite and their restaurant, Asri Dining, is considered to be among the best in Bali.
Mid-Range Hotels
You don't have to spend a fortune to live in style in Sidemen, Bali. These hotels don't have a huge price tag associated with a night's rest, but they're very nice all the same.
Villa Sidemen – this 2-bedroom private villa is very reasonably priced, and that's pretty surprising as you get a private infinity pool with your stay here! You get a brilliant view of Mount Agung most of the time (clouds or weather-depending). The tropical garden here is lovely, and we were impressed with the Balinese art on the walls. It's a home away from home.

Patal Kikian– we already mentioned the pool view at this awesome and great value resort in Sidemen. You just can't get better in this part of Bali, and frankly, the price tag is a steal for the quality of stay you get. If you want to upgrade your stay, you can opt for a private bungalow. The interiors are chic, modern and minimalist.
Budget Friendly
If your budget doesn't stretch far enough to make you comfortable in a mid-range hotel, don't worry, the budget places out this way are lovely, too.
Daramade Eco Resort – this attractive colonial-era bungalow has a very homely feel to it and we'd be happy to recommend it to anyone who wants a cozy feel to their holiday home. They also have a lovely garden in the grounds, a terrace to chill out on and an on-site restaurant that can whip up some truly delicious food.

Cepik Villa – The spectacular natural setting of this villa ensures that you are going to have an amazing time. There's a great shared outdoor pool that you can swim in, and the gardens here are just lovely. This may be the best value-for-money place in Bali. It's the ideal way to stretch your budget without compromising on quality.
Where To Eat In Sidemen, Bali
Sidemen, Bali has some great restaurants, too, and they include:
Warung Organic – most of the ingredients here are grown in the warung's own organic garden. You can get some great views over the local area too. We would note that it's possible this place has been renamed as "Warung Cepik" recently, so drop them a line before you visit to confirm you're in the right place.

Asri Dining by Samanvaya – This lovely place uses seasonal, organic and locally sourced ingredients wherever possible, and they are happy to provide authentic cuisine or tailor it to your tastes. Children are welcome during the day, but after 6 p.m., this becomes an adults-only venue for romantic dining under the stars.

Sleeping Gajah Kitchen – If you want the finest duck rendang in Bali, then we recommend heading to Sleeping Gajah. This is Balinese food at its finest, and the drinks are excellent, too. You get some lovely views from the terrace here, and it's such a relaxing place that you will end up diving into the infinity pool at some point during your visit!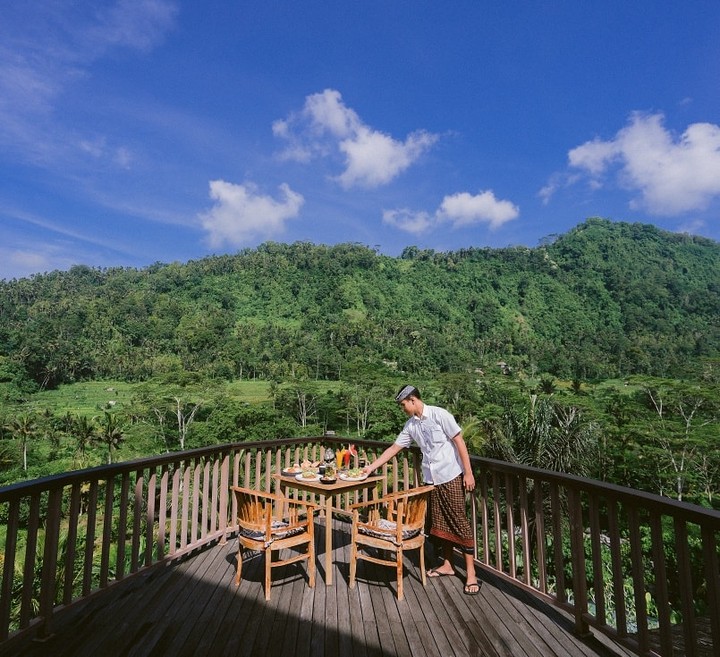 Warung Tirta Unda – this charming family-run place is very budget-friendly, and the wait staff are young, friendly and very efficient. Try the mie goreng and the nasi goreng, you won't be disappointed. Everything here is super tasty and truly authentic.

Warung Maha Neka – if there's anything we love more in Indonesia than a traditional BBQ served at a local warung, we're not sure what it is. This is a fantastic place with generous portions and tasty food that definitely won't leave your wallet feeling abused in the process. The pork ribs are phenomenal.

Warung Dapur Kapulaga – this simple warung does a tasty and nicely presented mix of local and international cuisines. Everything is pretty good, but we absolutely loved their fried bananas, which came after a plate of very good ribs. The hosts are super friendly, too.
FAQs
Is Sidemen, Bali Worth Visiting?
Yes! In fact, we'd say that Sidemen, Bali deserves to be on more people's lists of destinations in Bali.
It's a lovely and unspoiled part of the nation far from the main tourist areas, and it's a superb place to immerse yourself in Balinese culture and escape all the stresses of modern life.
If you've ever been to Ubud and wished that you could have got there before all the tourists did, then you will know already that Sidemen, Bali is for you.
A walk on the rice terraces and through the Sidemen village will lift your spirits and make you feel better connected to the country and your fellow man.
Which Part Of Bali Is Sidemen In?
Sidemen is in the Eastern part of Bali. It's not on the coast, it's inland and in a lovely setting among rice fields and lush green rice terraces.
It's not that far from the more touristed parts of Bali, and you shouldn't need to drive too far to spend some time here.
What Is Sidemen, Bali Known For?
Sidemen is known for its stunning landscapes and panoramic views, as well as its rice paddies and rice terraces.
The local community is involved in agriculture and tourism, as well as weaving and silversmithing. If you love to see people engaged in traditional work, then Sidemen is a great place to appreciate just that.
How Far Is Sidemen From Ubud?
Not very far. In fact, as the crow flies, it's only 33 kilometres from Sidemen to Ubud. But don't be fooled by the distance. It's a longer drive than it suggests.
In fact, because of the nature of the roads and traffic, it takes about an hour or more to get to Sidemen from Ubud (and vice-versa).
This is to ensure your safety and not because local drivers want to take their time (in fact, going faster is to their financial advantage as most people travel for a fixed fare in Bali).
How Far Is Sidemen From Canggu?
Sidemen is also not far from the hippest destination in Bali right now, Canggu.
It's about a 40-kilometer drive, and because the road is a little easier than it is from Ubud, you should get there in around an hour.
However, if you're travelling at a busy time of day, you may find that it takes a bit longer. That's OK. It gives you more time to appreciate the stunning views out of the window on the way.
How Do You Book A Trip To Sidemen, Bali?
You book your trip to Sidemen, Bali, through the amazing people at Bali Res Centre.
Why? Because they are a locally owned and operated travel service that can give you all the up-to-date information on what's going on in Bali and help you avoid staying next to a building site or going to an area at the wrong time of year.
In addition, because they're local, they can help you find the most competitive pricing on your stay too.
Final Thoughts On Sidemen, Bali
We love Sidemen, and we wish more people would see it. However, because they don't get as many tourists, you still have a chance to see this beautiful part of the island before the crowds arrive.
If you're looking for a break in a gorgeous setting with very little stress, you should add Sidemen to your Bali holiday itinerary, right now.
And if you're looking to party on your return to Canggu? We'll see you at FINNS, the best beach club in the world.