There is no other place in the world like Bali. We know the island is best known for the incredible sunset views, wide choices of amazing beaches, surfing and water sports, and the rich culture that weaves throughout the scenery of temples and rice paddies. On top of that, there is the beach club and party scene that rivals any other spot in the world. 
Partying in Bali has no limits, from day parties, pool parties, and beach parties to nightclubs… and there is no restriction on what day of the week or the year – every day is a party in Bali! 
There are events and parties for everyone in Bali. Whether you're looking to dance the night away at a packed club or relax with a drink at a stylish beachside bar, you'll find plenty of options in this tropical paradise. On any night of the week, you can find DJs or live music and bands, happy hours and specials, or ladies' nights and lively dance floors. On big weekends and holidays, the island especially comes alive with some of the world's biggest acts and performers.
Bali Party Places – Canggu Bali's party scene
Canggu used to be a lazy surf town, but it has grown into a vibrant region that now reigns as the hottest place to find daily and nightly parties and events. There are countless restaurants, bars and nightclubs, and nowadays you'll find beer gardens, wine bars, sports bars, and venues of all sizes and types. However, its speciality is along the oceanfront with the chic, trendy beach clubs that take the party scene from day to night. 
The area is home to a range of venues, from trendy rooftop bars with sweeping views of the ocean to packed clubs with live music and DJ sets. 
Be sure to check out our list of Best Things to Do In Canggu.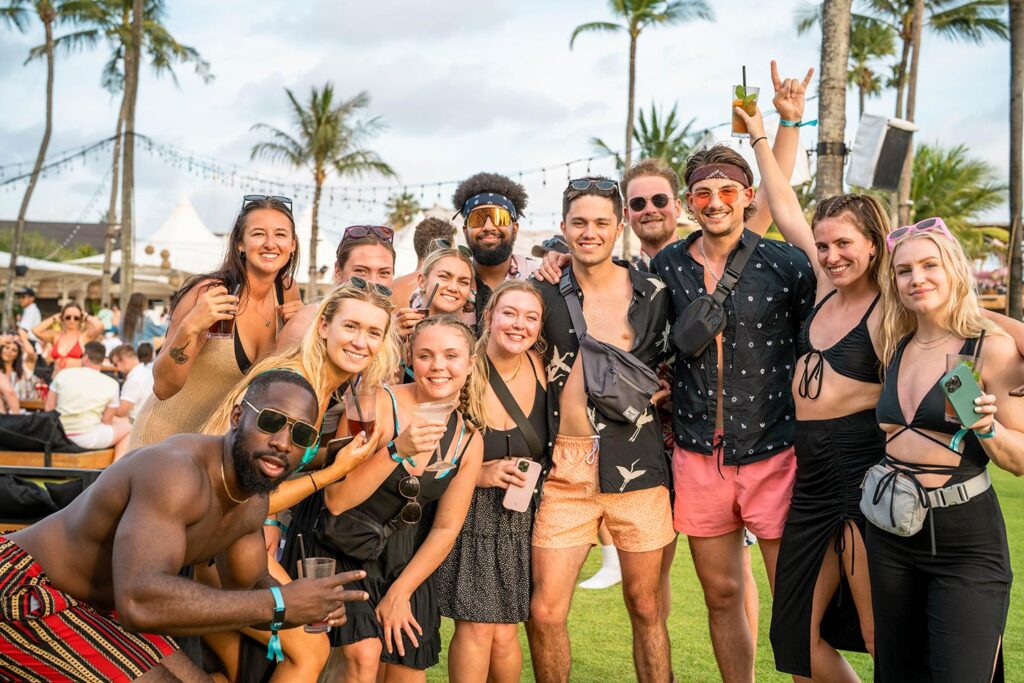 Party Bali – FINNS Beach Club is the World's Best Beach Club
The best party place in Bali is FINNS Beach Club. It is the world's best beach club with a non-stop party-loving atmosphere that fills the entire venue, along with the 170m oceanfront space. From day to night, the best place to be in Bali for fun, sun, food, cocktails, dancing and more is at FINNS. Spend the day, come for the sunset, or dance the night away with us. We have 9 bars, including 2 swim-up bars, 4 pools, 5 restaurants, resident DJss and vocalists, and a calendar of events to keep the party going all day and all year round.
Book your daybed starting at 10 am for some chilled-out poolside time. By 4 pm and through sunset hours, we'll have live DJs and vocalists and the happy hour is from 7-9 pm, with 2-for-1 cocktails.
Best Bali sunset venue.
There is something truly magical about the sunset hour on the island, especially when enjoyed at the beach clubs in Bali. The colours of the sky and the waves seem to put on a spectacular show every day. At FINNS Beach Club, we have the best seats in the house to take in the views. Our venue is designed to ensure that everyone can enjoy the beautiful sunset, no matter where they are – whether it be in the pool, enjoying cocktails at the sunset bar, or dancing on the party platforms. There is no better place to experience the magic of the Bali sunset than at FINNS Beach Club.
FINNS VIP Beach Club
If you want to add a touch of sophistication to your beach day at FINNS, check out its more chic sister venue, FINNS VIP Beach Club. This five-star venue combines tropical paradise with luxury, attracting an always glamorous crowd and offering world-class amenities. Located next to the main beach club, the VIP area features a stylish environment and vibe. 
The main pool in the VIP area is for adults only, and in the back, there is a family-friendly area that caters to kids and parents. 
When at FINNS VIP Beach Club, guests can enjoy exclusive perks such as cold face towels on arrival, free flow water, premium spirits, a complimentary locker, complimentary coffee and juice (until 3 pm), and free gelato in the afternoon (3 pm – 6 pm). There are also special services and events, such as gourmet picnics for Grazing on the Green and also an elegant dining atmosphere in St Tropez.
Best night clubs in Bali – FINNS after dark
The fun at FINNS Beach Club doesn't end when the sun goes down. In fact, that's when the party really gets started! Every day, we kick off the evening with happy hour from 7-9 pm, featuring 2-for-1 drinks. The party atmosphere really comes alive with our lineup of the island's hottest live entertainment, with our resident DJs and live vocalists entertaining the crowd until 11 pm. Our resident DJs are the best on the island, and they create their music in our in-house studio at FINNS. Bring your friends and join us on the dance floor surrounded by two pools and party platforms.
FINNS Beach Club accommodates everyone, whether you're travelling solo and looking for a fun evening, gathering friends for a party, colleagues' night out or family outing. Our expansive beach club is the best party destination on the island.
Bali beach party – Celebrate your special occasion and party at FINNS
If you're celebrating a special event or occasion in Bali, look no further than celebration central – FINNS! Get the gang together for birthdays, promotions, retirements, anniversaries, engagements, stag and hens parties, family reunions, or even wedding parties and recoveries too. We have options for booking single sun loungers, day beds and deluxe beds for up to 10 people, lagoon beds in the pool, oceanfront VIP beds, or the party platform for up to 20 people. For the best spots, book your reservation in advance, and you can also add on our Ultimate Experience package for the VIP add-ons.
Private Events. If you have a larger group or would like a more elegant, chic affair, you can book our event spaces for hosting private events and creating a unique, exceptional experience. If you're looking for a pre or post-wedding venue, birthday party, engagement celebration or corporate event, FINNS can accommodate and handle the organisation down to the smallest details. We offer world-class hospitality at the beachfront setting, and a dedicated service and events theme that is devoted to creating an event your guests will never forget. There are five event spaces and areas with different styles and designs, depending on how many guests you need to accommodate, as well as your needs for the event.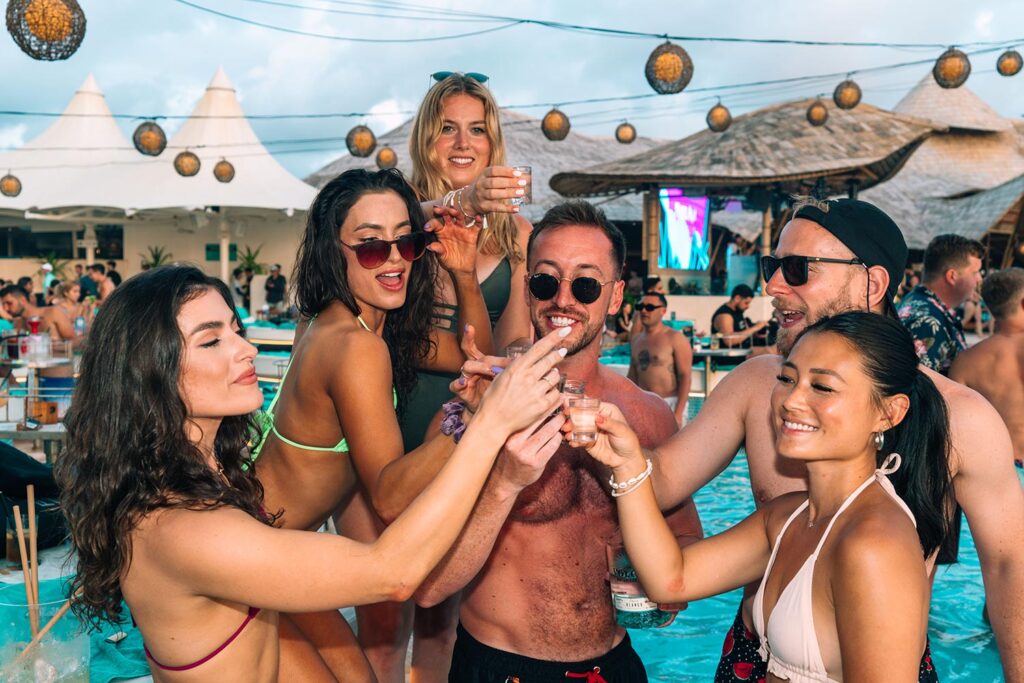 Best party places in Bali – FINNS New Year's Eve
Few places in the world are more exciting for New Year's Eve than Bali. The weather is hot, the island is pumping with excitement from holidaymakers from all over the world, and there are endless possibilities for parties and celebrations.
Bali's biggest and best NYE is at FINNS Beach Club. Across the 170m of absolute beachfront, Berawa Beach is electrified with our biggest event of the year. We bring in the world's most exciting headlining acts, and international DJs, capped off with a huge fireworks display to ring in the New Year the only way we know how, and we're getting bigger and better every year! Buy a General Admission ticket or get your friends together for daybeds or VIP bookings. Tickets sell out before the event, so be sure to reserve early for the biggest discounts on tickets and don't miss out!
Bali with Kids: FINNS Rec Club venues for unforgettable parties
If you are travelling with kids and need to entertain them or celebrate a birthday, there's no better place than FINNS Recreation Club. Kids can party all day long at Splash Water Park, or even spend an afternoon jumping and flipping at Bounce Trampoline Centre. And let's not forget the fun and laughs that can be had at a bowling party at Strike Ten Pin Bowling. If you need to attend an event at FINNS Recreation Club and keep the kids entertained, you can drop them off at Cubby House Kids Club, where they will be fully supervised and kept busy with fun activities, games, movies, and more.
Bali's best parties and events are at FINNS
FINNS Beach Club is the ultimate destination for beach parties in Bali. Recognised as the World's Best Beach Club, it is a must-visit venue if you're searching for endless fun during the day, night, and any time of year. Don't miss out on our biggest and most incredible party of the year, our New Year's Eve celebrations.
For more information on daybed reservations or NYE tickets and packages, contact our team. Celebrate with us at FINNS!